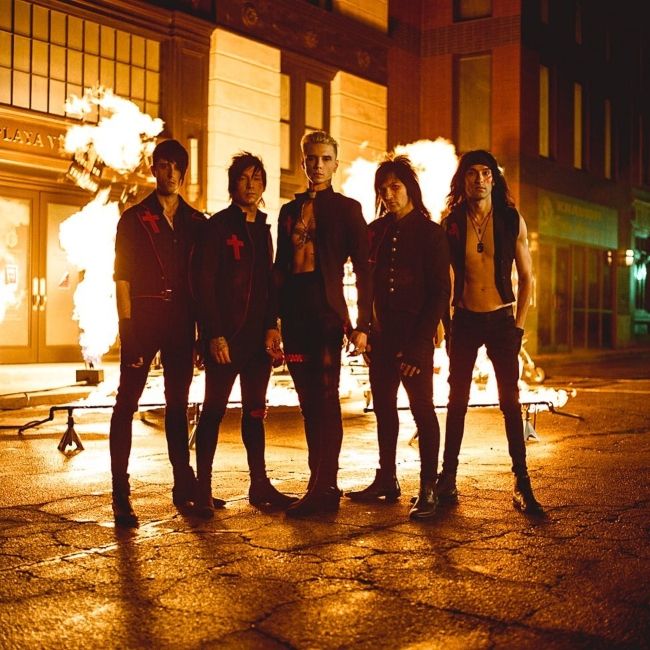 Black Veil Brides is an American rock band that originated in 2006. The band has experimented with their sound under different musicians who joined their line-up over the years. They are most well-known for songs like In the End, Knives and Pens, Fallen Angels, Perfect Weapon, Sweet Blasphemy, The Legacy, Lost It All, Heart of Fire, etc. Early on in their career, MTV named the Black Veil Brides the 'Favorite Breakthrough Band of 2011'.  
Members 
Past Members
Johnny Herold – Lead Guitar (2006)
Nate Shipp – Guitar, Backing Vocals (2006–2007)
Chris Hollywood – Guitar, Backing Vocals (2007–2009)
Pan The Gypsy – Guitar (2009–2010)
Chris Riesenberg – Drums (2006)
Mike Stamper – Drums (2006–2009)
Sandra Alvarenga – Drums (2009–2010)
Phil Cenedella – Bass, Backing Vocals (2006)
Robert Thomas – Bass (2007–2008)
Ashley Purdy – Bass, Backing Vocals (2009–2019)
Kevin Harris – Keyboards (2006–2007)
Origin 
Cincinnati, Ohio, United States
Genres
Glam Metal, Heavy Metal, Gothic Rock, Metalcore, Hard Rock
Labels 
Universal Republic Records
Lava Records
StandBy Records
Formation Date 
2006
Singing Portfolio
We Stitch These Wounds, their debut album was released in 2010 and included the hit single, Knives and Pens.
The band's 2nd album Set the World on Fire (2011) opened at #17 on the Billboard 200 Albums Chart.
Their 3rd album Wretched and Divine: The Story of the Wild Ones containing the smash-hit song In the End was well-received in 2013.
With the release of Vale (2018), the band peaked at the top spot on Billboard's US Top Hard Rock Albums.
Black Veil Brides Facts
The band has a distinct persona which is marked by black makeup, long hair, body paint, and tight-fitting black costumes.
Andy Biersack is the only founding member who is currently a part of the band.
The group's name Black Veil Brides refers to Roman Catholic nuns who forsake all the pleasures of life in pursuit of their devotion to God. But, the band has no religious affiliations.
David Bowie, Aerosmith, Kiss, Billy Idol, Mötley Crüe, Metallica, Queen, Marilyn Manson, Alice Cooper, etc. are some of the band's musical inspirations.
Their dedicated fanbase is called the BVB Army.
Featured Image by Black Veil Brides / Instagram