First, he won our hearts by playing Kim Hyde in the Australian TV series Home and Away. And, then, he impressed us by playing Norse God in Thor. We are talking about the hot and dashing Chris Hemsworth who is working very hard to impress us again with his performance in "In The Heart Of The Sea" that will be released in December 2015. The official trailers of the film have already started creating a buzz and we can't wait for the film.
If you are a fan of the film or the superb actor (like us) then, you may be pleased to know that Chris is really working hard for the movie. His dedication is not only limited to superior acting skills but it also denotes him changing his body for the role. Let's have a sneak peek at how he plans to change his diet and body for the role.
Starving for the Role
As reported by US Magazine, the father of three will have to shoot for some sequences wherein he and his co-actors need to look very thin. They will have to do with eating less food so they consume only 500 to 700 calories a day. The unique diet plan would last for three or four weeks. The talented actor added that he is sure that he will not feel comfortable with the diet plan. But, the positive thing is that all his co-actors would starve with him which makes things a bit easier.
Details of the Diet
Elaborating on the diet program, the Thor star said that the diet plan would probably include eating a bit of salad and small helpings of protein foods throughout the day. He also added that the diet may force him to go to bed hungry. After that, he may have to deal with a fasting period of 15 hours that will again be followed by having light meals throughout the day. Seems difficult, don't you think?
Cheating a Bit
The breathtakingly handsome man also added that he is hoping to get one cheat meal every week which will be some solace for him during the trying period.
Thinking about Food
The gorgeous actor also acknowledged that he spends a lot of time thinking about food (more than anything else) because he needs to prepare his body and mind for the upcoming unique diet plan.
Finding the Irony
Hemsworth also accepted that he takes things lightly with regards to this unique diet plan. He said that it seems funny thinking about the fact that 15 big and burly guys are spending time talking about the diet. He and his co-actors are talking more about calorie counting and cheat meals these days.
His Food Revenge
The charming actor also divulged the fact that he is planning for revenge after the unique diet plan is over. He opined that after the filmmakers let him off the diet, he will be indulging in a lot of cheat foods. His preferred food options would be all unhealthy items like pizzas, ice-creams and hamburgers.
Not the First Sacrifice
We must add here that Chris has a habit of molding his body for various roles and has done it successfully in the past. If he can endure working out twice a day and eating eight meals to bulk up for Thor, (he added 20 pounds for the role…check out the details over here) he can surely follow a unique diet plan for some days. Won't you agree?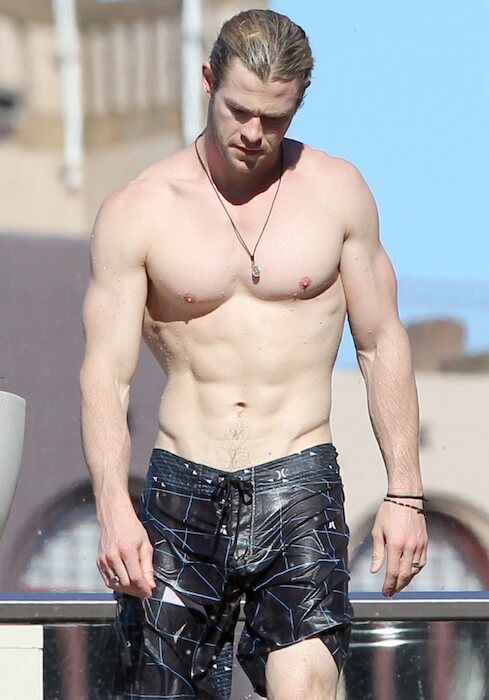 If you really want to wish him luck and witness the fruits of his efforts, then do not forget to catch "In The Heart Of The Sea" on December 11, 2015. It's assured that you will love the character of Owen Chase in the film who fights hard to survive after his ship is attacked by whales and wins the battle eventually.