Crystal Breeze Quick Info
Height
5 ft 5 in
Weight
68 kg
Date of Birth
September 24, 1997
Zodiac Sign
Libra
Boyfriend
Andrew Saborit
Crystal Breeze is an American social media star best known for her YouTube channel of the same name which has amassed a fanbase of more than 400k subscribers. She initially came to prominence for her determination to lose weight and get in shape, which she succeeded in by losing 105 lbs or 47.5 kg in a time period of around 10 months. After that feat, the audience's interest in the things she did to achieve her goals led to the creation of her YouTube channel on March 1, 2015. Crystal then proceeded to discuss the process in detail, all of its positive and negative sides. She also gave advice on things such as sugar cravings, lack of motivation, and loose skin, all common things on a weight loss surgery.
Her following increased around 2017, due to the level of honesty she possessed and things Crystal was willing to share. Besides things such as plastic surgery on her face, she also talked about surgical skin removal, breast augmentation, and mental illness. Furthermore, she also tried out various weight loss methods herself – new and different diets, freezing her fat, also called cool sculpting, and gave her opinion on how effective they were. Eventually, due to very high demand, Crystal began uploading videos of her workout routines, created custom meal plans based on certain goals, and started vlogging and reviewing products such as makeup or wigs. She has also garnered a fanbase of more than 300k followers on Instagram, and more than 40k followers on the Instagram account dedicated to the custom meal plans she created, Fit For Life Meal Plan.
Born Name
Crystal Breeze
Nick Name
That Breeze Girl
Sun Sign
Libra
Born Place
California, United States
Residence
Coachella, Riverside, California, United States
Palm Springs, Riverside, California, United States
Nationality
Education
She attended culinary school for 2 years.
Occupation
Social Media Star
Family
Siblings – She has a sister.
Manager
Crystal Breeze self-manages her career.
Build
Voluptuous
Height
5 ft 5 in or 165 cm
Weight
68 kg or 150 lbs
Boyfriend / Spouse
Crystal Breeze has dated –
Andrew Saborit (2018-Present) – She began dating Andrew, who was in the military, in October 2018. They had a long history of knowing each other prior to that moment, as she had been following him on Twitter. In 2017, she was going through a bad phase in her life. She "messed around" with a few guys, and when Andrew updated his profile picture, Crystal also decided to follow him on Instagram and liked a few of his pictures to get his attention. After a bit of chatting, they also added each other on Snapchat, and also matched on Tinder 2 times, which was where he got her number. Crystal didn't want anything serious at the time and even though they scheduled the 1st date for December 2017, her conscience told her that he was too nice and that she didn't want to hurt him. For that reason, Crystal canceled their sushi date and later found out that Andrew's brother, who was a barber, gave him a haircut and even put her initials in his hair as a joke in preparation for it. He only had a week left before he was leaving to another military base across the country and kept trying to schedule a new date, but she was always "busy" and they stopped chatting. In March 2018, Andrew posted a picture of himself eating a large kebab, and she decided to comment: "I don't know what looks better – you or the kebab" which made his day, according to him. The whole month of April passed by with very little talking between them, and after that, they began chatting and FaceTiming each other every day. Finally, he took a month of leave from the military as he was supposed to be relocated to a military base in San Diego, California, which was 2 hours away from Crystal's house. They were finally able to start hanging out every single day, became inseparable, and began dating officially on October 6, 2018, which was also Crystal's mom's birthday. Andrew also at some point promised he would appear in a video on her channel in December 2018, which he did.
Race / Ethnicity
White
She is of American descent.
Hair Color
Black
She has also dyed her hair 'Purple', 'Pink', 'Silver', 'Red', 'Dark Brown', 'Light Brown' and 'Blonde' in the past.
Eye Color
Dark Brown
Sexual Orientation
Straight
Distinctive Features
Voluptuous physique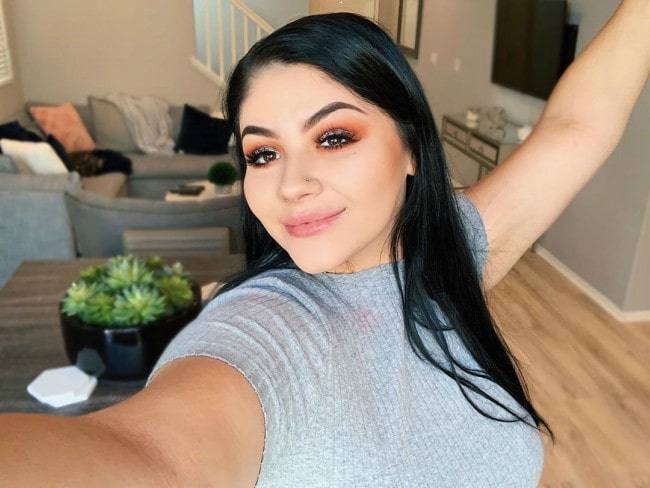 Brand Endorsements
Crystal Breeze has endorsed brands such as –
Best Known For
Her weight loss journey, during which she lost 105 lbs or 47.5 kgs over a period of around 10 months
Her social media fanbase with more than 400k subscribers on YouTube and more than 300k followers on Instagram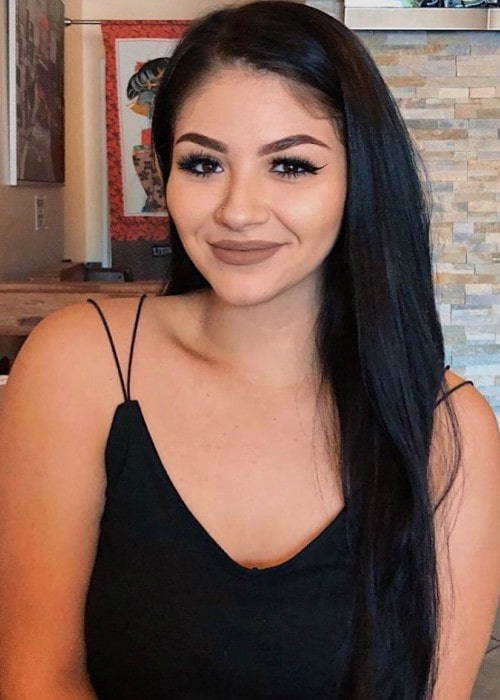 Personal Trainer
Crystal started a low-carb, low-fat diet in early 2017 and lost 105 lbs or 47.5 kg. For years up to that point, she thought she would always be fat, and that she tried everything. However, with that particular diet, Crystal found that she lost about 2 lbs per day and lost around 40 lbs in the 1st month alone. Furthermore, it was her parents who pushed her into that diet program, so she had another support system and motivation not to let them down. Crystal also asked them not to tell anyone she was on a diet, and to let the results speak for themselves.
She also started to steel herself mentally and whenever she would feel a craving to eat something, she would repeat in her head that the food might taste good at the moment but would make her feel bad for breaking her diet in the hours after. She personally doesn't have cheat days as they make her spiral into eating unhealthy food. However, Crystal is a proponent of having a 'reward' system once a goal weight is reached, but done in moderation.
Crystal has admitted that she's a snacker and the reason she gained so much weight in the past was that she would snack throughout the day and not even notice the calories going in. Chips, candy, and popcorn were her biggest enemies, even when she knew better than to cheat on her diet. Most of her meal plans are based on low-calorie, complex carbohydrates, gluten-free food such as rice cakes, veggie burgers, cauliflowers, carrot chips, medium-firm tofu, ground chicken breast, natural ground beef, greek yogurt, and shredded purple cabbage and lettuce, useful for salads.
Crystal is also a huge fan of almond milk and has written and published 3 cookbooks that she herself uses on a daily basis. They were titled Maintenance Plan, Fit For Life Meal Plan, and Healthy Eats Recipe Book by Chef Crystal Breeze.
As for working out, even though she has published videos about dieting for weight loss without physical activity, she emphasized how important it is. She works out with a gym partner named Jessica and they help each other stay on track and progress continually. Her typical weekly split is as follows –
Dumbbell Biceps Curls – 4 sets, 3 sets of 10 reps, 4th set of 12 reps
Barbell Biceps Curls – 4 sets, 3 sets of 10 reps, 4th set of 12 reps
Shoulder Flys – 4 sets, 3 sets of 10 reps, 4th set of 12 reps
Standing Dumbbell Shoulder Press – Alternating arms, 3 sets of 10 reps on each side
Barbell Rows – 3 sets
One-Arm Cable Biceps Curls – 3 sets
Cable Cross Pull – 3 sets
Cable Rope Rear-Delt Rows – 3 sets
Lat Machine Pulldowns – 3 sets
Stretching On A Yoga Mat – 10 to 15 minutes
Leg Kickback With Resistance Bands – 10 to 15 reps per leg
Leg Raises With Resistance Bands – 10 to 15 reps per leg
Hip Thrusts – With or without a barbell, depends on her strength on a given day, 10 to 15 reps. For advanced gym-goers, the one-legged alternative is also viable
Jumping Squats With Resistance Bands – 10 to 15 reps
Side-Stepping Squats – 10 to 15 reps on each side
Deadlift – 15 to 20 reps
Back Lunges – 10 to 15 reps per leg
Platform Jumps Into A Squat – 10 to 15 reps
Cable Leg Raises – 10 to 15 reps
Barbell Squats – 10 reps per set
Kneeling Squats Underneath A Smith Machine – 10 to 15 reps
Crystal Breeze Facts
She has a French bulldog named Peach, who also has a separate Instagram account named "peach_breeze_".
She got her 1st tattoo on September 24, 2018, which was her birthday. The tattoo was small and located on the inside of her middle finger of her right hand. Crystal admitted it was an impulse decision on that day, but the tattoo itself held a deep meaning.
She had the rapper Lil Uzi Vert on the wallpaper of her iPhone in November 2017. The Canadian rapper Nav was on the lock screen at the same time.
Crystal purchased one of her dream cars in early December 2018. It was a "perfect mom car", a large Range Rover. Before that, after she got her driving license in 2014, she drove her parents' BMW who bought the car in 2012. Crystal also made plans to purchase a matte black Mercedes-Benz G-Wagon in the future.
She and her friend and gym partner named Jessica once dated the same guy.
Crystal got a lip filler injection for the 1st time in November 2017. She had it re-done around 8 to 10 times between that initial session and mid-2019.
In March 2019, Crystal also decided to get botox around her jawline because it was too sharp and defined, and she wanted her cheekbones to be more prominent.
Crystal underwent a breast augmentation surgery in May 2019. She got a breast lift and had 375 cc silicone implants added. In the past, she also had a tummy tuck and liposuction surgery to remove excess skin and fat.
She finally moved out to her own apartment in early June 2019.
Visit her official website @ crystalbreezeshop.com.
Follow her on Instagram, 2nd Instagram, Twitter, and YouTube.
Featured Image by Crystal Breeze / Instagram