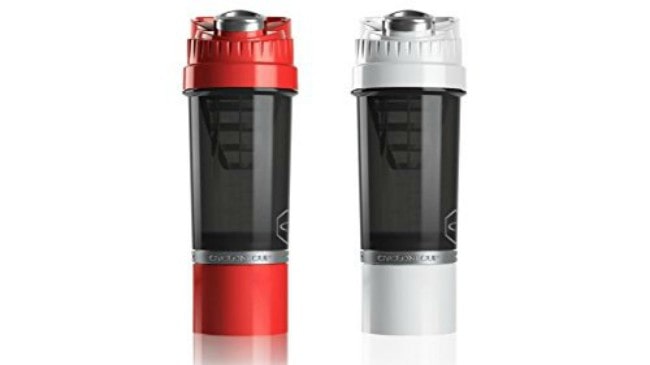 When you are on the mission to build your body, you need to have a lot of dedication. Besides maintaining a strict diet, you should also spend long hours in the gym. Nowadays, you need to add supplements to your diet also to help your body get prepared for the strenuous exercise and recover from it quickly. Many people used to think that making protein shakes is a hassle, especially when you have to run to the gym. But, this isn't the case anymore. Making a protein shake is just a matter of seconds with the new bottle shakers that you can find in the market. You will find various types of bottle shakers but the Cyclone Cup is an interesting one and it has received a lot of good reviews from the customers. Here, we are going to review this product in detail.
Design
You can buy this as a pack of two and it is ideal for a protein shake, supplement mix or meal replacement. You can use it at home, at the gym or even when you are outside. It can hold 22 oz of drink. You can find it in different colors like black, black and red, blue and red, green, yellow, pink, and more. The lid has a special lock that ensures that there are no messy spills. It is designed to be dishwasher friendly, so it is convenient to keep it clean.
Build Quality
It is a powerful mixer with a tapered cone that emulsifies the thicker ingredients quickly. So, you get a perfectly mixed drink within seconds. It has a convenient storage compartment where you can keep supplements or protein powders of up to 6 oz in the removable capsule at the bottom of the bottle. So, you don't need to carry any extra containers with you. The cap has a wide mouth and it seals properly so that there are no messy spills. It is very easy to open the lid and you won't need to apply too much force like the other bottles in the market. Just click and go and the lid opens quickly and even shuts securely. 
These bottles are 100% BPA and DEHP free, which makes them environmentally friendly. They are non-toxic, so won't cause any harm to your body. They are made of recyclable materials as well. The cups are all dishwasher safe, so you can clean it easily. It has a secure cap that snaps firmly into place, so you won't have any bad experience of messy spills over your desk or shirt when you shake the bottle. The secure-lock Click 'N Go pill compartment lids are leakproof, so your protein powders or vitamins will not also leak. 
Size
It has a very convenient size that is comfortable to hold and carry. It is a good replacement for any bulky bottles or plastic bags. It can hold 22 ounces of drink and 6 ounces of dry powder on the bottom compartment. It has dimensions 9.2 inches by 3.5 inches by 4.2 inches and weighs only 1.1 pounds.
Comfort
The bottle is comfortable to hold and carry. You can easily pour the drink or drink from it as it has a wide mouth. The lid has a secured lock, so you can shake without being worried about any leakage. 
Ease of Use
It has a wide mouth that makes it easy to drink from the bottle. The lid is secured and it will snap-fit. So, you won't have to worry about any spills. You can easily wash it in the dishwasher.
Effectiveness
These bottles make it very easy to blend the protein shakes and supplements. You can make them faster than you think. You can use it at home, at the gym or even on the way to fuel up and keep yourself hydrated on the go. It is awkward to find unblended ingredients in the protein shake or other drinks as they may taste bitter. This bottle ensures that there is no lump and the mixer is very smooth. It maximizes the stream of kinetic energy and works against the direction the ingredients flow. This makes the blending more efficient. Even if the ingredients are thought this bottle will easily emulsify it. 
This bottle shaker has a removable dry storage compartment, so you can store your vitamins or supplements separately on the lower compartment of the bottle. To make the drink, you just need to add the supplement to the capsule and add water on it and the bottle will do the job for you. 
Pros
It is found in different stylish colors. 

It is made of environmentally friendly materials and is non-toxic.

It has a secure lock on lids.

It has a wide mouth for easy pouring and drinking.

Its patented cyclone mixing technology ensures that all the ingredients mix perfectly without leaving any lumps or other residues behind.

It has a 'Click N' Go' design for the lower compartment where you can store your supplements and vitamins. 

It has 22 oz capacity to hold the drink in the capsule and 6 oz capacity to accommodate pills and supplements in the lower compartment.

It doesn't create any rattling noise like the other bottle shakers.

It is dishwasher friendly, so you can clean them easily. 

There are measurement markings, so you know how much protein drink you should consume.

It prevents odors.

It fits any cup holders.
Cons
You need to shake the bottle pretty hard to get a smooth shake.

You should carefully attach the lid; otherwise, there might be leaks. 
Final Verdict
This bottle shaker is designed to mix the toughest ingredients with ease. You can use it for your pre-workouts, post-workouts, and meal replacements. It uses special technology to make sure that even the toughest ingredients mix smoothly. The mouth is wide which makes it easy to drink from the bottle. There are 2 compartments and you can use one to store your supplements or vitamins. It's a very convenient bottle and you can make your protein shakes easily with it.