We do many things to remain healthy and fit. Apart from going to the gym or doing exercise at home, it is also important to follow the proper diet. Nowadays, fitness experts are recommending supplements along with a regular diet to boost fitness. There are protein shakes for pre-workout and post-workout sessions to energize your body for the training and to help you recover after the intense exercise session. These shakes can be an easy on-the-go meal replacement as well. To make your life more convenient, there are shaker bottles to prepare your protein shake. All you need to do is add all the ingredients in the bottle and shake it; your drink will be ready. The bottle shakers do a good job by properly mixing all the ingredients and not leaving any globs of food or powder behind. You should invest in a good shaker bottle if you want to stay fit and healthy. Here, we are going to review the Helimix Vortex Blender Shaker Bottle that has received a lot of positive reviews from the customers.
Design
It has a twisted hexagonal shape that creates a fierce mixing vortex when you shake the bottle. So, it can mix the stickiest ingredients, like the peanut butter. It has a patented vortex blender design; as a result, you don't need any blending ball or whisk to mix the ingredients. All you need is a few shakes.
It is portable and lightweight, so you can carry it around easily. It has a sturdy loop that makes it easy to transport from one place to another. This makes your drink more hygienic as you won't have to use any dirty shaker balls. It has graduated scale markings on the side of the cup from 4 ounces and 20 ounces. When drinking, you can lift the lid without touching the drinking spout, making it more hygienic.
Build Quality
It is made of Tritan plastic that makes it odor resistant. It is 100% BPA or BPS-free plastic that makes sure that the supplements are clean always. It can be used as a water bottle as well. This bottle is not easily breakable as it is made of high-quality materials. When you pour the ingredients in the bottle, they move in one direction. When you shake the bottle up and down, the ingredients move through reverse rotation and so blends perfectly. There is no need for any whisks, screens or springs. The bottle is very simple and durable. You can use it for years and still be able to mix your protein shake perfectly with it. As it is dishwasher safe, you can easily clean it. Therefore, it will remain in good condition for a long time.
Size
It has the right size and is appropriate for all cup holders. It can hold 28 ounces of liquid with the lid on. It can mix 16 to 20 ounces of liquid at a time. This bottle is just perfect for your energy drink when you go to a gym.
Comfort
The hexagonal shape of the bottle makes it easy to hold. So, it won't slip off your hand when you shake it. It is lightweight, so you will feel comfortable when mixing the ingredients as you won't need to apply much energy to shake it. It has a leak-proof lid, so you can easily carry your shake from home to the gym.
Ease of Use
All you need to do is pour the ingredients and shake the bottle a couple of times. You don't need any mixing device to blend the ingredients. So, just shake and go; it is that easy to use.
Effectiveness
You can mix smoothies, cocktails, and shakes with it. It allows the optimal mixing of powder supplements. As you shake up and down, it reverses rotational direction, thus compounding mixing power and efficiency. It is dishwasher safe, which makes it easy to wash.
The hexagonal design helps to blend the ingredients perfectly. No special piece is needed to aid in mixing. It is simple and consists of just a cup and lid. So, you can easily prepare your shake on the bottle and put on the lid if you have to go somewhere with it. So, you can have your shake on the go as well without worrying that the liquid might spill as the lid is leak proof.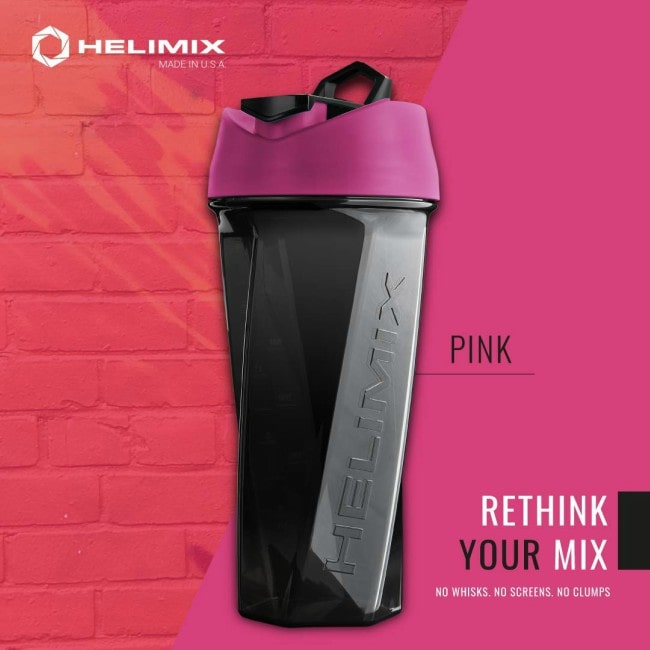 Pros
It doesn't use any mixing ball or another mixing device to blend the ingredients.
Its hexagonal shape makes it easy to blend even the stickiest ingredient.
It is made of BPA-free high-quality plastic that is safe to use.
It provides a leak-proof guarantee.
It is dishwater safe, making it easy for you to clean the bottle.
It fits all cupholders.
It is odor resistant, so you won't have any problem drinking from the bottle.
It can hold up to 28 ounces of shake with the lid on.
No whisks, screens or clumps are needed.
Cons
Due to the hexagonal shape, supplement powders may stick in the corners. To prevent this from happening, you should pour the liquid first and then the powder.
It has 2 openings, so powder may get stuck.
Final Verdict
If you need the right motivation to go to the gym, then you should have a protein drink to give you the energy to start exercising. Protein drink also helps you to recover quickly after an intense exercise session. With the Helimix shaker bottle, making your protein shake has become very easy. It has special technology to blend the ingredients from every corner of the bottle. So, there won't be any ingredients left at the bottom of the bottle. The bottle is portable, so you can carry it to the gym or anywhere. So, you can have a bottle of protein shake easily before or after a workout session. Buy the Helifix shaker bottle today and enjoy your protein shake in a new way.