Without doubt, the Coachella Valley Music and Arts Festival has become the most stylish festival in the world. The glitzy festival is held every year at the Empire Polo Club in Indio, California and attracts almost everyone who loves to see their face plastered across the tabloids so that includes models, actresses, singers, fashion bloggers and anyone with pretensions of being a celebrity.
This hype around the event has ensured that the girls make sure they are on their best looks. Scratch best. Hottest looks. With boho style being a huge thing at the event, there are lots of hotties in tiny cut off denim shorts and bikini tops. Here are the hot women of Coachella festival 2016.
The 35 year old Brazilian model was at her hottest best as she reminded the watching world that why she has been one of the leading Victoria's Secret angels for over a decade now. She made around four appearances at the high profile music festival and I am still not sure in which, she was at her hottest. She highlighted her toned and long pins in pair of denim shorts, miniskirts and short dresses. She showed off her taut tummy and ample cleavage in cropped tops and vest top.
My favorite look was the one in which she showed of her supermodel pins in a pair of suede shorts. She teamed it up with a billowy printed blouse, which was tied up in the middle and left open at the bottom to show off her slender midsection.
The 18 year old American actress is putting serious efforts to establish herself as the next emerging sex model of the industry. And, truth to be said, she is getting sufficient success in her efforts. At the Coachella festival, she made sure that she would be at her hottest as the leading gossip publications captured her appearance. In a bid to capture attention, she dyed her hair blue and channelled full hippie look with smiling face printed denim shorts, lacy top and lots of silver jewelry.
However, the standout look was of her wearing tiny grey denim jeans and a cropped, frilly white top as she showed off her toned legs and taut midsection. She added some serious bling to the ensemble with necklaces, bracelets and even a nose ring.
The American actress and blogger showed off her fashion credentials and her innate style sense at the musical festival by showing off three boho inspired off duty looks. She opted to go for maxi dresses and added fedora to all the looks to polish off her outfits. She opted to keep the neckline low cut to tease a hint of her cleavage.
She brought out her best look on the second day of the festival as she opted to wear a beige maxi dress with see through fabric, which gave a glimpse of her black underwear and lacy bra. She topped off her look with fedora and reflective shades.
The young actress gave a serious competition to more established celebrities at the high profile event. The Kickin' It actress went for a racy and revealing outfit to attend the H&M Loves Coachella Pop UP event held at The Empire Polo Club as the part of the music festival. She paired a pair of light denim shorts with a tight fitting black bodysuit with a very plunging neckline and lace up detailing, which drew to her ample assets. She polished it up with an Aztec print jacket. And, the best part about her appearance was her cute and beautiful smile.
Although, she has failed to make as impressive acting impact as her aunt Julia Roberts did, but she certainly is playing it up when it comes to style and fashion. She has huge following on social media platforms and regularly delights her fans with her fantastic snapshots. She was at her stylish best as she attended an event at The Retreat Palm Springs. The 25 year old actress and singer went for a minimalistic and flirty look as she showed off her long legs and toned arms in an ensemble comprising of white crochet top and blue denim jeans.
Apart from her stint in the Twilight movie series, Ashley is known for her fitness fanaticism and her long sculpted legs. And, she made sure to highlight her best assets while attending the H&M Loves Coachella Pop UP event held at The Empire Polo Club during the festival. Ashley went for the double denim trend by wearing a very frayed and ripped looking white denim shorts and teamed it up with a distressed blue denim jacket. It goes without saying it was impossible to take eyes off her svelte pins.
The English actress and television personality got an opportunity to sample the famous festival and compare it with the famous Glastonbury Music Festival held back home in England. The green eyed beauty looked stunning as she showed off her natural good looks and stunning figure at the event. She gave an eyeful of her cleavage with a plunging lace up neckline and showed off her long legs through the thigh high side slit in her white skirt. All in all, it seems the leggy beauty is all set to make her mark in the Hollywood.
Nina Dobrev is an expert of sorts when it comes to boho and eclectic fashion so it is only logical that she finds a place in this list. Of course, her place in this list isn't just because of her impeccable style sense. She looked stunning and sexy as well. The 27 year old actress found the perfect outfit to show off her laid back style and draw attention to her stunning figure. She wore a very plunging lacy top that gave a generous glimpse of her assets and wore a brown miniskirt, which highlighted her sculpted legs.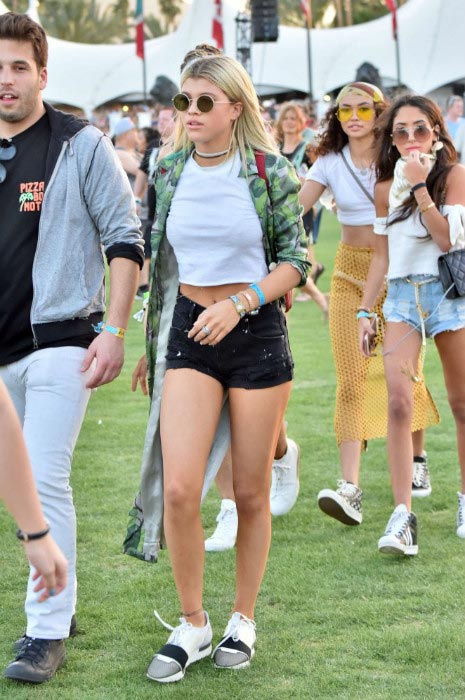 Going by waves she is creating with her sassy and saucy style, it seems Lionel Richie's teenage daughter is here to stay in long haul. The budding model highlighted her style credentials as she mingled with the famous celebrities at the festival. And, going by her appearance, she certainly has killer style and gorgeous figure to make it big in the modeling industry. She wore a pair of denim shorts and cropped white top to highlight her assets.
At the festival, Paris once again proved that she hasn't lost her ability to grab attention. The veteran socialite decided to go for a head turning ensemble that comprised of a see through black maxi gown that gave an uninhibited glimpse of her famous body, underwear and bra. It seemed as if she was walking around in a retro bikini swimsuit. Also, she seemed to be certainly enjoying herself at the event.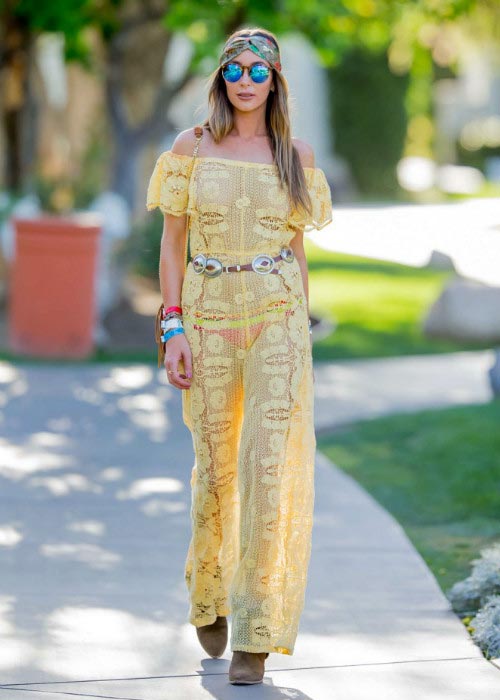 Courtney Sixx has a tremendous reputation as a blogger. And, she proved that she can match celebrities in style and looks as well. She wore a crochet yellow jumpsuit which had a see through design. She flashed her hot pink underwear through the jumpsuit and showed off her long legs. She added a sleek belt over her jumpsuit to emphasize her midsection. Courtney should give modeling a try. She certainly has gorgeous looks and stunning figure for it.