We first loved her as Bridget Hennessy on the ABC sitcom 8 Simple Rules (2002–2005), then we loved her as Billie Jenkins on the final season of the supernatural drama series Charmed (2005–2006), and now we love her as Penny on the CBS comedy series The Big Bang Theory (2007– Present). No matter what the role is, Kaley Cuoco has carved a special place in the hearts of all her fans. What's else is that she looks more amazing now than she was when we first saw her on-screen. So what's the beauty doing these days to maintain that awe inspiring figure? Here's the answer.
Fitness Struggles
The blonde spilled her fitness struggles in conversation with Shape. Rather than saying that she is naturally beautiful, she accepted that she had to struggle a lot to get the body she has now. She worked really hard to look great for the cover photo shoot of Shape and she said that her secret was taking things slowly. Starving wasn't an option, nor was killing herself with exercise.
Workout Routine
The winner of People's Choice Award 2014 has a very simple workout routine. The secret lies in Yoga. She does Yoga 5 times every week by visiting CorePower Yoga. Yoga has helped her change the body completely. She now has a toned body with a lot of muscle. She also feels that yoga is sexy and beautiful.
Every morning, she kicks off her workout with a Hot Power Fusion class or a Yoga Sculpt Class where she has to wear three-pound weights during yoga moves. The Yoga Sculpt Classes also involve 20 seconds of mountain climbing or jumping jacks between the poses which completes her quota of cardio exercises too.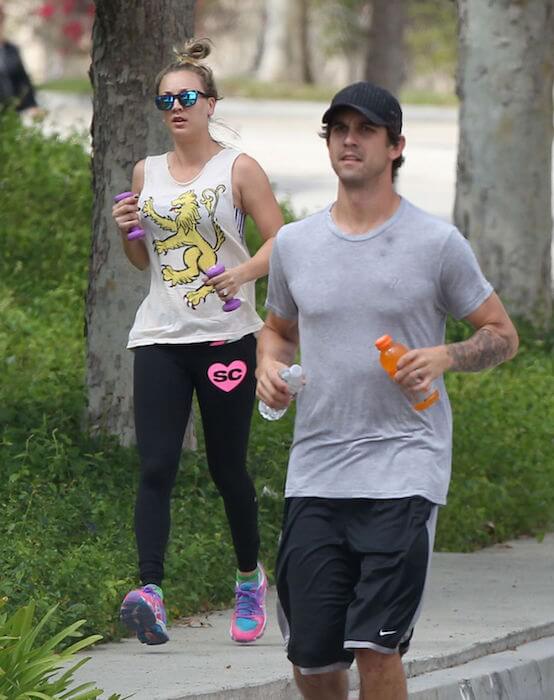 How She Decided On Her Workout Routine?
The TV star took years to find out a workout plan that suits the needs of her body. She also realized that it's not necessary that what workout suits your friends would suit you too. You just have to listen to your body always. And, we agree with her.
Bad Eating Habit
The winner of Critics' Choice Television Award 2013 also shed light on some prior bad eating habits. Citing an example, she said that when she was newly married, she used to eat like her husband, tennis star, Ryan Sweeting, who eats a lot. They regularly had a bedtime snack and had drawers filled with candy bars. Ultimately, she realized it was mindless eating and she was just following her husband without thinking about what she was eating, which led to adding hundreds of calories to her daily diet plan.
Diet Changes
When the TV personality needed to change her diet habits, she completely changed the stuff she puts in refrigerator and pantry. She wisely cut down on bad foods like soda, chips and cereal and stopped eating like a 4 year old.
Diet Secrets
US Magazine reported that she changed her body to appear on Shape magazine's October 2015 cover page. In order to look good on the cover, she ate only almonds for a long stretch of time and felt very hungry. She also ate egg whites to complete her menial diet.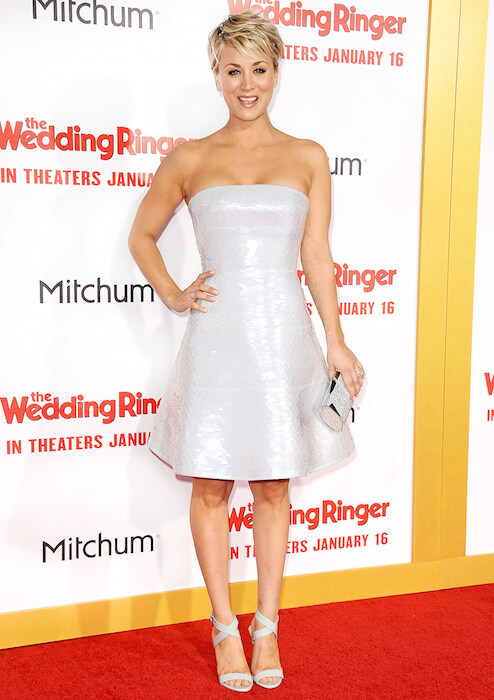 Cheat Days
The celebrity who was awarded The Hollywood Walk of Fame in 2014 considers the cheat days to be of vital importance. She follows a strict routine for the complete week so that she can cheat on Sundays. Her Sundays are usually spent while lying beside a pool, having a drink and enjoying some pizza. The cheat days are a kind of light at the end of the tunnel that keeps her motivated throughout the week and if she didn't have them, she will probably be in a bad mood all the time.
The Results
The actress of Authors Anonymous (2014) has lost 6 pounds in three months due to her new diet and workout. She lost a whole jean size. She also admitted that she buys three sizes of jeans whenever she shops because she never knows which jean size would fit her the next time as her body is very unpredictable.
Her Feelings about Her Shape
Cuoco's new toned body is also making her feel great. Whenever she sees herself in a mirror, she sees positive changes. She also loves it when her husband says 'You look amazing!' The diva is thankful that she got almost a year to prepare for the photo shoot which helped her get back in "Shape" for "Shape."
Looking for more? Learn the prior workout and diet secrets of Kaley by clicking over here.