Ex-TOWIE's Lucy Mecklenburgh 2017 Workout and Diet
Ex-TOWIE beauty Lucy Mecklenburgh is one of those celebrities who can't get enough of their fitness regime and constantly inspire others to join them too. As a result, you can always find some fitness advice that she shares on a regular basis. Here, you can get to know about her 2017 workout routine and diet plan. She has also offered some fitness advice to working women and people who often fall off the fitness wagon. Her thoughts on body confidence and dealing with haters are also worth a read.
Workout Routine
The actress is in love with High-Intensity Interval Training. She also thinks that Pilates is great for the core. She does body training at from three to four times in a week. Her workout routine also involves spinning. She got hooked on it when she did Tour De Celeb.
Workout Motivation
Many of us get motivated to workout by seeing the fitness achievements of other celebrities. But Lucy is a bit different. She prefers getting motivation from seeing the women working out because they are inspired by her. It motivates her to get up and train because she knows if she doesn't train, they might also lose their interest in fitness.
Preferred Body Part
The beauty likes her waist the best and she maintains the small waist by eating well and working out regularly to keep lines on her belly.
Diet Plan
The diet plan of the glamor model is mentioned right here.
Breakfast
A banana omelet with two eggs and some unsweetened almond milk coffee.
Lunch
Pitta bread pizza made with using pitta bread, chorizo, tomato puree, vegetables, and mozzarella.
Dinner
Chicken fajitas with homemade guacamole.
Snacks
Fruits, olives, nuts, hummus & vegetables and healthy peanut butter cups.
Drinks
Drinking two liters of water every day.
If the goal is not met, she has a lot of herbal tea at night.
Diet Indulgence
Pasta such as spaghetti Bolognese, seafood linguine and carrot cake. She has it at least once a month.
Indulging on a Holiday
When the diva is on a holiday, she balances good eating habits with indulging a little. She recently had a holiday in Dubai during which she had a cocktail and some gin & tonic. During the said time, she also had a decent lunch of sushi so that she could have what she wanted during dinner. She also had chips occasionally. For her, it's all about finding a balance between healthy and indulgent. She didn't want to overindulge and make herself sick so she restrained herself at times. Healthy eating is amazing for her, it's not a chore.
Foods She Avoids
Mecklenburgh is dairy intolerant so she avoids dairy products except for cheese, which she has occasionally. She also avoids frozen foods and microwaveable meals. She never shops for stuff like biscuits because if she stores them at her home, she will have them.
Creating a Smoothie
The brunette has also shared her favorite smoothie recipe. You just need to take some coconut water and add some mixed berries, oats and desiccated coconut to it.
Workout Advice for People Who Don't Stick to it
There are many people who create a workout and diet strategy but don't stick to it. The owner of a fitness website, Results with Lucy, has some advice for them. You should change your fitness regime by adding a good habit or cutting out one bad habit at a time so that you don't overwhelm yourself. And, you should remember that every once in a while, every person thinks that he or she can't stick to a workout and diet regime. There's nothing bad about it. You just need to stay motivated and keep going on.
Workout Advice for Working Women
The brown-eyed beauty offered a valuable workout tip to working women. She wants you to follow her plan like so many other women who are mothers or have a full-time job. Just get up and do a 15-minute HIIT session. You can surely save 15 minutes or so by doing the exercises within the comfort of your home. Also do a quick session with 15 seconds rest in between the exercises like sit-ups, squat jumps, etc. It might make you ache the next day but it will be worth it.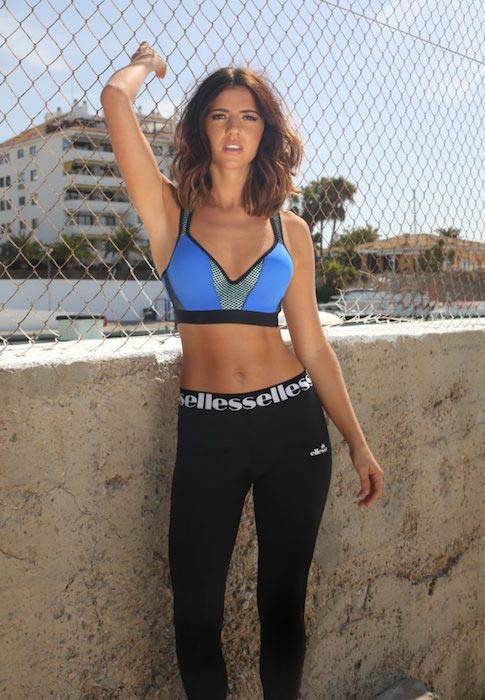 Body Confidence
The TV star thinks body confidence is about accepting what you perceive as imperfections and learning to love your attributes a bit more. When you look at the mirror, you should focus on the positives instead of the negatives.
Best Advice for Fans
The London-born says that her website is aimed at helping women get fitter without fad diets or expensive kits. She wants her fans to realize that body confidence is not about losing weight, it is about how you make your face glow and feel great about yourself.
Dealing with Haters
The former reality TV star is quite successful in dealing with haters because when she was criticized recently for being too skinny, she hit back by saying that body shaming is horrible. Women should not worry about weight all the time, instead, they should love themselves and feel positive about who they are.