Lucy Mecklenburgh 2014 Diet Plan and Workout Routine
5 ft 6 in, former TOWIE (The Only Way Is Essex) star, Lucy Mecklenburgh is an English actress, model, and fashion designer. Beautiful from head to toe, the babe has the most remarkable tiny waist. Having acquired size-8 figure, the brunette is totally gratified with her new weight. However, she still desires to drop some extra pounds from her thighs and legs, which she still calls chubby. We tried to scoop her diet, exercise routine, and a few other fitness secrets, which are accountable for fetching the starlet in top shape.
Use Negative Comments – Most of us tend to get disheartened and as a result, lose our confidence when people bully us with their insensitive and mortifying comments. However, the young celeb employed the negative comments to make her grow leaner and sexier. In fact, her weight journey sparked off when she saw a bunch of cellulite-covered unflattering images of her, which further gave room to annoying comments being passed on by people. Instead of being nerved, Lucy mulled over her body flab. For the first time, she realized that she is not at all abiding by a healthy lifestyle because neither was she inclined to workouts nor was she taking good diet. And the hot chick determined that very moment that she will cut off flab from her body.
Despite not being bulky, she embraced exercises and balanced diet. Not to mention, within a couple of weeks, she acquired assassin bikini-embracing body. Apart from becoming slimmer, she has become the Goddess of honed arms, legs, bums, and flat stomach. Not only that, her makeover overwhelmed her so much that she rolled out with her own online fitness business. Her business has actually turned around the lives of numerous women who were insecure about their weight. So, she not only transformed her own life but also changed the lives of plentiful flabby women.
And it all happened due to those couple of humiliating comments. Isn't her attitude worth following!!!!
Workouts with Personal Trainer – Rather than hitting the gym, Lucy executes her workouts under the supervision of her personal trainer, Cecilia Harris. She executes strenuous exercises such as circuit training four times in a week, for one hour daily. Her personal trainer keeps lifting the intensity of her exercises, as soon as she develops ease with them. She walks briskly when she doesn't have time and space to execute other workouts.
Workouts Paired With Fun – In the meanwhile, Lucy also joined boot camp to melt unsolicited pounds. She went through vigorous military training there. These exercises were so laborious that she ended up leaving them. Then, she made up her mind to begin a boot camp which can provide such exercises to women which can perk up their affection for workouts. Along with her personal trainer, she compiled a fitness program which has a blend of exhilarating exercises such as boxing, rock climbing, interval training, and one exclusive exercise namely "No Heel Hike."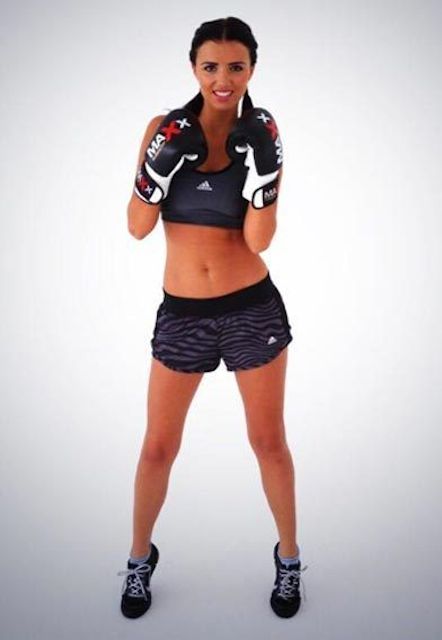 She suggests her fans having a jam-packed schedule, to join Zumba or yoga classes on weekends. That being said, whatever workouts you do, introduce fun factor because that will double or treble their influence. Thanks to the amusement feature added into her workouts that now, Lucy cannot let even one single day of her pass without workouts. 
Clean Diet With No Snacking Breakfast – Having cultivated healthy eating habits, Lucy switched to clean and wholesome foods. Her list of foods which was stocked with pizza, hamburger, pasta, and other junk foods got replaced with nutrient-packed foods such as green and leafy veggies, whole grains, fruits etc. She even renounced boozing which was the cruelest ever thing to overcome for a girl. Lucy mostly avoids snacking. However, instead of having potato chips, pasta etc. in her snacks, she inculcates healthy snacks. Since our metabolism is at its best in the noon hours, she eats all the carbs in her lunch. Here is one typical day diet regime of Lucy.
Breakfast – Turkey, scrambled egg, sandwich
Snacks – Yogurt with fruits, hummus, and carrot sticks
Lunch – Avocado salad, salmon, grilled chicken breast draped in Parma ham with veggies.
Dinner – Chicken stir fry, seafood pasta
Two Cheat Days – While eating healthy and nutrient dense foods five days in a week, the refreshing beauty allows her to have two cheat days in a week. She indulges herself in her beloved foods such as chocolates, curry etc. on this day.