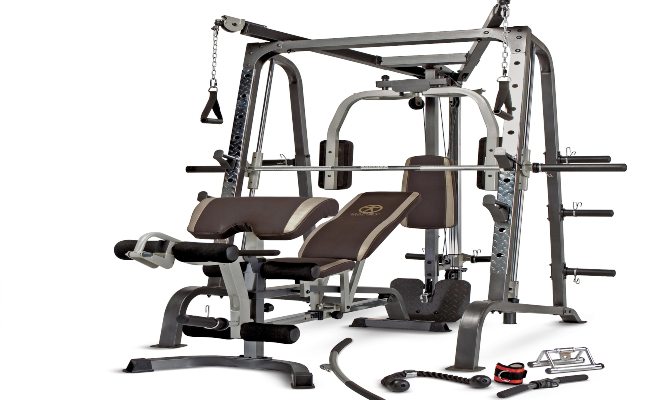 In order to stay healthy and fit, it is necessary to exercise regularly. If you are active, then your joints will be in good condition and you will be able to maintain a healthy weight. By exercising, you can also prevent various diseases like cardiovascular disease, diabetes, bones and joints related diseases, and more.
With different kinds of equipment available today, it is very convenient to get into shape. You won't need to go to the gym anymore as you can turn a room of your apartment into a home gym with some great equipment. If you are looking for a one-in-all solution, then you should buy a home gym. This machine has everything you need for a total body workout. You will be able to do various kinds of exercises using them. There are various attachments that allow you to carry out various types of exercises for your arms, legs, shoulders, back, and other parts of the body.
As you can get various types of home gyms in the market, it can be quite confusing to buy the right one. We have gone through a number of home gyms and found the Marcy Diamond Elite Smith System to be one of the best. Here, we are going to review this home gym in detail and find out about its features and benefits.
Design
It has an innovative structure having arm and leg stations that helps to strengthen various muscle groups. So, you won't need to use any other gym equipment. The frame has a 7-degree slant that is designed to support the upper and lower body movements naturally. It is designed with dual action press arms which lets you do various arm and chest exercises so that you can develop your biceps, triceps and other muscle groups. There is a dual function leg developer as well that has six oversized rocker pads that have a good effect on the targeted muscle groups. The linear bearing is designed in such a way that it ensures smooth motion so that you can have a comfortable exercising experience. Its bench is multi-functional and you will be able to do different exercises with it using the leg developer and the bicep preacher curl. The overall frame design is such that it offers stability and increased performance.
Build Quality
This home gym is made of heavy-duty steel frame and has a powder-coated finish that makes it more durable. It uses aircraft cable that has a tensile strength of 2,000 lb that makes it strong and so can withstand constant intense workout pressure. It has an Olympic free-weight rack that helps to engage you in strength training and intense weightlifting. You get 6 built-in weight plate pegs that let you keep the barbells organized so that you can access them whenever you want to. It has a cable routed pulley system that lets you do different exercises. With this machine, you will be able to do more than 100 different exercises. It has commercial grade pop pin adjustment having tightening features that make the machine stable. The pulleys are thick and made with nylon and sealed ball bearings.
Size
It has a compact and heavy-duty tubular steel design that makes it a convenient home gym for your apartment. However, if the apartment is too small, then it may not fit. It has dimensions of 95'' by 79'' by 86''. There are 6 Olympic weight plate storage pegs that help in storing the machine and also keep it safe.
Comfort
Its pulley system is made of nylon and is thick which gives a comfortable grip for a workout. The preacher curl attachment is smooth which makes workouts convenient. The bench is comfortable and you will be able to do various exercises smoothly as it is designed to support your body well. It has an off-the-floor design that provides stability even during intense exercise.
Effectiveness
This is a very versatile machine. You will be able to combine 3 different kinds of strength building machines into one and perform more than 30 different exercises. You can do strength training, functional type training, and other exercises as well. It has a multi-function weight bench having bicep preacher curl and leg developer. There is also a cable routed pectoral fly station that targets the chest muscles. It has adjustable bar catches and can hold 600 lb of total weight capacity. The home gym has 1'' high-quality chrome guide rod. The adjustable bar catches allow for various types of exercises and they also have safety stoppers so that you can exercise without any problem.
Price
You can get this home gym for $999.99. You will hardly find any home gym of this high quality within this price range. You will be able to do more than 100 exercises with this machine so imagine how many equipments you needed if you used separate equipment for each exercise. This home gym is a one-in-all solution for all your fitness needs.
List of Equipment
6 built-in weight plate pegs that keep the barbells organized for easy access
Multi-functional bench with bicep preacher curl and leg developer
Cable routed fly station
Olympic free-weight rack
Various attachments like triceps rope, shiver bar, ankle strap, lat bar, etc
Pros
The frame is constructed with steel making it very sturdy and durable.
The Smith press and catch mechanisms are very good and allow for smooth exercising experience.
The off-the-floor base of the frame gives excellent stability.
The bench is perfect for doing rowing exercises.
The pectoral fly station targets your chest muscles.
You can do varieties of exercises including weight lifting, leg presses, and more.
The frame structure is slated at 7 degrees which accommodates the upper and lower body movements naturally.
It has thick nylon pulleys with sealed ball bearings.
The bar catches are adjustable and have safety stoppers to prevent any accident.
You get a warranty of 2 years.
Cons
Assembling the cable system is a bit difficult.
If you are tall, you may not get full extension while doing exercises like vertical shoulder presses.
It takes a lot of time to assemble.
Final Verdict
This home gym is a perfect solution for your everyday workout. You won't need to worry about going to the gym if you have this home gym in your home. You will be able to do more than 100 exercises with this machine. There is the adjustable weight bench that lets you do exercises by adjusting the bench to different positions. It has preacher biceps pad for exercise which has comfortable padding. You can do varieties of chest workouts with the butterfly station. There is a pulley system that allows you to do different types of exercises for total body workout as well.
This home gym is made strong and is durable. Maintaining it is very easy and you will be able to do intense exercises for many years without any trouble. Though it is a bit expensive than the other home gyms available in the market, you will be able to get good value for money by exercising using this home gym.