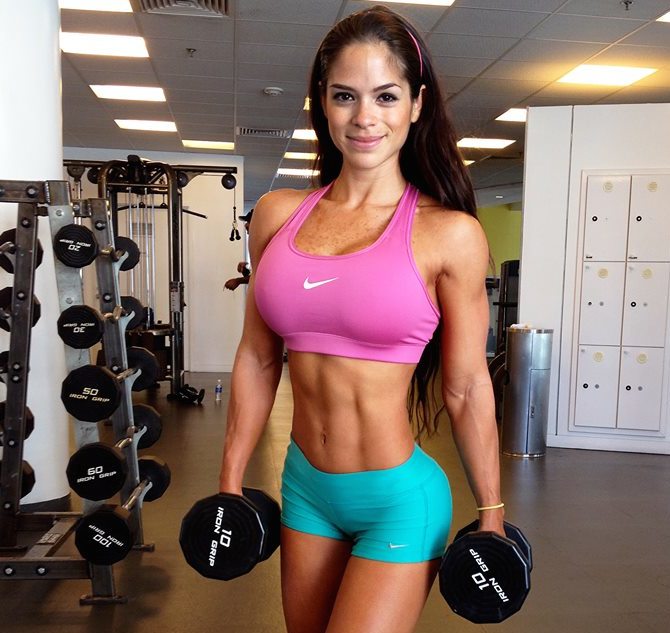 Youthful and phenomenal beauty, Michelle Lewin is a fitness model with enviable abs and hourglass figure. Having got a suggestion to participate in NPC fitness contest, Michelle began drilling her body towards the attainment of fitness objective. Her bikini figure which is simply impossible to ignore is the outcome of incessant hours spent in the gym. With her ample assets, taut belly, and pert booty, Michelle has graced the cover page of plentiful fitness magazines. Recently she flaunted her curvy figure in n*de photoshoot for bodybuilding.com. The sultry babe enormously attributes her modeling career to her pristine figure. Let's have a look at the diet and workout routine of Michelle Lewin.
Reliance on Supplements
Michelle couples her balanced diet with supplements. She consumes supplements such as Pro-Amino, Big Blend, Bullnox, Fulldose etc. to impart adequate fuel to her worked out muscles. However, she takes these supplements only under the supervision of nutrition expert.
Source of Motivation
Michelle states that it motivates her when she witnesses her beautifully toned body in the mirror. Her own image gives her the sense of satisfaction and makes her believe that it's worth spending grueling workout hours in the gym. In addition to that, her fans who keep looking up to her as their role model encourage her.
Preparation for Contests
When preparing for upcoming contests wherein she is supposed to display her svelte figure, she goes crazy about workouts and exercises like insane. Cardio workouts such as stair climbing, spinning classes, rollerblading etc. are her favorite workouts. She also adores sprints for they torch massive number of calories without the loss of muscles. For the most recent contest, Europa Dallas 2014, Michelle submitted herself to circuit training comprised of jump squats, lunge jumps, rope skipping, quadruped hip extension etc. To ensure better results, she completes circuit with no rest in between the exercises. She also becomes more prudent towards her diet and trims down the consumption of carbs. And two weeks prior to competition, she totally forbids the intake of carbs except for oats in the morning.
Several Small Meals
The stunner consumes five to six small meals in a day in which she eats nutrient laden foods. She states that she feels hungry very often and frequent meals keep her energized. Without being insensitive to her body, she makes sure that calories consumed by her in a day are less than the calories burnt. Healthy foods such as oats, pancakes made up of stevia, unsweetened almond milk, egg whites, protein powder etc. are her most beloved food items. Here is one of the samples of diet plan followed by Michelle Lewin.
Breakfast – Oatmeal with almonds, strawberries, egg white omelet with spinach etc.
Snacks – Pork chops with salad, ham with Swedish crackers etc.
Lunch – Steamed broccoli with olive oil, baked sweet potato, grilled chicken breast, etc.
Dinner – Brown rice with steamed asparagus, grilled salmon etc.
Weight Training
Her toned and muscular abs are the testimony of weight training she does in routine. However, instead of dwelling on heavy workouts, she rests on light weights as they cut back her chances of getting bruised muscles. The stunner shares that she was naturally credited with great bums but with her carelessness, she missed that part. However, after incorporating workouts in her lifestyle, first thing Michelle did was, she performed workouts meant to tone her lower bottom. She executed myriad workouts such as weighted lunges, squats, leg press, etc. for the same. But she realized that her upper body was getting thinner and before much ado, she switched to full body workouts. Shaping up muscles with weights is something for which she is most passionate. She adores bicep curls and feels delightful in viewing the wonders of weights on her body. The supermodel works out five days in a week. Here is a sample of her weekly exercises.
Day One – Back & Biceps
Chin ups – 4 sets, 12 reps
T-Bar Rows – 4 sets, 12 reps
Row Machine – 4 sets, 10 reps
EZ Bar Curls – 4 sets, 12 reps
Dumbbell Curls – 6 sets, 12 reps
Straight Bar Cable Curls – 4 sets, 12 reps
Day 2 – Hamstrings & Calves
Seated Leg Curls – 4 sets, 12 reps
Lying Leg Curls – 4 sets, 12 reps
Deadlifts – 4 sets, 10 reps
Standing Calf Raise – 6 sets, 20 reps
Seated Calf Raise – 8 sets, 20 reps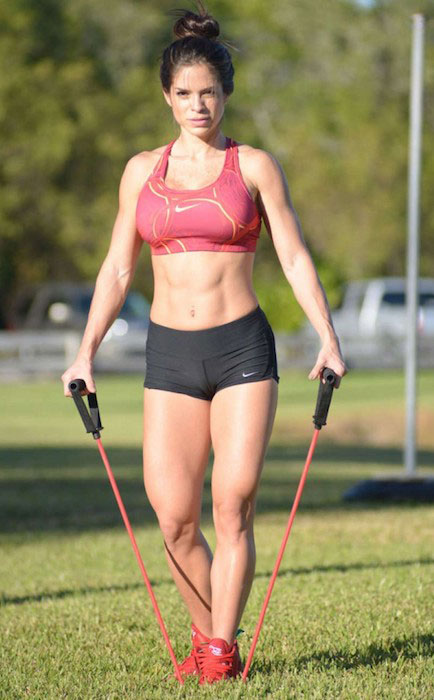 Day 3 – Triceps & Shoulders
Standing Dumbbell Tricep Extension – 6 sets, 12 reps
Rope Overhead Cable Extension – 4 sets, 12 reps
Skull Crusher EZ Bars – 4 sets, 12 reps
Military Press – 4 sets, 10 reps
Upright Rows with EZ Bar – 4 sets, 12 reps
Side Lateral Raises – 4 sets, 10 reps
Day 4 – Legs
Lunges – 4 sets, 12 reps
Leg Press – 4 sets, 15 reps
Squats – 4 sets, 12 reps
Day 5 – Abs
Crunches – 4 sets, 20 reps
Hanging Knee Raises – 4 sets, 12 reps
Crunches on Ball – 4 sets, 20 reps
Crunch Machine – 4 sets, 12 reps
Here is a glimpse of arm workouts practiced by Michelle.