Myleene Klass has donned so many roles in life that it's hard to label her as just a singer, model, TV presenter or a businesswoman. She has tried all these roles (and much more) and achieved considerable success with them. Apart from doing so many things successfully, the stunner also gains attention due to her perfect figure and her ability to carry that figure with style. She is perhaps one of the most loved and respected personalities in the UK. Here, we reveal how the diva maintains that goddess like body of hers and how she manages to look so great while taking care of her two daughters as well as managing a successful career.
Workout Routine
You will be amazed to know that there is no secret workout routine that helps the star to maintain that perfect body. She admits that she is not a gym bunny. The only thing that helps her stay fit is that she keeps moving at all times, reports Express.co.uk. She uses stairs at all the times and considers activities like lawn mowing to be a good workout option. Even when she is traveling, she prefers to use stairs on airports rather than the moving walkways.
The fashion designer likes to swim with her girls as much as possible because they all love water. She also prefers to do boxing. Myleene thinks that it's a great workout. Even her daughters love boxing. They box and swim most often on weekends.
Relaxation Method
The author likes to relax by having friends over on Fridays, having a glass of wine and putting on a clay face mask. She also puts on SK-II Signs Eye Mask as it helps to rejuvenate the under-eye area and reduce the dark circles.
Changing One Part of the Body
If the media figure could change one part of her body, she would want to change the part that needs her to get at least 8 hours of sleep. She tries hard to get 8 hours sleep but rarely manages it. When she can't get it, she feels like jet lagged, tired and even clumsy.
Diet Plan
The diet plan of the radio presenter is quite simple. The breakfast consists of having some Actimel. She has it with porridge or muesli. Actimel is a source of Vitamin D and Vitamin B6 which are great for the immune system and keeping the fatigue off. The lunch meal usually includes sushi and the dinner is chicken fajitas. She considers her diet to be a fairly balanced one.
Best Beauty Tip
The most important beauty tip shared by the former Hear'Say singer is that sleep is one of the most underrated beauty products. She is a busy mom and a professional who struggles to have ample amount of sleep because her little one wakes in the night and she always has 100 things to do. Whenever she gets enough amount of sleep, she feels like a million dollars.
Definition of Beauty
When she was asked the definition of beauty for women, the musician replied that the most beautiful women are those who are strong and have something to say for them. She listed the names of a few celebrities who she thinks are beautiful women. She mentioned Emma Watson, Beyoncé, Angelina Jolie, Rihanna, Lauren Laverne and J.Lo.
The girlfriend of Simon Motson thinks that women who are informed (up to date) and capable are most beautiful. Beauty is not just about having your hair in the right place or putting on the right lipstick. It's about being a woman who is aware and knowledgeable. (And we couldn't agree more on that!!)
Being a Mum and a Professional
The pianist admits that managing a career and two kids is not an easy job. Her mornings are always rushed and she often doesn't have time to sit down and have some breakfast. She deals with the situation by planning ahead by preparing the girls' uniforms and packing their lunch at nighttime.
The former Loose Women (1999-Present) panelist also admits that she is not perfect but wants her girls to see that she is managing a career and motherhood. She wants her babies to be raised in the generation where they know that women can have it all. She also confesses that it does get exhausting and challenging at times.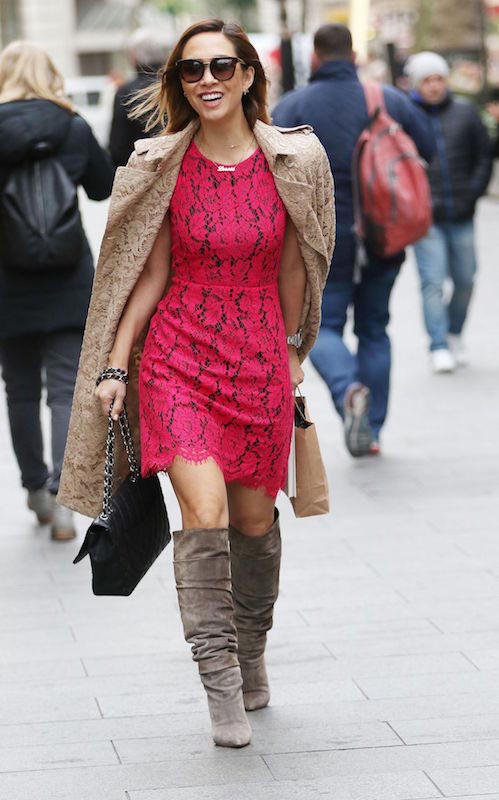 Support One Another
One thing the Popstars to Operastar (2010-Present) contestant wants from all the mothers is that they should support each other. Women should not judge each other or themselves. It's okay to make a few mistakes like losing your car key or phone (Myleene does it regularly). But at the end of the day, you should just keep trying your best.
It seems that Myleene is not only a successful professional but a great mother and a good human being as well. If you liked her ideas, then you may want to follow her on Twitter or Facebook. You can also visit her official website to know her better.