Ram Charan is one of the megastars of the Telegu film industry who is dedicated towards his craft and is not hesitant to change his lifestyle to fit in a movie role. He opted to change his workout and diet plan for his movie Vinaya Vidheya Rama (2019) and succeeded brilliantly. Below, you can know more about what motivated him to change his body and how he did it.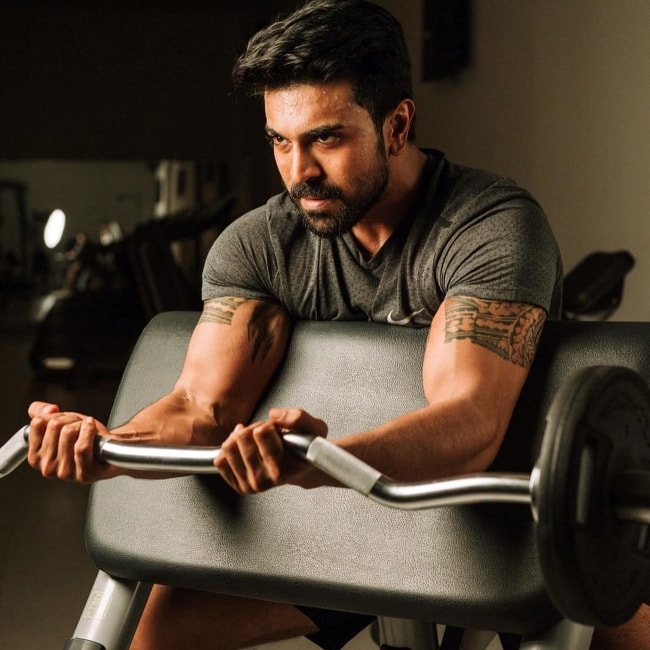 Ram Charan Fitness Secrets for Vinaya Vidheya Rama
The Change
Ram Charan decided to change his body on the suggestion of film's director Boyapati Srinu who asked him to get a Rambo type of body. He completely surrendered to the director's vision and worked towards it and was trained by renowned trainer Rakesh Udiyara.
Diet Secrets
The actor followed a 3-week diet plan that can be extended to a period of 45 days if needed. The diet plan he followed was:
Breakfast
He had breakfast at 8:00 a.m. and it included 2 whole eggs, 3 egg whites, almond milk, and ¾ cup of oats.
Morning Snack
At 11:30 a.m., he had a cup of clear vegetable soup.
Lunch
He ate his lunch at 1:30 p.m. which included 200 grams of chicken breast, half cup of green vegetable curry, and ¾ cup of brown rice.
Evening Snack
At 4:00 p.m., he had half a cup of green vegetables with about 200 grams of sweet potatoes.
Dinner
He had dinner at 6:00 p.m. which included a bowl of nuts, a large mixed green salad, and ¼ avocado.
The Fasting
After the dinner, he didn't have anything and fasted for at least the next 12 hours. During the fast, he didn't have anything, no food or water.
Eliminating and Adopting Foods
He avoided foods like red meat, dairy products, wheat, sugar fruits, and coffee. He opted for food choices like lentils, fish, tofu, and boiled, baked, and poached chicken. The key carbohydrate sources he had were oatmeal, brown rice, and sweet potatoes. The vegetables he depended on included broccoli, asparagus, and green beans.
Featured Image by Upasana Kamineni Konidela / Instagram