Shari Franke Quick Info
Height
4 ft 11 in
Weight
45 kg
Date of Birth
March 3, 2003
Zodiac Sign
Pisces
Eye Color
Light Brown
Shari Franke is an American social media star best known as the oldest child born to Ruby and Kevin Franke, who, alongside their 6 children, run a YouTube channel 8 Passengers, which has amassed a fanbase of more than 2.5 million subscribers. Interestingly, her family vlogging channel was created on January 7, 2015, while her personal channel, which has amassed an audience of more than 500k subscribers, was created almost exactly a year earlier, on January 10, 2014. One of the earliest and most prominent videos on her family's channel that she appeared in was 6th Grade Science Project in March 2015, while she didn't post a video on her personal channel until October 29, 2017, titled My FIRST VLOG!!!. For her own YouTube channel, she had taken a page out of her parents' book, doing sibling tags, challenges, vlogging, pranks makeup and morning/night routines, and discussed her life in a religious family and attending a private school. She has also amassed a large fanbase online with more than 400k followers on Instagram.
Born Name
Shari Franke
Nick Name
Shar Bear, Sharry Berry
Sun Sign
Pisces
Born Place
Logan, Utah, United States
Residence
Springville, Utah, United States
Nationality
Education
Shari attended a public school until the beginning of her freshman year. Due to the presence of vulgar language, drug problems, and bad friends, her parents enrolled her in a very strict religious private high school in 2017.
Occupation
Social Media Star
Family
Manager
Shari is represented by her parents.
Build
Slim
Height
4 ft 11 in or 150 cm
Weight
45 kg or 99 lbs
Boyfriend / Spouse
Shari Franke has dated –
Brevin (2017-2019) – Shari said that she wouldn't date anyone until she turned 16 but spent a lot of time with Brevin, whom she met when she was 14 years old. He was her best friend and one of the greatest people she knew. Her audience was slightly perturbed to hear that Brevin was her cousin, not knowing how distant being an 8th cousin was. She also made a video about waxing his eyebrows in January 2019. They were both 16 years old as of April 2019 but agreed not to date exclusively as they were too young. Shari clarified that her church made a clear distinction between "going on dates" and "dating", which meant having fun with multiple boys and not settling down with one exclusively, an idea she liked. However, her audience noticed that Brevin stopped appearing in her videos and pictures on social media in late 2019. This led Shari to publish a video explaining that they stopped talking for a while. Brevin had intentions of dating her exclusively and she felt like she was still too young and wanted to hang out with other boys from school she liked, without obligations. He was hurt by that but accepted it. The two remained on good terms and still congratulated each other on their birthday but stopped hanging out in person and texting.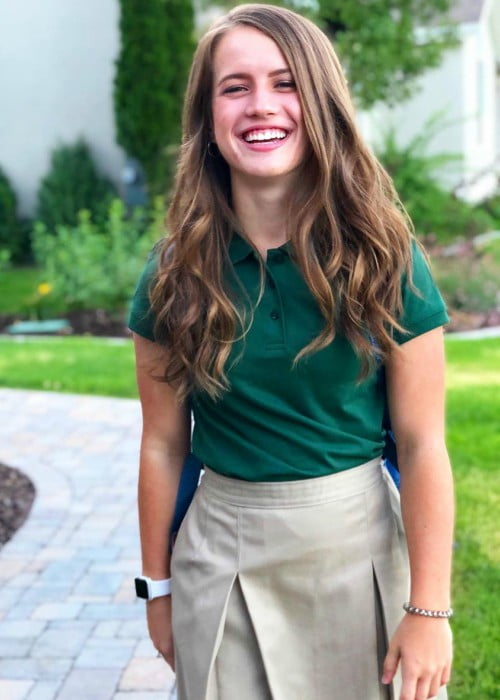 Race / Ethnicity
White
She is of American descent.
Hair Color
Light Brown
Eye Color
Light Brown
Sexual Orientation
Straight
Distinctive Features
Defined jawline
Brand Endorsements
Shari Franke, as a part of 8 Passengers, has endorsed brands such as –
Square Panda
Organizing Habits
Total Wireless
Walgreens
Clorox Disinfecting Wipes
Kellogg's
Walmart Grocery Pickup App
Wet Ones Hand Wipes
RetailMeNot
Xfinity
Hum By Verizon
Bollie Brand
Crockpot
Hunter
Invisalign
Religion
She attends the Church of Jesus Christ of Latter-day Saints.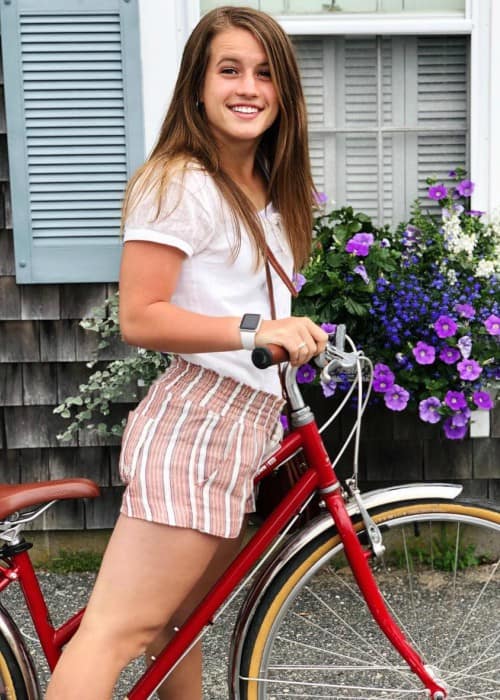 Best Known For
Being the oldest out of 6 kids born to Kevin and Ruby Franke, who created and ran a vlogging/family YouTube channel, 8 Passengers, starting in 2015, which has amassed an audience of more than 2.5 million subscribers
Having a large social media fanbase of more than 400k followers on her personal Instagram account and more than 500k subscribers on YouTube
Personal Trainer
Shari loved playing softball as a kid and wanted to be a pitcher. However, a back injury when she was around the age of 12 forced her to quit. She was also a part of the high school's volleyball team. Shari was always a super picky eater but has gotten a little bit better over the years. Her go-to food is toast with peanut butter. One of her least favorite exercises is bench press but she enjoys weightlifting and running in general.
She also joined the track team at her high school in 2019 but was too short to do field events, so her coach told her to focus on sprints. Shari also typically works out in the evening. Her at-home and gym workout routines both have resistance bands included due to her family genetics of having tight calves and ankles and thus low joint mobility. Before she does anything, she uses a foam roller on her calves. She then proceeds to foam roll her quads, hamstrings, and glutes, before moving on to using resistance bands to do the same. Her sprint coach created a 3-day routine specifically for her.
Day 1
Day 1 of her 3-day split is typically at home. Shari starts with a superset of 'sprinter's crunches', moves on to 'running in place', making sure to bring her knees as high up as they can go. She then repeats the exercise, only leaning to the left while running and keeping her balance with her left hand firmly on the wall. The reason is that the runners on the track field run while slightly leaning to the left due to it being elliptic. After a 1 to 1.5 minute break, Shari moves on to do a 'wall sit' for as long as she can and then 'runner jumps', where she brings her knees to her chest while in a plank position and then back really fast.
At the gym, she goes to the treadmill that can imitate a real track field. She 1st jogs for the distance of the whole track to warm up. The next lap, she tries to do half the distance of the track at a faster pace, then jogs or walks the remainder, repeated 5 times.
Day 2
On Day 2, Shari does weightlifting and with impressive weights for her stature and height.
Superset 1
Dumbbell Chest Press – She does it on a flat surface. Even though her coach recommended she do a barbell chest press, her arms were so short that the bar hit the safety bars before her chest. This made her unable to perform the exercise in a safe manner, as the bar with weights could fall on her neck or chest and badly injure her. She does 3 sets of 10 reps of this exercise.
Goblet Squats – She uses resistance bands underneath her knees because they have a habit of caving in, which could lead to an injury. She does 3 sets of 10 reps.
Superset 2
Split Squats – She typically holds a dumbbell near her chest to add additional resistance. Shari also adds a resistance band underneath her outer knee, so that it pulls it in and prevent it from caving outwards. She does 20 reps per leg, with 3 sets in total.
Incline Dumbbell Bench Press – After she puts the bench at an approximately 45-degree angle, Shari proceeds to do 3 sets of 20 reps.
Day 3
Shari knows it's not safe to sprint every single day and also to avoid sprinting on the treadmill whenever possible. For that reason, she goes to her local sprint track. After foam rolling, she starts dynamic stretching, which includes exercises such as 'Frankenstein walks', 'A-skips', 'C-skips', 'quad stretches', 'glutes stretches', and 'sideway A-skips'. After a light jog around the track to warm-up, she finally starts sprinting.
80-Meter Sprint At 80% Capacity – 1 repetition, 1 to 1.5 min rest afterward
50-Meter Sprint At 90% Capacity – Repeated 2 times, 2-minute rest in-between
40-Meter Sprint At 100% Capacity – Repeated 3 times, 3-minute rest in-between
After a little bit of rest, Shari heads to the gym.
Kettlebell Overhead Press – 3 sets of 10 reps
TRX Rows – 3 sets of 10 reps
Superset 2 (Back)
Hex Bar Deadlift – 3 sets of 5 reps, using a resistance band around her knees
Chop And Pull/Side Wood Chop – 3 sets of 10 reps per arm
Shari Franke Favorite Things
Source – YouTube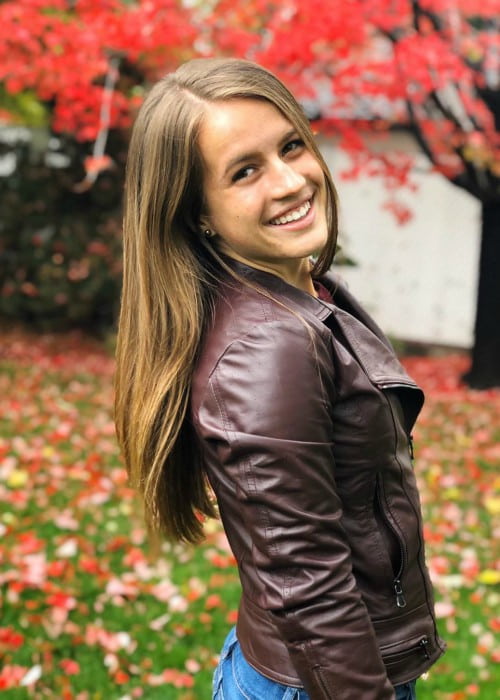 Shari Franke Facts
She was named after her grandma, Shari Lynn/Linn Franke.
When Shari was 3 months old, she was constantly crying and had stomach pain. She had to have 6 inches of her short intestines removed due to an infection and spent the whole week in the hospital.
Her whole family moved from Utah to Seattle, Washington in 2007, then to Idaho in 2007, and back to Utah in 2009.
She can play the piano and she even won a piano competition as a kid.
When she was 3 years old, she didn't go to the bathroom for 3 weeks because she had an irrational fear that 2 poops would come out at once.
Shari learned to read at the age of 5 because she kept begging her mom to teach her.
At the age of 5, Shari hid under the table and cried when Chicken Alfredo's meal was brought out. It later became her favorite food.
At the age of 8, she was introduced into the religion of The Church of Jesus Christ of Latter-day Saints after her dad baptized her at home.
She doesn't drink soda that much but loves a zero-sugar, artificially flavored water.
As of October 2019, Shari would love to live in New York City, New York when she's older.
According to her, the best french fries are from McDonald's. The close 2nd is from Chick-fil-A, and then Sonic, Wendy's, Arby's, and Del Tacos in the last place.
Shari is a morning person.
Her go-to pizza is Philly cheese pepperoni.
She eats scrambled eggs almost every morning.
Her dream job is being a lawyer and a mom.
Shari is not an outdoors person but she enjoys the beach because there are no bugs. She's also scared of bees and always asks her brothers to go into the bushes to pick up the ball, for example.
She prefers Dr. Pepper over Coke.
Shari can speak Portuguese, German, and French.
She's very good at solving a Rubik's cube and can do so in a minute and 23 seconds.
She loved the attention she got when she twisted her ankle in the 6th grade. When she took the cast off, she wanted to twist it again just to enjoy being asked about it again.
Shari had small stains on her front teeth from the medication she took and kids used to bully her for it.
When she was 11 or 12 years old, she developed a habit of taking a scolding hot bath while drinking hot chocolate right after she came from school. After 4 months of doing so, her parents showed her the water bill that skyrocketed, telling her that unless she wants to pay it, she better stop.
She hates jalapenos.
Shari enjoys the smell of gas and chlorine.
Shari began filming family video diaries in 2013 after the birth of her youngest sister, Eve.
For her 14th birthday, she was gifted a hedgehog named Prickles who helped her overcome her anxiety and slight depression.
She was obsessed with the song Fireworks by Katy Perry in the 7th grade.
She cannot say the word chandelier.
In the past, Shari wrote about her goals in life as a kid and dropped the papers in a massive jar. She plans to open that jar on her wedding day.
She loves to crochet, which she learned from her uncle. When she had a cast on her right hand, she had to learn how to crochet with her left.
Out of all types of bread, she enjoys wheat bread the most.
She enjoys wearing earrings and rings the most out of all jewelry. However, her skin is allergic to them and unless they're made of sterling silver, she cannot wear any for more than a day.
One sport she wishes she was good at is gymnastics because she can't do a somersault.
Shari has a main role in handing out items that are given away on the 8 Passengers YouTube channel.
She was diagnosed with slightly prone feet/collapsing feet in April 2019 which she inherited from her mom. They gave her troubles when running.
She doesn't really hate cats but also doesn't see them as playful animals.
Shari was always nerdy.
She doesn't like summer, mainly due to her allergies. She's also very passionate about going to school and cannot wait for the summer vacation to end.
Shari maintains a diary and also had a whiteboard near her bunk bed so she could write down her memories for the day.
She is very clumsy.
Shari is very open to people outside her religious beliefs.
She is an introvert.
Ever since she can remember, she has gotten straight A's in school. Shari is also a perfectionist when it comes to other things and likes to plan ahead.
Her parents don't let her or her siblings go out with friends unless their bathrooms and bedrooms are clean.
Shari wouldn't be able to sneak out of the house even if she wanted as her parents have anti-burglar alarms all over the house.
Her left arm is slightly shorter than her right.
She held hands with her 1st crush in the 6th grade on a field trip. They skated for 2 hours together.
Shari is very good at saving money but does buy something she wants and doesn't need every once in a while.
She began reading Lord of the Rings in early 2018 and loved it. She also thought the movies didn't do the books justice. Despite saying she doesn't like fantasy, she also read fantasy novels, Harry Potter, more than 15 times.
She only discovered she snores after she did a SISTER TAG video in March 2019 and heard it from her sisters.
Shari has 3 fears – apiphobia, nyctophobia, and acrophobia.
As of May 2019, she has had 2 surgeries.
Her family had a dog named Nolly who they got around 2007. They were all heartbroken to have to put her down in May 2019.
Shari and her mom taught her younger sister Abby how to shave her armpits in July 2019.
She moved into a new room with her younger sister Abby in August 2019.
As of late September, Shari has been asked to a Homecoming dance 3 times by 3 different boys. The guy she wanted to go with never asked her because she had already declined 2 offers by that point.
Visit 8 Passengers' official website @ 8passengers.com.
Featured Image by Shari Franke / Instagram