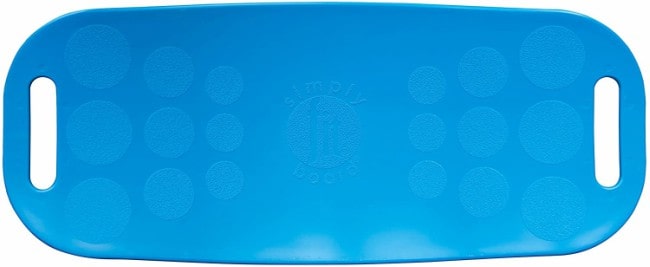 To some people, exercising is one of the toughest things to do in life. But, the importance of exercise cannot be stressed more. If you don't exercise, your body gets out of shape; you start to suffer from chronic diseases like diabetes. You need to stay fit and healthy, for which you need to exercise regularly. Some equipment in the market is targeted towards these people who don't like to exercise. The equipment is designed in such a way that you will feel like exercising as they are fun and easy. One such equipment is the Simply Fit Board. It was discovered by a mom and daughter duo in the reality show 'Shark Tank'. It became immensely popular once it was out in the market and people loved it. This board can help to get you a slimmer tummy without putting on much effort. Here, we are going to review the Simply Fit Board and find out about the benefits and features of this board.
Design
The most appealing thing about this board is its vibrant colors. It comes in 4 different colors which include red, blue, green, and magenta. It is lightweight and portable, so you can carry it anywhere. It is compact which makes it easy to store; you can simply tuck it under your bed. The board is designed to provide good balance; so you won't need to be afraid that you will fall off if you stand on the board. It can support the weight of up to 400 lbs. This board is a bit different than the traditional balance boards. It is curved and has an unstable surface which helps to challenge your muscles when you stand up on it and twist. 
Build Quality
The board is made of a high-quality ABS engineering plastic that is hard and durable. It allows the users to rock back and forth and also twist from one side to another. These movements help to strengthen the core muscles and get rid of the belly fat. The surface of the board has a handle that makes it easy to carry the board and getting it out of the storage place. The surface is non-slip, so you won't fall off during exercise. As the feet area is marked, you will know where to place your feet to get the best results from the exercise and to keep the proper balance as well. The board is sturdy and it can support the weight of up to 400 pounds. 
Size
It has a slim design, so it won't take up much space. You can put it under your bed or inside your cupboard when not in use. It measures 26 inches by 11 inches. The thickness of the plastic is 0.75 inches. 
Comfort
You won't find any difficulty in maintaining the balance once you stand on it properly. It is better to place it on a carpeted floor to protect the board and your floor from scratches. The board will not also slide and you will be able to maintain your balance. The board has markings to indicate where your feet must be placed. You will be able to work out comfortably on this board and also use weights to tone your arms. 
Ease of Use
All you need to do is just stand on the board and twist. The board is designed in such a way that you will be able to maintain a good balance and won't fall off. Just make sure that you put it on a firm and flat surface. You must put your feet evenly on the outer edges of the board. You can use the textured circles on the board to guide you. When you first step on the board, hold onto a stable object to maintain the right balance. Then start twisting your hips and you will see that the board is also twisting in a circular motion. 
Effectiveness
The Simply Fit Board targets your muffin top and bellies. It can also tone your abs, legs, and the whole core. You can get a full-body workout just by twisting on the Simply Fit Board. The board is not only ideal for twisting but also advanced level workouts. You can use it for planks, donkey kicks, and squats. You can use dumbbells to exercise as well while standing on the Simply Fit Board to make the workout more challenging. 
The board has an unstable surface and when you stand on it you need to keep balance using your ab muscles. So, your core muscles also work and become stronger. If you have a strong core, you won't have back pain. The Simply Fit board also helps to improve balance as well and you will be able to carry heavy stuff conveniently.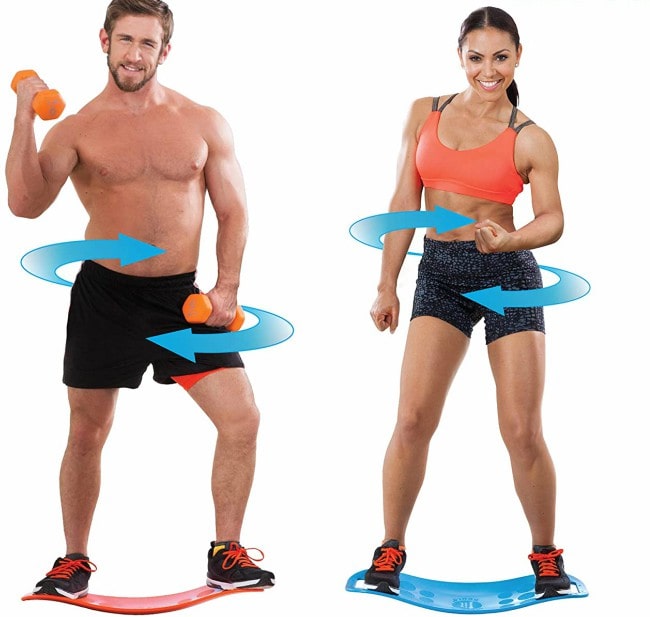 Pros
It has a stylish design and comes in attractive colors.

It is made of special durable plastic. 

It helps to improve balance and posture.

It can tone your muffin top and bellies.

It works on your legs, abs, and the entire core. 

It is appropriate for people of any age. 

You get a 60-day money-back guarantee.

You get a free workout DVD with it that includes 6 exercise routines.

Cons
You cannot get six-pack abs with it.

Some people find it difficult to maintain balance.
Final Verdict
This board is very stylish and the moment you see it you will want to buy it. With vibrant colors, it will set you in the mood to exercise right away. The Simply Fit board can give you a toned tummy. It can also improve your posture, balance, and strengthen your core. You can use a dumbbell or other weights while twisting on the board; so you will get both toned abs and arms at the same time. It is extremely affordable and can be used by anyone. This board has received a lot of positive reviews from the customers and millions of it have been sold all over the world within a very short time. You should buy this board if you want to get a slim tummy within a short time.