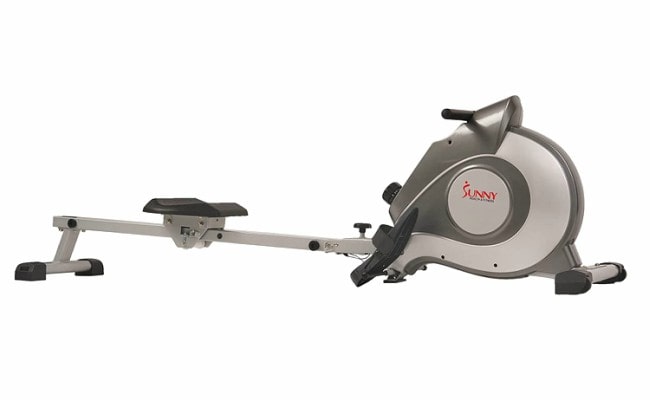 One of the best gym equipment for a total body workout is the cable rowing machine. Most people spend time with this machine when they go to a gym. The good news is that the fitness equipment manufacturers have come up with affordable rowing machines that can be bought for home use. These machines often have wheels for easy transport and foldable parts to store them easily without taking up much space. Among the different fitness brands, the Sunny Health & Fitness brand has earned a good name in the market for their quality products. Here, we are going to review the Sunny Health & Fitness SF-RW5515 Magnetic Rowing Machine Rower.
Design
It has a large LCD console display that shows the time, calories, and other stats. There is a scan mode that shows your progress to help you track your fitness goals. It has adjustable magnetic resistance and you can vary the resistance to eight different levels. There are transportation wheels for easy portability. You can fold its parts to store it in a small space. There are non-slip food pedals that keep the rowing machine balanced and secure while you perform vigorous exercises. There are also foot straps that keep your feet in place to prevent any accident. It has foam grip handlebars that feel comfortable and prevents the formation of calluses.
Build Quality
This machine is constructed using a heavy-duty steel mainframe which makes it extremely durable. It is sturdy and stable. It is a magnetic resistance rowing machine and there is a magnet inside the flywheel that creates the resistance against a spinning metal drum. It provides a silent rowing motion, allowing you to work out without any distractions. It provides 8 resistance options to vary your workouts so that you can target your different muscle groups. Its rowing handle is attached by a reinforced nylon strap that allows smooth rowing stroke and you won't hear any uncomfortable noise.
Size
After assembling, its dimensions will by 82 inches by 19 inches by 23 inches. It has about 48 inches long slide rail and 44 inches of inseam length. It has the perfect size that is suitable for all types of users. You can make it compact while storing it by folding its different parts. Its folded dimensions will become 37 inches by 19 inches by 53.5 inches.
Comfort
The grip handlebars are covered with foam which makes it comfortable to work out for long hours without feeling any pain. There are foot straps that keep your feet in place while you work out. The foot pedals are non-slip, so you will be able to keep your balance. The seat is very comfortable as it is well padded. It is a save machine and you can use it for performing vigorous exercises for long hours.
Ease of Use
The machine is easy to assemble as detailed instructions are provided with illustrations. The necessary tools are also provided and it takes only 35 to 40 minutes to assemble the machine. It has transportation wheels that make it easy to move the machine from one place to another. You only need to tilt the machine and roll it out when you change the workout place. You can fold it to make it more compact so that you can store it easily. You can change the resistance by twisting a knob.
Effectiveness
You will be able to increase or decrease eight levels of magnetic resistance which will make your workout more challenging and effective. With this machine, you can track your progress. The digital monitoring screen displays stats like time, calories, count, and more. So, you will always stay focused and try to achieve your fitness goals.
There is a scan mode that helps to allows you to select these features continuously repeated so that you are always updated with your current progress. The pedals are textured and large which helps you to keep balance during exercise. The cushioned seat will make you feel comfortable throughout your fitness journey. You can do various types of exercises with it to engage your different muscles.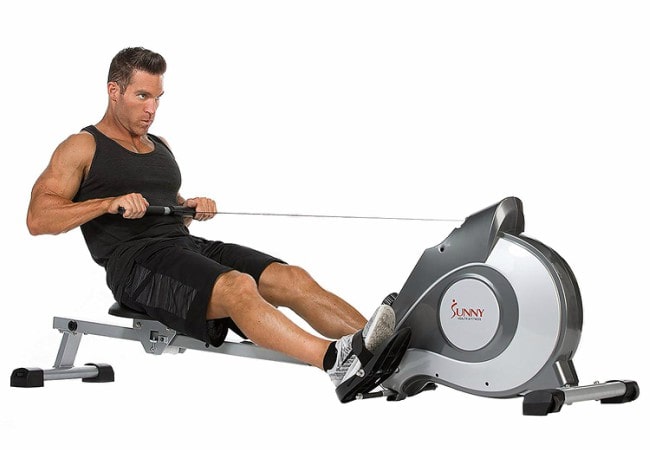 Pros
This rowing machine has a stylish design and you will like it.
It has a large LCD console that displays stats such as time, calories, and more.
It can withstand a maximum user weight of 250 lbs.
It has non-slip handlebars that make it comfortable to hold for long hours.
The seat is well padded to give you comfort.
It has large anti-slip foot pedals for convenience.
It has a built-in transportation wheel for moving it from one place to another.
It is good for low impact aerobic and cardiovascular exercise.
It helps to target all the major muscle groups to give you a full-body workout.
It doesn't produce any noise.
It provides good value for money.
Cons
You cannot track how many meters you've rowed.
There are no workout programs installed.
The warranty period is only for 90 days.
Final Verdict
This machine is designed for convenience. It is one of the best budget-friendly rowing machines you will find in the market today. It is a magnetic rower that produces no noise, so you will be able to work out comfortably. Its seat, handlebars, and pedals are very comfortable. You can do vigorous exercise with this machine as it is stable and safe.
You can vary the resistance to 8 different levels to challenge different groups of muscles. It has transportation wheels that allow you to move it from one place to another. As it is foldable, you can store it easily in any corner of the house without taking up much space.
You will get a total body workout if you exercise with this machine regularly. If you have a low budget, yet looking for a high-quality rowing machine, then you should buy this magnetic rowing machine by Sunny Fitness. It will last you for many years and you will be able to achieve your fitness goals easily.
Buy Sunny Health & Fitness SF-RW5515 Magnetic Rowing Machine Rower