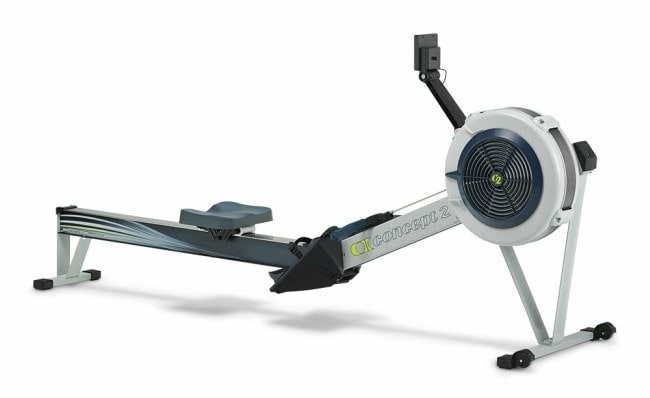 Recently, the fitness equipment manufacturers have come up with different kinds of machines suitable for home use and the rowing machine is one of them. This machine can improve your cardio health and help to keep you fit. It is very comfortable to use this machine and you can get great muscles at home! It helps to burn a lot of calories, that's why it is so popular.
There are different styles of rowing machines available in the market. You need to consider factors like design, quality, budget, functionality, and other things before purchasing one. If you want to buy a high-quality rowing machine, then we suggest that you buy the Concept2 Model D Indoor Rowing Machine with PM5. This machine has received a lot of positive reviews and here we are going to know why.
Design
It is designed in such a way that most users can use it comfortably. You have 2 color choices: black and light gray. It has an ergonomic handle and adjustable footrests which makes workouts comfortable. It is easy to store as you can separate it easily in 2 pieces and tuck away the monitor arm as well. It has caster wheels that make it mobile. Once you bring the package home, it is quite easy to assemble, so you can start exercising within a short time.
You can pivot the PM5 to different positions, so the user can adjust the angle and height if needed. Its 14-inch seat and nickel-plated chain are suitable for toning workouts. It is powder-coated, making it look very attractive. Its ergonomic design makes it safe to use by promoting natural arm and hand position while exercising.
Build Quality
It is commercial-grade quality equipment that is made of aluminum front legs and steel rear legs. The aluminum rail capped with stainless steel track provides smooth seat movement. The monitor arm is made of ABS plastic, which is durable. It has a nickel-plated steel chain and the machine is powder-coated for protection. It has air-resistance flywheel that responds to your strokes. You can easily control the airflow with the change of the damper which ranges from 1 to 10. This also allows you to vary the resistance and workout your muscle groups. It produces minimal noise during workouts, so you won't be disturbing others at home. You will get a smooth feel while using it.
Size
It has a 14-inch high seat that is suitable for most users. You need 9 X 4 feet space to use it. It weighs 57 pounds and has a user capacity of 500 pounds. Though it is quite heavy, you can transport it using the caster wheels. You can store it easily by tucking the monitor and separating it into 2 parts.
Comfort
It is ergonomically designed, so the handles are easy to hold without putting any stress on your back or shoulders. It has a comfortable seat and the rowing position is good as well. There are adjustable footrests with nylon straps that will give you comfort during exercise.
Ease of Use
It is very easy to assemble and you need only 8 screws to do so. Proper instructions and tools are provided, which makes things easier for you. There is a framelock mechanism that releases the machine without using any tools.
Effectiveness
This rowing machine lets you perform low impact exercises that engage the major muscle groups including legs, arms, and core. You will be able to burn a lot of calories with it. It is an air resistance rower that provides smooth action and you will feel as if you are rowing on water. It will automatically match your strength; that is, the faster you row, the resistance will also be higher. This machine lets you track your fitness progress in real-time. You can also connect it wirelessly with your heart rate belts and apps if you want to.
With this machine, you can measure your progress with comparable data. It has a backlit LCD display that provides data such as distance, time, and intervals. You can save your workouts in a USB flash drive if you want to. You get a free ErgData app with it that lets you store workouts on the smartphone. You can join the online community for challenges to keep yourself motivated. Overall, you will be able to perform a balanced and well-coordinated workout using this rowing machine.
Pros
It has a beautiful design and is easy to store as you can separate it into 2 pieces while storing it.
It is designed to provide low impact workouts that will engage all your major muscle groups.
It is a great calorie-burning equipment.
You can track your progress with real-time data.
The Performance Monitor 5 calibrates itself and provides detailed feedback about your training which includes distance covered, calories burned, heart rate, pulse meter, and strokes per minute. Games are also included to make your workout session more fun.
It is a fan engineered to reduce noise.
It is wireless Bluetooth and ANT+ compatible that lets you connect to different fitness apps and heart rate belts as well.
You can record and store your workouts in USB drive or smartphone.
It is easy to assemble.
It has up to 500-pound user capacity.
You get a 5-year warranty for the frame and 2-year warranty for the parts.
Cons
It has a large footprint compared to the other rowing machines in the market.
You need some maintenance to keep it in good condition; for example, the nickel-plated chain requires oiling sometimes.
Final Verdict
It is one of the best-selling rowing machines you will find today. It is used by professional athletes and fitness enthusiasts all over the world. It is a versatile machine that will help you to burn calories, build your muscles, and keep your body toned. It offers low impact exercise for people of all ages. You can get it at an affordable price and use it for cardiovascular exercises. It has a high-tech PM5 Performance Monitor that will always keep you challenged by providing updated information about your training goals. It provides smooth movement and allows you to workout safely. So, this is one of the best rowing machines you will find in the market and is a great investment for your fitness needs.