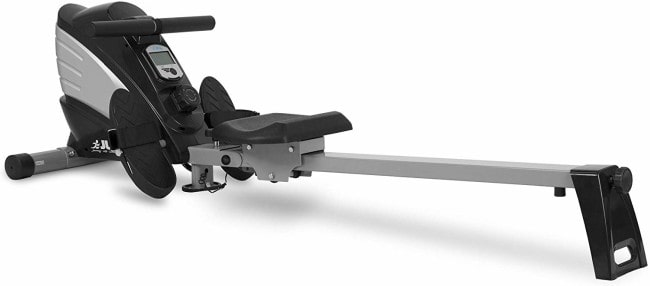 Exercising should be on our priority list every day. No matter how busy we are, if we don't exercise then soon we will become unfit to do all those hard works. One option is to go to the gym for exercise. But, not everyone can afford expensive gym charges. In such a case, you can buy good exercising equipment for your home that will help you to stay fit all the time. Among the various types of fitness equipment available in the market, the rowing machine is one of the most effective exercising machines for a total body workout. Here, we are going to review the JLL R200 Home Rowing Machine and find out why it has received so many positive reviews from the customers.
Design
This machine is black and silver making it elegant looking and stylish. You can change the magnetic resistance to 10 different levels. It has an LCD monitor display that shows the count/min, calories burned, distance covered, and more. The scan feature automatically flips between the main readings when you row, so you won't need to press any extra button for it. This machine is compact which makes it convenient for home use. It is also easily transportable due to the in-built wheels. It has large pedals with straps that make it easy to row. The pedals are also textured providing a better grip. This rowing machine is perfect for beginners and intermediate users.
Build Quality
It has an advanced belt driving system that ensures the rapid engagement of muscles for more effective results. It has inbuilt wheels that let the rowing machine to be transported from one place to another. It has a maximum user capacity of 100 kg. The seat is padded which makes it comfortable. It is equipped with magnetic resistance and you can adjust the resistance easily with the help of an adjustment dial. It is made of aluminum which makes it strong and sturdy. The machine is ROHS CE compliance, so there is no doubt about the quality of the machine. It is built to provide smooth operation and it won't produce any noise.
Size
It has dimensions 180 cm by 52 cm by 49 cm and it weighs 23 kg. As it has transportation wheels, you can move it easily from one place to another despite its weight. You get a 12-month warranty for the product. You can fold the machine upright when not in use which allows easy storage.
Comfort
It has an ergonomic and foam-padded seat that provides extra comfort. That way you will have a longer rowing session without feeling any discomfort. The seat will slide smoothly due to its double-wheeled sliding mechanism. The handlebar is located just on top of the LCD display, making it easy to check the stats. So, you don't have to stop what you are doing. There are large paddles with straps that will give you a comfortable rowing experience.
Ease of Use
The machine is easy to assemble. Detailed instructions are given on how to assemble it. The instructions are self-explanatory, so you will be able to set it up yourself in just 30 minutes. When not in use, you can fold the machine and store it in an upright position. If you want to use it again, all you need to do is use the spring-loaded knob and set it up within a few seconds.
Effectiveness
It allows seamless movement due to its smooth sliding mechanism. The wheels that are fitted to the bottom of the seat aids in this smooth motion. It offers 10 different resistance levels, so you will be able to tailor your workouts to your specific needs. If you are a beginner, you should start with the lowest resistance and slowly move upwards so that it doesn't cause any pain on your muscles or joints. This machine will help to develop different muscle groups and tone your body. It will give you a total body workout.
The cardio exercises that you can do with this machine are good for your cardiovascular health. With ergonomic handles, padded seats, and large textured pedals, you will be able to work out for hours. The design of the machine also reduces any risk of accidents. As it is noise-free, you will be able to work out while watching TV. This will make your workout sessions more enjoyable.
Pros
It is gray and looks very stylish.
It is made with high-quality materials that make it strong.
It is suitable for heavy and tall users as well.
It provides 10 magnetic resistance levels so that you can vary your exercises.
You can easily fold it in half to save space, making it ideal for small apartments.
It has in-built wheels to transport the machine easily from one place to another.
It has ergonomic handles that make it easy to work out.
It has a comfortable seat that is well-padded and won't cause any back pain.
It has large pedals with straps to keep the feet in place while rowing.
It is affordable and is a good investment for your home gym.
It has an LCD screen for tracking your progress.
It doesn't make any sound when rowing, so you can do other works, like watch TV, when you are exercising.
Cons
It is not suitable for advanced level users.
It has a short warranty period.
It doesn't come with any pre-programmed workouts.
Final Verdict
This machine provides excellent value for money. You will be able to have a full-body workout by using this machine. It is strong and sturdy, so it will last for years. It is designed to provide the utmost comfort to the users. It has padded seats and large pedals that will make it convenient to work out. It is foldable, so you can fold it and put it away in one corner after use. It is perfect for any tight space. If you have a small budget, then you can buy this rowing machine and get your desired fitness level.