FHM is arguably the biggest men's lifestyle magazine in UK. Since its launch in 1985 as For Him Magazine, the magazine has steadily improved its reach and presence, and is currently distributed in about 27 countries including Asian giants such as India.
As you might know that every leading men's magazine has its own annual sexiest or hottest women list, and FHM is no different in this aspect. The slight difference is that unlike some publications, FHM releases list with hundred sexiest women. However, due to editorial limitation, we will go with the ten sexiest women from the list. And, that list is as follows.
The 36 year old model, actress and TV presenter has been a veteran of this list. In fact, she was ranked number one on the similar list released in 2005. And, it is a testament of her enduring sex appeal that almost a decade later, she is still in top ten of similar list. She has constantly switched her area of work from presenting to movies, television series and then to theatre acting. But during all these phases, she has regularly reminded her fans of her smoking hot body and conventional British charm by posing for several prestigious magazines, which includes flaunting her curvaceous body in all its glory for Playboy magazine in 2010. She also loves to highlight her sex appeal by posting sultry selfies on her social media accounts.
Thanks to her role as Daenerys Targaryen in the famous HBO fantasy series Games of Thrones, Emilia doesn't need any introduction. But many wouldn't be aware that she made her TV debut with a role in crappy BBC medical soap opera – Doctors. However, she changed her luck by rocking the audition for her famous role a year later by doing a funky chicken and robot dance routine.
Rest, as we know is history. She was cast as the mother of dragons, did some stunning revealing scenes and enthralled audiences with her great acting skills. Such is her sex appeal that she was offered the role of Anastasia Steele in Fifty Shades of Grey. However, she turned it down due to the amount of nudity required for the role.
Many outside of UK won't be aware who Lucy Mecklenburgh is. And, to be honest, the 24 year old glamour model hasn't involve herself in the type of projects that would help her garner global acclaim. She is best known for her self-role in the British reality TV series The Only Way Is Essex, in which she has been working since 2010. However, this list isn't about acting skills. It is about looking sexy and Lucy certainly has killer looks. And, the fact that she comes across as genuine in the reality show also helps. She also runs her own boutique called Love Lucy and has million plus followers on Twitter.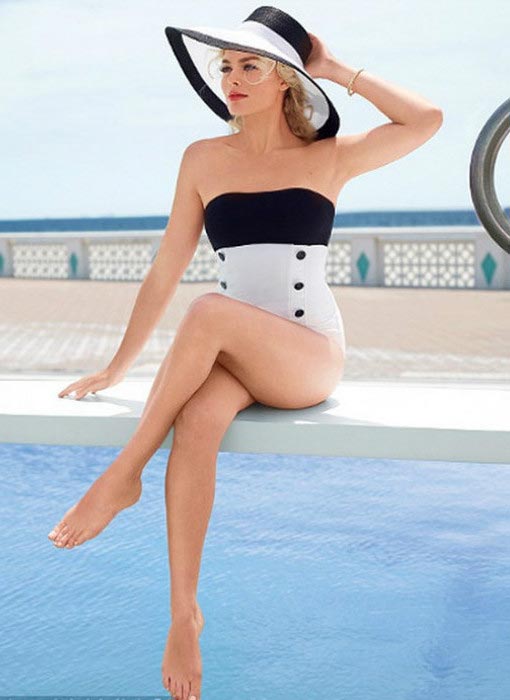 Margot Robbie was so stunning in Martin Scorsese's biographical drama The Wolf of Wall Street that I have been searching for words to describe it for half an hour. But haven't found any. She was so enthralling that her sex appeal in the movie gave a firm competition to Leo's tremendous acting skills. That is not to say, she is a slouch when it comes to acting. But the way she paid tribute to Sharon Stone's infamous scene was killer seductiveness at its very best. As if that wasn't enough, she is cast as one of the hottest female villains in the comic book history in the upcoming movie Suicide Squad. And, in a couple of trailers of the movie, she has absolutely killed it as Harley Quinn.
Ariana Grande knows exactly what guys want. Well, what most of guys want. Otherwise, why would she prance around in skimpy clothes and knee high boots with kitty ears during her concerts? The 23 year old petite beauty has amassed fan following of about 78 million of Instagram by posting sultry selfies that are loaded with sex appeal. And, she isn't shabby as a singer as well. Her voice range has been compared with Mariah Carey and her second studio album debuted at number one in US. Also, for her work, she has won two American Music awards and two Grammy nominations.
It won't be wrong to label Caroline as a kind of late bloomer. Although, she made her television debut by playing Bubbles on the sketch show Bo' Selecta! in 2002, it took her almost six more years to establish herself in the television industry. And, since then, she has served as a super-hot host and presenter in plethora of famous shows such as I'm A Celebrity…, Something For The Weekend, Gladiators and The Xtra Factor. She is also well known for dating One Direction heart throb Harry Styles, which created a huge controversy as she was 14 years older than Styles.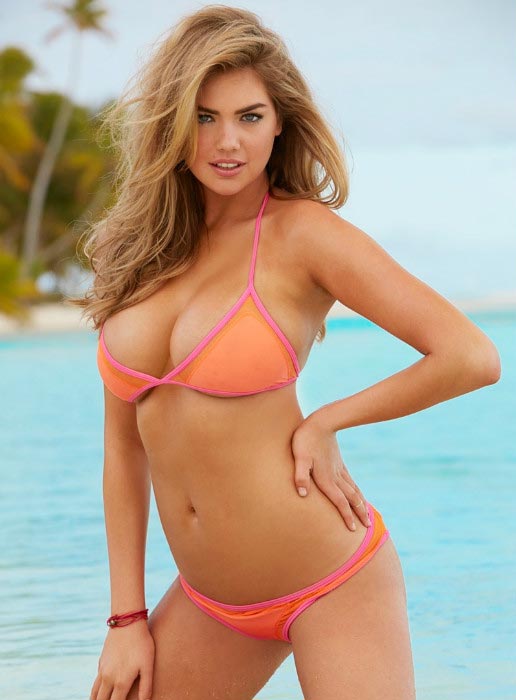 Since being named Rookie of the Year following her first appearance in 2011 Sports Illustrated Swimsuit Issue, Kate has firmly established herself as one of the hottest blonde bombshells in the lingerie industry. The same year the video of her doing the dougie hip-hop dance at a Los Angeles Clippers game went viral, which further fuelled her rise to stardom. Her ample assets, glorious curves and deep blue eyes make her a complete package. And, she is religious as well and has cross tattooed on the inside of her finger. Some guys do love that.
Despite being just 25 years old, Jennifer is still considered as one of the best actresses around. Her movies have grossed over US $5 billion worldwide. She is the youngest actress to win four Academy Award nominations and with movies such as Silver Linings Playbook, American Hustle, Joy and The Hunger Game film series under her belt, she has done more in half a decade than most do in their entire careers. She comes across as goofy and self-confident, two qualities which most men absolutely adore. Plus, when she is in mood, she can be the hottest girl around.
The second youngest of the Kardashian–Jenner sisters is establishing herself as a supermodel. Recently, she made her Victoria's Secret debut. The 2014 and 2015 has been a breakout year for her as she made debut at the New York, Milan, and Paris Fashion Weeks and walked for the leading brands including Chanel, Balmain, Michael Kors, Vera Wang and Givenchy. She has also been appointed as the face of many Estee Lauder advertisement campaigns. Plus, she has been named by Google as the second most Googled model in the world and was also declared as most reblogged model for 2015 by Tumblr.
Her stunning looks and great acting skills helped her bag the famous role of Tina McIntyre in the Coronation Street after just two auditions in 2008. Over the six years, until the death of her character, she appeared in 861 episodes and established herself as the darling of the British TV opera. For five years running, she won the British Soap Award for Sexiest Female, which validates her tag as the hottest sex symbol in the telly industry. Dazzling smile and svelte-stunning figure are her special features that has made her so famous. She has recently bagged starring role in BBC drama Our Girl.