Aiko, Princess Toshi Quick Info
Height
5 ft 5 in
Weight
60 kg
Date of Birth
December 1, 2001
Zodiac Sign
Sagittarius
Eye Color
Dark Brown
Aiko, Princess Toshi is the only child of Emperor Naruhito and Empress Masako of Japan.
Born Name
Aiko
Other Name
Aiko, Princess Toshi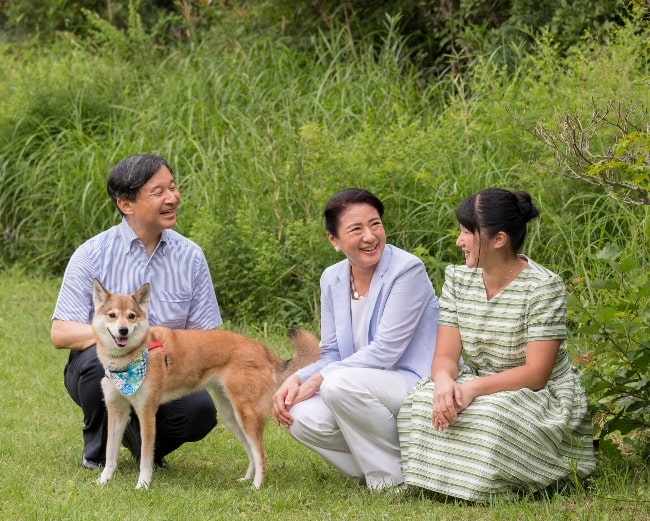 Sun Sign
Sagittarius
Born Place
Imperial Household Agency Hospital, Tokyo Imperial Palace, Tokyo, Japan
Nationality

Education
On April 3, 2006, Aiko, Princess Toshi started her education at Gakushūin Kindergarten and left kindergarten on March 15, 2008.
Her education was interrupted when she began to stay home from school in early March 2010 due to not getting along with other children and being bullied by her elementary school classmates. On May 2, 2010, she returned to school on a limited basis. A senior palace official stated that she would attend a limited number of classes accompanied by her mother, upon advice from a doctor at the Crown Prince's household.
Later, she got enrolled at the Gakushuin Girl's Junior High-School in 2014. She also attended a summer program at Eton College in Berkshire, England in 2018.
Princess Aiko was accepted at Gakushuin University in February 2020.
Occupation
Member of the Imperial House of Japan
Family
Father – Naruhito (Emperor of Japan, 126th monarch according to Japan's traditional order of succession)
Mother – Masako Owada (Empress of Japan, Consort of Emperor Naruhito)
Siblings – She is an only child.
Others – Emperor Emeritus Akihito (Paternal Grandfather) (Reigned as the 125th Emperor of Japan), Empress Emerita Michiko (Paternal Grandmother) (Empress Consort of Japan from January 7, 1989, to April 30, 2019), Fumihito, Prince Akishino (Paternal Uncle) (Member of the Japanese Imperial Family, Declared heir-presumptive to the throne in November 2020), Sayako Kuroda (Paternal Aunt) (An imperial Shinto priestess of the Ise Grand Shrine who has served as the Supreme Priestess), Hisashi Owada (Maternal Grandfather) (Former Jurist, Diplomat, Law Professor, Served as a Judge on the International Court of Justice from 2003 until June 7, 2018, and was President of the Court from 2009 to 2012), Yumiko Egashira (Maternal Grandmother), Setsuko (Maternal Aunt), Reiko (Maternal Aunt), Kiko, Princess Akishino (Aunt), Mako Komuro (Cousin), Princess Kako of Akishino (Cousin), Prince Hisahito of Akishino (Cousin), Kei Komuro (Brother-In-Law)
Build
Average
Height
5 ft 5 in or 165 cm
Weight
60 kg or 132 lbs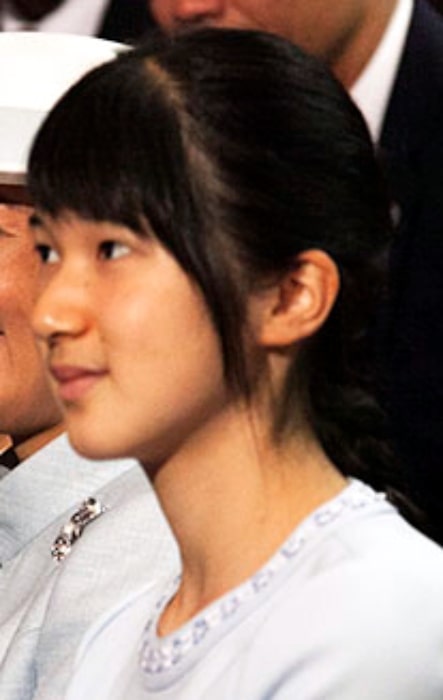 Race / Ethnicity
Asian
Hair Color
Black
Eye Color
Dark Brown
Sexual Orientation
Straight
Distinctive Features
Charming smile
Aiko, Princess Toshi Facts
Before she was born, her mother suffered a miscarriage in 1999.
Breaking the traditions, the princess' name was chosen by her parents instead of being chosen by the Emperor. Her name was selected from clause 56 of Li Lou II, one of the teachings of the Chinese philosopher Mencius.
The princess's personal name "Aiko" is written with the kanji characters for 'love' (愛) and 'child' (子) and means "a person who loves others". She also has an imperial title, Princess Toshi (敬宮, toshi-no-miya), which means "a person who respects others".
Princess Toshi's birth sparked debate in Japan about whether the Imperial Household Law of 1947 should be changed from the current system of agnatic primogeniture to absolute primogeniture, which would allow a woman, as firstborn, to inherit the Chrysanthemum Throne ahead of a younger brother or male cousin.
After the birth of her cousin Hisahito on September 6, 2006, Prime Minister Shinzō Abe announced on January 3, 2007, that he would drop the proposal to alter the Imperial Household Law.
Some of her interests include writing kanji characters, calligraphy, jump rope, playing piano and violin, and writing poetry.
She was hospitalized with pneumonia in November 2011.
Princess Toshi has accompanied her parents at public appearances since turning 16.
On the 150th anniversary of Japan–Italy diplomatic relations on April 5, 2016, she visited a special exhibition at the Tokyo museum.
Princess Toshi went on her first solo trip abroad in the summer of 2018 to attend a summer program at Eton College.
It has been reported that Aiko has provided her mother Masako with emotional support in her role as empress.
She is styled as "Her Imperial Highness Princess Aiko" and also has an imperial title, "Princess Toshi".