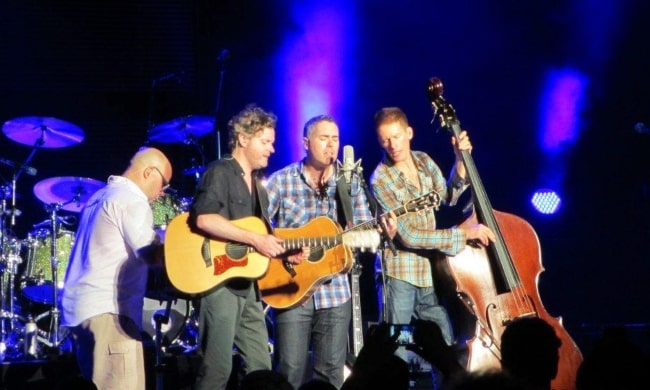 Barenaked Ladies is a Canadian rock band that attained mainstream success with the release of their self-titled cassette in 1991. Initially, the band had started off as a duo with Ed Robertson and Steven Page being the founding members, after which joined Jim and his brother Andy Creeggan as well as Tyler Stewart. Since then, the group has gone on to release various well-known tracks some of which include Lovers in a Dangerous Time, One Week, Pinch Me, and You Run Away.
Members
Past Members
Steven Page (Lead and Backing Vocals, Rhythm Guitar)
Andy Creeggan (Keyboards, Drums, Percussion, Backing and Lead Vocals)
Origin
Scarborough, Ontario, Canada
Genres
Alternative Rock, Jangle Pop, College Rock, Folk Rock, Pop Rock, Comedy Rock, Geek Rock
Labels
They have released their music with several record labels including John King Artist Consultants, Page Publications, Sire Records, Reprise Records, Desperation, Raisin' Records.
Formation Date
1988
Singing Portfolio
Barenaked Ladies released their debut studio album titled Gordon on July 28, 1992, which ranked at #1 on the Canadian Albums Chart. Since its release, the album has been certified "diamond" with upwards of sales of 1 million in Canada. It included some of their greatest hits such as Enid, Brian Wilson, Be My Yoko Ono, What a Good Boy, and If I Had $1000000.
Initially, the band had started off as an acoustic group but has since been involved in a multitude of genres that include pop, rock, hip hop, and rap.
Barenaked Ladies Facts
The band was formed by Ed Robertson and Steven Page while they attended Churchill Heights Public School. Initially, they had not been friends until they found out that they shared a common interest after meeting one another at a Peter Gabriel concert at Harvey's restaurant. From there, they went on to form an even closer bond while working as counselors at Scarborough Music Camp located in McKellar, Ontario.
The first record label that the band had signed to was Sire Records in 1992, for the release of their debut studio album Gordon.
Their 1998 album Stunt is one of their all-time most successful releases and event ranked at number 3 on the US music charts.
On February 24, 2009, Steve Page had publicly announced his departure from Barenaked Ladies over a mutual agreement.
Over the years, they have won several awards including multiple Juno Awards, and have also been nominated for a Grammy Award twice.
In March 2018, Barenaked Ladies was inducted into the Canadian Music Hall of Fame.
As of the year 2021, the group had reportedly sold 15 million records.
They are part of the Canadian charity Artists Against Racism and worked to spread awareness with them. Other than that, their philanthropy also includes their contribution to the Rock Can Rol foundation that aims to feed the needy.
Named after their song If I Had $1000000, Barenaked Ladies released a flavor of the same name in collaboration with Ben & Jerry's that was called If I Had 1,000,000 Flavours. It was a concoction of flavors that included vanilla and chocolate ice cream, peanut butter cups, chocolate-coated toffee chunks, white chocolate chunks, and chocolate-coated almonds. It is sold under the name of Everything But The…. in the United States.
Featured Image By PeterJ1977 / Flickr / CC BY 2.0