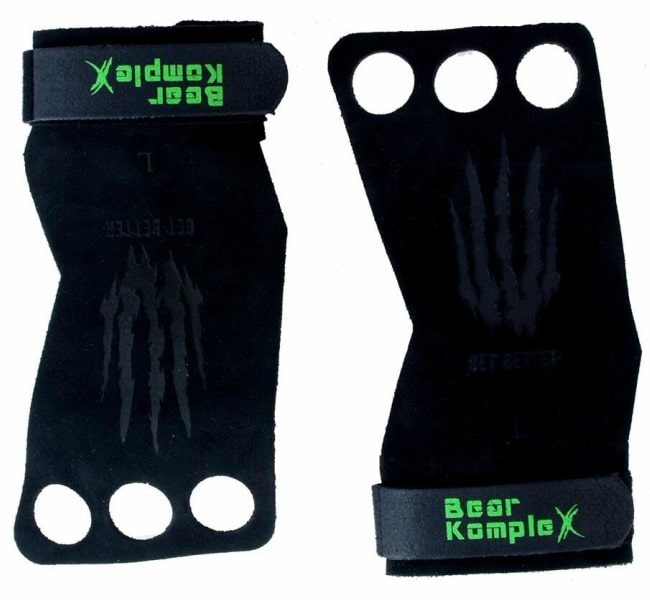 If you are doing CrossFit regularly, then you will notice that hand calluses are building up due to weightlifting. Even during exercises like pull-ups or toes-to-bar, the calluses develop and increase the risk of skin tears and blisters as calluses increase the friction between the barbell or any other equipment and your hand. So, you will have ripped hands which is very painful and it will take days to heal. They become an obstacle to your daily workout routine. In order to reduce the chances of this unpleasant experience, you should wear exercise gloves. By using gloves, you will be able to reduce or redirect the friction and pressure. One of the best gloves you can use to protect your hands is the Bear Komplex Exercise Gloves.
Design
These gloves are stylish and you can get them in different colors such as black, grey, purple, tan, and yellow. With the patented Carbon Comp design, you get 2 hole or 3-hole finger options to protect your palms and hands. These are perfect for exercising with slick and powder-coated handles and bars. The carbon fiber grips make them lightweight and sticky. You can use them during pull-ups, muscle-ups, toes-to-bar, kettlebell swings, powerlifting, gymnastics, deadlifts, and other exercises. They are designed to protect your hands and prevent calluses and blisters. There is a wrist strap beneath the buckle that will give good support to your wrists during workouts. You won't need to use chalks when you wear these gloves. Their trip-stitched carbon fiber grips help prevent slippage.
Build Quality
These gloves are made from genuine tan leather which makes them durable. Their 2-hole and 3-hole hand grips will protect your palms and hands during pull-ups, kettlebell swings, and other movements that can cause rips and abrasions. They have a custom wrist strap that gives comfort and support. They have triple stitching that ensures stability and full support. The high-quality leather naturally contours to the bar to provide a stable grip and reduces slipping on the bar and will make you feel comfortable when using pull-up bars and other exercise equipment. The carbon fiber protects the hands and molds to fit the equipment you hold. By using these gloves, you will be able to maximize your output.
Size
You will get these gloves in 3 different sizes – small, medium, large, and extra-large. The small size measures between 3.75 to 4.25 inches, the medium size is between 4.25 to 4.75 inches, the large size is 4.75 to 5.25 inches, and the extra-large size is over 5.25 inches. To get the right size, you will have to start measuring from the hand/wrist connection to the base of the middle finger. If you are in-between sizes, you should choose the next size. You may expect the grip to stretch over time.
Comfort
These gloves are made of superior quality leather that will protect your hands and mold them to fit the bar. They reduce slippage and allows you to work out comfortably. They will fit your hands perfectly. The 2-hole or 3-hole design allows flexibility of movement. You won't feel as if you are wearing anything extra. These gloves will protect your hands from blisters and calluses and so you won't have any painful experience during workouts. 
Effectiveness
These gloves are made of genuine leather that makes them sturdy and durable. You won't need to use chalk anymore as the carbon grips will stick to the bar and your hands won't slip. The unique shape of the grip protects the wrist from the buckle. You will enjoy a longer and stronger hold on the bar by wearing these gloves. They won't dig into the wrist and make you feel uncomfortable. You will be able to dominate your WOD by wearing these gloves.
These gloves give you multiple options so that the Grips can be personalized. You can choose from multiple sizes, various colors, and 2-hole or 3-hole grip selection to personalize your experience.
Pros
They are durable as they are made with genuine leather.

The wrist strap provides support and comfort.

They have a nice 2-finger or 3-finger design.

The triple stitching ensures stability and full support.

They are effective against skin tears and calluses.

These gloves allow the skin to breathe.

They are ideal for both beginners and professional athletes.

They prevent slipping and so reduces the chance of injuries.

They are breathable and so sweat won't build up even after intense workouts.

The grips won't dig into your skin.

They offer great flexibility.

You get a free Carabiner grip clip to ensure that you don't lose the pair of Grips.

You get Road Workout PDF for free as well.
Cons
You may notice some stretching after use; so, you need to choose the size carefully.

They don't provide a lifetime warranty.
Final Verdict
These gloves are one of the best CrossFit gloves you will find that will dominate your WOD. The simple and stylish design, excellent built, and comfortable wrist strap make it a superior product. The wrist strap prevents the buckle from digging into your wrist. The leather hand grips protect the hands and molds to fit the bar when you hold them. Using these gloves, you will be able to maximize your output during Cross-training.
The company has spent many years testing and perfecting the gymnastics hand grips. They have been built to help the CrossFit and functional fitness athletes to attain the maximum level of performance during training or competition. They are durable and comfortable. They allow full support and stability to prevent the best grips result. By wearing these gloves, you will be able to protect your hands from blisters and calluses. The 2 or 3-hole grip is suited to powder-coated and slick bars and handles. You can use them in bars that don't have chalk. You will be able to perform pull-ups, kettlebell swings, deadlifts, and other movements without any abrasions or rips. So, buy these gloves today and enjoy a comfortable workout experience every day.