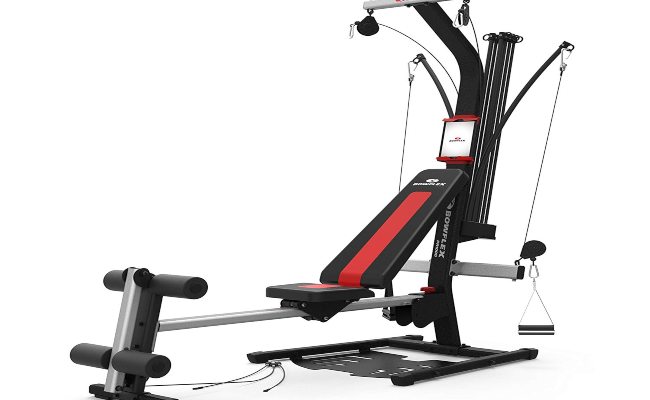 Imagine if you could bring an entire gym inside your home; how would it be? Isn't this something that many fitness enthusiasts dream of? Well, you don't have to dream any more now as you can truly make your home a full proof gym with the Bowflex PR 1000 Home Gym. You will be able to do various types of exercises with it that will cover your entire body.
Home gym equipment like this can target various muscle groups and help you to achieve the body you have always wanted. You will be able to do crunches, arm raise, and other kinds of exercises and so you won't need to buy any other equipment or even go to the gym. Gym membership fees are very expensive. So, you will be able to save a lot of money by buying this home gym. It will also be easy for you to maintain a regular exercise routine. Here we are going to review this product in detail.
Design
It has a sleek and smart design comprising of black and red colors. It is compact and won't take up much space. So, you will be able to buy it for your apartment as well. You can do more than 30 exercises with it. The Power Rod units provide resistance that is much better than free weights. They won't cause any joint pain and so you will be able to exercise comfortably with it. There is a sliding seat rail that provides aerobic rowing training and will help you to burn calories. There is a multi-use hand grip that provides flexibility to workout. The 4-inch upholstered roller cushions provide comfortable leg extensions and leg curls. There is a Squat Station as well. There are multiple cable pulley positions that let you change the angle of resistance easily.
Build Quality
This home gym is built with heavy-duty steel construction and is extremely strong and durable. The Power Rod resistance system gives a smooth and consistent tension throughout your exercise. The rods are made of high tech composite material which is durable and impossible to break. Each rod has a different thickness which provides a different amount of weight.
It's elastic type resistance makes it easy to stretch first and then it becomes harder which provides various muscular benefits. You will get the same experience as using free weights but you won't have to worry about any injury. However, unlike the traditional weights, there is no change in tension, but with this unique rod system the tension builds up progressively, which is better for your muscles. You can get up to 210 lbs of inertia-free resistance. It can target any muscle group. The upper, mid-level and lower pulleys allow you to do various exercises, for example, the lower pulley is for leg extension, the mid-level pulley is for the pectorals, and so on. It is very easy to assemble the machine; everything is illustrated.
Size
This home gym is compact in size and you will be able to do 30 different exercises in this compact station. So, even if you live in a small apartment, you can fit it in. With dimensions 84''X 38''X 81'' you will be able to comfortably use this machine for various types of exercises.
Comfort
For an entry-level home gym, this one is one of the highest quality equipment you will find in the market. The machine is built with heavy-duty steel construction and the cables are made of high strength braided steel as well. It uses premium durafirm leather padding which is very comfortable. It won't tear or wear out. So, you will feel comfortable to sit on it as it will provide good support to your back during exercise. The handles also have a soft padded grip which makes it comfortable to hold for long hours.
Effectiveness
This home gym has a unique rod system that provides resistance to help build strength and power. It is very easy to start as you won't have to apply too much pressure and hurt your joints. Using this rod system is very simple. There are 10 rods of various weights. You can use any combination on your exercise up to a maximum of 210 lbs. This allows fitness enthusiasts to take up different challenges.
You can do more than 30 exercises with this machine. You can work out your chest, back, arms, shoulders, abs, and legs. The hand grips can perform several functions. The bench is adjustable and you can easily change your position. You can get both cardio and strength training from this exercise. You can also do rowing which is a great cardiovascular exercise.
List of Equipment
Standard resistance of 210 lbs with the unique rod system
Built-in cardio rowing station
Leg extension attachment
3 cable pulley positions
Price
As this is one of the entry-level models, you can get this for a very cheap price. You can get this for only $499.99 at Amazon. Considering all the exercises you can do, it is a very good investment to buy this home gym.
Pros
It is compact and so can be stored easily and conveniently. The seat is also foldable.
There are exercises available for every muscle group.
Multiple cable pulleys allow working of muscles from various angles.
There is a built-in rowing station that is very helpful for cardiovascular health.
You can get a good range of resistance training of up to 210 lbs.
The seat is padded and comfortable to workout on.
It is easy to assemble.
The unique road system provides varied motions and intensities.
You will get 1-year machine warranty, 5 years rod warranty and 60 days part warranty.
Cons
You won't be able to upgrade the resistance.
It may take some time to get used to the resistance rods.
Final Verdict
If you are looking for a home gym to start your fitness regimen or carry on more advanced exercises, then you should buy this home gym. You will get it at half the price to that of the advanced level home gyms without losing much. You will get similar functions that will help to reach your fitness goal.
It is made of steel which makes the home gym strong and durable. The pulleys and cables are also built with quality in mind. So, no matter what exercise you do, you won't face any problem. The seat is comfortable and adjustable. You can also fold the seat so that it takes less storage space when you are not using the machine.
You can do more than 30 exercises with it. You will be able to improve your arms, chest, shoulder, back and even leg muscles. You won't need any other equipment if you have this home gym in your home. It is very easy to assemble this machine and you won't have any trouble switching from one exercise to the next. The unique resistance rod system lets you develop new muscles that you thought never existed.
In today's busy life, it is not always possible to go to the gym. You can still have a great body by exercising with this home gym. So, get a new improved body with the help of Bowflex PR1000 Home Gym today!