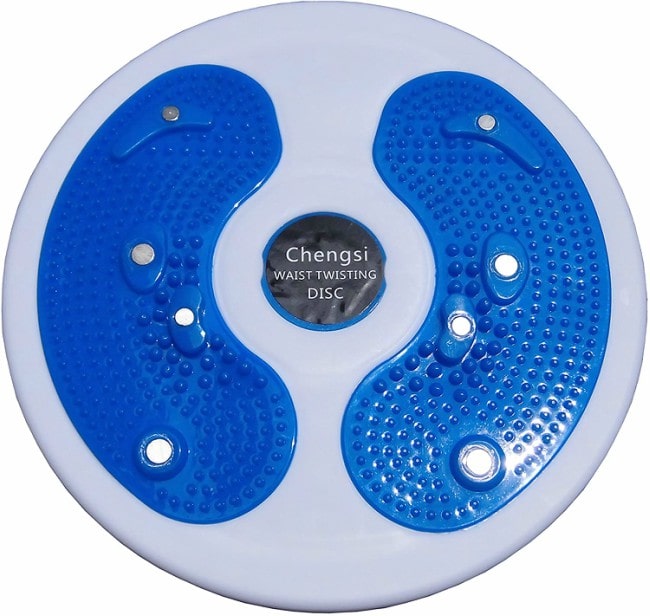 Tummy trimmer is new exercise equipment for home use, though you will find them in gyms too. Some treadmills have a tummy twister attached to them as well. This simple equipment has a rotating disc that allows you to twist your tummy to workout the muscles in your abdominal region and hip. You can get a toned midsection and burn calories as well due to the frequent movement. The exercise is simple and you don' t have to give much effort like the other exercises. However, you can still get very effective results within a short time. Just use it for 10 to 15 minutes every day and see the results yourself.
Design
The Chengsi Twisting Waist Disc is unique in the sense that you not only get it in different colors but also in different designs. There is an all-blue disc, a white disc with blue accents on the sides to mark where to place your legs, solid orange disc, the solid purple disc and the white disc with pink accents on the sides. The colors are fun and look attractive. The disc is ideal for both men and women. The disc is designed to stimulate blood circulation which keeps your health in good condition. There are 4 median points on the left and 4 on the right. When you stand on it and exercise, the median points get stimulated and promotes good health.
Build Quality
This tummy twister has a static bottom disc and a rotating top disc. When you stand on top of it, you will be able to move your hip left to right with the least effort. It allows precision ball-bearing ride for smooth motion. The high-impact rotating disc allows for strenuous aerobic exercise. This disc is built by combining the principles of exercise, magnetic therapy, and reflexology to get the best results. This tummy twister is durable and you can use it for years without any problem.
Size
You can get it in small and large sizes. The small size can bear 85 kg of weight and the large one can bear 120 kg of weight. The dimensions of the small disc are 9.8 L X 1 H, the medium disc is 11L X 1 H and the large one is 28L by 3H. You should choose the size of the tummy trimmer according to the size of your feet; otherwise, it won't fit.
Comfort
The tummy twister has a ridged surface which will ensure that you won't slip off during exercise. There are several median points and you will enjoy the foot massage. You can twist easily as the top disc rotates smoothly without getting stuck. You can twist by standing or sitting.
Ease of Use
To use it properly, you need to stand or sit on it and rotate your torso. This way your chest and shoulder will move in one direction and your knees and hips will go in the other direction. This workout will make you sweat and help you to burn calories in the midsection. This includes your abdomen muscles, muscles on the sides, and lower back. All these muscles will work together and you will start burning fat.
Effectiveness
When you exercise on this tummy twister, all your core muscles will get activated. As a result, you start to burn calories and your abs get toned. You will eventually get slimmer abs, thighs, and hips. This tummy twister also improves blood circulation which is extremely good for your health as it helps the body to function well. It also massages your feet, which is an added advantage. So, it burns calories by combining the advantages of aerobic exercise with reflexology. After exercising on this tummy twister, you will feel better as your feet will be also massaged. You will notice an improvement in your balance and core strength.
Pros
It is one of the most stylish tummy twisters you will find in the market.

It is found in different colors and designs.

The tummy twister is made of high-quality materials that make it durable.

The ridged texture allows good balance, so you won't tip over when twisting.

The surface is anti-slip.

There are median points for reflexology, so you get a nice foot massage when you stand on it.

You can easily twist without applying much force as the top disc rotates smoothly.

You can get a slim tummy if you exercise regularly with this tummy twister.

It has an affordable price.

It is appropriate for both men and women.

You can get it in different sizes.

It is easy to clean, so you can keep it in good condition for years.

If you are not satisfied with the tummy twister, you can get 100% money back or get a free replacement depending on your preference.
Cons
Some people have complained about the circumference is too small.

Heavy users experienced discomfort while using it.
Final Verdict
This tummy twister is an excellent choice for those who want to get a toned waist within a short time and without giving much effort. All you need to do is twist your hips while standing on it. The tummy twister is made of high-quality materials, so it won't break easily. It can hold up to 120 kgs of weight, making it suitable for heavy users as well. As you will find it in different sizes, you can pick one according to your preference and leg size. The disc has markings so that you can place your feet in the right positions. Along with burning calories, you get a nice foot massage as well. It feels comfortable to stand on it and the ridged edge will help you to keep balance. It is easy to step on and get down off the disc. The tummy twister is affordable and you can easily buy it for home use. Discover an attractive waist by using this tummy twister every day!