Chloe Madeley is one of the most stunning TV personalities and an awesome fitness inspiration. Her Instagram posts are enough to get anyone hooked on fitness and what we like best is the fact that her posts are 100 percent real.
[toc]
Have a look at her current exercise and diet plan, know about a serious body issue she has been dealing with and follow the workout and diet advice she has shared in this article.
Chloe Madeley Fitness Advice for Christmas Season 2016, Hangovers and Starting a Healthy Diet Routine
So you went to a holiday party and indulged in unhealthy foods? Feeling guilty about it? Well, do better next time and follow the fitness advice shared by Instagram fitness sensation Chloe Madeley. She believes that you can indulge during the holidays given you prepare for it beforehand. She also has some useful advice for people who are hung over and has shared how you can go about starting a healthy diet plan. Read it all right here!!
Letting Go
The diva has revealed that she lets go of her reigns over Christmas by not doing any exercise and diet from Christmas Eve till the Boxing Day. She says that staying fit despite the break isn't a tough task.
Stay Committed
The key to ensuring that you stay fit despite the break you need is to know when to give your 100 percent. The sister of Tom Henshaw gives her 100 percent when a holiday is coming up or a photoshoot is near. During such times, you cannot skip the gym even once.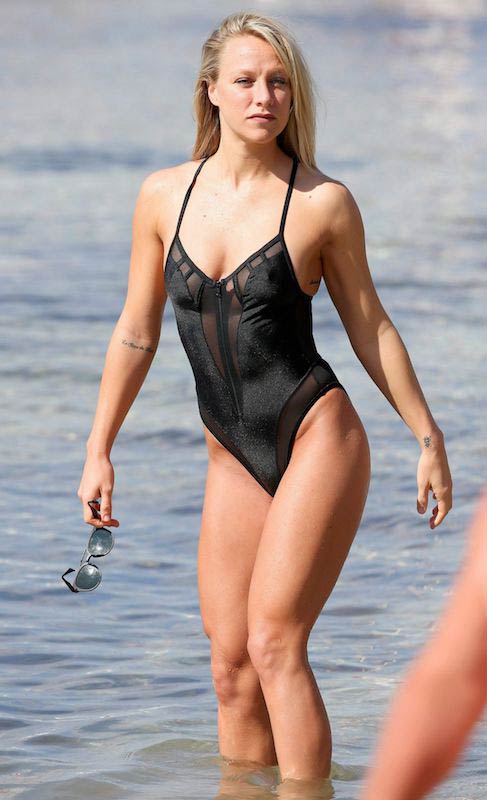 The Dilemma
Madeley says that there comes a time during the holiday parties when all your loved ones ask you to indulge a little and you need to have control. You can even get fed up at such time. So a smart idea would be to satiate a little while knowing that you can compensate for it or change your body again post the holidays if you stay dedicated. She is adamant that diet and exercise shouldn't get in the way of enjoying a celebratory family holiday dinner.
The Strict Plan
The sister of Dan Henshaw shared that she follows a strict diet plan in the weeks that lead up to a special day. It allows her not to miss the wonderful drinks or food on that day. She also trains hard for 6 days a week and does something celebratory with her family on the seventh day. You have to find that balance too and it might take time.
Don't Train When Hung-over
James Haskell's girlfriend suggests that you shouldn't do any training when you are hungover as your body will be dehydrated and the muscles would respond badly. Your muscles are 70 percent water and you can get injured badly if you train without being hydrated. If you are adamant about exercising, you can go for a walk. It will help you burn off the extra calories and you will not feel too sluggish.
How Weight Training Changed Her Life?
The personal trainer admits that working out, especially weight training helped her to get through a tough phase in life. When she was considerably younger, she adopted some bad habits and was involved in a much controversial drunk driving case. At that time, her ex-boyfriend, Danny Young who is an actor-turned-personal trainer told her to try extreme exercise and weight training.
It was an empowering experience for her and it helped her to get total control over the life. Eight months later, Chloe qualified as a personal trainer and started a blog that sold supplements and now, she has two awesome apps too. She loves her muscles not only because they help her look and feel amazing but also because weight training saved her.
How to Go About Starting a Healthy Diet Routine?
The daughter of Richard Madeley has also shared 4 simple steps with her fans. It will help you with starting a healthy diet routine. It's explained over here:
1st Step
You should swap the junk food and already prepared meals with natural, clean and one ingredient foods. You can go for fish, chicken, eggs, nuts, vegetables, oats, rice, etc. Clean foods are calorie dense which means that you can eat more of them and worry less. If you want to change your body, it's vital to have a clean diet. A clean diet allows you to let your body use clean foods as fuel for general health and activity.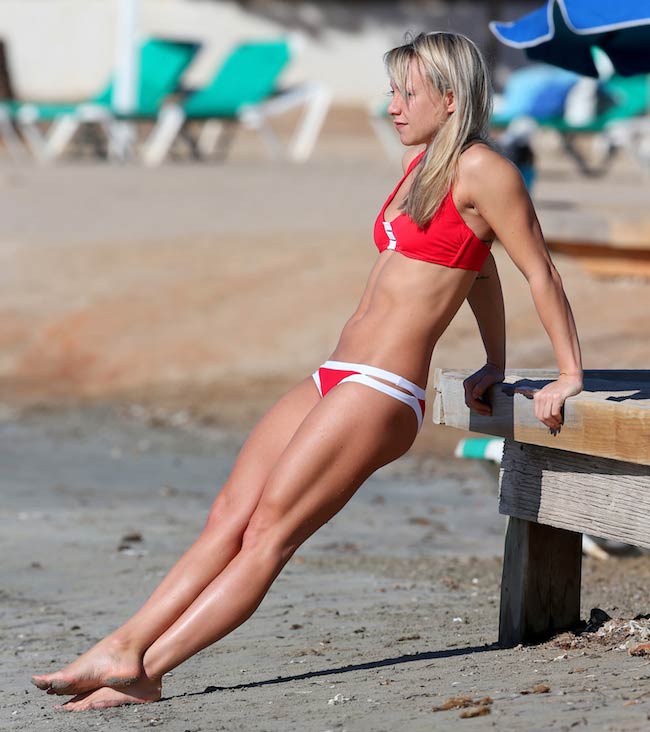 2nd Step
The next step involves keeping a track of calories in and calories out. You can keep the count of calories in low, by reducing the portion sizes, believes the freelance journalist. You don't need to make them tiny but you should refrain from making them massive. You can also use a mobile app to track the calorie intake and a number of calories you burn in a day.
3rd Step
In this step, the Manchester-born wants you to start thinking about the macronutrients. There are three key nutrients that your body needs for overall health and survival, namely carbs, fats, and protein. You can start having more protein by having foods like fish, chicken, and lean mince. You can increase the carb intake by having more oats, rice, sweet potatoes during breakfasts and pre or post workout snacks. Fats can be eaten in the form of eggs, avocado or nuts on a daily basis.
4th Step
The daughter of Judy Finnigan thinks the last step is to balance. You can learn it only from experience. You should understand that a healthy diet is a lifestyle change that needs to be adapted constantly to see the results. Dipping in and out of it would do you no good. But that does not mean that you cannot indulge sometimes. If you have been committed to fitness for the entire week, having a drink on Sunday or enjoying a slice of cake is completely okay. Be sure to know your indulgence limits and stick to them.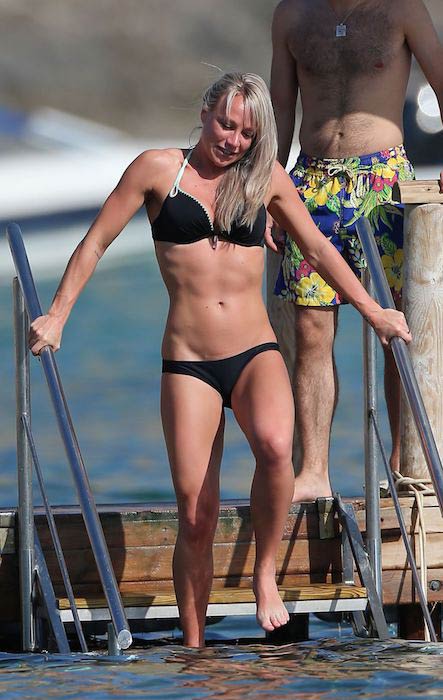 Be Happy
The last bit of advice shared by the stunning model is that happy is the twin sister of healthy. So, you should try to be happy whenever you can if you wish to attain great health.
Chloe Madeley 2017 Exercise and Diet Plan
Body Issue
The English TV presenter has been struggling with bloating for years now. As a teenager, she wanted to wear belly tops like all her friends but wasn't able to do that because of bloating. Though she was quite skinny while growing up, she had an unflattering belly. When she grew up and chose a healthier way of living, she thought that the problem might reduce, but her perception was shattered as the problem got worse with time.
When she was in her 20s, she manipulated her water and fiber intake and implemented things like cheat meals. But things didn't improve as she dealt with terrible pain and felt more bloated at the end of every day.
Apart from high fiber and water in her diet, she had also upped protein intake because she was training hard in those days. She was training twice a day, and her whole diet was centered around eating protein with vegetables. Many time, she even ate up to five times a day. Protein is usually hard to metabolize so consuming loads of protein powder led to more pain, more gas and more bloating.
Simple Solution
To make things better, she devised a temporary solution of drinking loads of water. She also tried massages on her midsection, but it didn't help much. In the mornings, her belly was flat, but in the evenings, she looked like a pregnant woman due to bloating.
Healthy Partner
Things changed for better when she met her current boyfriend Wasps and England rugby player, James Haskell as he is also a fitness fanatic and steered her towards probiotics. When they started dating, he was taking loads of supplements and fish oils. He encouraged her to try Probiotics. Probiotics help a person to replenish healthy bacteria present in the gut which is often reduced due to a stressful lifestyle, taking antibiotics or high sugar diet.
After doing some research, the TV presenter started using a probiotic supplement called Alflorex that has a specific strain (35624) of bacteria and is effective against the symptoms of IBS like tummy pain, bloating, alternating bouts of diarrhea and constipation in just four weeks. When she started taking it, she didn't feel much of a difference, but by the end of three weeks, she noticed that her tummy was as flat at night as it was in the mornings.
It's been eight months since she tried that supplement and now, her bloating has almost disappeared, and her body confidence has increased. She still sticks to a diet that includes loads of fiber, protein, and water.
Diet Plan
The healthy diet plan of the Manchester-born is mentioned right here:
Breakfast
Whole Oats, protein powder, and hot water.
Mid-Morning Snack
Starchy carbs like sweet potato or brown rice with vegetables.
Lunch
Lean proteins like fish or chicken with vegetables and a source of carbohydrates like sweet potato or rice if it's around a workout.
If it's not around a workout, carbs get replaced with avocado or nuts or a big frittata with smoked salmon and some fresh vegetables.
Mid-Afternoon or Post Training Snack
A few vegetables with nuts or avocado.
Dinner
Lean protein like fish, a lean cut of steak or chicken with brown rice or sweet potato and some vegetables.
Preferred Recipes
She likes making broccoli mash and courgette bolognese by using lean mince, garlic, chopped tomatoes, and chili.
Fitness Advice for Chloe Madeley Fans
How to Stay on Healthy Food Track?
If you find it hard to stick to a healthy workout and diet plan, then the diva has got some awesome advice for you. She wants you to stay away from things that take you off the fitness track like Saturday night drinks with the girls, Friday night takeaway or a birthday cake at the office.
What to Do When You Are Alone on the Fitness Journey?
Madeley advises you to stick to the healthy food track even if your children or partner doesn't want to try the healthier options. You can stick to healthy food options when you have a partner who is a fan of eating junk food by getting your partner to eat healthy at home too.
Tell your partner that if he/she wants that packet of crisps, they would need to work for it by eating healthy food items first. Allow your partner some breaks like a curry and a beer with the boys' midweek or taking the kids out for a McDonald's on the weekend. But you must draw the line at bringing only healthy foods home.
How to Eat Healthy When Your Kid Doesn't?
If you are a parent who is often tempted by the unhealthy leftovers of your kid like chocolate biscuits or spaghetti, then you should learn to exercise some self-control. You need to train yourself to not to eat unhealthy leftovers but eat the healthier version of the foods they are eating. If you eat healthy foods first, you won't crave the unhealthy leftovers as your tummy will be full.
How to Make Sure Kids are Eating Healthy?
The daughter of Richard Madeley also shared her opinion on ensuring that your kids eat healthier. Her advice is that you ensure your kids know about real foods and have easy access to them. It isn't a smart idea to follow restrictive diets for children unless their body needs it due to problems like intolerance or allergies.
Let your kid enjoy the foods and remember that they need all the fuel they can get to grow up healthy. Try to cook healthy homemade foods for them like potato wedges, bolognese or breaded chicken, mash with some broccoli, sugar-free jelly, oaty nutty flapjacks, etc.
Only try to eliminate store-bought foods and refined sugar from your kids' diet as it would do them no good. Also, ensure that everything is fresh and the healthy stuff is hidden so that the kids don't just reject the food outright!
Chloe Madeley 2018 Workout and Diet
Pampering Herself
The stunner admits that she considers gym time to be like girly spa time as she loves being in the gym, moving her body and feeling strong & active.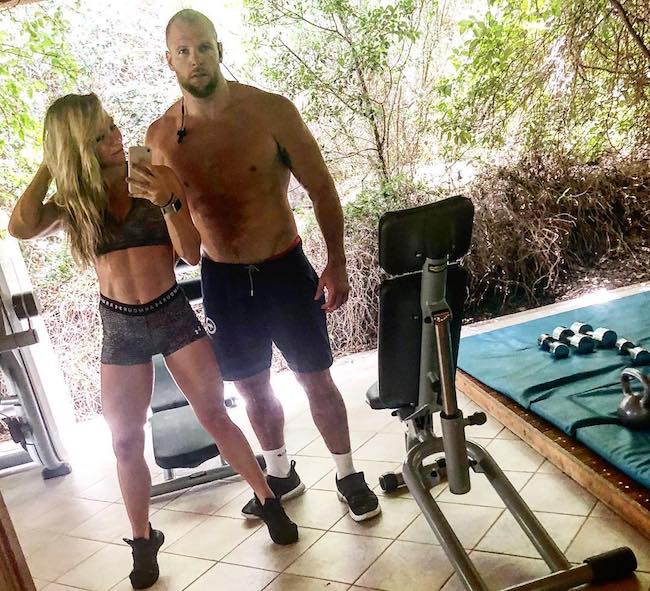 Nutrition Fascination
She is fascinated by changes a person can make to his or her body via diet. She tracks her diet to know what she is eating and when. In case she wants to be in great shape, she just cuts down on the portion sizes.
Health Supplements
To boost her stamina and recovery, Chloe likes to eat Ubiquinol after breakfast. She also takes a protein supplement, a multivitamin and Omega 3.
Not an Active Childhood
Madeley has confessed that as a kid, she wasn't into sports as she never set foot in the gym and bunked PE. A few years back, one of her ex-boyfriends hooked her on exercise, and suddenly, she was exercising four times a week.
Battling Anxiety
The beauty admits that staying focused on fitness has given her a purpose and she is not just the daughter of Richard Madeley and Judy Finnigan anymore. Fitness had also helped her to master anxiety and put a halt on panic attacks she had when she was in her early 20s.
Benefits of Weightlifting
Another benefit of weightlifting is that she feels strong and capable which has helped her to let go of the pain of bad relationships and stopped her from partying every night. Weightlifting has made the TV presenter a better person.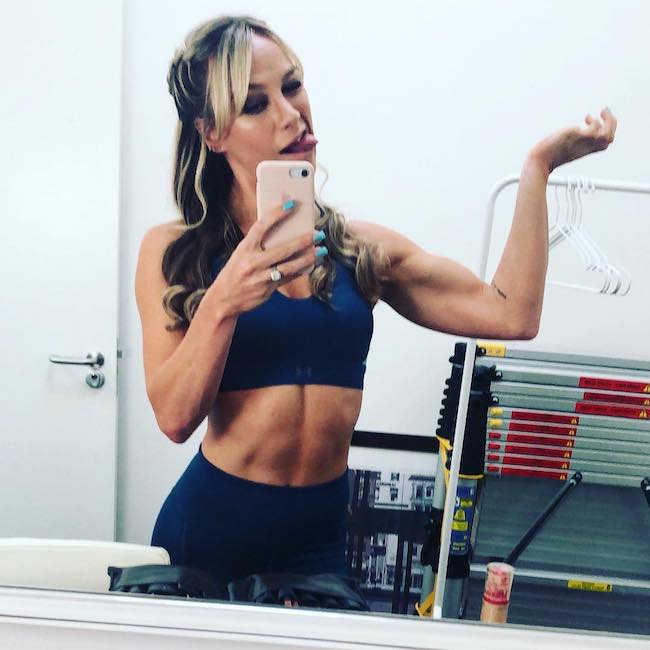 Tips for Chloe Madeley Fans
The author of The 4-Week Body Blitz has shared some valuable advice with her fans.
Enjoy the Holidays
You should always enjoy special occasions like Christmas and try not to train so hard or be too harsh on yourself during the festivities.
Don't be Tempted by Leftovers
Make sure that you get rid of all Christmas leftovers instantly and don't indulge in sweets for days after the festivities are over.
Set Goals and Stick to Them
It is essential to set goals like you will start dieting from XX day and then stick to it no matter whether you are feeling ill, tired or just lazy.
Get Support
Get all the help and support you can accumulate by telling people that you have decided to live a healthier routine.
Give Yourself a Temptation
When you start a new fitness routine, give yourself the temptation of a cheat day that comes at the end of the program. It will help you stay on the fitness track.
Stay on Track
Remind yourself daily of why you started on a fitness journey to ensure that you don't end up getting off the fitness wagon.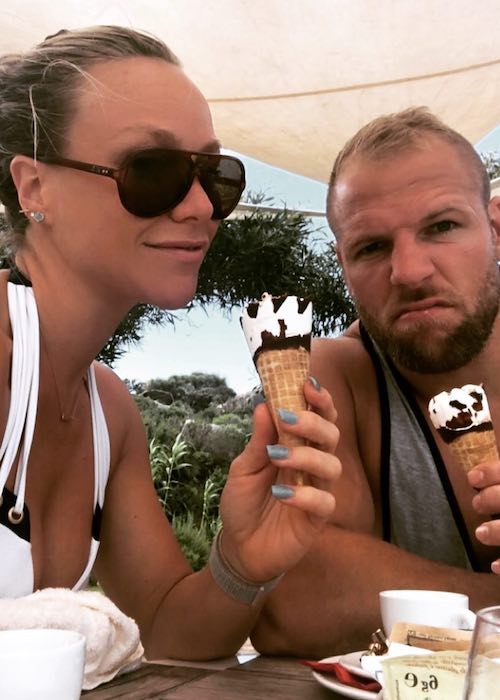 Featured Image by Rach / Flickr / CC BY 2.0