Dave Mustaine Quick Info
Height
6 ft
Weight
78 kg
Date of Birth
September 13, 1961
Zodiac Sign
Virgo
Spouse
Pamela Anne Casselberry
Dave Mustaine is an American singer, guitarist, songwriter, actor, author, talent manager, and producer, best known as the lead guitarist, songwriter, and vocalist of the heavy metal band Megadeth that he founded in 1983. He began his musical career in 1978 and was a part of the band named Panic, which disbanded in 1981. Dave left the Panic after he saw a paper ad made by Lars Ulrich and James Hetfield, who were looking for a lead guitarist for their heavy metal band Metallica. He got the job on the spot, which the 3 celebrated by drinking beer, and were later joined by a bassist Ron McGovney. The band began touring locally. Unfortunately, due to his violent drinking, drug use, and aggressive personality, Dave was kicked out from the band in 1983, at first, for a day only, and then permanently. Not having been given a second chance, and angry at Metallica band members, he decided to get back at them. He first formed a short-lived, band, Fallen Angels, and then the band that would mark his music career, Megadeth.
After numerous unsuccessful auditions to find a vocalist, Dave decided to take the role himself in addition to playing lead and rhythm guitar. After a few lineup changes, Megadeth released their debut studio album, Killing Is My Business… and Business Is Good! in June 1985. The very next year, the band released their 2nd studio album, Peace Sells… but Who's Buying?, and then So Far, So Good… So What! (1988), Rust in Peace (1990), and Countdown to Extinction (1992). Before he suffered an arm injury in 2002 and announced the band's disbandment, Megadeth also released studio albums such as Youthanasia (1994), Cryptic Writings (1997), Risk (1999), and The World Needs a Hero (2001). After a 2004 comeback under Sanctuary Records, the band released a studio album The System Has Failed (2004), and 3 years later, United Abominations in May 2007. Between 2009 and 2016, Dave, as part of Megadeth, also released studio albums Endgame (2009), Thirteen (2011), Super Collider (2013), and Dystopia (2016).
Born Name
David Scott Mustaine
Nick Name
Dave, Dave Mustaine, Dangerous Dave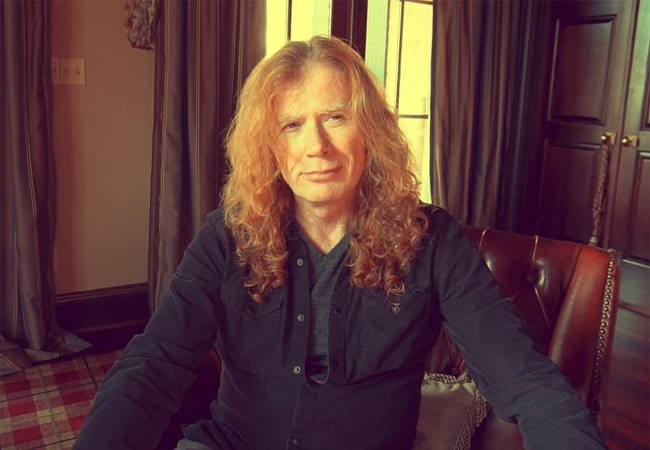 Sun Sign
Virgo
Born Place
La Mesa, California, United States
Residence
California, United States
Brentwood, Tennessee, the United States
Nationality
Education
Dave attended Marina High School in Huntington Beach, California, United States.
Occupation
Singer, Songwriter, Guitarist, Author, Actor, Talent Manager, Producer
Family
Father – John Jefferson Mustaine
Mother – Emilie/Emily Marie (née David)
Others – Alice Cooper (Godfather) (Singer, Songwriter, Actor), Sheryl Goddard (Godmother), Frank Leslie Mustaine (Paternal Grandfather), Metta Marie/Materee Parker (Paternal Grandmother), Friedrich Otto August David (Maternal Grandfather), Hedwig Johanna Krause (Maternal Grandmother), Jefferson Keech Mustaine (Paternal Great-Grandfather), Adriah/Adria Ellen Lucas (Paternal Great-Grandmother), John Anderson Parker (Paternal Great-Grandfather), Emma Capicola/Capacola/Capitola Clancey (Paternal Great-Grandmother), Foster David (Maternal Great-Grandfather), Dara David (Maternal Great-Grandmother), Joseph Krause (Maternal Great-Grandfather), Gertrude Huskin (Maternal Great-Grandmother)
Manager
Dave Mustaine is represented by –
Artist Group International (Talent Agent) in the United States and Canada
International Talent Booking (Talent Agent) outside of the United States and Canada
5B Artists + Media (Manager) Worldwide
Genre
Heavy Metal, Thrash Metal, Speed Metal, Hard Rock
Instruments
Vocals, Guitar
Labels
Loud
Combat Records
Capitol Records
Sanctuary Records Group Ltd.
Roadrunner Records
Tradecraft
Build
Slim
Height
6 ft or 183 cm
Weight
78 kg or 172 lbs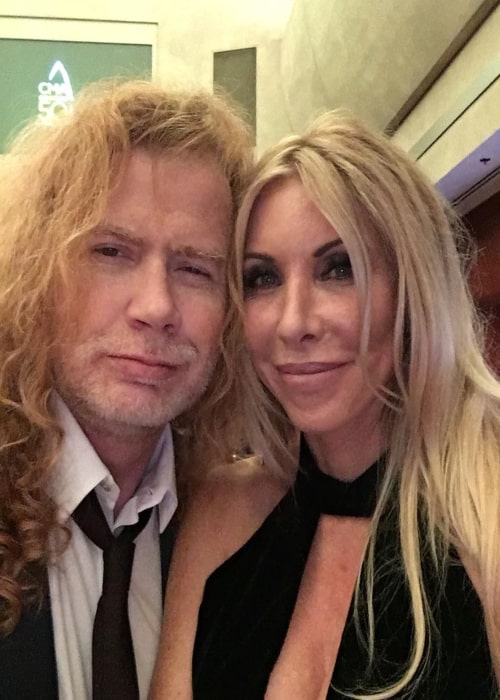 Girlfriend / Spouse
Dave Mustaine has dated –
Pamela Anne Casselberry (1991-Present) – On March 3, 1991, Dave married Pamela Anne Casselberry, and only a year later, on February 11, 1992, the two welcomed their 1st child, a son named Justis David Mustaine. 6 years later, on January 28, 1998, Pamela and Dave welcomed their 2nd child, a daughter named Electra Nicole Mustaine. Justis later grew up to become a guitarist and an actor as well. In addition, Dave and his son also founded Mustaine Vineyards and made and sold wine under the name House of Mustaine. Their vineyards were located at the family's private estate in California, named Le Reve. Electra became a singer, model, and songwriter, who resided in Nashville, Tennessee, where she pursued her career in country music. Unfortunately, in the early 2000s, his marriage started running into problems. In March 2007, he filed for divorce due to constant touring and being away from home, but the pair came back together. In February 2008, Dave announced he had filed divorce papers again. He stated: "I am losing my marriage so I am done touring after this so I can move on with my life… I just have had my heart broken and I live for my two children and you [the fans] now." Fortunately, Pamela and he stitched their marriage back together once again, and he withdrew the petition. Dave later stated that a friend of his, and Megadeth's bassist, David Ellefson, saved his marriage by giving him invaluable advice. He motivated him to think whether he was the best husband he could be, and to stop putting music ahead of family. Soon after, Dave decided to finally put his faith first, his family second, and his music in the third place. He also jokingly called his wife "Dahlink" instead of "Darling".
Race / Ethnicity
White
He is of Irish, Welsh, Scottish, English, Finnish, Canadian, German, and remote Dutch and French descent on his paternal side, and of Ashkenazi Jewish (Polish Jewish, German Jewish) descent on his maternal side.
Hair Color
Red (Natural)
As he grew up, his hair transitioned from red to dirty blonde or strawberry blonde.
Eye Color
Hazel
Sexual Orientation
Straight
Distinctive Features
Signature long, curly, blonde/red haircut
Gruff singing and speaking voice
Upper lip curl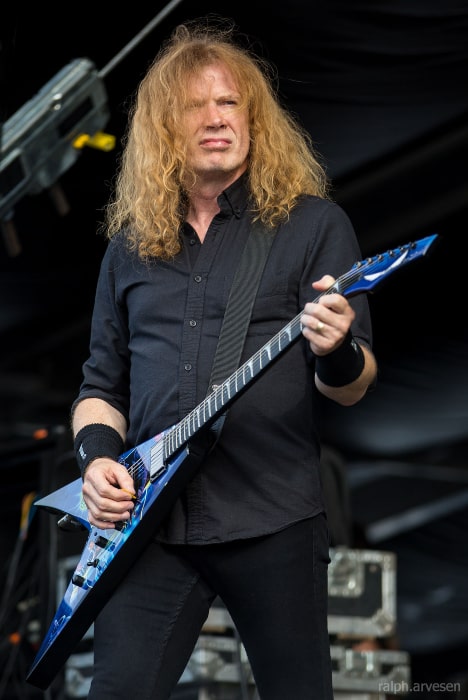 Brand Endorsements
Dave Mustaine has endorsed brands such as –
B.C. Rich
Jackson Guitars
ESP Guitars
Ovation
Dean Guitars
Seymour Duncan
Marshall Amplification
Zoom
Dave was also named "Goodwill Ambassador of the World" by the World Taekwondo Federation in 2007.
Religion
Christianity
Best Known For
Having a long-running music career as a founder, lead vocalist, lead guitarist, and songwriter for the heavy metal band Megadeth that started in 1983
Releasing 15 studio albums with Megadeth between 1985 and 2016, with the most notable being Countdown to Extinction (1992), Risk (1999), The World Needs a Hero (2001), United Abominations (2007), Endgame (2009), Thirteen (2011), and Dystopia (2016)
His side-project band, MD.45, through which he released a studio album The Craving (1996), where he only played the guitar, while in a 2004 reissue, he also sang
First Album
As a part of the heavy metal band he founded, Megadeth, Dave Mustaine released his debut studio album, Killing Is My Business… and Business Is Good! on June 12, 1985, under Combat Records. The album was made with a budget of only $8k, half of which the band members spent on alcohol, drugs, food, and other expenses. The album peaked at the 169th spot on the US Billboard 200, and at the 149th spot on the UK Albums Chart.
It consisted of 8 tracks in total, split into 2 sides. Side one consisted of tracks such as Last Rites/Loved to Death, The Skull Beneath the Skin, These Boots, and Killing Is My Business… and Business Is Good!. Side two consisted of tracks Rattlehead, Looking Down the Cross, Mechanix, and Chosen Ones.
Dave Mustaine, as part of his side-project, MD.45, released his debut studio album, The Craving, on July 23, 1996, under Slab Records. It consisted of 11 tracks in total, titled Hell's Motel, Day the Music Died, Fight Hate, Designer Behavior, The Creed, My Town, Nothing is Something, Voices, Hearts Will Bleed, Roadman, and No Pain.
First TV Show
Dave Mustaine made his first TV show appearance as 'Himself' in the episode of the music series, Headbangers Ball in May 1987.
Dave Mustaine Favorite Things
Guitar Solo – Performed by David Gilmour in the song Time by Pink Floyd
Childhood Cartoon TV Show – Gigantor (1963-1966)
Songs By Metallica – The Call of Ktulu, Phantom Lord, Metal Militia
Album Of All-Time – Led Zeppelin – Presence (1976)
Album Artwork Of All-Time – Pink Floyd – Wish You Were Here (1975)
Dave Mustaine Facts
His band's official fan club is named Megadeth Cyber Army.
According to Dave, he has Finnish ancestry in his lineage and stated that his last name was spelled Mustonen in the past. His family tree was documented up to his 5th great-grandfather, who was born in 1720, with no mentions of it, but it wasn't impossible.
Around 1982, he brought his dog over to the house of Ron McGovney, who was Metallica's bassist, where they did their band practice. The dog scratched the paint of Ron's car, which led James Hetfield to kick him in anger. This led to an altercation between Dave and James, and Dave was fired from the band. However, as the band lacked a guitarist, he was allowed back the very next day.
On another instance, Dave was violently drunk, by his own admission, and poured a full can of beer down the neck of Ron's guitar and amp. When he plugged it, the liquid in combination with electricity "shocked the hell out of him". Ron decided to leave the band soon after and was replaced by Cliff Burton.
After he was kicked out of Metallica, band members put him on a 4-day bus ride from New York to California. He had no food, no drinks, no money, and had to stay awake so he doesn't miss connecting buses, and called it "a living hell." He was replaced by Kirk Hammett as a guitarist.
Dave was kicked out before the release of Metallica's debut studio album, Kill 'Em All (1983). However, he was credited for co-writing 4 songs on the album, and also 2 songs from the 2nd studio album, Ride the Lightning (1984). He was also featured on a No Life 'Til Leather demo that was recorded on July 6, 1982.
He wrote a song titled In My Darkest Hour after he heard the news of the death of Metallica's bassist, Cliff Burton, in September 1986. The song didn't discuss the topic of Cliff's death directly, it only inspired him to write a new song in one sitting.
He launched his own Megadeth Beer in partnership with a world-class craft beer brewery, Unibroue.
In 1986, after he contacted Jackson Guitars to modify their existing Jackson King V model for him, the company started mass-producing a Dave Mustaine signature series Jackson King V until the early 2000s. He left Jackson Guitars in 2003 after he disbanded Megadeth.
Just like Jason Newsted, a former bassist of Metallica, Dave also suffered from stenosis, a neck and back condition that was caused by headbanging over the decades of touring.
In 1989, when he and Megadeth recorded a cover of the Alice Cooper's song No More Mr. Nice Guy, he showed up so drugged-up that he couldn't sing and play guitar at the same time, so he had to record them separately. Dave was arrested for impaired driving the following March and caught with more than 7 drugs in his system.
Dave was raised in the spirit of a Jehovah's Witness religion. He became a born-again Christian after he joined Alcoholics Anonymous around 2003, and started working on beating his addictions to drugs and alcohol.
Dave practiced black magic during his teenage years. After he was reborn a Christian, he promised he would not play any of Megadeth's songs that deal with that topic. In addition, he refused to perform alongside bands that are of the black metal genre or deal with satanism.
He is very good at martial arts, particularly taekwondo and Ukidokan karate. He has a black belt in both.
Dave claimed to have written a bridge riff of the song Leper Messiah by Metallica, which plays between 3 minutes and 16 seconds and 3 minutes and 37 seconds, as well as the following riff. Despite members' denial of him having any involvement, his fans recognized his unique touch. In addition, there was a similar riff that he wrote and played on the Metallica demo tape, Ron McGovney's '82 Garage demo in March 1982.
Dave injured a nerve in his arm in 2002 because he fell asleep with that arm over the back of a chair. Because he couldn't play guitar, and also started being very annoyed by his band members, he announced Megadeth was disbanding. Luckily, after a 2-year physical rehabilitation, and becoming a Christian, he reformed the band in 2004.
His band's 10th studio album, The System Has Failed (2004), was actually his solo project. However, due to contractual obligations, he had to release it under the band's name.
Guitar World has magazine placed him and a fellow Megadeth member, Marty Friedman, at the 19th spot on the "100 Greatest Heavy Metal Guitarists of All Time" list.
His 2005 tour, Gigantour, was named after his favorite childhood cartoon, Gigantor (1963-1966).
In 2009, in a book titled The 100 Greatest Metal Guitarists by Joel McIver, Dave landed the top spot.
In 2012, he landed the 12th spot on the "100 Greatest Heavy Metal Guitarists of All Time" list by Guitar World.
Dave doesn't support gay marriage, as it goes against his Christian beliefs.
He made a statement via Instagram in June 2019 that he had been diagnosed with throat cancer, but that he would undergo appropriate treatment. Dave was a heavy smoker for a number of years.
As a consequence of his cancer diagnosis, Megadeth's summer tour was put on pause. Luckily, he announced his doctors were very positive about his progress within a few months. As a result, Dave stated that Megadeth will be at the 1st ever Megacruise 2019 tour in some capacity.
In early October 2019, Dave put his 6850 square feet, 10-acre, 3-bedroom, 4 full and 2 half-bathroom house in Brentwood, Tennessee for sale. The house also had 2 massive floors and an elevator that he used to move instruments and equipment. The listing price was just under $2.5 million.
The album he'd like to be remembered for is Dystopia (2016).
Dave jokingly stated that he would like the album by Johnny Winter titled Still Alive And Well (1973) to be played at his funeral.
According to him, 2 albums that define metal are Judas Priest's Sad Wings Of Destiny (1976) and Motorhead's No Sleep Till Hammersmith (1981).
Visit his band's official website @ megadeth.com.
Featured Image by Dave Mustaine / Instagram