Elvis Presley Quick Info
Height
5 ft 11¾ in
Weight
80 kg
Date of Birth
January 8, 1935
Zodiac Sign
Capricorn
Eye Color
Blue
Elvis Presley was a singer and actor from the United States who died at the age of 42 due to the heart attack. The King of Rock and Roll, at 36, got a Grammy Lifetime Achievement Award. He spent some time in the military service starting from 1958. In the music's history, Elvis is the best-selling solo artist. Overall, he was active in his career from 1953 to 1977.
Born Name
Elvis Aaron Presley
Nick Name
Elvis, The Pelvis, The King, The King of Rock 'n' Roll
Age
Elvis Presley was born on January 8, 1935.
Died
Presley passed away at the age of 42 on August 16, 1977, at his Graceland Estate in Memphis, Tennessee. The years of prescription drug abuse had finally taken its toll as he suffered a heart attack, which some experts believed was triggered by an allergy to codeine pills, which he had got from his dentist.
Sun Sign
Capricorn
Born Place
Tupelo, Mississippi, United States
Nationality
Education
In first grade, Elvis Presley got admission at the East Tupelo Consolidated. Then, in the sixth grade, he joined a new school in Milam in September 1946.
After his family moved to Memphis, he got enrolled at the L. C. Humes High School. In June 1953, he graduated from the high school.
Occupation
Singer, Actor
Family
Father – Vernon Elvis Presley
Mother – Gladys Love Presley
Siblings – Jesse Garon Presley (Twin Brother) (He was stillborn)
Others – Jessie Presley (Paternal Grandfather), Minnie Mae Dodger Hood (Paternal Grandmother), Robert Lee Smith (Maternal Grandfather), Octavia Mansell (Maternal Grandmother)
Genre
Rock and roll, pop, rockabilly, country, blues, gospel, rhythm and blues
Instruments
Vocals, Guitar, Piano
Labels
HMV, RCA (Victor), Sun Records
Build
Average
Height
5 ft 11¾ in or 182 cm
Weight
80 kg or 176 lbs
Girlfriend / Boyfriend / Spouse
Elvis Presley had dated
Dixie Locke (1953-1955) – In the early months of 1953, Presley started dating Dixie Locke. They were high school sweethearts. He even took her as his date for junior and senior proms at South Side High School in 1954 and 1955 respectively. However, they eventually drifted apart and decided to end their relationship by mutual consent. She felt that his career was heading in one direction and she wasn't a part of it.
Nick Adams (1955) – In 1955, Presley was RUMORed to have had a homosexual affair with actor Nick Adams. However, no evidence had been found that would suggest it was anything apart from a baseless and idle talk.
Wanda Jackson – In the mid 50's, Presley was rumored to have hooked up with singer Wanda Jackson. She was in her late teens and was touring with Presley and eventually, his charm washed her over. She claimed that it was at his urging, she decided to give rock & roll a try.
June Juanico (1955-1957) – Presley started dating June Juanico in June 1955. They had met in her hometown of Biloxi, while he was in town to perform. They dated for little under two years. She claimed in her interviews that they never consummated their relationship. She was virgin back then and was cautious about losing it before marriage. Plus, she was also afraid that she might get pregnant.
Natalie Wood (1956) – In 1956, Presley had a very short-lived affair with actress Natalie Wood. Reportedly, it was his decision to take her to Memphis to meet his family that turned things sour between them. She would later tell her friends that it was domineering and jealous mother Gladys, who wrecked everything.
Gael Greene (1956) – In 1956, Presley had a one-night stand with journalist and novelist, Gael Greene. He was in New York City to perform at Olympia Stadium and she was given the responsibility to interview him. Their s*xual encounter took place in the 24th-floor suite of Book-Cadillac Hotel.
Yvonne Lime (1957) – In the early months of 1957, Presley was reported to be dating actress Yvonne Lime. They had worked together in the movie, Loving You and their romance had blossomed on the sets of the movie. She even confirmed their relationship in an interview with Modern Screen magazine.
Anne Neyland (1957) – In the summer of 1957, Presley was linked with actress Anne Neyland, who had just signed an acting deal with MGM. In June 1957, it was even claimed that he had even introduced her to his family in Memphis. He was visiting his hometown after completing the recording of his iconic single, Jailhouse Rock.
Tempest Storm (1957) – In 1957, Elvis hooked up with an exotic dancer and burlesque star, Tempest Storm for about a week.
Jeanne Carmen (1957) – In 1957, Presley had a brief dalliance with the pin-up girl and B movie actress, Jeanne Carmen. They were spotted together at a couple of parties and events.
Venetia Stevenson (1957) – Presley's brief affair with actress Venetia Stevenson became public in October 1957 after he personally drove to the airport in his white Cadilac to pick her up. He later took to the private showing of his movie, Loving You at the Strand Cinema. Then, they got stuck in the mob and police had to escort them.
Kathleen Case (1957-1960) – Elvis had an on and off relationship with actress Kathleen Case from 1957 to 1960. They had first started dating towards the end of 1957 just before he was going to fly to Honolulu for the shooting of his movie. In the early months of 1958, she denied that she was dating him but sources close to him claimed that she was the only girl he was dating. When he returned from the shooting, it was claimed that they had repaired their broken relationship. They were again linked in May 1960 as he took her to see Jerry Lewis performance at the Moulin Rouge.
June Wilkinson (1958) – At the start of 1958, Presley was linked with model and actress June Wilkinson. It was claimed that he had started seeing her while shooting for the movie, King Creole.
Margrit Buergin (1958-1959) – In 1958, he was linked with actress Margrit Buergin. The press hailed Buergin as the first European woman to date Presley. She was 16 years old when they were first linked.
Anita Wood (1957-1962) – In 1957, Presley first met recording artist and TV performer, Anita Wood. In the same year, he referred to her as his 'No. 1 Girl.' She had signed a contract with Paramount Pictures to work as an actress but later decided against it for Presley. Their serious relationship lasted for over five years. They officially separated in August 1962.
Priscilla Presley (1959-1960 and 1962-1973) – In September 1959, Elvis first met his future wife Priscilla at a party at his home in Bad Nauheim, Germany. He was serving with US army at that time. She was just 14 years old but she made a huge impression on Elvis. They were inseparable until he left West Germany in March 1960 as his army term was about to end. As she read tabloid reports linking him to various actresses and models, she felt that she would never again see Elvis. However, he got in touch with her over the phone and got her to visit him in the US in the summer of 1962. During the visit, she started using sleeping pills and amphetamines to keep up with his lifestyle. She made another visit during Christmas and he managed to convince her parents to allow her to move to Graceland. After her parents agreed, she moved to Graceland in March 1963. Her parents had insisted that she lived with his father and stepmother until she completed her school education. But that didn't work as within weeks, she was living with Elvis. Before Christmas in 1966, he proposed to her. They got married in May 1967 in Las Vegas. In February 1968, she gave birth to their only daughter, Lisa Marie. During the course of their marriage, Presley had numerous affairs and while he was touring or shooting in LA, she had to live in Graceland, which soured their marriage. Plus, she also had an affair with a dance instructor, whom she called Mark in her book. She later took up karate on his suggestion. While taking karate lessons, she started having an affair with Mike Stone, who was her instructor. This affair further speeded up the end of their marriage and in February 1972, they formally separated. Their divorce was finalized in October 1973.
Tina Louise (1960) – In 1960, it was reported that Presley had an affair with actress Tina Louise. She had interviewed him after his return from the army duty and it served as a starting point of their affair.
Carol Connors (1960) – Carol Connors impressed Presley with her song To Know Him Is To Love Him. Immediately after hearing the song, Presley who was then serving in the United States Army in Germany asked his inner circle to contact her. He got his wish as she was brought to his house. Soon after, they started dating and their affair lasted for about nine months.
Juliet Prowse (1960) – In 1960, Elvis had an affair with actress Juliet Prowse. Their affair had blossomed on the sets of their movie, G.I. Blues. She even confirmed their affair in her interview and blamed his fans for their eventual separation.
Tura Satana (1961) – Presley first saw Tura Satana perform at Chicago's Follies Theater. They started dating soon after. However, their relationship didn't last long. It was claimed that he had proposed to her but she turned him down.
Anne Helm (1961) – In the summer of 1961, he had an affair with Canadian actress Anne Helm.
Rita Moreno (1961) – In 1961, Presley had a brief affair with Puerto Rican actress and singer, Rita Moreno. It was claimed that she had only agreed to go out with Elvis to make Marlon Brando jealous, who had cheated on her.
Nancy Czar (1961-1962) – Presley first met actress Nancy Czar in January 1961 at the touch football game on the Sunset Boulevard in Los Angeles. They dated on and off for about a year before separating in 1962.
Sherry Jackson (1962) – The actress Sherry Jackson initially resisted being set up on a date with Elvis as she felt he needed a haircut. However, by the time, he returned from his stint with US army, he had a nice crewcut and she was impressed. He often used to sneak her in theatres after the movie shows so as to avoid detection.
Tuesday Weld (1962) – In 1962, he was reported to be dating actress Tuesday Weld. They had grown close while shooting for the movie, Wild in the Country.
Connie Stevens (1962) – Elvis was in a relationship with actress Connie Stevens for almost a year in 1962. He asked her out on a date while she was shooting for Hawaiian Eye.
Yvonne Craig (1962-1963) – In August 1962, Presley started going out with actress Yvonne Craig. While they were shooting for It Happened at the World's Fair, she was asked to have dinner at his mansion in Bel Air. It served as a starting point of their romance. Their affair came to an end towards the end of 1963.
Linda Rogers – Elvis had a fling with actress Linda Rogers in the early 60s. They had been introduced by Nancy Czar, who was his former girlfriend and Linda's best friend. After their fling, Linda landed a role in the movie, Tickle Me in which Elvis was cast in a starring role. It was claimed that some of their scenes were cut from the final cut because they were flirting too much.
Sharon Hugueny (1963) – RUMOR
Joan O'Brien (1963) – RUMOR
Ann-Margret (1963) – Presley first met actress Ann-Margret on a soundstage at Radio Recorders studios in Hollywood. They had been signed up to play the leading roles in the movie, Viva Las Vegas. They started going out while working on the movie.
Phyllis Davis (1964) – RUMOR
Regina Carrol (1964) – In 1964, Presley also had a fling with actress Regina Carrol. They had worked together in the movie, Viva Las Vegas.
Shelley Fabares (1964) – Towards the end of 1964, Presley was reported to be dating actress Shelley Fabares. They had met while working on the 1965 movie, Girl Happy. 
Chris Noel (1965) – According to reports, Presley started dating actress Chris Noel. They had grown close to each other while shooting for the movie, Girl Happy. 
Mary Ann Mobley (1965) – Towards the end of 1965, Elvis Presley was reported to be dating Mary Ann Mobley. They had worked together in Girl Happy and Harum Scarum and it was the set of the former, which served as a background for their romance.
Marianna Hill (1965) – RUMOR
Mindy Miller – Presley had a short-lived affair with Mindy Miller. It was claimed that their fling lasted for just a couple of weeks.
Christiane Schmidtmer – RUMOR
Judith Rawlins – RUMOR
Nancy Sinatra (1968) – Presley had an affair with singer and actress Nancy Sinatra while shooting for the movie, Speedway. Their affair was confirmed by Presley's former wife, Priscilla in her book.
Susan Henning (1968) – Presley was first introduced to actress Susan Henning on the sets of the movie, Live a Little, Love a Little. However, their affair didn't start until he had done the recording for 68 Comeback Special.
Cassandra Peterson (1969) – In 1969, Presley met Cassandra Peterson while performing at the Dunes Hotel in a show called Viva Les Girls. They spend the entire evening, night, and the following night together. However, as she was just 17 years old, nothing happened apart from some kissing. However, he advised her to leave Las Vegas as it wasn't a right place for a young girl.
Barbara Leigh (1970-1972) – In 1970, Elvis was introduced to actress and model Barbara Leigh. They were introduced by Jim Aubrey, who was the president of MGM studios and was dating Barbara at that time. It was claimed that Presley took a great delight in stealing Aubrey's girlfriend. Their affair was torrid and secret. They made sure that they were pictured together in the public. She opened up about their affair in her book, The King, McQueen, and the Love Machine.
Joyce Bova (1969-1972) – In her book, Don't Ask Forever: My Love Affair with Elvis, Joyce Bova claimed that she had a three-year-long affair with the king of rock and roll. She had met Elvis in Las Vegas while on vacation.
Peggy Lipton (1972) – Presley had a fling with actress Peggy Lipton in 1972. In her later interviews, she complimented him as a good kisser but wasn't a fan of his skills in the bed.
Raquel Welch (1972) – In 1964, Elvis met actress Raquel Welch while working in the movie, Roustabout. They later hooked up in 1972.
Linda Thompson (1972-1976) – In the summer of 1972, Elvis started dating actress Linda Thompson. In fact, Linda lost her v*rginity to Presley. In her interviews, she revealed that Elvis was very caring and had told her that he won't touch her until she was completely ready for it. They ended their four-years-long affair in November 1976.
Sheila Ryan (1973-1975) – In 1973, Presley started going out with actress Sheila Ryan. They had been introduced for the first time by Joe Esposito. He had brought Sheila backstage after his show in Las Vegas. They decided to separate in 1975.
Kitty Carl (1973) – Elvis had an affair with actress Kitty Carl in 1973.
Cybill Shepherd (1974) – In February 1974, Presley had a brief fling with the actress and singer Cybill Shepherd. She eventually had to choose between Presley and her boyfriend Peter Bogdanovich. She chose Peter because she couldn't handle the drugs.
Cher (1974) – Elvis had a fling with singer Cher. He had invited her to his room but she was nervous about it and rejected the offer. Hence, physical intimacy was not involved in this relationship.
Kathy Westmoreland (1976) – Presley went out with American singer, Kathy Westmoreland, in 1976.
Ginger Alden (1976-1977) – Towards the end of 1976, Presley started dating Ginger Alden. Aiden claimed that they were together until his death in August 1977. She even claimed that they had got engaged in January 1977. But none of Presley's close aides believed her.
Race / Ethnicity
Predominantly White
On his father's side, he had Scottish or German ancestry. While on his mother's side, he had French Norman and Scots-Irish roots. He also had traces of Cherokee ancestry on his mother's side.
Hair Color
Blonde (Natural)
But, he opted to dye his hair black for an edgier look.
Eye Color
Blue
Sexual Orientation
Straight
Distinctive Features
Long and deep sideburns
Greased back black hair
Deep husky voice
Left-sided grin
Brand Endorsements
In 1954, Elvis Presley lent his voice to the radio commercial for Southern Made Doughnuts.
He was also featured in a radio commercial for RCA's Victrolas in 1966.
In 1957, he also appeared in a PSA for the March Of Dimes, a non-profit organization that worked to cure polio.
His songs and footage have been used in TV commercials for the following brands and products –
Nike
Tennessee Department of Tourism
Nissan Altima
AXE body wash
Old Navy clothing stores
Heineken beer
National Lottery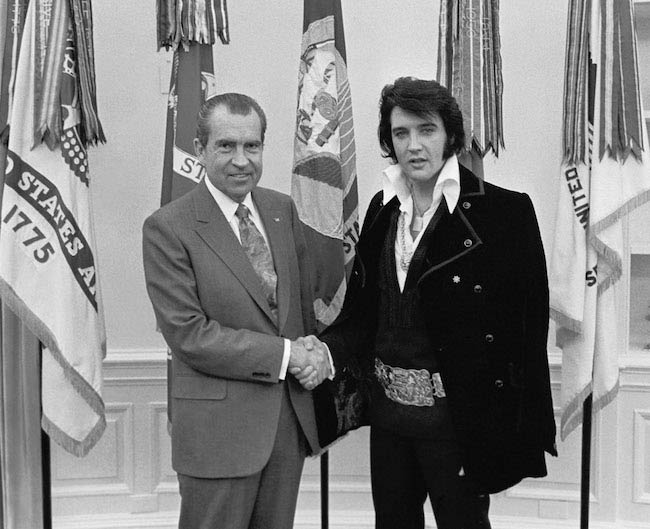 Religion
He was raised in the Assembly of God Church, which is a denomination of born-again Christian. However, his religious views as an adult weren't known.
Best Known For
Being the best selling solo artist in the music industry. He is estimated to have sold somewhere between 600 million and 1 billion records.
The cult hit status achieved by some of his singles such as Love Me Tender, Jailhouse Rock, and All Shook Up. 
First Album
In March 1956, he released his debut studio album, Elvis Presley, which was a huge hit and managed to earn platinum certification.
First Film
In 1956, Elvis made his theatrical film debut in the western drama movie, Love Me Tender. The movie was originally titled as The Reno Brothers but after the advanced sales of the single went through the roof, the producers decided to switch the title.
First TV Show
In January 1956, Elvis Presley made his first TV show appearance on the comedy TV series, Stage Show.
Personal Trainer
Presley wasn't a fan of working out or running. However, he tried to maintain an active lifestyle by playing badminton and American football. He also held a karate black belt. But it has been long disputed how he managed to earn the degree.
Elvis Presley Favorite Things
Food – Peanut butter, bacon, and banana sandwich; and Fool's Gold Loaf, which is essentially a hollowed out loaf of sourdough bread filled with a jar of grape jam, a jar of peanut butter, and a pound of bacon
Movie – A Streetcar Named Desire (1951), Rebel Without a Cause (1955), King Creole (1958), Bullitt (1968), Dirty Harry (1971)
Sports – Football and Racquetball
Actors – James Dean, John Wayne, Clint Eastwood, Steve McQueen, and Marlon Brando
Books – The Impersonal Life by Joseph Sieber Benner and The Holy Bible
Class in High School – Woodshop
TV Shows – The Jeffersons, Good Times, Happy Days, and Flip
Performer – Jake Hess
Music Artists – Roy Acuff, Hank Snow, Ted Daffan, Ernest Tubb, Jimmie Davis, Jimmie Rodgers, Sister Rosetta Tharpe, and Bob Wills
Source – Independent, IMDb, Wikipedia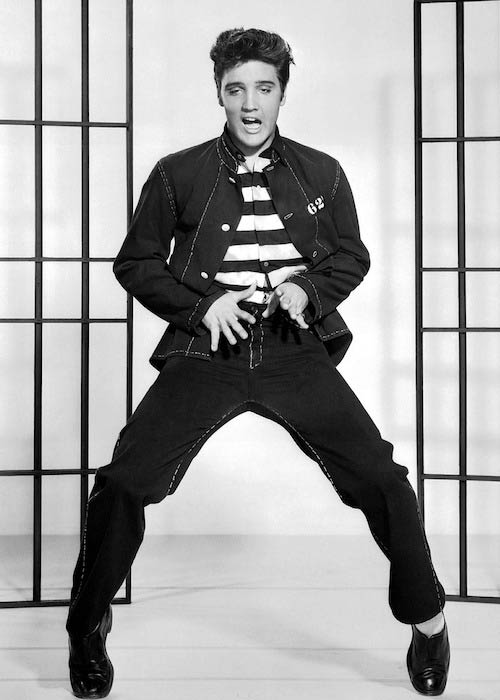 Elvis Presley Facts
His autopsy report found 10 different drugs in his bloodstream, which further strengthened the belief that the heart attack was triggered by drug abuse.
He had bought his iconic Graceland mansion in March 1957 for $102,500 from Mrs. Ruth Brown Moore. The following month, he installed the Music Gates. The name of the mansion came from the early days when it was used as a church.
In June 1993, he was featured on a set of stamps of rock and blues legends that were issued by the US Postal Services.
The popular singer and actor Liberace had first suggested that he add flashy costumes to his act after which Elvis decided to go for his iconic jeweled white jumpsuits and gold lame jackets. As a sign of his gratitude, Elvis kept a seat reserved for Liberace at most of his concerts.
After Hank Williams and Johnny Cash, he became the third performer to be inducted in both The Country Music Hall of Fame and The Rock & Roll Hall Of Fame.
His personal entourage was called Memphis Mafia. He had given diamond and gold rings with a thunderbolt and TCB (Take Care of Business) engraved on it. He was buried wearing one such ring.
The Beatles were a huge fan of him and loved his company. However, Elvis felt that the popular British band was having a negative impact on American youth.
He temporarily served as Shelby County (Tennessee) deputy sheriff.
In 1958, he was drafted into the US Army. He was stationed in West Germany and was discharged from the service in 1960. There was some outcry from the public as it was claimed that he had received favorable treatment.
Outside of the US, he had performed in just two concerts. Both concerts were held in Canada. He never held a concert outside of North America.
While studying at the Humes High School, he was a member of the school's boxing team. He also used to play touch football around the neighborhood.
In the 70's, he underwent three cosmetic surgery procedures – one rhinoplasty and two facelifts. During one of the visits, he was accompanied by his rumored girlfriend Linda Thompson.
Presley aspired to portray the iconic role of Vito Corleone in the epic drama movie, The Godfather. However, his request to audition for the role was turned down by the producers.
He lost out on roles in several popular and successful movies because his manager Tom Parker turned those down. Parker mostly wanted Presley to receive top billing. Sometimes, the salary demands also proved to be too outrageous.
In 2007, the National Rifle Association (NRA) issued a special Elvis Presley Tribute Revolver, which was authorized by his estate.
In the past, the VH1 placed him on the 2nd spot in the list featuring "100 Sexiest Artists". They also placed him in the 8th place in the '100 Greatest Artists of Rock & Roll' list.
In January 1964, he purchased yacht Potomac from the former US President Franklin D. Roosevelt for $55,000.
He is reported to be one of the first entertainers to have brought karate to the movies. He had even managed to earn a black belt in karate.
In 1969, before his opening in Las Vegas, he received a death threat after which he was provided security by the FBI agents. He even carried a Derringer pistol in his shoe for added protection.
While studying in high school, he was bullied for being a mama's boy. He was also reported to be a shy boy in his school days.
Presley didn't get any formal music training and he wasn't able to read music. Instead, he learned and studied music by ear. Early in his career, he regularly used to visit record stores with jukeboxes and listening booths.
In 1954, he auditioned for the vocal quartet, the Songfellows. However, he was turned down. Presley told his father that he was told he couldn't sing. But Jim Hamil, the member of quartet claimed that he was turned down because he didn't show an ear for harmony at the audition.
In April 1954, he started working as a truck driver for the Crown Electric company. He continued playing in the local gigs.
In 1957, a rumor spread alleging that Presley had claimed that the only thing black people could do for him is to shine his shoes and buy his records. He claimed that he didn't make any such racist statement and the leading journalists couldn't find a record of any such statement.
He holds the distinction of being the first recording artist to have over 150 songs in the Billboard Top 100. He also holds the record of having the most songs (114) in the Billboard's Top 40.
He holds the record for being the first artist to have more than 100 gold-certified albums. He has 106 gold-certified albums, which is still the record for being the most in RIAA history.
In August 2023, a leather and mink coat worn by Elvis during the last year of his life was sold for £128,000 (₹1.35 crore) at an auction.
Featured Image in Public Domain