Frank Sinatra Quick Info
Height
5 ft 7½ in
Weight
65 kg
Date of Birth
December 12, 1915
Zodiac Sign
Sagittarius
Date of Death
May 14, 1998
Frank Sinatra was a singer, actor, and film producer who was famous in the 20th century. He dated over 50 women in his entire lifetime who are listed below. He sold more than 150 million records all over the world. He started singing professionally in 1935 (at the age of 19) and remained active in his singing and acting career until 1995. He died at the age of 82 in Los Angeles, California due to a heart attack.
Born Name
Francis Albert Sinatra
Nick Name
Frank Sinatra, The Voice, Chairman of the Board, Ol' Blue Eyes, Swoonatra, The Sultan of Swoon, La Voz, Frankie
Age
Frank Sinatra was born on December 12, 1915.
Died
Sinatra died on May 14, 1998, at the age of 82 in Los Angeles, California. He had suffered a heart attack.
Sun Sign
Sagittarius
Born Place
Hoboken, New Jersey, United States
Nationality
Education
Frank Sinatra went to the David E. Rue Jr. High School. He also studied at the A. J. Demarest High School. However, he didn't graduate from the high school.
He later got enrolled at the Drake Business School so as to please his mother. But, he didn't last long there as he dropped out 11 months later.
Occupation
Singer, actor, and producer
Family
Father – Anthony Martin Sinatra (Professional Boxer, Bar Owner, and Hoboken City Fireman)
Mother – Dolly Sinatra (Midwife)
Siblings – He was the only child.
Others – Isodore Francesco Sinatra (Paternal Grandfather), Rosa Sinatra (Paternal Grandmother), Giovanni John Garaventa/Garavente (Maternal Grandfather), Rosa Casagrande (Maternal Grandmother)
Manager
Unknown
Genre
Traditional pop, easy listening, jazz, swing, vocal jazz
Instruments
Vocals
Labels
RCA Victor, Columbia, Capitol, Reprise, Warner Bros Records
Build
Slim
Height
5 ft 7½ in or 171.5 cm
Weight
65 kg or 143.5 lbs
Girlfriend / Spouse
Frank Sinatra has dated
Carol Lynley – RUMOR
Jacqueline Park – RUMOR
Sheila MacRae – RUMOR
Judi Meredith – RUMOR
Judy Campbell – RUMOR
Lena Horne – Frank Sinatra reportedly started dating African American singer and actress, Lena Horne in the 50s. As per a popular anecdote, he took her on a date to ritzy Stork Club in New York City. As the club didn't allow blacks in their establishment, the manager told him that he couldn't seat them as they were fully booked and when he asked Sinatra who had made their reservation, Sinatra replied '(President Abraham) Lincoln.'
Nancy Berg – In her biography Model: The Ugly Business of Beautiful Women, the model and actress Nancy Berg claimed that she had a fling with Sinatra at the height of his popularity.
Merle Oberon (1933) – According to reports, Frank was in a relationship with Anglo-Indian actress Merle Oberon in 1933. Oberon is considered as his first serious love. However, still, their relationship didn't last long as he couldn't get over his philandering habits.
Nancy Barbato (1934-1951) – Sinatra first met Nancy Barbato in Long Branch, New Jersey at the age of 19. At that time, he used to work as a lifeguard in the summers in Long Branch. They started dating in the early months of 1934. They got married in February 1939. In 1940, she gave birth to their daughter, Nancy Sinatra. In January 1944, she gave birth to their son, Frank Sinatra Jr. Since the early days of their marriage, Frank has cheated on Barbato. But the very public nature of his affairs with Marilyn Maxwell and Lana Turner embarrassed her and she decided to abort their third child in 1946. She gave birth to Tina Sinatra in 1948. After Sinatra's serious affair with Ava Gardner became public, Nancy had enough. On the valentine's day in 1950, she publicly announced that she was separating from Sinatra. Initially, she was only seeking separation but she changed her mind and divorced Sinatra in October 1951.
Hedy Lamarr (1937) – RUMOR
Marlene Dietrich (1944) – Frank Sinatra reportedly hooked up with German actress and singer Marlene Dietrich in 1944. As per one of her diary entries, she knew Sinatra as early as 1942 and some sources claim that they might have started dating at that time. Also, a lot was written about the fact that she was older than him by 14 years.
Lana Turner (1946-1947) – Sinatra first met actress Lana Turner in 1940 in Hollywood. They started dating in 1946 and used to regularly smooch in the car in the parking lot of MGM studios. Towards the end of the year, their affair was splashed on the front pages of the newspapers after it was revealed that he had walked out on his wife and left home after having a blazing row with her. Nancy was upset as he had spent an entire night dancing with Turner at a Hollywood party. However, after getting pressurized by the studios, he got back with his wife after a couple of weeks. But he continued seeing Turner on the side.
Joan Crawford (1947) – Immediately after the end of his affair with Lana Turner, Sinatra is reported to have hooked up with actress Joan Crawford.
Judy Garland – Sinatra was linked with singer Judy Garland on a couple of occasions. They were first linked in 1949. While she was recovering from a nervous breakdown, Sinatra had decided to take her on a romantic trip to the Hamptons. Then, in 1955, it was claimed that they had got together again. Garland was dealing with one of the many separations from her husband Sid Luft, while Sinatra had just endured a messy separation from Ava Gardner. Luft eventually found out about the affair and Garland returned to him.
Ava Gardner (1949-1957) – Sinatra's tempestuous relationship with actress Ava Gardner is well documented. He had first met Gardner in 1945 and started dating her in 1949. Their affair is considered as the last straw that broke Sinatra and Nancy's marriage. He married Gardner in November 1951 just 10 days after his divorce from Nancy was finalized. Sinatra was roundly criticized by the tabloids, Hollywood establishment, and the Catholic church for having left his wife. However, Gardner has been credited for getting him back on track by helping him bag a role in From Here to Eternity, which helped him win an Academy Award and revived his professional career. But as his professional career took off, his marriage with Gardner was on its last legs. They separated in October 1953. Their divorce was finalized in 1957. Gardner would later call Sinatra the love of her life and it was claimed that he never got over her.
Angie Dickinson (1954-1964) – The American actress Angie Dickinson was linked on and off with Sinatra for nearly a decade from 1954 to 1964. In a 1999 interview, Dickinson claimed that they had liked each other a lot and had a very comfortable relationship. They remained close friends till his death in 1998.
Grace Kelly (1954) – In the last months of 1954, Sinatra tried to woo actress Grace Kelly. She succumbed to some extent to his charms by agreeing to go out with him despite being involved with another man and her close friendship with Ava Gardner. But the things turned sour on their date as he was already drunk when he turned up to pick her. Plus, he spent the entire date weeping about Ava.
Gloria Vanderbilt (1954) – Sinatra managed to charm heiress Gloria Vanderbilt towards the end of 1954. Vanderbilt had been married to conductor Leopold Stokowski, who was 42 years older than her, for years. When she got a message from Sinatra that he wanted to meet her, she couldn't stop herself and eventually moved out of the lavish mansion she shared with her husband. She took her two young sons along as well. Just after Christmas, she told the press that her marriage was over and soon turned up at the Broadway premiere with Sinatra. But their affair didn't last long.
Martha Hyer – Sinatra is reported to have dated actress Martha Hyer towards the end of the fifties. Their romance had blossomed while working on the drama movie, Some Came Running. 
Donna Reed (1954) – RUMOR
Leslie Caron (1955) – RUMOR
Natalie Wood (1955) – RUMOR
Eva Bartok (1956) – Frank had a brief affair with the Hungarian actress Eva Bartok in 1956. She later claimed that Frank was the father of her daughter, Deana.
Peggy Connelly (1956) – Towards the end of 1956, Sinatra was going out with actress and singer Peggy Connelly. He used to bring her along to all the parties he attended during those couple of months.
Joan Blackman (1956) – In December 1956, Sinatra was reported to be dating actress Joan Blackman. He had opted to bring her as a date to the premiere of Anastasia. 
Jeanne Carmen (1957-1960) – Sinatra had multiple flings with the model and pin-up legend Jeanne Carmen between 1957 and 1960. It all started with Carmen sending him her revealing pictures. He even used to fly her in a private jet for their romantic dalliances.
Lauren Bacall (1957-1958) – Frank started going out with actress Lauren Bacall in the spring of 1957. On Christmas Eve, he proposed to her. But, a couple of days before the New Year, he got too much drunk and behaved like a maniac. After that, they didn't get in touch for more than a month. In March, he visited her and proposed to her. But their engagement didn't last long as they separated the following month.
Venetia Stevenson (1957) – RUMOR
Gina Lollobrigida (1958-1959) – As per reports, Sinatra started dating Italian actress and sculptor Gina Lollobrigida in 1958. They decided to part ways in 1959.
Princess Soraya (1958) – RUMOR
Judith Exner (1958) – RUMOR
Adelle Beatty (1958-1960) – In 1958, Sinatra started dating Adelle Beatty. Their relationship had blossomed on his visit to England. One of their first public appearances was at the premiere of the Danny Kaye film, Me and the Colonel in October 1958. It was even reported that they had got engaged. But these rumors proved to be baseless and they separated in 1960.
Shirley Bonne (1958) – In March 1958, Sinatra was linked with model Shirley Bonne. They had been reportedly spotted on a date at the film opening of Middle of the Night at Hollywood's Hartford Theater.
Tuesday Weld (1959) – RUMOR
Juliet Prowse (1959-1975) – Sinatra first met dancer Juliet Prowse in 1959 on the sets of Can-Can. Juliet at the age of 23 was more than two decades younger than Sinatra. But that didn't stop them. They started their affair in 1959 and it lasted on and off for more than one and a half decades. He had reportedly proposed to her 5 times and she resisted because of the way he behaved after getting drunk. While there are some sources that point out that they did get engaged but their engagement was broken in 1962. One thing is certain that Sinatra found domestic peace with Prowse during the course of their relationship.
Marilyn Monroe (1954-1955) – Sinatra shared a close friendship with Marilyn Monroe. He had lent her support during her highly publicized divorce from Joe DiMaggio. As she emotionally recovered from her divorce, she moved in to live with him. During her stay, their relationship was mostly platonic. However, things changed one morning when he found her standing naked in his kitchen deciding whether she should have orange or grapefruit juice. It cured his impotence, which was caused by his heavy alcohol abuse. Although they shared the bed, he never got serious about her as he was still in love with his estranged wife Ava Gardner.
Kipp Hamilton (1959-1960) – In the summer of 1959, Sinatra started dating actress Kipp Hamilton. He had managed to seduce the young actress on the sets of the movie, Never So Few. Their affair came to an end in November 1960.
Dorothy Provine (1961-1962) – Frank Sinatra started another of his on and off affair with singer and dancer Dorothy Provine in the spring of 1961. The affair lasted for little over a year.
Keely Smith (1961) – As per reports, Sinatra dated singer Keely Smith in 1961. They had collaborated for a number of duet songs. She later claimed that she almost married Sinatra but they had very different lifestyles.
Shirley MacLaine (1962) – RUMOR
Anita Ekberg (1963) – Sinatra was linked with Swedish actress Anita Ekberg in 1963.
Jill St. John (1963-1964) – Sinatra was first linked with actress Jill St. John in April 1963. He had even brought her along as his date for the premiere of the movie, Cleopatra. She was then seen pretty close with him during his trip to New York City later that year. Their relationship came to an end at the start of 1964.
Mia Farrow (1964-1968) – Sinatra first met Mia Farrow in 1964 at the 20th Century Fox studio. They managed to keep their relationship secret for about a year before it became public when he decided to take her along with his couple of friends on a cruise along the eastern shores of the United States. They got married in July 1966, which caused quite a stir as he was 50 years old, while she had only turned 21. It is claimed that he had doubts about their marriage right from the start. As it was, their marriage ended in 1968. She had often hinted that Sinatra was the father of her son Ronan Farrow. However, these rumors have been refuted by his daughters, who have claimed that he had undergone vasectomy by the time he got married to Mia.
Tiffany Bolling (1967) – In her interview, actress Tiffany Bolling claimed that she got involved with Sinatra when she was 18 years old. She also claimed that he left her because she had fallen in love with some struggling actor.
Lee Remick – Sinatra reportedly had an affair with actress Lee Remick in the late sixties. It was reported that their affair had blossomed on the sets of the neo-noir crime film, The Detective. 
Irene Tsu (1968-1969) – Sinatra first met actress Irene Tsu at the lunch held at movie producer Aaron Rosenberg's house. He then met Tsu at a private club in Los Angeles. She later got a call from restaurateur informing her that she had a dinner date with Sinatra. However, before the date, she got a call from Sinatra informing her that he was leaving Los Angeles as the paparazzi had camped outside his home after his divorce from Mia Farrow had become public. He invited her to come to his desert retreat on the weekend.
Victoria Principal (1972) – In 1972, Sinatra was reported to be going out with actress and businesswoman, Victoria Principal.
Hope Lange (1972) – RUMOR
Vikki LaMotta – There were constant reports that claimed Sinatra had a sexual relationship with Vikki LaMotta. However, some sources claimed that Sinatra had ceaselessly pursued her without achieving much success. While other sources claimed that she was present at numerous of his parties.
Marilyn Maxwell – It is a well-known fact that Sinatra had an affair with actress Marilyn Maxwell, who was considered as a s*x symbol in the 40's and 50's. Their affair lasted for a couple of years and was covered in the HBO documentary, All or Nothing At All, which was based on Sinatra's life.
Anne Baxter – RUMOR
Carole White  – RUMOR
Zsa Zsa Gabor – Zsa Zsa Gabor had claimed in her interviews that she slept with Sinatra. The Hungarian socialite, who was known for her fiery temper and scandalous love life, claimed that she hated Sinatra but still slept with him because he had refused to move his car out of the driveway and had claimed that he would only move his car if she slept with him.
Elizabeth Taylor (1974-1976) – In 1974, Sinatra started dating British actress Elizabeth Taylor. They decided to head separate ways in 1976.
Jacqueline Kennedy (1975) – Sinatra had first met the former US first lady Jacqueline Kennedy in 1960. He later went on a date with her in 1975 in New York City. After the date, he reportedly took her to his hotel suite at the Waldorf Towers.
Barbara Marx (1976-1998) – Sinatra first met Barbara Marx in 1960. They got married in a lavish ceremony held at former ambassador Walter Annenberg's home in July 1976. The marriage was even attended by Ronald Reagan, who had put his presidential campaign on hold to attend the wedding. It was claimed that he had doubts about the marriage but it proved to have a positive effect on his life. The marriage rekindled his passion for work and he moderated his drinking habit as well. He also changed his wandering habits to large extent and it was claimed that Barbara was the first woman to have challenged his authority and get away with it.
Nancy Reagan (1983) – RUMOR
Kate Moss (1995) – In her interview, Kate Moss claimed that when she was 21 years old, she found Sinatra staring at her. Soon after, she found herself surrounded by his bodyguards, which prevented her then-boyfriend Johnny Depp to approach her. He approached her and planted a kiss on her lips. She would call it the best kiss of her life.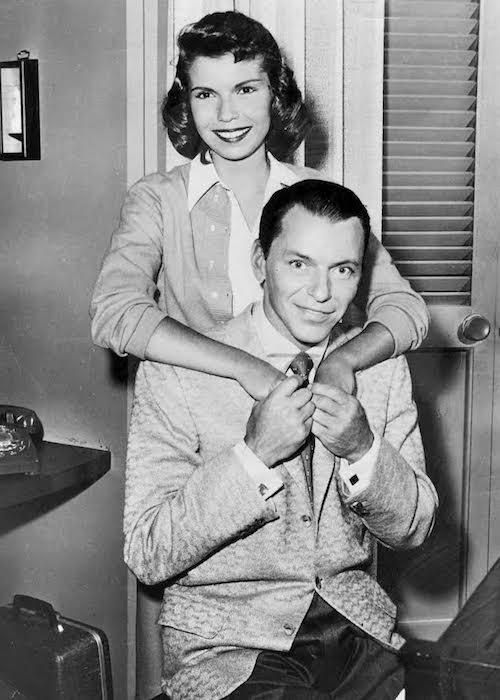 Race / Ethnicity
White
As his parents were Italian immigrants, he had Italian ancestry.
Hair Color
Dark Brown (Natural)
With age, his hair turned 'salt and pepper' and eventually 'gray'.
Eye Color
Blue
Sexual Orientation
Straight
Distinctive Features
Always wore a Black Fedora
Blue Eyes
Crooning Voice
Brand Endorsements
Frank Sinatra had appeared in TV commercials for the following brands –
Budweiser Beer
Michelob Beer
His archived footage or his songs have been used in the TV commercials for the following –
Jack Daniels Whiskey
Cîroc Ultra Premium Vodka
Chevrolet Impala automobiles
Ford
In 1946, Frank was featured in a print advert for General Electric Radios. In 1965, he was featured in Clairtone stereos' print advert.
Religion
Frank was raised in a devout Catholic household. Although he remained a practicing Catholic throughout his life, his views on organized religion turned sour with passing age. In the end, he became more spiritual than religious.
Best Known For
Being one of the most popular and commercially successful singers of the 20th century. He sold more than 150 million records all over the world.
The popularity of his music albums such as In the Wee Small Hours, Songs for Swingin' Lovers!, Come Fly with Me, and Only the Lonely.
Being cast in the supporting role in the drama movie, From Here to Eternity. His performance in the movie helped him win a Golden Globe Award and an Academy Award.
Having played important roles in the popular musical movies such as On the Town, Guys and Dolls, and High Society.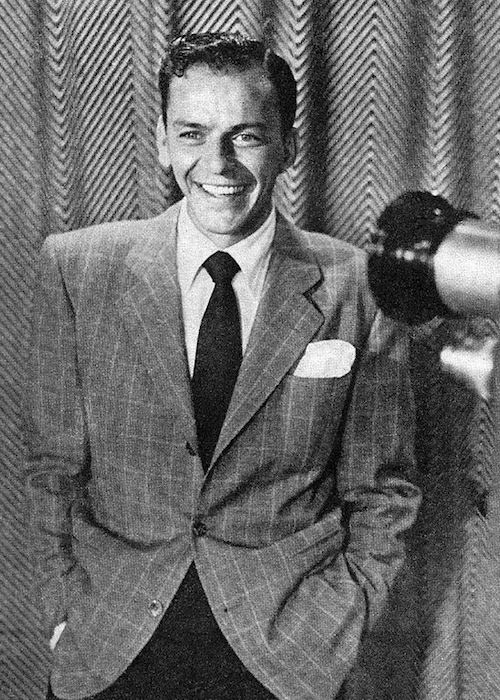 First Album
In March 1946, he released his debut studio album, The Voice of Frank Sinatra, which was a huge success and went on to feature at the top of US music charts.
First Film
In 1941, he made his theatrical film debut, as an actor, in the comedy-drama movie, Las Vegas Nights. However, his role in the movie wasn't credited.
He made his first credited film appearance in the drama movie, Reveille with Beverly, which was released in 1943.
First TV Show
In 1950, Frank Sinatra made his first TV show appearance as a host on the music TV series, The Frank Sinatra Show.
Frank Sinatra Favorite Things
Food – Artichokes stuffed with Anchovies, Garlic and Mint, Arugula and Mint Salad, Spicy Clams with Tomatoes, Milanese Veal Cutlets, Lemon Ricotta Cheesecake
Restaurant – Patsy's New York City
Song – Something by The Beatles
Source – Food and Wine, IMDb
Frank Sinatra Facts
It has been often reported that Johnny Fontana character in the iconic crime drama movie, The Godfather, was inspired by Sinatra.
Despite having been a vocal critic of The Godfather movie franchise for having based a character on him, he had briefly entertained an offer to play Don Altobello in The Godfather: Part III because of the success of the first two movies in the franchise.
He was the unofficial leader of the infamous Rat Pack, which apart from Sinatra included Dean Martin, Sammy Davis Jr., Peter Lawford and Joey Bishop. They were all cast in Ocean's 11 and Sergeants 3.
In her biography, Mia Farrow revealed that Sinatra told her that he could have film director, Woody Allen's legs broken if she wished so. She had discovered that Allen was having an affair with Farrow's adopted daughter, Soon-Yi Previn.
He broke several bones in his little finger while shooting for a fight scene in The Manchurian Candidate. In the scene, while attempting a karate chop, he had put his hand through the wooden table.
At one point in time, he was a part owner of the Sands Hotel and Casino in Las Vegas. He also had a stake in the Cal-Neva Lodge in Lake Tahoe.
While he was shooting a kidnapping scene for Robin and the 7 Hoods, he was informed that his son Frank Sinatra Jr. was kidnapped from the hotel room in Lake Tahoe. The scene was never used in the movie.
After his son was kidnapped, he was told by kidnappers to use pay phones to call them. During one such call, he ran out of coins and feared he would lose his son. Because of the incident, he made sure that he would never run out of dimes and carried a roll of dimes along till his death.
He was cast in the role of Billy Bigelow in Carousel but on the very first day of the shoot, he decided to walk out after learning that every scene would be shot twice with two different lenses. He told the producers that he was paid to shoot one movie, not two.
He holds the distinction of being the second actor and singer after Bing Crosby to have won an Oscar for acting and have his song worked at #1 on music charts.
Until the early 70s, he was a vocal supporter of the Democratic Party. He had been a staunch supporter of John F. Kennedy and remained his close confidant while Kennedy was the US President.
However, with the emergence of Ronald Reagan, he switched to Republican cause and first worked tirelessly to get Reagan elected as the governor of California. He later supported Reagan in his presidential election campaigns and reportedly donated $4 million for the 1980 Presidential campaign.
It has been reported that in his early days, the notorious Mafia boss Willie Moretti, who was the underboss of the Genovese crime family and Sinatra's godfather, had helped him to get released from his contract with the band leader, Tommy Dorsey.
Sinatra was often accused of having links with the mafia. It was claimed that he adored mobster Bugsy Siegel and was close friends with mafia strongmen such as Joseph Fischetti and Sam Giancana.
In 1946, Frank was in attendance at the Mafia Havana Conference, which was organized by revered mafia boss Lucky Luciano to discuss mafia policies and business interest.
Because of his alleged links to the mafia, FBI kept him under surveillance for nearly 5 decades. The FBI records on him amounted to 2,403 pages.
He has been honored with 3 stars on the Hollywood Walk of Fame including a star for films (1600 Vine Street), for music (1637 Vine Street), and for television (6538 Hollywood Blvd).
In 1962, during John F. Kennedy's visit to Los Angeles, he was due to stay at Frank's home for which he had even got a helicopter pad constructed outside his house. But, Kennedy's brother Bobby Kennedy talked him out of it by claiming that staying at a person's house, who had been linked with Mafia was a bad move.
Sinatra had a difficult birth as he was delivered with the use of forceps, which apart from perforating his eardrum also caused severe scarring on his neck, ear, and left cheek. In fact, he was thought to be stillborn until his grandmother revived him by splashing him with cold water.
When he was 15 years old, his maternal uncle gave him a ukulele and he started performing at the family events. However, he had developed an interest in music well before he got a ukulele.
After he dropped out of school, his mother got him a job with Jersey Observer newspaper as a delivery boy. He later worked as a riveter at the Tietjen and Lang shipyard.
He started his music career by performing at the local Hoboken social clubs such as The Comedy Club and The Cat's Meow. He also sang for free for the local radio stations.
Early in his career, he took elocution lessons from vocal coach John Quinlan to improve his speech. He had to pay Quinlan a dollar for each of the lessons.
In December 1943, he was found not acceptable for military service by the draft board because of his perforated eardrum. Because of this, he didn't have to serve with the US military forces in the Second World War.
During the Second World War, he performed in several overseas USO tours with comedian Phil Silvers.
In an attempt to own a record label, he first tried to acquire Verve Records, which was a declining jazz label. However, when he couldn't reach an agreement with Verve founder, Norman Granz, he decided to establish Reprise Records.
He made Reprise Records a powerhouse by luring over artists from established records by promising that they would have creative control over music and would eventually earn ownership of their music. He later sold the Reprise Records for $80 million.
Sinatra never took formal musical classes and learned music by ear. In fact, he never learned to read music.
He was a vocal supporter of the state of Israel. Before the state was created in 1948, he had reportedly funded terrorist paramilitary groups in Palestine. It has been claimed that it was due to his support of Israel, he had decided to switch over to the Republican party in the seventies.
In his hometown of Hoboken, a park and a post office are named in his honor. They have also named residence hall at Montclair State University in his honor.
Visit his official website @ sinatra.com.
Featured Image by Insomnia Cured Here / Flickr / CC BY-SA 2.0