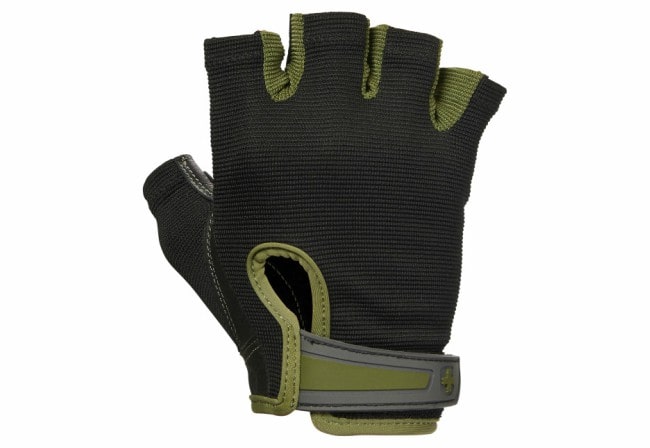 If you are training for Gi Jiu-Jitsu, weightlifting, and others, then you must wear a good pair of exercise gloves. These are a good investment for casual gym-goers as well. When weightlifting, your hands will grow stronger day by day, still you need the gloves if you want to perform your best. When building up your wrist strength, gloves can protect you and give you the flexibility in movement. When you are lifting weights and doing strenuous exercises, it is important to buy the right gloves. You should invest in a good pair of exercise gloves so that they don't fall apart within one season. There are lots of good exercise gloves available in the market and picking the right one can be a difficult decision. The Harbinger Power Non-Wristwrap Weightlifting Gloves have received a lot of positive reviews for its quality and functionality. Here, we are going to review this product in detail.
Design
It is available in 2 colors – black and green. It is stylish and you will look good wearing them. It is designed to fit your hands properly and give you a comfortable feel. The fabric that it is made of is breathable, so your palms will remain dry all the time. Your hands won't slip off due to sweat. It has short ½ inch fingers which allow flexible movement of the fingers. The double-layered leather palms provide a comfortable grip. It has fully adjustable wrist closure which ensures a snug fit. It has a fully stretchable back that gives ease of movement. The performance mesh laces between the fingers to provide great comfort and allow flexibility in movements as well. There is an open-cell foam that lets you lift weights comfortably. When you don't use the wrist wrap, the gloves are portable and light. So, you can easily carry it inside your gym bag. These gloves are perfect for beginners.
Build Quality
The fingers and palm have a heavy leather surface which gives a strong feeling during your training. The gloves won't wear or tear and you will be able to use them for a long time. The thumb has an extra foam padding. The wrist wrap is made of thicker nylon. It has a Velcro strap that keeps it secure. It has stretch back performance mesh between fingers and the back of the hand. This increases flexibility and so you will feel comfortable. The palm is covered with double-layered leather that provides an excellent grip. So, weights won't slip around and cause any injury. The leather also protects the hands from friction and reduces blister and calluses. You will be able to have painless weightlifting and exercising experience by wearing these gloves. They are sturdy enough to stand up to many years of tough workouts.
Size
You can choose from small to XXL sizes. If you can find the right size, then it will fit you snugly. So, during training or exercises, the gloves won't move and hamper your performance. You will feel comfortable wearing them.
Comfort
The gloves have extra padding on the palm that gives comfort. They can provide an excellent grip for rope climbing, pull-ups, and other activities. The wrist wrap provides wrist stability. These gloves will protect your skin and prevent any blisters from forming on the skin. They will keep your hands dry and prevent any slippage.
Effectiveness
These gloves are versatile. They are very helpful when gripping metals like pull-up bars of dumbbells. Your hands won't slip and your performance will improve. These gloves from Harbinger Power are perfect for someone who performs more static movements like exercising using dumbbells or pull-up bars.
The gloves provide flexibility due to the stretch back performance mesh present between the fingers and the back of the hand. Their fully adjustable wrist closure ensures a custom fit for all. So, you will be able to train comfortably and effectively by wearing these gloves.
Pros
The gloves are made of leather which makes them durable.
You can choose from 2 different colors.
They are reasonably priced.
They have additional palm padding.
The secure wrist wrap ensures a snug fit to make movements more comfortable.
The stretch back performance mesh between the fingers and the back of the hand provides flexibility.
There is an open-cell foam cushion that protects the fingers and the palms.
They provide an excellent grip so that you can perform different activities conveniently.
Your palms will remain dry and so the hands won't slip off during exercise.
You can find them in various sizes.
Cons
The gloves feel heavy which can be uncomfortable for some users.
It is not as versatile as the other exercise gloves in the market.
Some users have complained that they had black or grey stains all over the hands after using it.
Final Verdict
A pair of good gloves can enhance performance and provide protection. Bodybuilders, athletes, and fitness enthusiasts can greatly benefit from these gloves. The Harbinger Power Non-Wristwrap Weightlifting Gloves are made of high-quality leather which makes them durable. They are highly resistant to stress and so won't wear or tear. You can get it in various standard sizes, so there is no problem in getting the right size.
This pair of gloves from Harbinger Power will protect your hands from injuries and blisters. You will be able to do exercises with pull up bars and dumbbells more comfortably as your hands won't slip due to sweat and you will also get an excellent grip. When lifting weight also, these gloves will ensure a tight grip and good control. As there is wrist support, your hands won't slip during weightlifting.
These gloves will keep you going and will help you to perform at your best. Using these gloves, you will be able to perform weightlifting and other exercises much comfortably. As they are reasonably priced, they will provide you great value for money. So, invest in a pair of Harbinger Power Non-Wristwrap Weightlifting Gloves today!