Jennifer Aniston 2016 Workout and Diet Secrets
Jennifer Aniston is among the most beautiful women in the world. She has got the title of People magazine's World's Most Beautiful Woman twice, once in 2004 and now in 2016. She is not just a gifted actress but she is also a lifestyle icon for millions of people spread across the world. She has a very straightforward approach towards health, workout, diet, and beauty. Let's have a look at all her fitness secrets here.
Early Mornings
The wife of Justin Theroux begins her day at 4.30 am. She is an early riser because she thinks that things need to be easy in life. She also wakes up Justin early in the morning and they spend about 10-20 minutes in meditation.
Workout Routine
The star begins her workout routine at 6 in the morning. She does a spin plus yoga class with a beautiful woman (We don't know who yet!). Spin is for half an hour and yoga is for 40 minutes. The workout regime of the diva changes through the week. Three times a week, she follows the yoga and spin combo.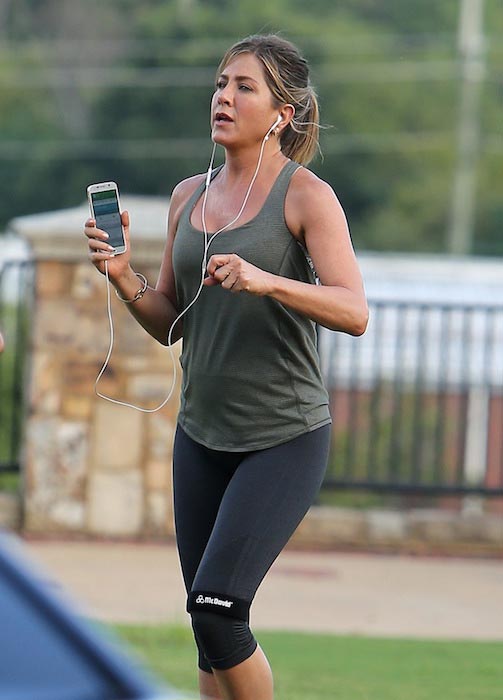 She also does weight training at home three times a week. Jennifer adds in a bit of cardio to her exercise routine at home. She has named her home cardio session a "trifecta." As a part of the trifecta, she exercises on a bike, runs on the treadmill and spends time on the elliptical just to keep things interesting in the gym. She does 15 minutes of each exercise. The mixing up of things helps her to keep the workout appealing and attain muscle confusion. The stunner exercises once a day only and she takes every Sunday off.
Workout Motivation
The workout motivation of the producer is quite unique. She just thinks of the things she will be able to get after a workout. Aniston thinks about the wonderful pasta or the Mexican meal she will have on the weekend to keep working out through the week.
Taking Breaks
The beauty admits that she gets bored of exercising too. To cope with it, she take breaks. Though getting back to workouts after a break is pretty tough, but she gets used to it and often loves and craves exercising.
Yoga Benefits
The winner of Sexiest Woman of All Time title in 2011 thinks that yoga gives her inner strength. She calls the yoga experience to be unique because it allows her to get meditation, workout and time out in just one hour. She has also credited her well being and everlasting good looks to yoga.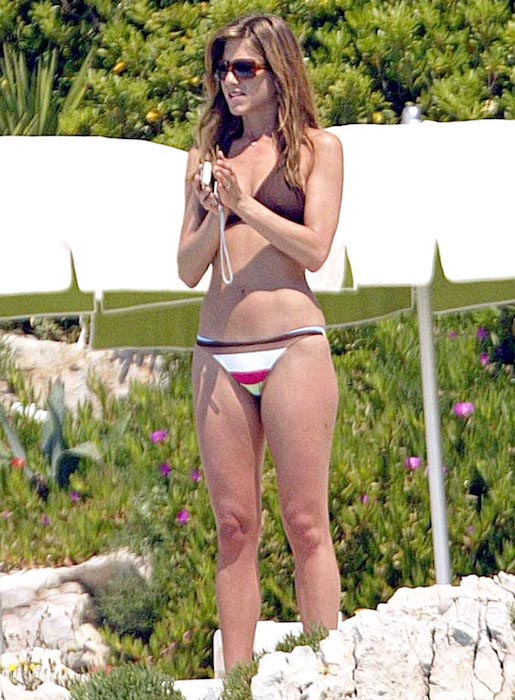 Not Crazy about Working Out
The director is not crazy about working out. If she can work out, she does it but if she can't manage it, she doesn't make it an issue because she is a healthy person.
Sweating for Beauty
The daughter of actor John Aniston and actress Nancy Dow thinks that exercising and sweating can enhance beauty. She exercises a lot and often spends time in an infrared sauna a couple of times a week because she thinks it's very good for detoxifying, relaxing and cell regeneration.
Downtime is Vital
Downtime is a vital aspect of Jen's life. She thinks that there's a lot to see and learn in the world. She does not want to be on a vacation all the time but thinks that downtime is a necessity that mustn't be avoided by anyone. (And we totally agree!!)
Diet Secrets
The ex-wife of Brad Pitt doesn't follow a strict eating regime as she has given up watching every bite she has daily. She monitors her diet but is not too strict about it as she has almost every food in moderation. She just eats healthy foods, enjoys steak three times a week, sticks to low-carb meals and loves having salmon in her meals.
Diet Plan
The diet of The Good Girl (2002) actress starts with some hot water that has a bit of lemon. The alkaline nature of it is good for her body, especially in the mornings. She then has a cup of coffee with stevia and low-fat milk.
Breakfast
The breakfast option of the businesswoman is a protein shake that she makes by adding greens powder, cherries, bananas, blackberries, one drop of stevia, some chocolate almond milk, a collagen peptide and some cacao powder. The chocolate flavor of the drink makes it tastier and hides the protein taste, which she doesn't like anyway.
Morning Snack
The Just Go with It (2011) actress has a hard-boiled egg as a mid-morning snack, a few hours after her morning shake.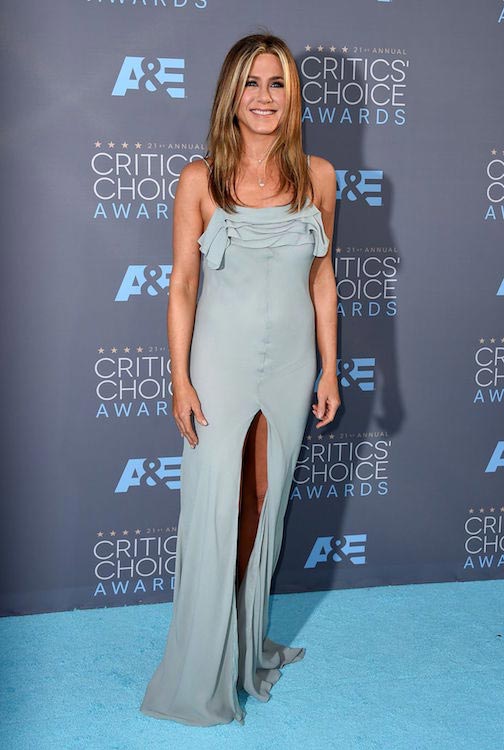 Lunch
The lunch option of the Horrible Bosses (2011) actress is ahi tuna with lentil salad and cucumber. She adds some olive oil to it and makes it delicious by dipping it in Bragg's amino acids rather than using any soy sauce.
Evening Snack
If Aniston is feeling hungry a few hours after lunch, she just has some soup or a cheese stick and munches on it.
Dinner
The dinner of the American celebrity includes having roasted chicken with pesto sauce and spiraled zucchini. She and Justin also make pasta carbonara every couple of weeks.
Diet Treats
The diet treats of the talented actress are something that's salty-savory. She allows herself to indulge in a treat especially when she has a good workout.
Indulgence is Good
The Bruce Almighty (2003) actress does not believe in dieting. She is against all the fad diets and thinks that they are only useful because some of them cut out complex carbs. She also insists that having a bit of pasta every now and then is totally okay if you really want it. Just make sure that you don't overindulge in bad stuff like sugar or alcohol as they can harm your health.
Definition of Beauty
Jennifer believes that inner confidence, exercise, honesty, and nutrition are a few keys to beauty. She opines that beauty is not just about how you look. It is also about learning to love everything you are. You should also remember that beauty is not just related to looking good in certain clothes, it's also associated with being beautiful from the inside. (Great Thoughts!!)