Sassy look, glam style, Jenny McCarthy is an American TV host, model, actress, author, and anti-vaccine artist. Having started her career as nude model for Playboy magazine in 1993, Jenny played varied parts afterwards. After growing drastically hefty with massive 211 pounds, past her pregnancy in 2002, Jenny presently seems to have acquired the best ever sculpted and enviable shape of her life.
When it comes to toned body, it's not that tough, to attain sculpted shape in your early twenties, but having perfectly shaped hot body past forty is really appreciable. With her miraculous transformation, the sizzling sensation has aptly proved that it's never too late to translate you from flab to fab and astound the world with your sexy look.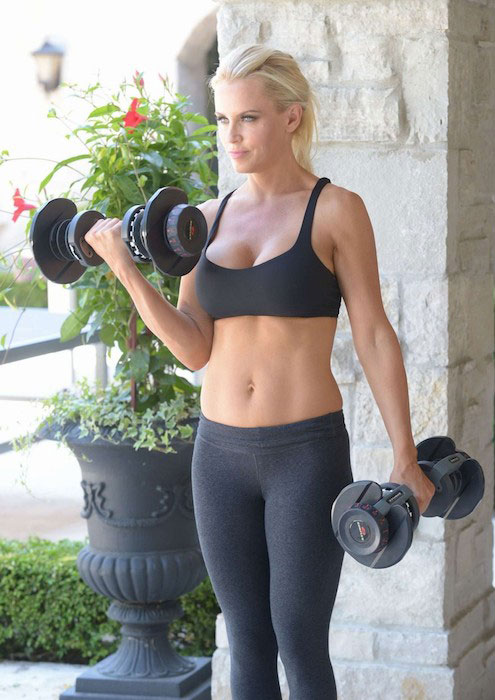 Jenny McCarthy Diet Plan
The fab star was in cloud nine when her first child, son Evan was born in 2002. However, all her happiness got transformed into hassle, when Evan was diagnosed with Autism at the age of three. The news stopped the time to her and had her make radical changes in her lifestyle. To retrieve healthy body and to cure her child, Jenny embraced Weight Watchers diet program.
The portion controlled diet program inculcated healthy eating habits in her. Being allergic to dairy and gluten containing foods, the stunner maintained distance from these foods. She reckons, foods being opulent in healing power can cure numerous ailments. Jenny is mostly vegan in her eating habits and incorporates bountiful plant-based foods such as fruits, veggies, avocados, egg whites, fish, sushi etc. in her diet. Lately, her inclination being shifted to nutrient dense vegetable soup has her relish self-cooked vegetable soups. Besides that, she adores including pretzels, butternut squash, almonds, nuts etc. in her snacks.
Among fruits, watermelon is her all-time favorite. The low-calorie food being credited with bountiful qualities makes her feel fuller and renders copious health benefits to her body. The autism activist also keeps cleansing her body from inside by adhering to detox programs. The perky star admittedly has sweet tooth and she pacifies her sweet tooth by eating her adored sweet foods in moderation. Chocolate milkshake is one of her favorites, which she craves to drink the most.
Jenny McCarthy Workout Routine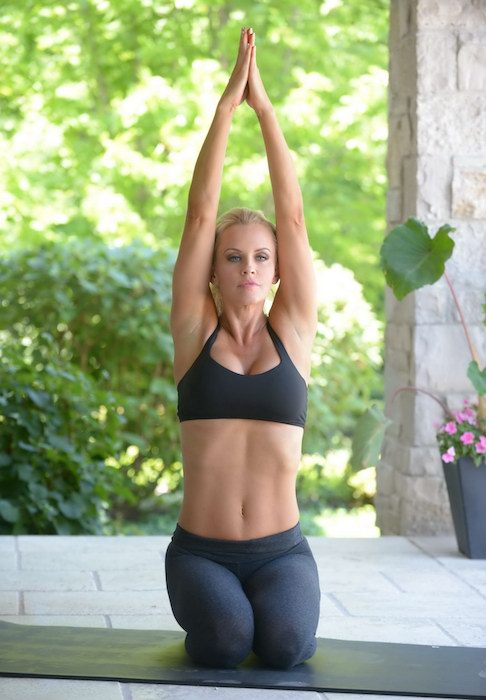 Jenny swears by physically active daily routine. She adores Bikram yoga and executes it thrice in a week. The hot yoga has her get sleeker and lither body. Although she spends mere fifteen minutes in doing yoga, but the high impact yoga has her get flattering results. It's the incredible results of Bikram yoga that the actress feels tempted to abide by the workout throughout her lifetime. While being monitored by her personal trainer, Mark Harari, the ravishing beauty runs four to five times in a week and executes cardio workouts and strength training. She practices her workouts five times in a week and allows her to have complete rest for remaining two days.
When she has dearth of time, she utilizes the time by executing lunges, sit-ups, and push-ups. The power workouts provide immense satisfaction to the vibrant star. Her buffed arms and legs are the testaments of planking exercises she does in routine. Whatever workouts she performs, she seldom does them without playing loud music.
Healthy Recommendation For Jenny McCarthy Fans
Should you wish to kick-start fat burning process in your body without resorting to any creepy weight loss program, here comes a recommendation for you. You can give great start to your day by consuming one glass of lukewarm water having lemon juice and honey mixed into it. The beverage working as detox beverage will cleanse your body first thing in the morning. There is yet another way of preparing natural detox beverage.
Take two liters of water in a jug and mix lemon, slices of cucumber into it. Cover the jug and let the water become nutrient rich. Drink the solution next day in small quantities whenever you feel thirsty. The naturally prepared detox solution will eliminate toxins from your body, will speed up your metabolism, as a result of which your body will begin torching pounds swifter. Apart from rendering you sleeker body, the detox solution will also fetch radiant and rosy glow on your face and will make you feel energized.