Khloé Kardashian Odom was born on 27th June, 1984 in the Los Angeles City of the U.S. state California. She is a highly versatile personality with many talents. She is a television presenter, fashion designer, author, actress, business woman and socialite. She became a well known and prominent personality by participating in the television show by the name "Keeping up with Kardashians." She currently co- hosts the X Factor television show. The star has a business interest in a clothing boutique by the name DASH. Kardashian is married to a NBA basketball player (now divorced) by the name Lamar Odom. Khloé Kardashian has got a curvy body and an average build. Her height is 5 feet 9½ inches.
Khloé Kardashian's weight has always been on the higher side and she has always tried hard to control her weight by doing workouts and by following diet plans. The television star recently lost 25 lbs of body weight in just 20 days. Sources say that this drastic weight reduction can be attributed to her personal chef, who prepares low fat diets for the star and to her personal trainer Gunnar Peterson. Her husband has also helped her in reducing her weight. The couple conducts many workouts together. Khloé said in an interview that by exercising, she gets a more confident outlook and is able to face the world in a much better way. After exercising, she loses a lot of stress that otherwise gets accumulated in her mind because of the daily routine.
Khloe Kardashian Workout Routine
Gunnar Peterson is the trainer who helped Kardashian in losing her excess weight in a short time period. She followed highly intense, frequent and varied workouts to lose weight in less amount of time. Peterson taught Khloé some cardiovascular exercises, circuit exercises and Pilates. They also did many boxing sessions together. She says that she exercised for 3 to 5 days in a week for losing 25 pounds of body weight. She is not satisfied yet and wants to slim down more.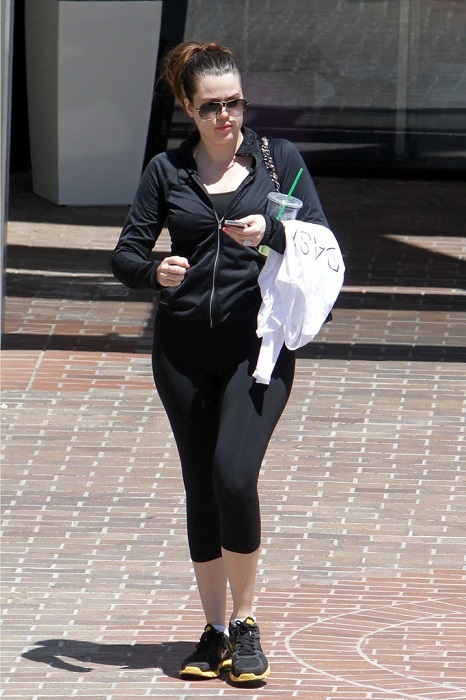 The star was recently in Miami. She and her sister conducted intense workouts on the beach. Khloé says that she now realizes that eating healthy meals and doing regular workouts is very important for having a happier and healthier life. Khloé conducts boxing exercises for three days in a week. The days are Monday, Wednesday and Friday. She says she loves boxing which is a great tension reliever sport for her.

Kardashian works out for all days of the week. On the other days, she does cardiovascular exercises like bicycling and treadmill running. She says she is competitive by nature and hence likes to exercise along with a friend. This way she feels more motivated and works harder on her fitness schedule. She used to have rest on Sundays but found Mondays too hard. Therefore now she remains active on all days of the week. She also goes on hiking with her sisters.
Khloe Kardashian Diet Plan
Khloé says she does not overdo the workouts to the extent of killing herself and maintains a balance. She wants to make exercising a daily routine and a way of life. She likes food a lot and relates food with the time that she spends with her family. After her recent weight loss she is now more aware of what she eats and tries to eat everything in moderation. She says she likes alcohol and drinks it frequently.
For losing her weight, Kardashian never used any weight loss supplements or never underwent surgery of any kind. She maintained discipline in her diet plans and workouts which eventually made her weight loss plan successful. She also worked hard and had very exhausting workouts to follow. She is changing her diets now to a normal pattern. During the weight loss workout period, she ate very less sweets. Now also, she eats everything in moderation. She says that she is learning these habits for the whole life and not just for a few weeks or months. Khloe still drinks alcohol and enjoys drinking. She says alcohol brings her sanity.
It is good that the celebrities like Khloé understand the importance of exercising and workouts. The celebrities are a role model and are followed by many. Their good habits and practices will be followed by their fans and followers and will spread more deeply in the society.