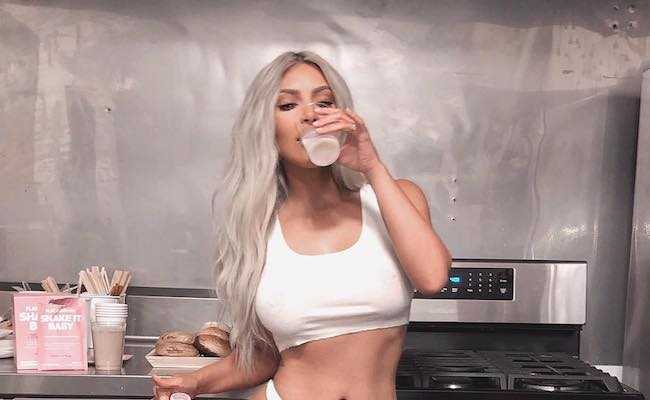 Kim Kardashian West is one busy woman these days. Apart from having a successful career, an active social life, and a big family, she now has the responsibility of managing three kids. She is now busy doting on her newborn surrogate daughter, Chicago West (who was born just a few days ago) and is a very hands-on mom.
Still, she makes time for a workout and makes healthy eating choices. The results of her efforts are quite visible on social media too. If you want to know what Kim is planning to stay fit in 2018, you can just keep scrolling.
Kim Kardashian Post-Holiday Fitness 2018
The Keeping up with the Kardashians (2007-Present) star got back on the fitness wagon soon after holidays and admitted that she did overindulge during the holiday season. She also shared her fitness tool this time, a milkshake meal replacement diet, Shake It Baby program from Flat Tummy Co. She added that she was feeling pretty good after trying this method.
Talking about the overindulgence, she said that she had a lot of fun during Christmas and New Year. As a result, she was not able to stick to her grueling workouts and healthy eating habits. This meal replacement diet helped her to get started on the fitness path again as they help her get her flat tummy back.
Fitness Motivation
Crediting her trainer Melissa Alcantara for keeping her motivated, the stunner said that she is hoping to improve her fitness level in 2018. Her trainer works hard to keep her focused and makes her feel good about the progress she has made.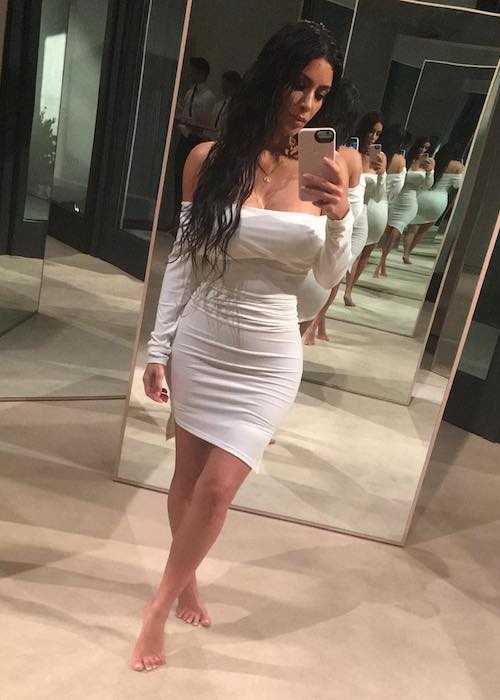 The Four Simple Tips
The four simple tips that help the TV star to stay motivated were recently shared by Alcantara. They are:
Set a goal
Plan ahead
Stay disciplined
Recite your routine
While working with her clients, she makes a list of goals that need to be reached and writes them down. These goals are usually achievable, and help in keeping the client motivated & accountable. The client also feels good when these goals are reached.
A Real Inspiration
West found Alcantara on Instagram and thought she was something because she had gained 70 pounds in her pregnancy and now, she is ripped. She helps the sister of Khloe Kardashian to direct her food and workouts. The mother of Saint West also adds that if she could be 10 percent like Alcantara, it would change her life.
Don't Fall Off the Fitness Wagon
The fitness expert also warns people against slipping off the fitness wagon because getting off it is easy but getting back on it is tougher than you can imagine.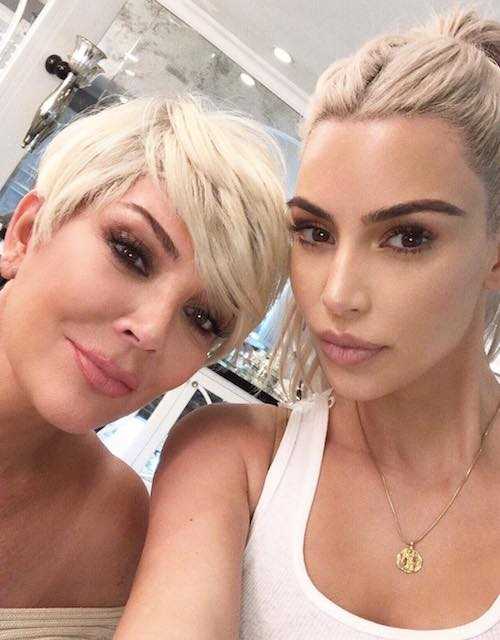 Sincere Dedication
Appreciating her client, the celebrity trainer said that Kim trains hard and she has a great work ethic which is why it's a pleasure to train her.
Kim Kardashian Exercise Goals 2018
One of the new year resolutions shared by the wife of Kanye West is that she wants to be more consistent regarding fitness and weight train at least 5-6 days a week with her trainer. She also hopes to work harder than before.
The First Contact
The trainer received a call in May 2017 from the production team of Keeping Up with the Kardashians (2007-Present). They asked her whether she is available to train Kim on Monday and she agreed instantly. The duo hit it off, and the trainer moved to Los Angeles to train Kim full time to ensure that she had a good diet and workout routine.
More Muscles
The goal shared by the reality TV star with her trainer was that she wanted more muscle and bigger hamstrings that accentuate the legs. She also wanted chiseled arms and abs. Though she didn't want to be skinny, she still wanted to have more muscles and feel stronger. She was also looking for something that she could do her whole life.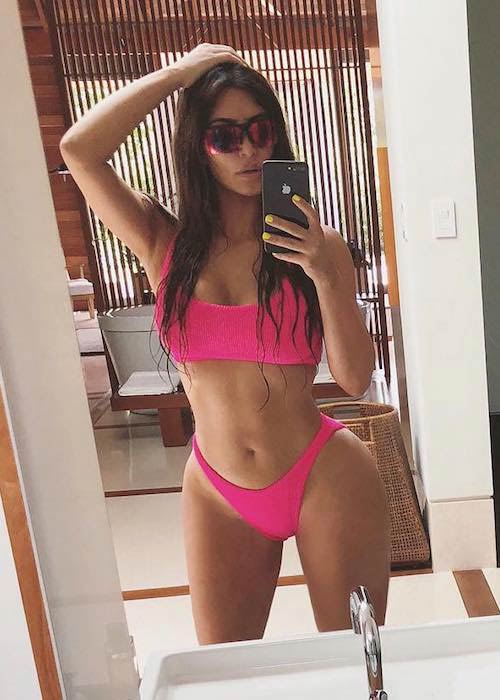 Why Kim Approached Melissa?
The former bodybuilder, Melissa thinks that she was approached by Kardashian because she wanted a change in the way she looks after her body while looking good at the same time. Melissa thinks that the biggest thing that helps in looking and feeling good is not hard workouts, it's a combination of workout and eating well because if you want to have good muscles, you need to take care a lot of nutrition.
The Workout Routine
Kardashian, who has served as the former stylist of Paris Hilton, now works out for 6 days a week for at least 60 to 90 minutes. The duration depends on the muscle groups she is targeting. This workout is usually very intense. They hit each muscle group one time a week, except legs which are worked upon at least twice a week.
A day is usually dedicated to back and triceps, another is dedicated to abs while one more is dedicated to chest and biceps. Three days a week are dedicated to legs. Though the exercise methods are often changed, some basic exercises remain the same. Examples include squats, bench press, shoulder press, deadlifts, etc.
The workout usually starts at 6 in the morning, and they often spend time in cardio exercises like long slow intensity walks or short bursts of high intensity.
The LA-born loves and hates legs days with equal fervor, but she is committed. She knows that grueling exercises are a part of the package, but they are necessary too. The trainer calls the mother of Saint West a workhorse.
Inspiring the Kids
The model often trains in front of her three kids. They watch her work hard, and the trainer hopes that this will pass down to them and they will learn to stay fit as their mom does.
Macros Diet
The socialite told the trainer that she was tired of doing little diets and wanted something more stable. They agreed on Macros diet also known as a flexible diet. The diet changes on the basis of workouts they do in the gym.
As a part of her diet, she eats a specific amount of proteins, fats, and, carbohydrates throughout the day. She has 3 meals and a snack consisting of a good clean food. This tells us that you should never be afraid of eating but, you should always eat the right food.
Diet Plan
The diet plan of the diva includes the following:
Breakfast
Blueberry oatmeal pancakes
Lunch
Chicken, sweet potatoes with some veggies.
Dinner
Only fresh vegetables. Kim says that she has never eaten so many veggies before.
Food Restrictions
She doesn't have processed foods of any kind and sticks to real and freshly cooked meals. When you don't have processed foods, it makes you feel good from the inside. She recently had some fries, but, they made her feel bad as she is not used to the processed foods anymore.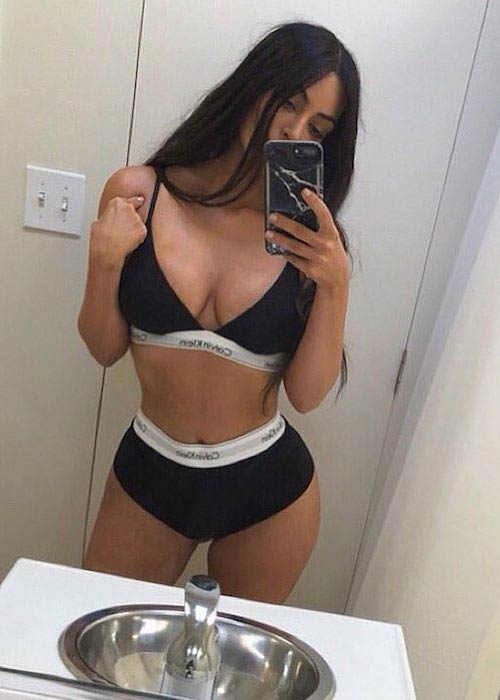 Diet Indulgence
The daughter of Kris Jenner likes to indulge in a banana bread.
The Diet That Influenced Melissa
Melissa Alcantara says that she gained 70 lbs. when she was pregnant with her daughter Isabella. She decided to lose that extra weight and was inspired by Shaun T.'s Insanity. She opted to have a balanced meal plan to get healthy and lost 40 lbs. in just 60 days.
Making Clients Feel Good
The fitness guru thinks that it's more important to get the results that make a client look and feel better rather than seeing the results on a scale. The sister of Rob Kardashian now feels stronger, tighter, and likes her new muscles.
Kim is astonished by the results she has gotten in the last few months and she likes her triceps the best. The stunner is at a point where it's hard to get back, she just keeps moving forward to achieve all her fitness goals.
Advice for Busy People
If you think that you are too busy to hit the gym, then the fitness enthusiast has some advice for you. You should just remember that even the fittest people on earth are not so different from you. They made time to be and stay fit. If they can do it, you can too.
Kim Kardashian Fitness Efforts for the Met Gala 2018
Kim attended the Met Gala 2018, and as always, she looked stunning in a gold Versace embellished with two statement beaded crosses at the hip and waist. If you are curious what she did to look so breathtaking and flawless in a dress that hugged her in all the right places, then you should know that she underwent a 10-day cleanse in which she mentally prepared herself to not have any sugar or sugar-based products despite being surrounded by temptations all the time.
The Cleanse
She followed the Sunfare Optimal Cleanse, in which one depends on nutrient-filled shakes. She was hooked on chocolate flavor to satisfy her sweet tooth. In this cleanse, one has the liberty to have 2 to 4 meals at times and the meals include options like salmon salad, guacamole with vegetable chips and butternut squash with soup and salad. On some days, typically 4 to 6, the person only gets to have herbal teas, and meal replacement shakes.
The Preparation
Talking about how she prepared for the cleanse, the beauty said that she was excited to try this cleanse but she had to mentally prepare herself to avoid all the sugary temptations around her.
Before trying this cleanse, she was working out hard to prepare for the Met Gala, but her food patterns were not right as she had been eating a lot of sweets. She spotted the problem and decided to work on it by being mentally stronger than before.
The Success
By the time she shared the details, she had already done day 1 and 2 of the cleanse. During that timeframe, she avoided all sweet temptations like doughnuts. She also likes the fact that she gets to have proper meals for all the days except three (where the person drinks liquids only) and the food is quite filling. She made it clear that the cleanse was not sponsored and she just wanted to try it.
Featured Image by Eva Rinaldi / Flickr / CC BY-SA 2.0