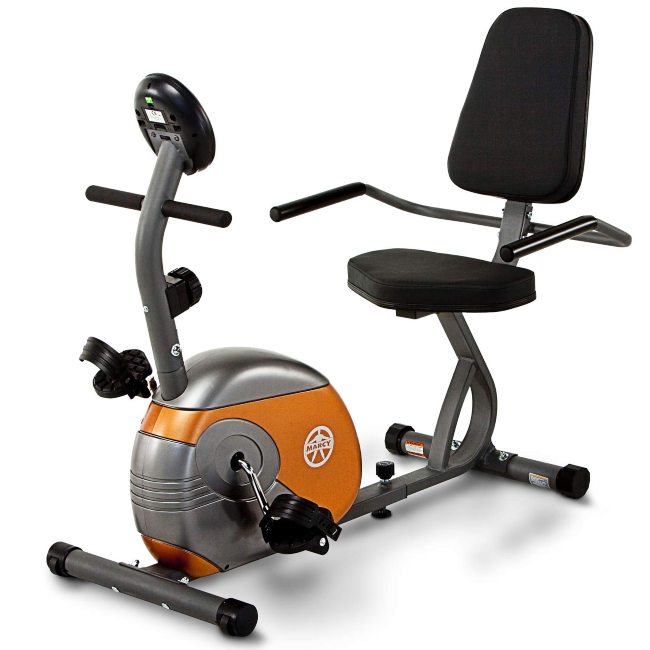 Exercise bikes are very helpful in getting into proper shape and lose weight. If you have an exercise bike at home, then you won't even need to go to the gym or go for a morning walk. There are 2 types of exercise bikes you can buy; one is the upright bike and another is the recumbent bike. The upright bikes are similar to the bicycles that you use outside. These don't have any backrest; whereas, recumbent bikes are stationary bikes that has a seat and backrest. In this type of bike, you have to pedal with the legs in front. This position of pedaling is very ergonomic and if you suffer from back pain, then it's good for you. This bike is also good for people who suffer from neurological conditions.
The recumbent bikes are usually cheaper than the upright bikes and that's why they have gained a lot of popularity recently. There are lots of exercise bikes to choose from which vary in quality, price, and ease of use. Among the many recumbent bikes, the Marcy ME 709 Recumbent Exercise Bike is a great option. Here, we are going to look into its features in detail.
Design
This bike has a compact design and can fit any room conveniently. It features heavy-duty construction and has 14-gauge steel tubing. It also has a powder-coated finish that makes it long lasting. The step-through design lets you move the bike from one place to another. It also makes it easier for the back and knees. You can adjust to 8 different resistance levels. These resistance levels stimulate different terrains. It has an LCD computer screen that will display the distance covered, speed, calories burned, and time elapsed. The seat is padded to give you the ultimate comfort. The pedals are weighted and can provide good foot support. The bike also has adjustable foot straps so that your feet don't slide off.
Build Quality
This high-quality exercise bike is made of premium 14-gauge steel tubing, rubber, and PVC. These materials give the bike a high-quality structure so that they can perform better. The powder-coated finish makes the bike durable. This bike is sturdy and can resist scratches and damages from the environment. It has a comfortable seat and contoured handles that facilitates proper body form and you will be able to get the best results from your exercises. Its step-through design prevents any back or knee pain.
It has a magnetic resistance system that can be adjusted to 8 different levels. You can easily customize your workout sessions according to your need. The LCD display in the bike is of high quality and you will be able to track your progress easily. This bike has wheels which make it easily transportable.
Size
After assembling the dimensions, the bike becomes 55.5 inches by 25 inches by 37.5 inches. It has a compact size and you will be able to easily store it in your room. It comes with wheels which allow you to easily transport it from one place to another.
Comfort
It has a high-backed seat that is padded with high-density foam. This reduces strain on your back during the entire workout session. The handlebars are also covered with foam for giving extra comfort. The pedals are counter-balanced to give stability and convenience. The pedals have foot straps and so your feet won't slip off. The straps are adjustable as well.
Effectiveness
This is a very sturdy exercise cycle that will last for many years. It is constructed with steel which makes it strong and stable. People up to 300 lbs of weight will be able to use it comfortably. The seat is padded and can be adjusted. You will be able to vary the resistance to pedal in different intensities. You can also get mountain biking experience by increasing the resistance level. In such a case, you will be burning more calories.
Though there are no pre-set programs here like the other bikes, the ability to change the resistance is a great feature in this range of bikes. The resistance system is magnetic and ensures smooth operation. There is an LCD display where you will be able to track your progress and save your user profile as well. Overall, you will be able to lose weight fast and get into shape by working out in this bike regularly.
Price
The upright bikes are quite expensive. For a good quality bike, you should spend at least more than $500. But, recumbent bikes like this one cost very less. You can buy it for only $180 at Amazon. Buying this bike will be a good investment as you will be able to work out for years without any problem. You will hardly get any bike of such quality and strength within this price range.
Pros
It is lightweight and has wheels for easy mobility.
It is compact and so you can store it easily.
It has premium steel construction which makes it durable.
You get 8 levels of resistance which is appropriate for both the new users and the experienced ones.
It comes with an LCD screen to help you track important statistics like the amount of calorie burned, distance traveled, speed, the time elapsed, etc.
It is highly customizable and you can store user profiles.
It has an adjustable seat which is comfortable as well.
It has ergonomically designed handlebars that provide excellent grip to make your workout sessions comfortable.
The pedals have a strap so that your feet don't slip.
Its resistance system is quiet and so you will be able to workout without disturbing anyone.
You can get it at a great price.
You get a two-year warranty for the frame.
Cons
It doesn't have any heart rate monitoring system.
There are no preset workout programs.
It is not recommended for people who are taller or heavier than 300 lbs.
Final Verdict
If you are looking for a convenient way to burn calories and increase your cardiovascular endurance at the same time, then you should buy this recumbent exercise bike. The features in this bike are similar to those that are offered in more expensive bikes. This bike will help to improve your body's cardiovascular endurance and also help you to burn a lot of calories.
It has a strong construction and you will be able to work out for long hours without any problem. The adjustable seat allows you to exercise at your own convenience. You will be able to change the resistance levels and vary the intensities of your workout. You will be able to track your progress and burn more calories every day by exercising on this bike.
It is a great budget-friendly bike that is good for beginners and advanced users as well. This bike is great for those who suffer from knee or back pain. The backrest provides great support during the workout and you will be able to spread your leg and pedal comfortably by resting your back on the backrest. This bike will give you an awesome exercise experience and you will be able to see improvements in your fitness soon.
Buy Marcy Recumbent Exercise Bike