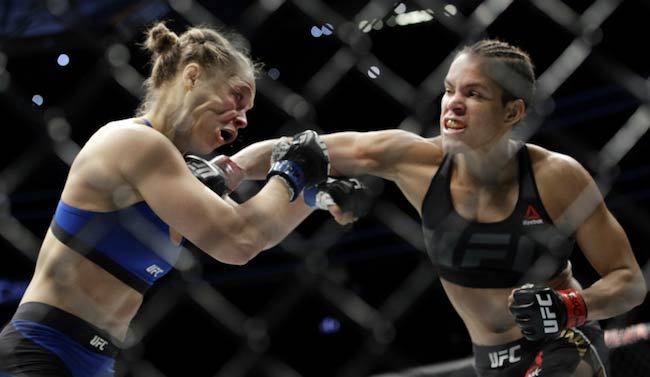 Ronda Rousey is an inspiration for millions of people. She was the first U.S. woman who won a bronze medal in judo during Beijing Olympics in 2008. Then she led the charts by winning 18 fights consecutively. Though she has had a bit of a bad phase in her career in 2015 and 2016, she works hard before every match. Ronda was recently defeated by Amanda Nunes while she was within the reach of winning the UFC Bantamweight Champion title.
Here, we have a look at how she trains for a match. We also get an idea about the workout routine, diet plan and mental attitude that helps her to fight amazingly in the ring.
Workout Routine
The sports star trains under the guidance of Edmond Tarverdyan for two months in a training camp before a fight, reports Shape. Here, everything from her workouts and diets is monitored to optimize her performance. On Mondays, Wednesdays, and Fridays, she begins her days with sparring with an opponent. She does it for two to three hours at once. At the beginning of the training, she does only three rounds but later, she works her way up to six rounds.
This helps her to build her stamina and perform at her best through five rounds of every real match. Again, she works down and trains for shorter rounds while focusing on speed and explosiveness. In the evening, she hits the gym for a few hours of mitt work as it fine tunes her defensive drills and moves. If she is not hitting the gym, she can be seen doing a swimming workout.
On Tuesdays, Thursdays, and Saturdays, she begins her days with grappling, judo, wrestling, punching bag work and takedowns along with doing a cardio session like running or a stair workout at UCLA. When the fight comes closer, she opts for skipping ropes in order to stay quick on the feet and take the force off her feet. On Saturdays, she does really hard physical exercises such as mountain runs or long runs.
Sundays are her rest days. She does self-care on these days by indulging in ice baths, seeing a chiropractor and getting some physical therapy.
Workout Motivation
The thing that motivates the grey-eyed woman to workout regularly is to opt for exercises that are mentally engaging. She also thinks that it feels great to do something one is awesome at. She learns a lot from every workout she does and it motivates her further.
No Fitness App
She doesn't use any health or fitness apps. Instead, she uses a big boxing timer that is on the wall. She suggests that her fans could try apps like Boxing Timer Pro.
Diet Plan
The celebrity has done blood tests and hair tests to find which foods are suitable for her body. She also takes help of Mike Dolce, who is the weight management trainer of MMA all-stars. Here is the exact eating plan, she follows before a fight.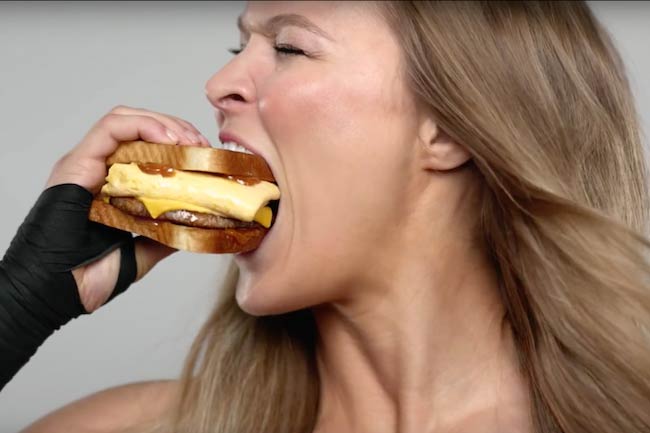 Morning
The day starts with having a simple chia bowl with some fruit and coffee. After the workout, she has some coconut water with blackberries.
Afternoon
In lunch, she has eggs, nuts, almond butter and a protein shake or an apple as snacks.
Evening
During dinnertime, before an extra-tough workout or a sparring session, she fills herself with carbs to gain energy that lasts through all the sparring rounds. If she doesn't have a sparring session or an extra-tough workout planned, she eats very healthy and well-rounded meals.
The result of her planned diet is that she hit the targeted weight, 145 lbs. months ahead of her recent planned fight.
Go To Smoothie Recipe
A go-to smoothie recipe of the California-born is to create a Dolce Power Shake that is blended with vegetables and fruits. She has it after morning and evening training.
Preferred Ingredients
Frozen berries, cinnamon, and garlic are the three ingredients that can always be found in her kitchen.
Diet Indulgence
When she wants to indulge, the beautiful blonde likes to have Dolce pancakes, reports Stylecaster.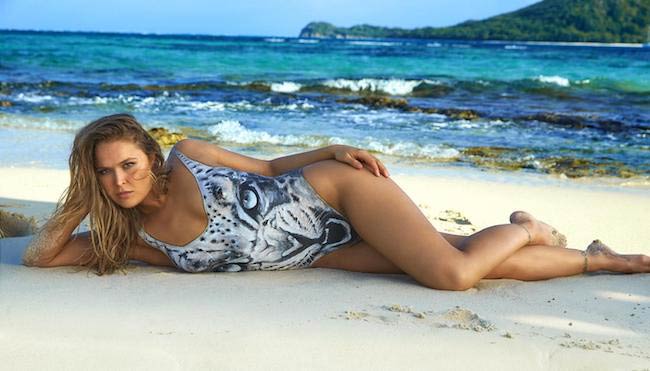 Mental Training
Before every fight, a wrestler has to deal with a lot of emotional and mental pressure. She deals with it by avoiding media as much as she can. She thinks that the most important thing is winning the fight so she focuses on that only.
As Ronda is an experienced professional, she is always mentally prepared for a fight. The two-time Olympian doesn't let the mental pressure get to her. She even watches the film of all her opponents so that she can have a strategy for every situation. Her biggest weapon is her confidence.
Planning the Future
It is a fact that Rousey lost the recent match but she has not lost all hope. She told SMH.com.au that returning to fight and winning it was her focus since the last one year. She prepared a lot for the fight and gave everything to it. Though she wanted to really win the fight, it didn't work out as it was supposed to. She is now taking some time to reflect and think about her future. She thanked everyone for believing in her and understanding her.