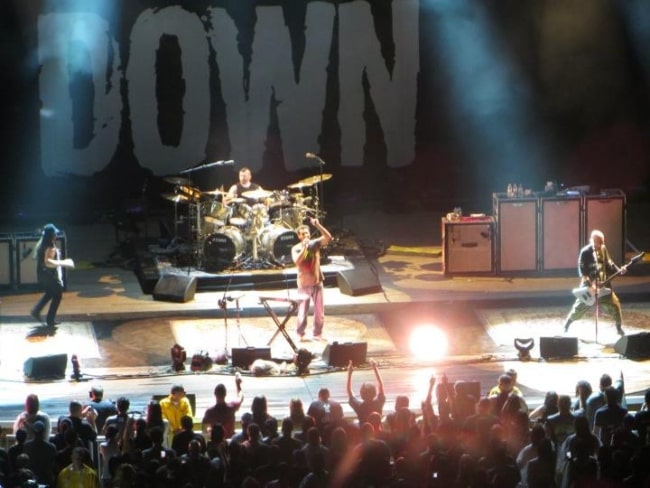 System of a Down is an Armenian-American metal band formed in Glendale, California, in 1994 and includes founding members Serj Tankian, Daron Malakian, and Shavo Odadjian as well as drummer John Dolmayan. John replaced the original drummer Ontronik "Andy" Khachaturian in 1997. The band has released many albums and tracks including Toxicity, Steal This Album!, Chop Suey!, Toxicity, B.Y.O.B., Genocidal Humanoidz, Hypnotize, Protect the Land, Innervision, Aerials, and Lonely Day and their song B.Y.O.B. won the 2006 Grammy Award for "Best Hard Rock Performance". In 2006, the band went on a hiatus but later reunited in the year 2010 and has performed live.
Members
Past Members
Ontronik Khachaturian – Drums (1994-1997)
Origin
Glendale, California, United States
Genres
Alternative Metal, Nu Metal, Heavy Metal, Hard Rock, Progressive Metal
Labels
American Recordings, Columbia Records
Formation Year
1994
Singing Portfolio
The band released its eponymous debut studio album on June 30, 1998, through American Recordings and Columbia Records. Q magazine described it as "an excellent starting point for this most curious band" and it was also featured in the book 1001 Albums You Must Hear Before You Die. Also, the album topped the Top Heatseekers chart and was ranked at number #124 on the Billboard 200 chart.
System of a Down has credited Middle Eastern music, Ozzy Osbourne, Black Sabbath, Led Zeppelin, Def Leppard, Scorpions, Morbid Angel, Death, Obituary, Eazy-E, N.W.A, Run-DMC, Umm Kulthum, Abdel Halim Hafez, the Bee Gees, Grateful Dead, The Beatles, Red Hot Chili Peppers, Dead Kennedys, Metallica, Miles Davis, Alice in Chains, Bad Brains, Slayer, and Kiss as its influences.
System of a Down Facts
On November 22, 2005, the band released its 5th studio album, Hypnotize, which consists of songs like Kill Rock 'n Roll, Attack, Vicinity of Obscenity, Tentative, Lonely Day, and Holy Mountains. It peaked at the Billboard 200 and Canadian Albums weekly charts.
Lonely Day from Hypnotize was nominated for the 2007 Grammy in the "Best Hard Rock Performance" category.
Before their hiatus in 2006, System of a Down's last performance took place on August 13, 2006, in West Palm Beach, Florida. During that, Malakian told the crowd "We'll be back. We just don't know when."
After a long hiatus, the band released 2 new charity songs, Protect the Land and Genocidal Humanoidz, to benefit victims and support Armenian defenders in the 2020 Nagorno-Karabakh war.
The band has often been compared with other artists and bands. Regarding this, Odadjian once stated "You can compare us to whoever you want. I don't care. Comparisons and labels have no effect on this band. Fact is fact: We are who we are and they are who they are."
Featured Image by The Dark Lord of Wiki / English Wikipedia / CC BY 3.0