Oh, what a privileged life, the leading athletes lead. They have everything. Get paid millions for doing what they absolutely love, live in grand mansions, ride luxury cars and if, they are rich enough, get to travel all over the world in their private chartered jets. And, oh, I forget the bevy of supermodels who drool on just the sight of them.
Of course, we don't grudge what they have achieved in their life and millions, they take home for their efforts. After all, they have spent hours to hone their art, to prepare their body to withstand immense demands of their profession and most important of all, they have a rare spark that assists them in bringing moments of joy in the dull and drab lives of ours, the fortunate fans.
In this article, we will take a look at the leading earners from the sports fraternity for 2015, who have combined their hard work, skills, marketing powers and blockbuster personas to earn it big.
(Note: You can read the complete article that lists top hundred highest-earning athletes on Forbes website.)
Total Earnings: $300 million- Salary/Winnings: $285 million, Endorsements: $15 million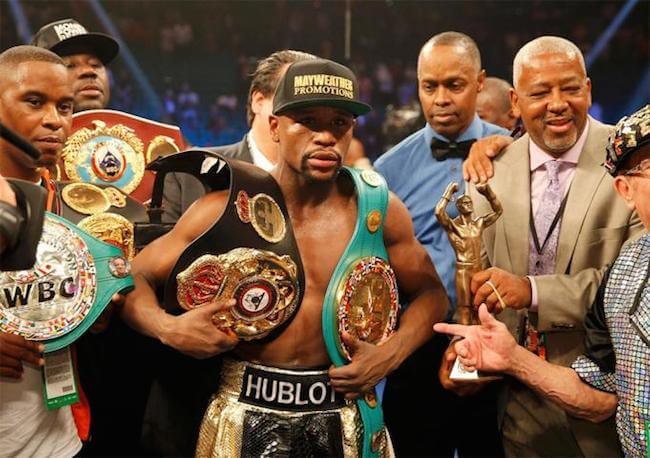 The 'Money Man' has grabbed the first spot in the list of highest earning athletes in style, by shattering the seven year old record held by golfer Tiger Woods. In 2008, Tiger Woods, who was at the very height of his powers had banked $115 million. With Floyd's much hyped and anticipated May 2nd fight against Manny Pacquiao, Mayweather broke all previously held records by earning eye-watering $285 million from it. The fight itself broke several long held records for a boxing bout. The pay per view buys for the fight stood at 4.4 million, the total gate receipts earning at $73 million and the sponsorship earnings at $13 million. The share of the earnings for the fight stood at 60-40 in the favor of the American star.
In comparison to his earnings from the winning, the money brought in by endorsements seem to be pretty insubstantial. The reason being that Mayweather has never been too enthusiastic for the endorsement deals. However, he did ink agreements with Hublot, FanDuel and Burger King in the lead up to the May fight.
Total Earnings: $160 million – Salary/Winnings: $148 million, Endorsements: $12 million
Just like he emerged in his fight against Mayweather, he has finished in this list – the second best. However, despite losing the match against his longtime rival, Pacquiao somehow managed to emerge as people's champion. He was loudly cheered at the Grand MGM arena at the Las Vegas, and curiously his rival, who had in fact won the bout was booed by the fans. This could be due to the fact that Pacquiao was more positive and attacking than his opponent. And, in terms of finance, he emerged richer as well. He took home $125 million for his efforts. His earnings also include $23 million, which he banked for his November fight against Chris Algieri.
Pacquiao, who is the first and only eight-division world champion is a marketing star in his home country. Last year, he signed endorsement deals with Nike, Foot Locker, Wonderful Pistachios, Nestle's Butterfinger and handful of local corporates in Philippines.
Total Earnings: $79.6 million – Salary/Winnings: $52.6 million, Endorsements: $27 million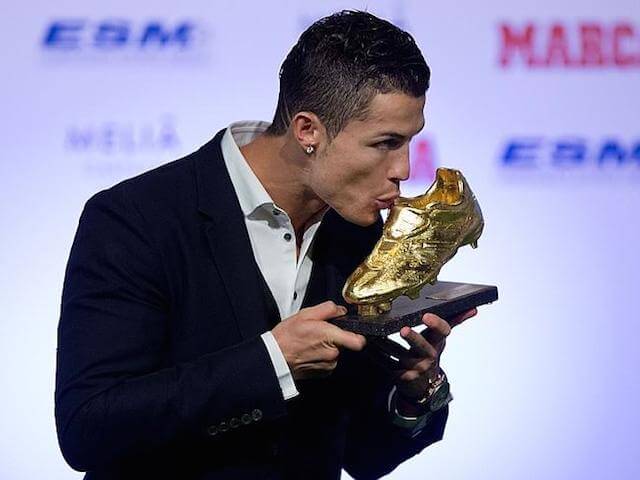 The Real Madrid star is arguably the best and most ruthless goal scorer in the world football right now. The reigning and three time Ballon d'Or winner has won almost every individual award and team trophy available in the club football. The Portuguese goal scoring machine is the first player to win four European Golden Shoe awards. Also, he is the only player in the history of football to score 50 or more goals in a season on five consecutive occasions. Ronaldo, with 55 goals is the leading all-time scorer for his national team and second behind Real Madrid club legend, Raul with 313 goals in list of most goals scored in all competitions for the club. For his immense goal scoring exploits, Real Madrid pays Ronaldo $52.6 million, which is the highest salary in club football.
With his immense popularity on the social media (105 million Facebook and 37 million Twitter followers) and his Hollywood looks, he has become an ideal footballer for the marketing world. His leading sponsors include Nike, Castrol and Tag Heuer.
Total Earnings: $73.8 million – Salary/Winnings: $51.8 million, Endorsements: $22 million
According to many football fans and experts, the Argentine magician is the best player in the world. And, the form, he was in last season as he led his Barcelona side to a historic treble, takes such recognition beyond argument. Operating in a deeper role, he wreaked havoc on almost every side his team faced. The highlight of which was single handed destruction of the German giants, Bayern Munich at Camp Nou. In recognition of his superb performances, last year Barcelona awarded their all-time leading goal scorer a new $50 million a year contract that runs through 2018. This was 7th contract signed by Messi since 2005. The man who has scored most goals in La Liga competitions, most goals scored in a calendar year and most hat-tricks scored certainly deserves such a special attention.
His main sponsors include Adidas, who have launched special range of Messi shoes and apparel and Turkish Airlines, who paired him with Kobe Bryant for their promotional campaign. He was recently cast as Iron Man by his sponsor Samsung in their new ad.
Total Earnings: $67 million – Salary/Winnings: $9 million, Endorsements: $58 million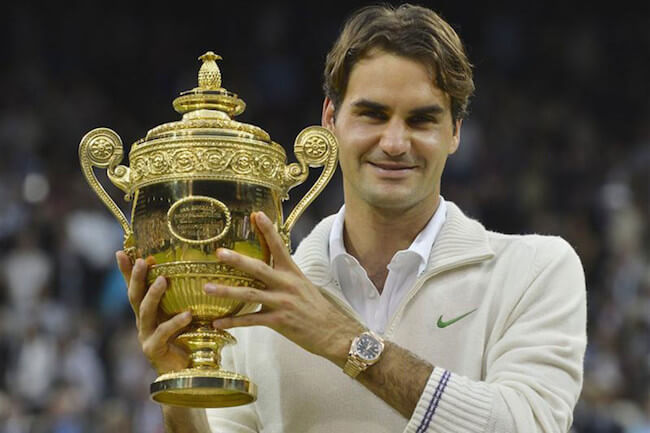 Though, he might not be the same dominant force on the tennis court, but in terms of endorsements, Federer is still the best tennis player in the world. In terms of form, he has shown revival as well and finished last year on the second spot in the tennis rankings. According to many observers, Federer is the best tennis player in the game's history. And, going by his huge records, which includes winning 17 Grand Slam singles titles, reaching each Grand Slam final at least five times (an all-time record) and reaching the Wimbledon final nine times, you can't argue. At the height of his game, he appeared in 18 of 19 finals from the 2005 Wimbledon Championships through to the 2010 Australian Open. It was during that phase, he signed major deals with his long term sponsors such as Nike, Rolex and Credit Suisse. Last year, he extended his long time contract with Mercedes Benz for another three years.
Total Earnings: $64.8 million – Salary/Winnings: $20.8 million, Endorsements: $44 million
The 'King James' has been ranked by Forbes as one of the world's most influential athletes throughout his career. He is one of the most popular athletes in US and has emerged as a modern basketball great. He is the first and only NBA player to appear in five straight NBA Finals since the all-conquering Celtics team in the 1960s. He is the only player in the history of the game to accomplish the feat, while playing for two different teams. His success and immense popularity amongst the basketball fans had helped James sign lucrative deals with several corporate giants. His connection with high paying endorsement deals stretch way back to 2003, when he signed a seven-year, $90 million pact with Nike before even being drafted by the Cavaliers. The sales of James' signature Nike shoes stood at $340 million for 2014. James is reported to earn more than $20 million from his endorsement deal with Nike, which also includes royalties. His other main sponsors are McDonald's, Coca-Cola, Beats by Dre, Upper Deck, Tencent and Audemars Piguet.
Total Earnings: $54.1 million – Salary/Winnings: $19.1 million, Endorsements: $35 million
The basketball 'scoring prodigy,' who has won the scoring title four times in his career had a less than ideal 2014-15 season due to series of injuries. He had to miss first 17 games of the season due to a fracture in his right foot. Just 16 days after his return from the injury, he injured his ankle. A couple of months later, he again had to sit out as he underwent a surgical procedure to help reduce pain and discomfort in his surgically repaired right foot. However, in just 27 games, he did manage to show his immense talent. And, if he can perform at his very best in the coming season, then there are overwhelming chances that he will get a new contract which will easily exceed the one set on expire next season. The current contract, which he signed with the Oklahoma City Thunder in 2010 was worth $85 million.
In 2014, he signed a 10-year deal with Nike that could be worth up to $300 million, including royalties. It is the richest endorsement deal of any active athlete.
Total Earnings: $50.8 million – Salary/Winnings: $2.8 million, Endorsements: $48 million
Phil Mickelson, with $77 million in career prize money is second in the all-time behind Tiger Woods. In his impressive and successful career, Mickelson has won 42 events on the PGA Tour, including five major championships – three Masters titles (2004, 2006, 2010), a PGA Championship (2005), and an Open Championship (2013). He has finished as a runner-up in the U.S. Open for a record six times. However, his position in this list isn't due to his immense performance on the field as he managed to rake in just $2.8 million in prize money and was well behind the world number one Rory McIlroy. He consistently earns more than $40 million from his endorsement partners Callaway, Barclays, KPMG, Exxon Mobil, Rolex, and Amgen.
Tiger Woods
Total Earnings: $50.6 million – Salary/Winnings: $600,000, Endorsements: $50 million
In his heydays, Tiger Woods was the first name on this list. In fact, until this year, he held the record for earning most moolah in a single season. In 2008, he had earned record breaking $115 million. However, due to spat of injuries and personal problems, he has gone too far away from the form that used to make him the best golfer in the world. He managed to earn measly $600,000 from his performance on the field. So, his position in this list is a testament of his marketing power. He managed to bank around $50 million from his endorsement deals, in which MusclePharm and India's Hero motorcycles were new additions. He also managed to earn significant money from his golf course-design business.
Kobe Bryant
Total Earnings: $49.5 million – Salary/Winnings: $23.5 million, Endorsements: $26 million
Kobe Bryant, who is an all-time leading scorer in Lakers franchise history and the youngest player in league history to reach 30,000 career points had the highest salary in NBA for fifth straight year. He, in fact, had taken a $7 million pay cut, when he signed a two-year, $48.5 million extension back in 2013. Bryant, who has led his beloved Lakers to five NBA championships has struggled with injury over the past two seasons. Due to knee, back and Achilles tendon problems, he has managed to play only 41 games over two seasons. The rotator cuff tear in his right shoulder sidelined him for nine months with an expected return set towards the start of the 2015–16 season.
His major endorsements include Nike, Lenovo, Hublot and Panini. However, he is transitioning from straight endorsement deals to being part of businesses. He holds more than 10% shares of emerging sports drink BodyArmor.