The 21st Screen Actors Guild (SAG) Awards held on March 8, 2015, was a star-studded event with dazzling Hollywood stars. Apart from the nominations and awards, the best part of any such event are the red carpet looks of the stars. The red carpet at the SAG Awards was just a not to be missed affair this year. Everyone is talking about the dresses of the female actors. Of course, we have ranked the best dressed female celebrities at the 2015 SAG Awards. The beautiful dresses complement the beauty of these famous actresses.
Here is the list:
Jennifer is a stunner. It is amazing to see this woman making a great progress in the movies and looking as stunning as ever, and that too at the age of 46. Her beauty is a proof that a woman can maintain her body at any age if she is dedicated and focused. At the SAG Awards, Aniston was able to showcase a vintage, super-plunging down dress with a psychedelic print. Also, you can't miss the body chain that she always likes to wear. The chain complements her perfectly.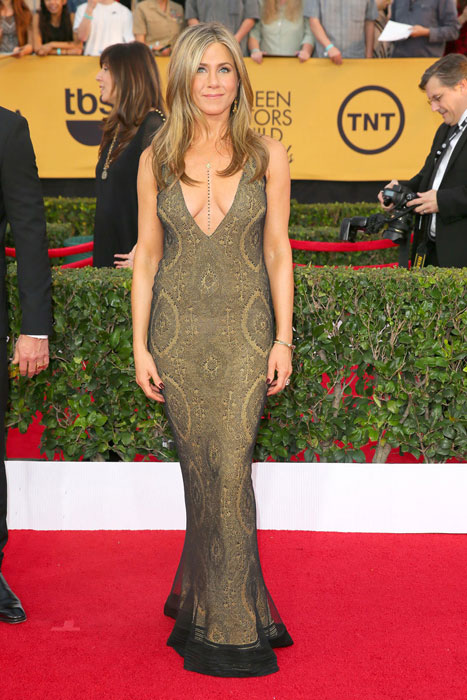 2. Emma Stone
Emma Stone looked ravishing in a Dior dress. Her dress featured a jacket-like top and a long, sheer skirt at the bottom. It is all black, which suits her perfectly. The tuxedo-inspired Dior Couture looks amazing on Emma's body and you have a chance to see it for yourself. Doesn't she look absolutely gorgeous?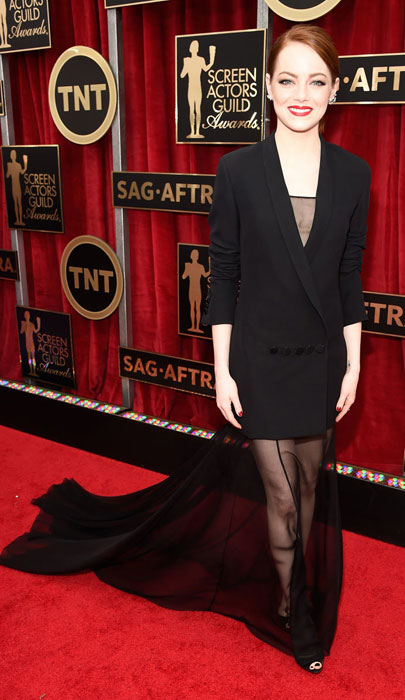 The Game of Thrones star Emilia Clarke, is one of the most beautiful actresses of Hollywood. Her dress at the SAG Awards just proves that she has an excellent sense of fashion. Clarke's dress is characterized by classic and conservative features.Some people will say it's too covered up, but we still feel that she deserved to be in this list.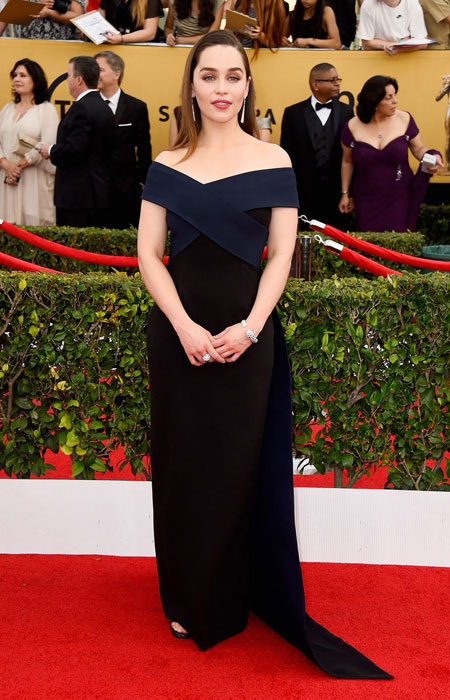 Sofia is one of the most recognized actresses today because of her beautiful curves and a pleasing personality. Her work in the TV show Modern Family is excellent, but her red dress that she wore at the SAG Awards was adorable. She showed up at the red carpet in an elegant red dress, which hugged for body to perfection.
Sometimes less is more and that holds perfectly true for Naomi Watts. Watts shows that you don't need an extravagant dress to look charming on the Red Carpet. The simplicity of her dress testifies that and the dark blue color only makes Naomi look even more charming. Of course there is a small hint of detailing at the neckline that showcases her beautiful shoulders. We can't forget to mention the Bulgari jewels and its sparkling features.
Keira's recent movie The Intimation Game has been well received and the pregnant actress is very happy. At this Awards show, this woman looked beautiful in purple Erdem down that complemented her baby bump gracefully. Even if some people consider her as underrated, her dress was definitely among of the most beautiful ones at the SAG Awards red carpet.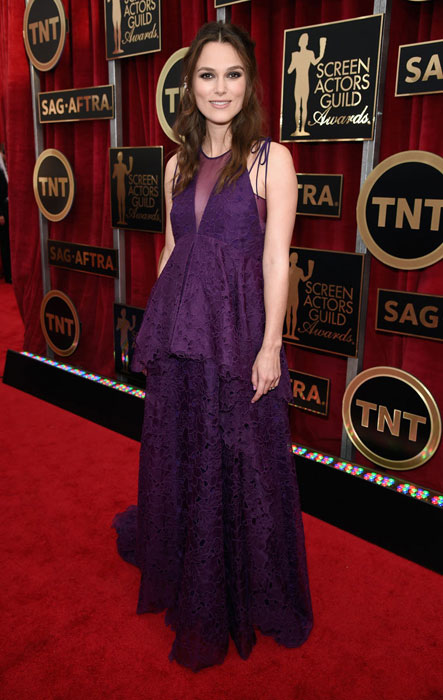 Maggie won global recognition for her role in the Batman movies, but she is also known from her unique beauty. She walked the red carpet in a majestic, long white gown that fits her body just right. It also featured long sleeves and a sheer panel in the front. The sheer panel is a mysterious way to show her cleavage, but also a classy move. The short hair and wide smile are only making her look even more amazing.
The Big Bang Theory star Kaley Cuoco knows how to surprise the fashion critics. She is well-known for her experiments with dresses, but at the SAG Awards she managed to look phenomenal. For the event, Cuoco wore a Romona Keveza bow-tied column dress. It was characterized with a silver Aldo clutch and diamond studs on her hand. Kaley is amazing in a red dress and you can see it for yourself in the picture.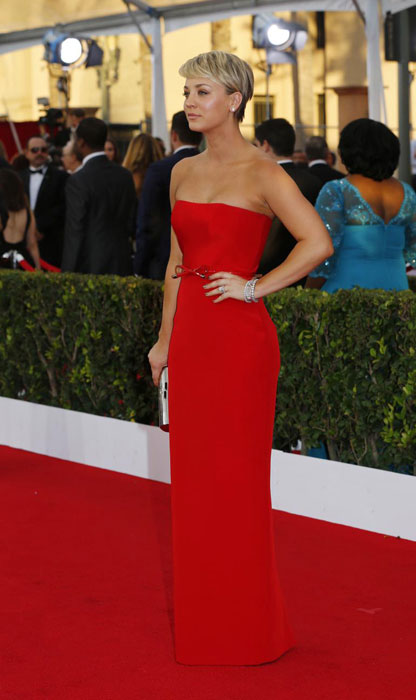 Felicity was a real surprise in the movie The Theory of Everything. She looked wonderful at the SAG Awards this year. Jones was wearing a powder-pink Balenciaga and Van Cleef gown, alongside her Arpels earrings. A refined and elegant look is very rare today and Felicity was able to bring it to the red carpet.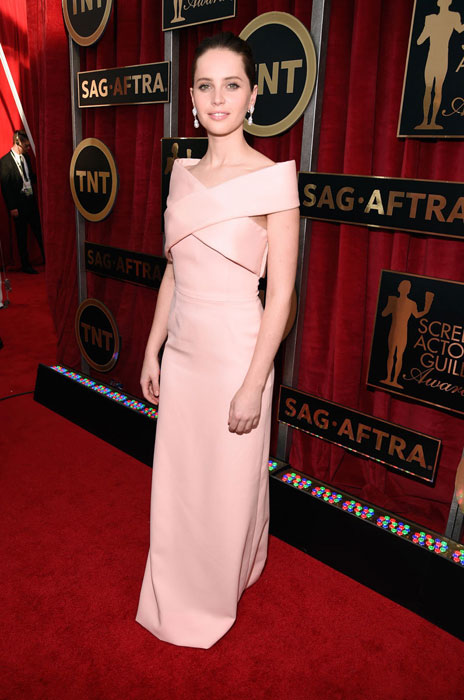 Here is another Game of Thrones actress. Natalie is always capable of choosing the right dress and this occasion was no different. Dormer was wearing a floral white dress from Naeem Khan. Her lovely diamonds made her look even more majestic. The dress suits her perfectly and it doesn't matter that she is on the last spot on this list because we could have put her anywhere else too.