The most prestigious movie awards of the year offer more than just the best movies. This year's Oscars ceremony was held on February 22 at the Dolby Theatre in Hollywood, Los Angeles and it consisted of excellent nominations, beautiful performances and fabulous red carpet appearances. The celebrities showcased their majestic dresses and suits and added a lot of glamour to the event. There were also many couples who stole the limelight. There were too many to mention in one article, so we have compiled a list of the top 10 hottest couples at the Oscars 2015.
Even though John's performance at the Oscars was amazing, we can't avoid the magic that was created when he made an appearance with his wife Chrissy Teigen. They made a charming and elegant couple. Of course, the spotlight was more on Legend's wife, even though he made a heart – touching acceptance speech for his award. They are among the few couples who don't mind sharing their love with the world.
They were probably the most charismatic couple at the Oscars 2015. Chris made a huge impact with his talent in his latest movies, so he has a reason to smile as he poses alongside his beautiful wife. Many will say that Parks and Recreation helped Pratt in Hollywood, but there is no doubt that he has proved his acting skills in all his movies. Anna looked simply gorgeous in the beautiful dress and her majestic smile completed the look.
At the number 3 spot, we have a combination of black and red on the red carpet. Adam and his wife Behati were just amazing at the Oscars this year. They can be considered as the most fashionable pair and even their clothes matched perfectly. The red dress looks amazing on Prinsloo's body and no one can deny that, and Adam also seemed really happy to have such a lovely woman by his side.
Neil and David were among one of the most amusing couples at the Oscars. Their fans are always anticipating their presence because they never disappoint the fashion critics. This couple has offered a choice of light tuxedos that definitely match their charisma. People that always smile don't need a specific fashion design to impress the others. See the photo and find out why they are unique and special in Hollywood.
This might be the couple you would have not expected here, but the two looked absolutely gorgeous. J. K. Simmons knows how to pick the best tuxedo and we can't avoid the black hat. He won an Oscar for the Supporting Role in the movie Whiplash (2014), but he also deserves a reward for his fashion choice. Michelle is happy to have Simmons on her side, and together they look stunning. Schumacher has donned a beautiful purple dress that suits her properly.
We can't forget Dwayne and his wonderful girlfriend Lauren, when compiling a list of the hottest couples. They were without doubt, one of the most elegant couples at the event. Johnson's athletic body couldn't compete with Hashian, when it comes to her dressing and fashion style. There weren't many couples who matched their dresses more perfectly.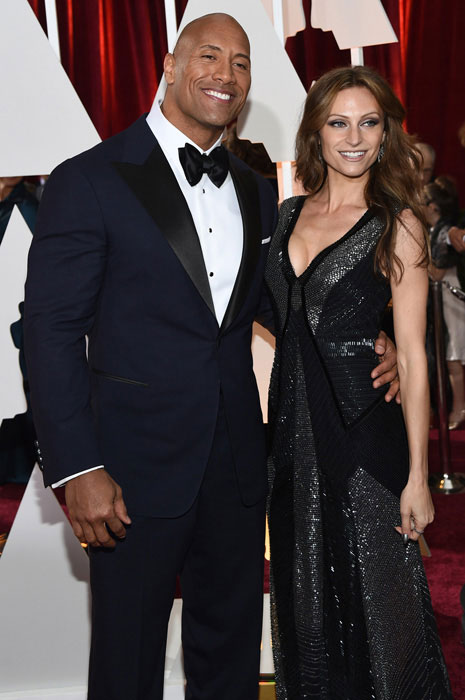 The star from Saturday Night Fever and Grease walked the red carpet with his wife Kelly Preston. We haven't seen John in any of the spectacular movies lately, but his fashion style was definitely classy. The classic black tux and the gold necklace made him unique among the other male celebrities. But, he held onto the arm of the gorgeous Kelly, who looked charming in her blue mermaid Gustavo Cadile gown.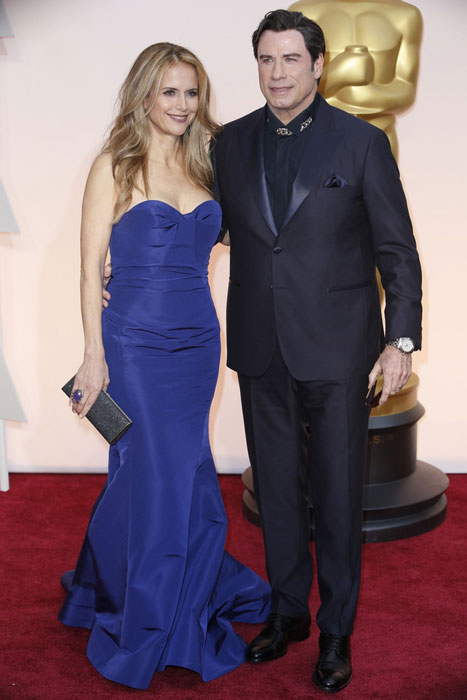 Edward's role in the movie Birdman (2014) was astonishing and he proudly walked the red carpet with his wife, Shauna. Of course, she looked majestic in the dark gray dress because it suited her very well alongside Norton's classic tuxedo and bow-tie. We love seeing this couple and we can't wait for the next opportunity to see their fashion choices.
The adorable Kevin and Eniko are also on this list. We can't avoid Kevin's charisma and the magnificent Eniko and her choice of dress. Some people suggest that she and Renee Bargh were wearing the same dress at this ceremony. Still, there is no reason to search for a negative aspect for one of the cutest couples on the red carpet. Hart's white tuxedo looked great on him and it complimented Eniko's amazing dress.
Mark and Sunrise are the last couple as we close down our choice of the hottest couples at the Oscars 2015. We couldn't pick a better couple for the last spot because their charisma was enormous. Mark is happy to have such a gorgeous woman as his wife, and he showed it with a big grin on his face.