Working out with weights can be challenging. You might have painful blisters on your palms if you lift weights with your bare hands. You should use good quality exercise gloves so that your hands don't suffer. Other than providing protection, these gloves also enhance your grip so that you can pick up the weight comfortably. It is important to buy the right gloves for proper protection. With so many options available, it can be difficult to choose the right one. You should consider factors like material, padding, wrist protection, and price. Here, we are going to review the Trideer Padded Exercise Gloves.
Design
You can get these gloves in different colors including black, golden basic, golden advanced, and silver basic. This pair of gloves has earned a good name for callus prevention and comfort. It provides full coverage that keeps everything covered, except your fingertips. As a result, no blisters will form and your palms won't hurt. The gloves have extra padding which gives a comfortable experience. Double channel sewing is used to put the gloves together, so they are durable. It has an 18-inch wrist wrap that provides stability. So, when lifting weights, you will have less chance of wrist injury. These gloves are a bit bulky, which makes them perfect for the beginners. There are 2 pull tabs on the fingers that make it easy to remove. So, even after your workout for long hours, the gloves will come off easily.
Build Quality
It is made of a microfiber fabric that is comfortable and lightweight. It prevents calluses from forming. The microfiber is breathable and keeps your hands cool. So, you won't sweat or feel any irritation. Light cloth is used between the fingers so that friction between fingers is reduced. There is a silica gel grip on the palms and fingers that prevents slippage even if you sweat. The silica gel also provides an excellent grip so that you can lift weights comfortably and without any risk. They have extra padding that protects the hands from injuries and makes you feel comfortable during weightlifting and other exercises. They have a 30 days refund policy and you get a 12-month warranty for it too. So, you will get peace of mind by purchasing these gloves.
Size
You will get this pair of gloves in sizes from small to XXL. The small size will fit 6.5 to 7.5 inches hand and the XXL size fits 9.25 to 9.8 inches hands. If you choose the right size, then it will hug your palm nicely. The upper strap can provide the right palm tightness for a decent fit.
Comfort
These gloves will give protection for your palm, fingers, wrist, and back of the hand. They are made of microfiber and is comfortable to wear. The extra padding gives extra protection and comfort as well. The presence of light cloth between the fingers not only reduces friction but also provides extra comfort. There is an 18'' long wrist strap that provides good wrist support during weightlifting or other exercises.
Effectiveness
These gloves are multi-functional and are ideal for gym training, weightlifting, and general exercises. They are not only needed for protection, but also for support, comfort, and enhancing performance. These gloves perform great during pull-ups, weightlifting, rope climbs, cross-training, powerlifting, cycling, bodybuilding, and other movements. The lock padding of the fingers and palm provide strength to perform various movements. The silica gel protects from injuries. 
If you don't want your hands to get hurt or bruised, then you should wear this pair of gloves before weightlifting and other exercises. Besides providing extra padding, these gloves have 18'' wrist wraps that provide adequate support and safety during weightlifting and other exercises. 
The Trideer Padded Exercise Gloves comes in different sizes. The Velcro strap on the gloves will give a snug fit on the wrist. So, you will feel comfortable exercising wearing them. As the gloves are made of ultra-light microfiber, they are breathable and so prevents sweat from accumulating. Your hands will remain dry all the time no matter how intense your training sessions were. It has shock absorption effects and so your hands won't hurt. These gloves are ideal for both men and women.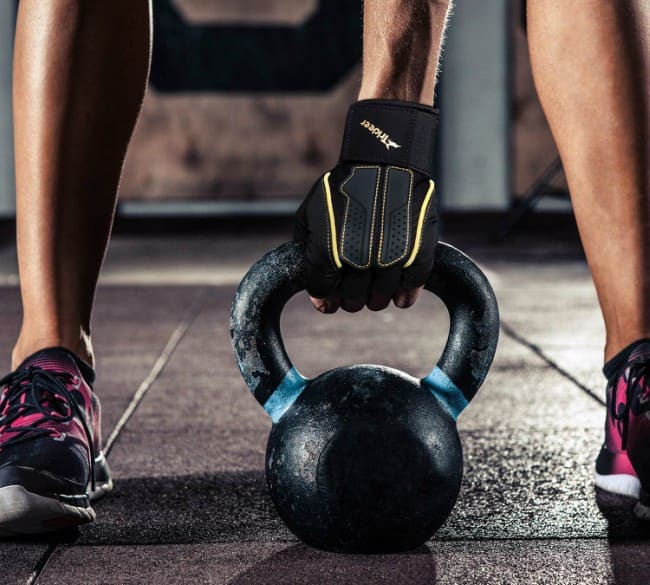 Price
You can buy these gloves for only $14. They will give you lots of benefits and you will feel great after buying these gloves.
Pros
You can find it in different colors and sizes.

They are lightweight which makes it comfortable to wear.

They are made of top-quality breathable microfiber that protects your hand and keeps your hands cool.

They provide full coverage for protecting your hands.

They have thick and comfortable padding for providing extra comfort.

They have silica gel for preventing slippage.

They have double stitched which prevents them from tearing.

They have 18'' wrist wrap that provides excellent wrist support.

The rubber material that covers the palm provides a natural gripping feeling.

There are pull tabs on the fingers that make it easy to take off the gloves.

The Velcro closure keeps the gloves in place.

They are easily washable.

The price of these gloves is reasonable.
Cons
There is no thumb grip.

Some users find them too bulky.
Final Verdict
People have become very health conscious these days. They are trying to find ways to keep themselves fit. Going to the gym regularly is one option. When you carry weights in the gym, it is mandatory to use gloves for your hand protection. If you wear a good pair of gloves like the Trideer Padded Exercise Gloves, then your lifting will be more efficient as the gloves will provide better gripping. The risk of accidents due to weight lifting will also be reduced. Your palms won't get sweaty and the gloves will prevent any slippage.
It has a stylish design and premium-quality construction. You will get a comfortable experience by wearing these gloves. The double stitching makes them durable and resistant to wear and tear. If you want to do some tough work with your hands, then you should buy these gloves.