Hollywood is home to hundreds of actors, old and young. Even as there are many well-known actors who have created a niche even though they have not been from celebrity families, there is a set of some famous actors who have shown that acting runs in their blood. Sharing a special bond and celebrating a very precious relationship of a Father and Son, Healthy Celeb brings to the forth some very famous actors.
We have compiled a list of some famous father-son duos who have been both very successful in the showbiz. Not only are they both famous, but some of the sons mentioned in this list have already outdone their fathers who are proud of them. There are a couple of them who would have been heard about and some that would take you by surprise. The top 10 super fathers and sons of Hollywood are here for you:
Who has not heard about this versatile acting veteran who is a sure shot formula of success for any movie maker? He has been there for a long while and is a synonym for perfection. Be it comedy or drama, he has done it all. The 59-year-old actor is best known for Forrest Gump (1994), Apollo 13 (1995), Saving Private Ryan (1998), Cast Away (2000), The Da Vinci Code (2006), as well as for lending his voice in The Polar Express (2004) and the Toy Story series. Hanks is the second highest all-time box office star with over $4.264 billion total box office gross. There is also an asteroid called 12818 Tomhanks that has been named after him.
His 37-year-old son, Colin Hanks is also a successful actor who started his career in 1996. He is famous for his role in Orange County (2002) and television series Roswell, Band of Brothers, Dexter, The Good Guys and many others. The oldest son of Tom Hanks has made his father proud and even though his father is more famous, he is no less.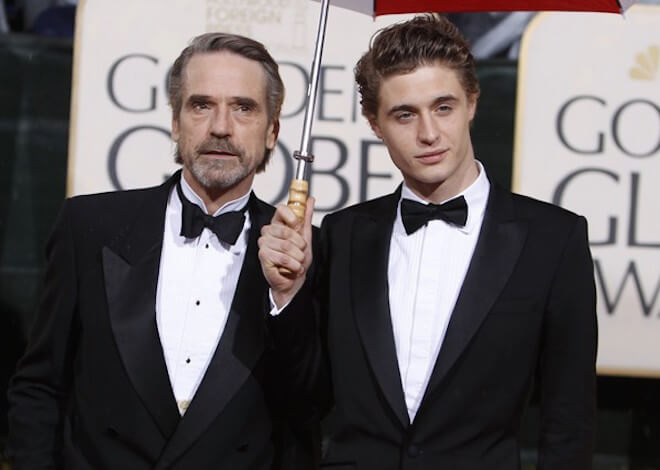 Jeremy Irons is a notable English actor who has done it all. Broadway, television and movies, the senior Irons has left a mark in all. This veteran actor is best known for his roles in movies like The French Lieutenant's Woman (1981), Reversal of Fortune (1988), The House of the Spirits (1993), Die Hard with a Vengeance (1995), Lolita (1997), The Man in the Iron Mask (1998), The Merchant of Venice (2004) and many others. He has won the Triple Crown of Acting as he won an Academy Award, an Emmy Award and a Tony Award. The 66-year-old actor also has a very famous son who is doing well for himself.
Jeremy Irons is a handsome young actor who is best known for his roles in Red Riding Hood (2011), The White Queen (2013), The Host (2013) and The Riot Club (2014). He is a modest actor who has been trying to prove that he is not using his father's name to get fame and is carving out his own path. The 29-year old has a lot of fan following and is riding high on the success of his last movie that has been appreciated by one and all.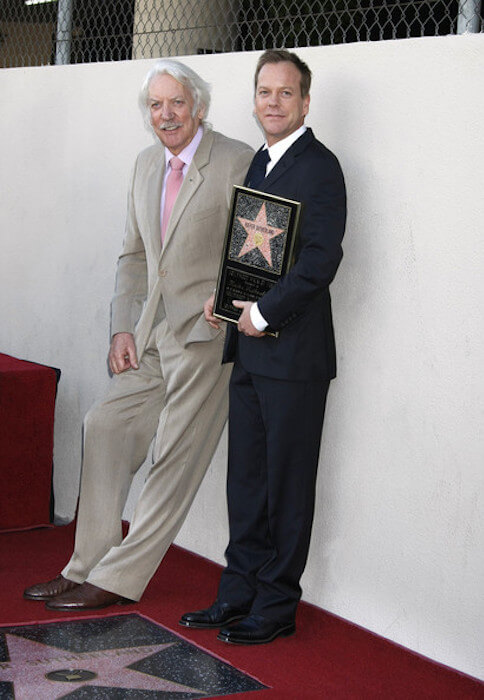 The 80-year-old comedy actor Donald Sutherland is a living legend. Having spent over five decades in Hollywood, the senior Sutherland has quite some famous movies to his credit that are even remembered today. M*A*S*H (1970), Don't Look Now (1973), Fellini's Casanova (1976), Invasion of the Body Snatchers (1978), Cold Mountain (2003), Pride & Prejudice (2005) and The Hunger Games film franchise (2012–2015) are some of his best movies. He was added in the Canada's Walk of Fame in 2002 and in 2011, he was also added in the Hollywood Walk of Fame.
His son Kiefer Sutherland (48) has followed in his father's footsteps and established himself as a talented actor. He is one actor who has proven that acting flows in the blood for some people. He has been successful as a movie and television actor. The Lost Boys (1987), A Few Good Men (1992), The Three Musketeers (1993), Freeway (1996), Dark City (1998) and Phone Booth (2002) are some of his best movies and his 24 (2014-Present) series on Fox has also been appreciated. The father and son have also worked together in A Time to Kill (2006) and won a lot of appreciation for their respective roles. Both are equally marvelous and continue to rule the hearts.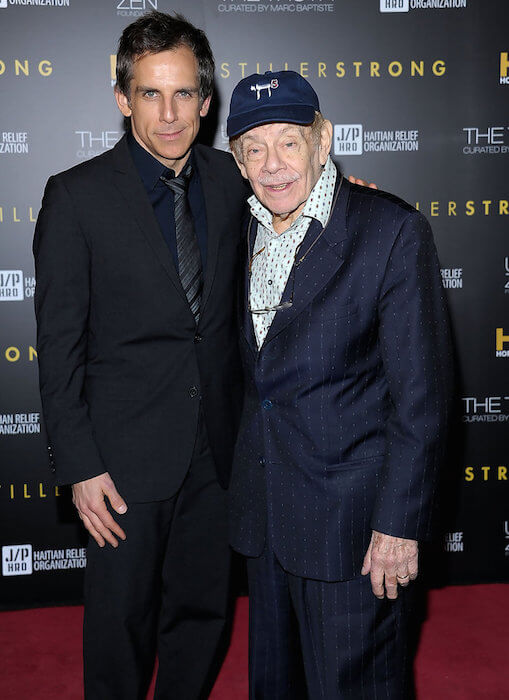 Remember the comedy actor Jerry Stiller? The 88-year-old actor was one of the best comic guys in the movies once. Stiller was best known for his TV series Seinfeld (1993-1998) and The King of Queens (1998 onwards). He was the funniest actor at one time and was also liked by all. The man has worked in Hollywood for a long time and is still remembered for his achievements. Even his wife, Anne Meara is a comedian and the couple started working together. Some of his memorable works also include Hot Pursuit (1987), Reality Bites (1994), Meet the Parents (2000), Zoolander (2001), Dodgeball (2004) and others.
The famous actor Ben Stiller is his son and we must say that the younger one has outdone his father fabulously. The brilliant, comic actor has worked in over 50 movies and some of his remarkable hits include The Secret Life of Walter Mitty (2013), There's Something About Mary (1998), Tropic Thunder (2008), Madagascar series and the Night at the Museum trilogy. He is also famous for his own show titled the The Ben Stiller Show (1992-1993).
Now this one is sure a legendary, royalty family as there are three generations who have worked in Hollywood. The senior-most is 98-year-old Kirk Douglas who was won an Oscar for Lifetime Achievement and the Medal of Freedom. He has also written 10 novels. The Strange Love of Martha Ivers (1946), Champion (1949), Ace in the Hole (1951), The Indian Fighter (1956), Paths of Glory (1957), Lonely Are the Brave (1962) and Seven Days in May (1964) are some of his best-known movies.
His son is 70-year-old Michael Douglas. Michael has also been more successful than his father and the two have been spotted together often. He has won five Golden Globe Awards, two Academy Awards, and an Emmy Award. Wall Street (1987), Basic Instinct (1992), Disclosure (1996), Traffic (2000), Ant-Man (2015) are some of his best-known movies.
Michael's son Cameron is 36 and has done movies like Mr. Nice Guy (1996), It Runs in the Family (2003), National Lampoon's Adam & Eve (2005) and Loaded (2008). Cameron has been in trouble and arrested for drug offense several times. He is currently in prison and will be released in 2018.
All showbiz lovers know the numerous Emmy and Golden Globe Award winning actor Martin Sheen. The 74 year old American actor rose to fame with movies like Badlands (1973), Apocalypse Now (1979), Gettysburg (1993), The Departed (2006), and The Amazing Spider-Man (2012). He was also celebrated on television and is widely remembered for The West Wing (1999–2006). The famous actor has also been a politician and has been included in the Hollywood Walk of Fame.
His 49 year old son Charlie Sheen is no less famous. Platoon (1986), Wall Street (1987), Young Guns (1988), Major League (1989), Hot Shots! (1991), The Three Musketeers (1993), The Arrival (1996), Money Talks (1997) and Being John Malkovich (1999) are some of his career hit movies. He has also been dominating the television and his Two and a Half Men (2003-2015) has been a major hit. His personal life has been in turmoil as he has been in trouble for alcohol and drug abuse and he was dealing with some marital problems.

Gary Busey and Jake Busey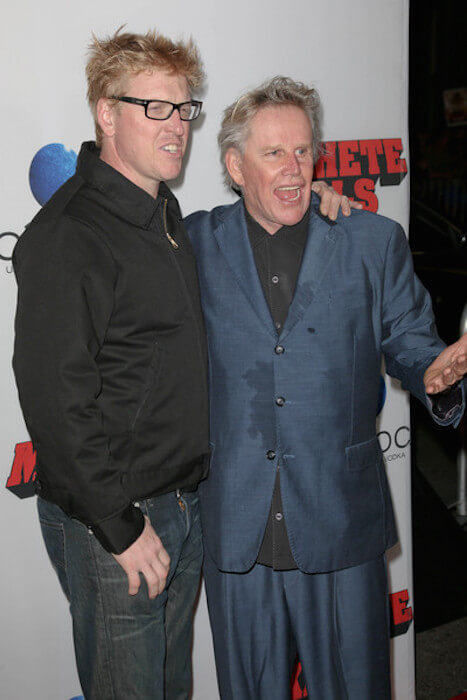 Gary Busey is 71 and he is still around in Hollywood. The man is phenomenal. With more than 100 movies to his credit, the actor is famous for his roles in films including The Gumball Rally (1976), The Buddy Holly Story (1978), Eye of the Tiger (1986), Lethal Weapon (1987), Predator 2 (1990), Rookie of the Year (1994), Lost Highway (1997), Soldier (1998) and Loathing in Las Vegas (1998). He has also been a part of shows like Law & Order (1990-2010), Scrubs (2001-2010) and Entourage (2004-2011). In 2014, he became the first American winner of the UK version of Celebrity Big Brother.
44-year-old Jake Busey made his acting debut in Straight Time (1978) with his father. He is best known for Contact (1997) and Starship Troopers (1997). Busey is also a drummer for Sons of the Lawless band. He is a guitarist too and the Let Me Down song of the band was featured in the credits of Nazis at the Center of the Earth (2012).

Will Smith is one celebrity who every Hollywood lover knows. He is known for his versatile acting and the 46-year-old is also into singing and songwriting. Bad Boys (1995), Independence Day (1996) Enemy of The State (1998), Men in Black series, Ali (2001), Bad Boys II (2003), After Earth (2013) and Winter's Tale (2014) are some of his best movies.
The 2006 film The Pursuit of Happiness was the first time that 17-year-old Jaden Smith began his career in movies. He worked with his father in the movie and then, the two came together again in the 2013 movie After Earth. The Day The Earth Stood Still (2008), The Karate Kid (2010) are some of his hit movies. He is also a rapper and a dancer and has rapped for Justin Bieber's song Never Say Never in 2010. He released his first mixtape titled The Cool Cafe in 2012.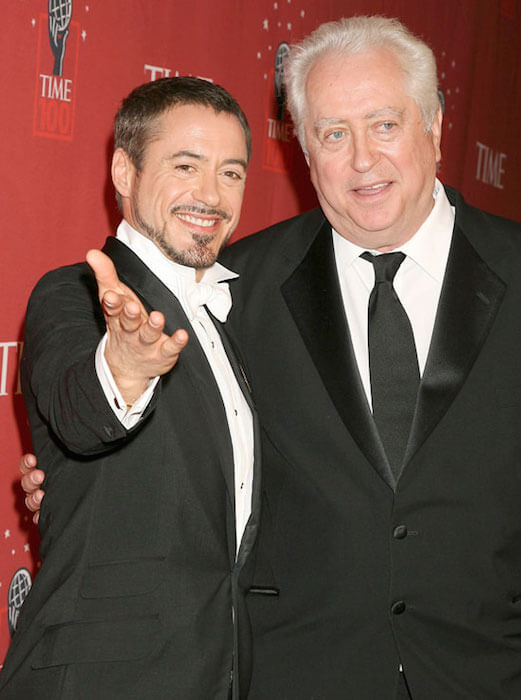 The 79-year-old Hollywood actor Robert Downey Sr. is best known as an underground filmmaker. Sweet Smell of Sex (1965), No More Excuses (1968), Sticks and Bones (1973), Moment to Moment (1975), America (1986), Rented Lips (1988), Hugo Pool (1997) and Rittenhouse Square (2005) are some of his directions. He was a family man who included his wife and children in many of his movies. In fact, Robert Downey Jr. made his acting debut in his father's 1970 movie Pound when he was just 5.
At 50, Robert Downey Jr. is one of the highest paid actors of Hollywood but his father is more proud of him for dealing with his drug problems. His films The Singing Detective (2003), Gothika (2003), Kiss Kiss Bang Bang (2005), A Scanner Darkly (2006), Zodiac (2007), Tropic Thunder (2008), The Avengers series, the Iron-Man series are well-known. He has been more successful than his father and the two share a very healthy relationship.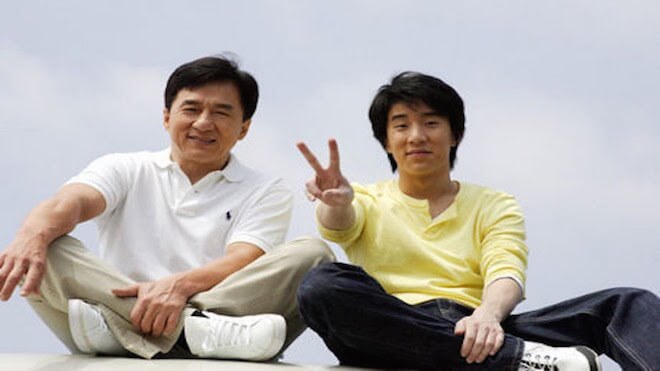 The 61-year-old Hong Kong actor has established himself as a top Hollywood actor. Snake in the Eagle's Shadow (1978), The Young Master (1980), Demolition Man (1993), The Police Story series, Rush Hour series, The Spy Next Door (2010), The Karate Kid series are some of his best movies. He has been honored and received stars on the Hong Kong Avenue of Stars and the Hollywood Walk of Fame.
His 32-year-old son Jaycee Chan is also an actor but not a very successful one. He is more known for his singing. His first CD Jaycee (2004) was appreciated and Twin Effects II (2002) was his acting debut. Jaycee has not shared a good bonding with his father until recently when he came out of the jail after being in custody for use of drugs. Jackie is now willingly helping his son overcome his addiction.