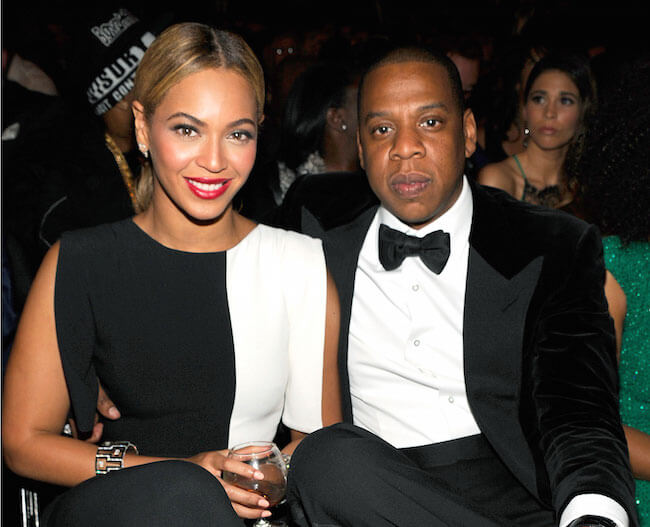 The world's most powerful couple Beyonce and Jay Z have been on the good side of our radar for a while now. With nothing but love and respect flowing through the veins of this beautiful couple, not stalking them is a crime. The smitten two, fell in love back in 1999-2000. They went on to prove their love by tying the knot in 2008. Although, we have heard stories about hell breaking lose between them, the fact remains that all couples in love have problems at some point in their relationship. Then again, it was always difficult to figure out the Carters as they managed to keep their personal life so private. Though, there were rumors about a divorce a while ago, we believe the couple has overcome that too.
Taking a look back at the musical icons' amazing history together, the duo launched their first collaboration back in 2002 with "Bonnie & Clyde" which stayed on the chart busters for a while. Beyonce then made "Crazy In Love" which was a hit with soaring number of YouTube views. They then made "Drunk In Love" together which very quickly became the favorite amongst millions across the world.
With this loved power couple, now going stronger than ever, we really hope they never split up. After all, we do need a real-life fairy tale to live by.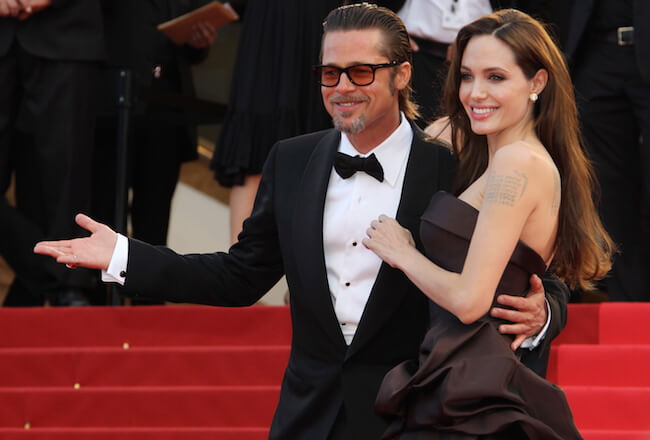 Although Jennifer Aniston and Brad Pitt were America's favorite couple at one point in time, Brangelina has only and only received nothing, but awe and love from the masses. When they made the big move of marrying, they got termed as "The Couple" not too long after. Both have received the gift of incomparable genes making them one of the most stunning couples in the Hollywood. They have a big, loving and absolutely adorable family together and they sure do set the right example for the perfect couple.
They both are iconic actors and have been appreciated for their acting skills since the beginning of their career. With this powerful duo, they are now shifting into production and direction which makes complete sense to us. One of the turning points in their life was on the sets of Mr and Mrs Smith, where the couple supposedly fell in love. With Angelina's new production, "Unbroken," she has received immense appreciation for her directorial skills as well.
It is a known fact that Brad stood tall besides Angelina when she was suffering from depression. He also lovingly supported her during her surgery to avoid ovarian cancer, which she was prone to.
We pray and hope that this couple sticks it through and overcomes all obstacles, as always, with a big heart. As there is one thing for sure that if they break up, many of us will feel it.
Old is gold, they say and we completely agree. There is something about couples who have stuck it through for a long time like Tom Hanks and Rita Wilson. They met during the black and white days and are stronger than ever, till date. Such relationships remind us of long lasting and healthy living and give us hope of a fairy tale ending.
The couple have been married since 1988 and like most regular couples, seen their own share of problems. The most difficult phase was when Rita Wilson was detected with cancer. She had spoken about the time and phase in which she mentioned about not being too sure of her hubby's reaction. However, both Tom Hanks and step son Colin Hanks were extremely supportive and made sure they were together as a family into it. She expressed how lucky she felt to be privileged with the love and protection of two handsome gentlemen. She later had a double mastectomy and now is cancer free. After all, a family that stays together lasts forever. We can't wait to see this couple continue and spend their old age in harmony and love.
They have to be one of our favorite couples as they define every bit of "cute." Judging by the kind of people they are, you instantly know that they are fun, goofy and very comfortable as a couple. They not only seem like lovers but also portray a sense of immense and deep friendship. They are supportive of each other and lead a married life like any other marriage around the world.
During an interview with Reddit AMA, Chris had spoken about how lucky he feels to have gotten a wife like Anna. He believes that Anna is the one who has made their relationship seem easy to handle, without any insecurities or complications that arise in every walk of life. He also mentioned how his life with Anna makes him believe in divine destiny. She handles every bit of their career with maturity and is also known to be a great mother. They grew up a few blocks away from each other, but never met until they met in Los Angeles.
Now and then, you will hear people telling you to marry your best friend. Looking at Chris and Anna's life together, we certainly don't doubt that.
Footballers are known to have a fleet of women, crazy after them. We are sure a lot of breakups between a sport person and their partner could be due to the insecurities of the fame that comes along with their profession. Not too many famous and widely loved sport people can swear to have an undisturbed marriage like this couple, even after being in the limelight for the longest time. David and Victoria have not only been on the good radar but have also proved to be excellent, modern yet strict parents.
Married since 1999, this couple has completed almost three decades of being together and how! With very minimal rumors about any kind of rough patch, this couple makes a great example of a healthy relationship for many. Till date, undoubtedly, they remain as one of the hottest and trendiest pairs. With a great match of sports and fashion, they seem almost untouchable by most celebrity couples. Gifted with 4 beautiful children, there seems to be no stopping for the beckhams.
Okay okay! We know! But at least, wait and read the rest to know why we think so. Now, we know that Kim hasn't really been the marriage material type or lasted for too long in any relationship. However, on the other hand, Kanye has a great track record of long term relationships. Although, he just can't help himself from blurting out every word he is thinking all the time, he has definitely proven his love for Kim on social media over and over again.
Now that, she is expecting the couple's second baby, the chances of a divorce anytime soon are obviously way lesser. But, you are probably now thinking that we have seen all this before. Maybe for Kanye, it is love, however for Kim, it could be publicity, right? Well, if Kim doesn't love Kanye, she is doing a pretty good job with the acting. However, do check out Kim's "Rotten Tomatoes" page to know why it isn't all about acting in the first place.
Now although, a lot of you may still disapprove, let's just cut some slack for this infamous couple. Every once in a while, life gives us a "not-so-believable" or a "not-so-relatable" love story and this couple is probably one of those. Unless, you are a die hard reality TV buff. So let's leave this at that, and hope for nothing but the best!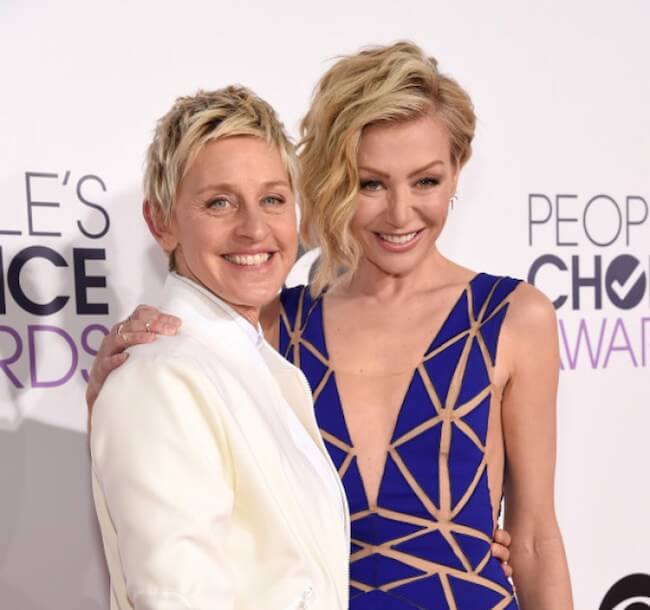 Married since 6 years now, this pair resonates a rather charismatic feeling that reflects nothing but love, trust and an extremely transparent relationship. There seems to be a very high level of understanding and respect, which are two very important yet, not common in relationships. They not only seem to enjoy each other's company well, but reflect a sense of longing which not all couples in love like to display.
In 2014, there were rumors about Ellen and Portia wanting to have a baby. Though the entire world thought so, the couple begged to differ. On one of Ellen shows while Portia was being interviewed, she brought the topic of having a baby which both of them denied. They justified that with the fact that they both are extremely happy with each other and don't need anybody else. When they think about a baby, they want it to come from within themselves and not because what society tells them about building a family. Eventually, like everyone else we too do hope that they will decide to have a baby as we truly believe they would kick-ass at parenting!
So, does this tell us that they will all have romantic lives like in the movies, they act in? Or that all these couples in love will never fall apart? Well maybe, some will but, we do hope and pray that most of them stick together and keep the chemistry going. After all, we need some inspiration, right?