Elizabeth Taylor Quick Info
Height
5 ft 4 in
Weight
64 kg
Date of Birth
February 27, 1932
Zodiac Sign
Pisces
Date of Death
March 23, 2011
Dame Elizabeth Taylor was an award-winning British-American actress whose career spanned from the early 1940s till the end of the 1990s. Known as one of the last stars of the classical Hollywood cinema, she achieved global acclaim for her performances in Lassie Come Home (1943), National Velvet (1944), Giant (1956), Cleopatra (1963), Cat on a Hot Tin Roof (1958), etc. At the height of her career, she received 2 Academy Awards for 'Best Actress' in BUtterfield 8 in 1961 and Who's Afraid of Virginia Woolf? in 1967. Even with all her talent and success, it was her eight marriages and divorces that defined her public image more than anything else. Throughout her life, she had donned several hats such as a fashion icon, perfume mogul, avid jewelry collector, gay rights activist, and a devoted HIV/AIDS activist. Her social media accounts have garnered more than 900k followers on Facebook, more than 300k followers on Twitter, and more than 200k followers on Instagram.
Born Name
Elizabeth Rosemond Taylor
Nick Name
Liz, La Liz, Kitten, Bessie Mae (given by Montgomery Clift), Violet Eyes (given by Richard Burton)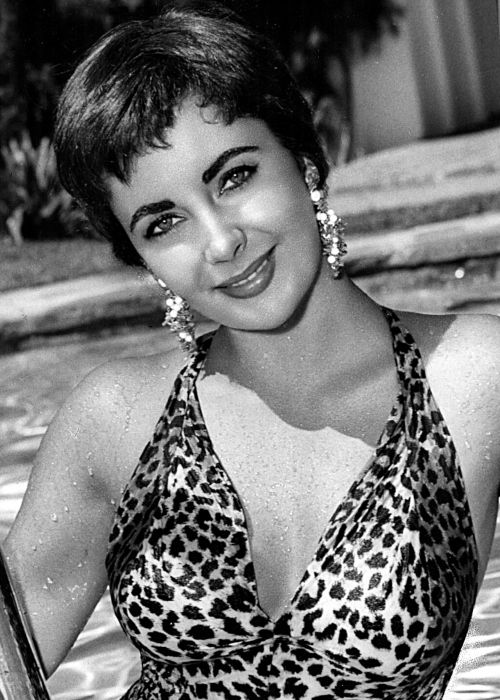 Age
Elizabeth was born on February 27, 1932.
Died
She died on March 23, 2011, from congestive heart failure at the Cedar-Sinai Medical Center in Los Angeles. She was 79 years old at the time of her death.
Sun Sign
Pisces
Born Place
London, England, United Kingdom
Nationality
British, American
Education
Elizabeth attended the Byron House Montessori School in North London.
After moving to the United States, she was enrolled at Hawthorne School in Beverly Hills. Since she worked as a child actor, she studied at the MGM studio school. She attended the University High School in Hollywood and graduated in 1950.
Occupation
Actress, Businesswoman, Humanitarian
Family
Father – Francis Lenn Taylor (Art Dealer) (Died in 1968)
Mother – Sara Sothern (born Sara Viola Warmbrodt) (Stage Actress) (Died in 1994)
Siblings – Howard Taylor (Older Brother) (Died in 2017)
Others – Francis Marion "Frank" Taylor (Paternal Grandfather), Elizabeth Mary Rosemond (Paternal Grandmother), Samuel Sylvester Warmbrodt (Maternal Grandfather), Anna/Ann Elizabeth Wilson (Maternal Grandmother), Mara Taylor (Sister-in-law) (Wife of brother Howard), Carrie Fisher (Stepdaughter) (Daughter of Eddie Fisher) (Actress, Writer, Comedian) (Died in 2016), Kate Burton (Stepdaughter) (Daughter of Richard Burton) (Actress), Jessica Burton (Stepdaughter) (Daughter of Richard Burton), Michael Todd Jr. (Stepson) (Son of Mike Todd) (Film Producer), Brooke Palance (Daughter-in-law) (Wife of Michael Wilding Jr.) (Actress), Tarquin Wilding (Grandson) (Son of Michael) (Actor), Naomi Wilding (Granddaughter) (Daughter of Michael), Laela Wilding (Granddaughter) (Daughter of Michael), Margaret Carlton (Daughter-in-law) (Wife of Christopher Wilding) (Film Editor), Lowell Wilding (Grandson) (Son of Christopher), Andrew Wilding (Grandson) (Son of Christopher), Quinn Tivey (Grandson) (Son of Liza), Rhys Tivey (Grandson) (Son of Liza)
Manager
Elizabeth was represented by Jason Winters during the last years of her life.
Build
Average
Height
5 ft 4 in or 162.5 cm
Weight
64 kg or 141 lbs
Boyfriend / Spouse
Elizabeth Taylor had dated –
Mickey Rooney (1946-1948) – Mickey Rooney co-starred with Elizabeth in her first leading role in National Velvet (1944). According to a salacious account in the 2015 book, The Life and Times of Mickey Rooney, the 25-year-old actor began dating Taylor in 1946, when she was only 14 years old. Rooney, who was married to Betty Jane and was expecting his 2nd child, was reportedly found by his wife in a se*ual encounter with the teenager. Their secret affair allegedly lasted for about 2 years till after the young starlet's 16th birthday.
Richard Long (1948) – Liz dated actor Richard Long from May to August 1948.
Marshall Thompson (1948) – The stunning beauty's name was linked to fellow MGM actor Marshall Thompson in the summer of 1948.
Glenn Davis (1948-1949) – In 1948, football player Glenn Davis and Taylor set eyes on each other during a football match. Davis proposed to his lady love in March 1949 after 4 months of dating. However, the following month, the couple went their separate ways.
Ronald Reagan (1949) – According to reports, Liz had a short-term affair with future President Ronald Reagan when she was 17 years old.
Robert Taylor (1949) – Her co-star Robert Taylor from Conspirator (1949) was rumored to have had a fling with the charming actress.
William Pawley Jr. (1949) – The young Taylor fell for U.S. Army pilot William Pawley Jr. in 1949. A month after meeting, the lovebirds announced their engagement – a 2nd time for the 17-year-old. But as her career began growing rapidly, the marriage plans fell through.
Ralph Kiner (1949) – In December 1949, baseball icon Ralph Kiner was seen on a date with Liz at the premiere of the war film, Twelve O'clock High, which was arranged by singer Bing Crosby. However, after an embarrassing night, Kiner never mustered the courage to ask her out again.
Conrad Hilton Jr. (1949-1951) – Taylor's first of several marriages took place to the future heir of the Hilton hotel chains, Conrad Hilton Jr. After meeting at an LA nightclub in October 1949, things moved quickly and they got engaged by February 1950. Their fairytale wedding took place at the Church of the Good Shepherd in Beverly Hills on May 6, 1950. The highly-publicized ceremony was financed by MGM, who used it as a campaign to launch the star's next film, Father of the Bride (1950). Hilton turned abusive, right from the start of their 3-month-long European honeymoon. The 18-year-old bride filed for divorce in December 1950, less than 8 months after the wedding. Taylor received $500,000 in divorce settlement which was finalized on January 29, 1951.
Pat DiCicco (1950-1951) – During her marital dispute, Liz found solace in the arms of businessman Pat DiCicco.
Montgomery Clift – RUMOR
Stanley Donen (1951) – Singin' in the Rain director Stanley Donen and Liz Taylor became an item for some time in 1951.
Ivan Moffat – British socialite and screenwriter Ivan Moffat had a brief fling with the actress during the shooting of the drama, A Place in the Sun.
Michael Wilding (1951-1957) – Elizabeth met Michael Wilding in July 1951 while shooting for Ivanhoe in England. Distraught with her failed first marriage, she soon found herself attracted to the calm and quiet temperament of this British actor. Although 20 years her senior, Wilding became her second husband after they got married in London on February 21, 1952. The couple welcomed 2 sons – Michael Howard Wilding Jr. (b. January 6, 1953) and Christopher Edward Wilding (b. February 27, 1955), who both grew up to become actors themselves. By the summer of 1956, personal differences put an end to their 4-year-long marriage. The couple got divorced on January 26, 1957.
Peter Lawford (1955) – Taylor reportedly had a fling with her Julia Misbehaves (1948) co-star Peter Lawford in 1955. The British actor was also well-known for being the brother-in-law of President John F. Kennedy.
Kevin McClory (1955-1956) – Irish writer Kevin McClory had an affair with Taylor in 1956, while she was married to Wilding. The two had planned to get married but the Cleopatra actress dumped him for his close friend Mike Todd. Although it strained the relationship between McClory and Todd during the production of Around the World in 80 Days (1956), they eventually buried the hatchet for good.
Mike Todd (1956-1958) – On February 2, 1957, Elizabeth married film producer Mike Todd in Mexico. Their daughter Elizabeth "Liza" Frances Todd was born on August 6, 1957. After a difficult labor and cesarean birth, Taylor was sterilized on the insistence of her husband. Like her previous marriages, their relationship could be best described as tempestuous. Sadly, Todd died in a plane crash on March 22, 1958, leaving her widowed.
Arthur M. Loew Jr. – Producer Arthur M. Loew Jr. was one of the leading lady's romantic conquests.
Eddie Fisher (1958-1964) – After being devastated by her husband's death, Elizabeth found companionship in her good friend and singer Eddie Fisher. His wife Debbie Reynolds had served as the matron of honor during Taylor's wedding to Mike Todd in Mexico. Therefore, their affair shocked the world as the grieving actress was blamed for breaking up the perfect marriage of Fisher and Reynolds. Her public image drastically changed and she was unceremoniously called a 'homewrecker'. Amidst all the scandal, Fisher became her 4th husband on May 12, 1959, after they got married in a Jewish ceremony in Las Vegas.
Richard Burton (1962-1974 & 1975-1976) – Elizabeth and Richard Burton met on the sets of Cleopatra during the early 60s in Rome. Though the two were instantly besotted with each other, Taylor and Burton were both married at that time. Their extramarital affair caused public outrage, with the Vatican deeming their behavior as 'erotic vagrancy'. After Taylor's divorce from Fisher was finalized, she walked down the aisle for the 5th time on March 15, 1964, at the Ritz-Carlton Montreal hotel. The couple worked in 11 films together and their jet-set lifestyle became a constant fixture in the tabloids. Burton lavished his wife with designer clothes, fine jewelry, and exotic vacations. He reportedly paid a whopping $1.1 million for the 13.8 g Cartier diamond, which was later renamed the 'Taylor-Burton Diamond'. Their marriage was marked by multiple accounts of infidelity, scandals, and excessive indulgences. The couple got divorced for the first time in June 1974. However, separation seemed too difficult for the lovers to bear and so, they reconciled a year later. Their second marriage lasted from October 10, 1975, to July 1976. Decades later, the emotional actress revealed that Richard Burton was one of her true loves (the other being Mike Todd).
Robert Stack (1973) – One of her se*ual encounters was actor Robert Stack, with whom she had starred in the 1948 film A Date with Judy.
Frank Sinatra – She was rumored to have slept with legendary singer and actor Frank Sinatra in the 70s.
Henry Wynberg – During the 70s, another man in the BUtterfield 8 actress's life was Henry Wynberg.
Vic Damone – Singer Vic Damone was also one of her ex-boyfriends.
David Bowie – Musician David Bowie met the legendary film star in 1975 after he was asked to audition for a role in her spy film The Blue Bird (1976). Bowie did not land the role but formed a lifelong friendship with Taylor. Some considered their relationship to be an amorous friendship, while others saw it as a s**ual tryst.
Ardeshir Zahedi – Elizabeth met Iran's ambassador to the United States, Ardeshir Zahedi during a trip to Iran in the mid-1970s. The two formed a lasting friendship and even dated for around 2 years, but maintained that their relationship was purely 'platonic'.
Peter O'Toole (1975) – Notorious Irish actor Peter O'Toole was said to have bedded Elizabeth Taylor in 1975 along with several other top actresses of their generation. Reportedly, he bragged about their encounter with his close drinking pal (and her husband), Richard Burton claiming that Liz considered him (O'Toole) to be better in the sack.
John Warner (1976-1982) – In August 1976, Liz began dating Republican politician John Warner. Following a brief courtship, Warner became the star's 6th husband on December 4, 1976. Taylor devoted all her time to help him get elected to the U.S. Senate, which was accomplished in 1979. But, she found life in Washington D.C. to be very boring and lonely as her husband was constantly away on his political commitments. As a result, she began abusing prescription drugs and alcohol. Their marriage came to an end in 1981 and was finalized in November 1982.
Carl Bernstein – In the early 1980s, Taylor had a relationship with writer Carl Bernstein.
Anthony Geary (1982-1984) – Actor Anthony Geary, who was 15 years younger to Elizabeth, was in the starlet's life for a short time after her divorce from Warner.
Victor Luna (1983-1984) – Mexican lawyer Victor Luna and Taylor were engaged from 1983 to 1984. News of their break up came soon after her ex-husband Richard's death in August 1984. However, Victor clarified that the couple had split up almost 3 months before as their careers required them to live in different parts of the world.
Dennis Stein (1985) – New York businessman Dennis Stein was engaged to the stunning actress in 1985.
Robert Wagner (1985) – The Pink Panther (1963) actor Robert Wagner had an affair with Liz Taylor in 1985.
George Hamilton (1986-1987) – From 1986 to 1987, Liz dated fellow actor George Hamilton.
Larry Fortensky (1988-1996) – Elizabeth's 7th and last husband was construction worker Larry Fortensky. She met her much younger beau at the rehab clinic, Betty Ford Center in September 1988. The couple became husband and wife at Michael Jackson's Neverland Ranch on October 6, 1991. The highly-sought wedding pictures were sold to People Magazine for $1 million, which Liz put into building the AIDS Foundation. After 5 years together, the couple got divorced in October 1996.
Rod Steiger (1996-2002) – She allegedly dated the famous actor Rod Steiger from 1996 until 2002. Steiger is well-known for his work in films like In the Heat of the Night (1967), On the Waterfront (1954), Doctor Zhivago (1965), etc.
Jason Winters – Taylor's manager Jason Winters, who is also known for managing Janet Jackson, was seen as her constant companion during her last few years. The two were reportedly introduced by her buddy Michael Jackson. Rumors of Taylor marrying for the 9th time began doing the rounds in 2010, a year before her death.
Colin Farrell (2009-2011) – She shared a close bond with Irish actor Colin Farrell and the two were also romantically linked. Colin Farrell formed a close friendship with Taylor during her last few days. He attended her funeral and read Gerard Manley Hopkins's poem "The Leaden Echo and the Golden Echo" in her honor.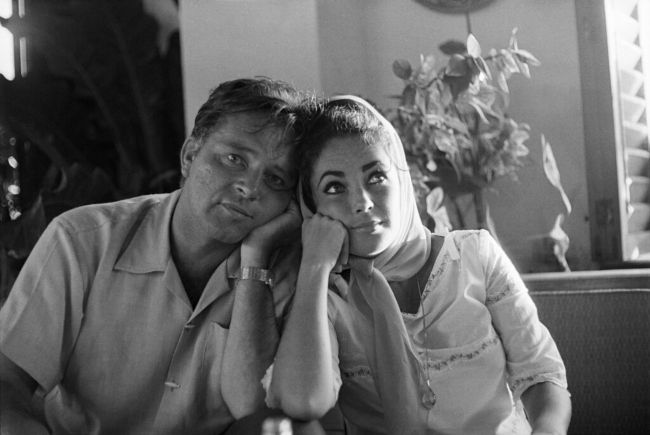 Race / Ethnicity
White
She had English, French, Swiss-German (1/8th), Dutch, Welsh, Scots-Irish/Northern Irish, and Danish ancestry.
Hair Color
Black
Eye Color
Dark Blue that almost appeared Violet.
Sexual Orientation
Straight
Distinctive Features
Double set of eyelashes caused by a genetic mutation
Violet eyes
Beauty mark on her right cheek
Brand Endorsements
Elizabeth had done endorsement work for the following brands –
Lux Soap (Print Ad)
Woodbury Soap (Print Ad)
Max Factor Cosmetics (Print Ad)
Lustre-Creme Shampoo (1957)
amfAR
Perma Soft Shampoo & Conditioner (1986) (Print Ad)
"I Love New York" Campaign (PSA) (1992)
GLAAD
Whitman's Chocolate
ArtCarved Diamonds
Religion
Elizabeth was raised in the Christian Science faith.
But, she got converted to Judaism in 1959 and was buried according to Jewish customs in 2011.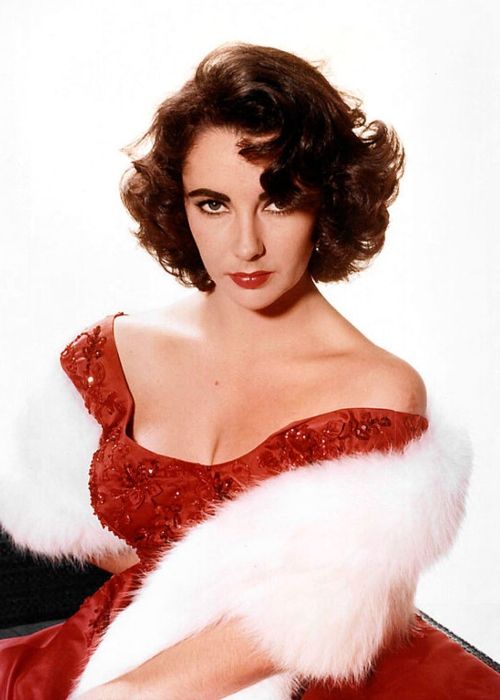 Best Known For
Being one of the top actresses of the 1950s and 60s with films like National Velvet (1944), Ivanhoe (1952), Giant (1956), Cat on a Hot Tin Roof (1958), BUtterfield 8 (1960), Who's Afraid of Virginia Woolf? (1966), etc.
Her string of high-profile marriages and relationships with some of the leading men in Hollywood
Playing Cleopatra in the eponymous film in 1963, during which time her extramarital affair with co-star Richard Burton caused a huge uproar
Her treasure trove of exquisite pieces of jewelry which included rings, necklaces, pendants, and earrings made from iconic pearls and diamonds
Being one of the first Hollywood celebrities to speak out openly about the HIV/AIDS crisis in the 1980s and her undeterred work in the scope of AIDS research and treatment
First Film
Elizabeth made her theatrical film debut as Gloria Twine in the comedy film There's One Born Every Minute in 1942.
First TV Show
Elizabeth made her first TV show appearance on the game show What's My Line? as 'Herself' (Mystery Guest) on November 14, 1954.
Additionally, her guest appearance on the variety comedy series The Ed Sullivan Show appeared on the same day.
Personal Trainer
During her marriage to John Warner, her binge eating habits resulted in her weight touching 180 lbs in 1982. But, she managed to lose 60 lbs by 1988 with the help of a 1000-calories-a-day diet. The Ivanhoe star revealed secrets about the 'Taylor-Made Diet' in her best-selling diet book called Elizabeth Takes Off in 1987. According to the book, she followed a low-fat, high-protein diet plan involving plenty of fish, chicken, vegetables, and fruits.
Liz's diet plan consisted of –
Due to her health problems, she followed simple toning and stretching exercises throughout this time. Furthermore, the Lassie Come Home actress also allowed herself fun indulgences like chocolate martinis, and cheat meals every once in a while.
Elizabeth Taylor Favorite Things
Pastime – Celebrity gossip, strolling in the garden
Actors – Marlon Brando, Warren Beatty
Foods – Chasen's Chili from Los Angeles, Caviar, Fried chicken and mashed potatoes
Designers – Valentino, Gianni Versace, Halston
Alcoholic Drink – Jack Daniel's
Flowers – Gardenias, Lily of the Valley
Quote – You might as well live by Dorothy Parker
TV Show – Law & Order
Gay Bar – The Abbey in Hollywood
Photograph – A shot of her cutting Burton's hair backstage during his Broadway run of Hamlet taken by Henry Grossman
Colors – Lavender, Purple, White, Periwinkle Blue
Name For A Color – Puce
Cocktail – Chocolate Martini (a mixture of Hershey's syrup, vodka, and Kahlua)
Source – Vanity Fair, EverybodyEatsNews.com, Harper's Bazaar, Vanity Fair, InterviewMagazine.com, The Cut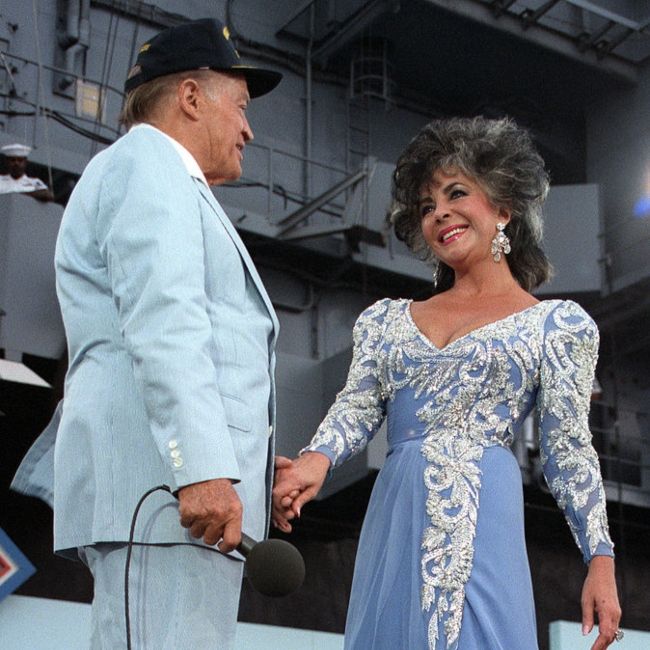 Elizabeth Taylor Facts
Although she was born in London, Taylor's parents were American citizens who had moved to England in 1929. However, after the outbreak of World War II in 1939, her family moved back to the United States.
Liz, who was known for her enviable beauty, was rumored to have had a nose job in her 20s, and a chin implant and facelift in her later life.
On May 12, 1956, her good friend Montgomery Clift suffered an almost fatal car crash. After leaving a dinner party at Taylor's house, Clift fell asleep behind the wheel and collided with a telephone pole. The actress quickly rushed to his car and pulled out a tooth from his throat that was stifling his breathing. Nevertheless, Clift suffered multiple injuries including a broken jaw and nose and the accident effectively damaged his rising career.
Legendary businessman Howard Hughes was so taken by the young starlet that he offered her parents a large sum of money (in 6 figures) in exchange for her hand in marriage. Elizabeth allegedly laughed off his ludicrous offer.
She hated being called Liz as, according to her, it sounded like a hiss.
As a perfume aficionado, Liz had released a collection of best-selling perfumes. Those included were Passion in 1987, White Diamonds in 1991, Diamonds and Rubies in 1993, Diamonds and Emeralds in 1993, Diamonds and Sapphires in 1993, Black Pearls in 1996, Violet Eyes in 2010, and many more.
Elizabeth became the first-ever actress to receive $1 million for a film role; in her case Cleopatra (1963).
In 1999, the American Film Institute ranked her as the 7th 'Greatest Female Screen Legend' from the Golden Age of Hollywood.
She was awarded the Dame Commander of the Order of the British Empire by Queen Elizabeth II at the 2000 New Year Honours for her life-long services to acting and charity. British actress Julie Andrews was also knighted at the same event.
She was ranked at #16 on the list of '100 Sexiest Stars in Film History' by Empire Magazine in 1995.
Liz received the John F. Kennedy Center Honors in 2002.
Elizabeth won her first Best Actress Academy Award for BUtterfield 8 in 1961. She was going through one of the most difficult times as her husband Mike Todd had passed away in 1958, she had barely survived a bout of pneumonia and had to undergo a tracheotomy. Rumors began circulating that she had won by sympathy votes; a sentiment shared by Shirley MacLaine (who was favored to win that year) who felt that she had lost out to a tracheotomy.
Elizabeth was 3 years younger than her stepson Michael Todd Jr. (born in 1929). Todd Jr. was the son of Mike Todd and his first wife Bertha Freshman.
Entertainment Weekly named her as the 11th 'Greatest Movie Star of All Time.'
Taylor was the matron of honor at Liza Minnelli's over-the-top wedding to David Gest in 2002. Michael Jackson served as the best man.
In 2002, she launched her book My Love Affair with Jewelry, which documented her magnificent jewelry collection.
Writer Charles Bukowski had written a scathing review of Taylor in his newspaper column, Notes of a Dirty Old Man. He called the actress an absurd icon of the celebrity-mad, American culture that he despised.
In response to her Giant co-star Rock Hudson's illness in 1985, she organized "A Commitment to Life" event to facilitate AIDS research. The celebrity event was attended by several of her famous Hollywood friends and amassed over $1.3 million.
Liz is one of the few actors who has voiced a fictional character and herself on The Simpsons. She had voiced the character of Maggie Simpson in Lisa's First Word in season 4 and portrayed herself in the episode, Krusty Gets Kancelled in season 4.
In 2006, she launched the House of Taylor, a line of precious stones and diamond jewelry designs.
In 1979, Liz auctioned off the famous 'Taylor–Burton Diamond' for $3 million and donated the proceeds towards building a hospital in Botswana.
Liz actively lobbied for the role of Eliza Doolittle in the classic My Fair Lady, which went to Audrey Hepburn.
She was godmother to Michael Jackson's kids, Paris Jackson and Prince Michael Jackson. Their godfather is actor Macaulay Culkin.
During 1970, in one of the episodes of Here's Lucy, the protagonist played by Lucille Ball gets the 'Taylor–Burton Diamond' stuck on her finger. The episode titled Lucy Meets the Burtons, featuring Richard and Elizabeth as guest stars with the actual diamond ring, became one of the most popular episodes of the series.
She refused to attend the 75th Annual Academy Awards in 2003 in protest of the Iraq war.
In 2010, during one of her last interviews ever Taylor remarked to Us Weekly that Who's Afraid of Virginia Woolf? was the film she was the proudest of.
In 1962, Andy Warhol painted a 7-foot tall portrait of Liz with her different husbands, calling it the 'Men in Her Life'. The painting was sold for $63.4 million at an auction in 2010.
Her longtime companion named Sugar, a Maltese dog passed away in 2005. She then paid about £1,000 for Daisy, who was one of Sugar's descendants.
In December 2007, Liz was inducted into the California Hall of Fame, located in Sacramento.
Among her enviable jewelry collection were the 33.19-carat Krupp Diamond, the 69.42-carat Taylor-Burton Diamond, and the historic 50-carat La Peregrina Pearl (once owned by Mary I of England), all of them gifted by Richard Burton.
Liz received her first Oscar nomination for the Civil War drama Raintree County (1957). She was nominated consecutively for Best Actress from 1958 to 1961, ultimately winning for BUtterfield 8 in 1961. Other actors with similar consecutive nominations are Jennifer Jones (1943-1946), Al Pacino (1972-1975), Marlon Brando (1951-1954), and Thelma Ritter (1950-1953).
Liz was a heavy smoker for most of her life and smoked around 2 packs every day. She finally kicked the habit in 1990 after suffering from pneumonia.
She received a Hebrew name, Elisheba Rachel after converting to Judaism in 1959.
Liz was not present to receive her 2nd Best Actress Oscar for Who's Afraid of Virginia Woolf? in 1967. It was received by actress Anne Bancroft in her stead.
Liz's extensive jewelry collection was auctioned off at Christie's after her death. The $156.8 million earned were donated to the Elizabeth Taylor AIDS Foundation to fund AIDS research.
Liz was awarded a star on the Hollywood Walk of Fame in 1960. In 2013, Richard Burton's star was placed next to her plaque at 6336 Hollywood Boulevard.
Michael Jackson paid tribute to Taylor with his music video, Leave Me Alone (from the 1987 album Bad) by mixing real footage from her movies with the latest CGI technology of its time.
She was close friends with actor James Dean, with whom she starred in the 1956 film Giant. Dean died in a car crash shortly after finishing shooting his scenes for the film. Reportedly, Taylor was so distraught after hearing the tragic news that she had to be admitted to a psychiatric ward for the next few days.
The Library of Congress has included 5 of her films in the 'National Film Registry' for their cultural, historical, and aesthetical significance. These films are Lassie Come Home (1943), National Velvet (1944), A Place in the Sun (1951), Giant (1956), and Who's Afraid of Virginia Woolf? (1966).
During the span of her career, the veteran actress had made 14 solo appearances on the cover of People Magazine. Similarly, she was featured on the cover of Life Magazine for  14 times as well.
Liz was engaged for a total of 13 times; 8 of which culminated in marriage and on the other 5 occasions, she called off the engagement.
She suffered from multiple health problems throughout her life. The movie star was diagnosed with scoliosis at birth, faced a severe bout of pneumonia in 1961 which needed a tracheotomy, underwent a hip replacement surgery in the 1990s, was treated for a benign brain tumor in 1997, skin cancer in 2002, and was revealed to suffer from congestive heart failure in 2004.
Her funeral took place at the Forest Lawn Memorial Park in California. As per her wishes, the Jewish ceremony was delayed by 15 minutes so she could be late to her own funeral, in true Elizabeth Taylor style.
Her post-movie career focused mainly on philanthropic work and she received several honors for her efforts. In 1987, she was made a Knight of the French Legion of Honour, she received a Jean Hersholt Humanitarian Award in 1993, and a Presidential Citizens Medal in 2001.
Visit her official website @ elizabethtaylor.com.
Featured Image by Uncredited / Wikimedia / Public Domain