The awareness about vegetarianism is certainly on the rise in Hollywood with more celebrities flocking to a vegan lifestyle. In India, where vegetarian food has been in fashion for centuries, the concept is having a mini-revival as well, after a significant rise in non-vegetarian eating over the past couple of years. Some Bollywood celebrities are leading by example to raise awareness about healthy and clean eating habits. Here, are Bollywood's hottest vegetarian celebrities for 2015.
Kangana Ranaut, who had a smashing 2014 with her movie 'Queen' winning critical acclaim and doing great business in multiplexes as well, is a strict vegetarian. She turned vegetarian-only after coming to Mumbai and has gone on record to assert that it has brought a lot of positivity in her life. In a recent interview, she said that being vegetarian has inspired her to make positive changes in her lifestyle and has also helped in maintaining her flawless beauty. She has been named on the prestigious list of hottest vegetarian Bollywood celebrities by PETA.
2. Celina Jaitley
Celina Jaitley, who burst into the limelight by winning Femina Miss India Universe in 2001 has been a staunch supporter of PETA's campaigns. In 2013, she participated in the 21-Day Vegan Kickstart program along with other celebrities. Celina has often stressed the need to take responsibility for everything that surrounds us and abstain from animal cruelty just to sate our cravings. In numerous interviews, she has attributed her hot body to observing a carefully developed vegetarian diet which along with giving her glow gives her abundant energy.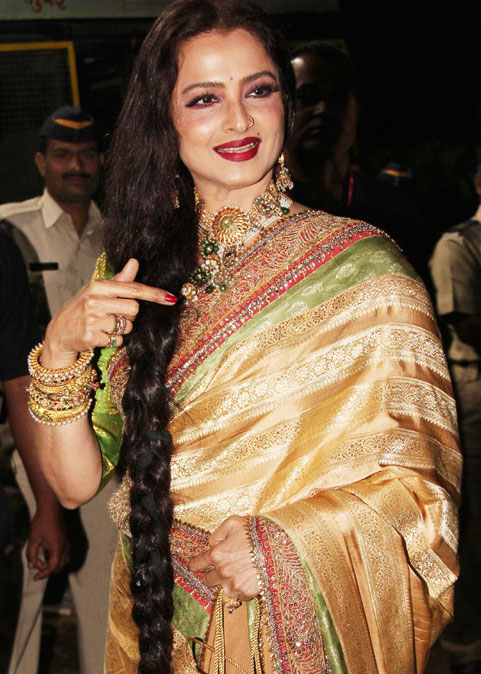 The legendary actress Rekha has been a vegetarian for her entire life. In a recent list of Bollywood's hottest vegetarian celebrities by PETA, along with Prime Minister Narendra Modi, she was named on the list. Rekha, who was Bollywood's first female celebrity to pay special attention to her diet has been vegetarian for years and she attributes her preference to her South Indian eating habits. Rekha does eat eggs, which she puts down to the body's protein needs. She believes that being vegetarian has helped her in honing her spiritual beliefs or rather being vegetarian is a major aspect of her spirituality.
Vidyut Jammwal, who has made countless girls swoon with his amazing physique has been a vegetarian since the age of 14. Vidyut is a trained martial artist and prefers to do stunts on his own. He has, in numerous interviews, debunked the fact that you need to eat meat to succeed in bodybuilding. He has ably proved that even with vegetarian diet, one can develop a stunning physique. He has gone on record to say that being vegetarian has completely transformed him and his life. He claims that his body and mind connection has improved ever since he turned vegan.
Vidya Balan, with her curvaceous figure and beautiful face, has become every Indian men's fantasy. And, who can forget her sizzling role in 'Dirty Picture' which brought the plus size fad back into fashion? She was awarded the title of Bollywood's sexiest vegetarian celebrity in 2012. Vidya has been vegetarian for her whole life and has recently added eggs to her diet on her dietitian's insistence. She drinks vegetable juices regularly and loves eating whole fruits. For lunch and dinner, she prefers to keep traditional and simple with dal, roti, sabzi, and rice.
Last year, Mallika Sherawat made a scant appearance in movies, but her bold attitude and fashion style ensured that she remained in the headlines. Mallika is a complete vegetarian, who loves to eat fruits and vegetables. In an interview, she has revealed that she drinks a lot of water and consumes about one and a half kg of limes every day. She also loves to eat water-rich fruits such as watermelon. And, her water-rich diet has given her a beautiful glow. Such is her fascination with vegetarian food that she wants a life partner who is a vegetarian yogi, who doesn't smoke or drink.
Despite crossing the dreaded mark of seventy, Amitabh Bachchan is still going strong. His energy and enthusiasm on the movie sets can put his younger colleagues to shame. The Shahenshah of the Bollywood has been vegetarian for years and has been nominated by PETA as the hottest vegetarian celebrity three times in the past. We guess the secret of Big B's impressive energy and longevity is his vegetarian diet.
There aren't many things for which Kareena would fondly remember her ex-boyfriend Shahid Kapoor. But, we guess vegetarianism could be one of them, as it has helped her in attaining her trademark – size zero. Kareena has confessed in numerous interviews that she loved her non-vegetarian food and was particularly fond of traditional Punjabi non-veg delicacies such as chicken tikkas, kababs, mutton rolls, and fish fries. But, after getting in a relationship with Shahid Kapoor, she was convinced by her flame to change her lifestyle for good. It helped her in shedding kilos from her voluptuous figure and also helped her in developing a more balanced attitude.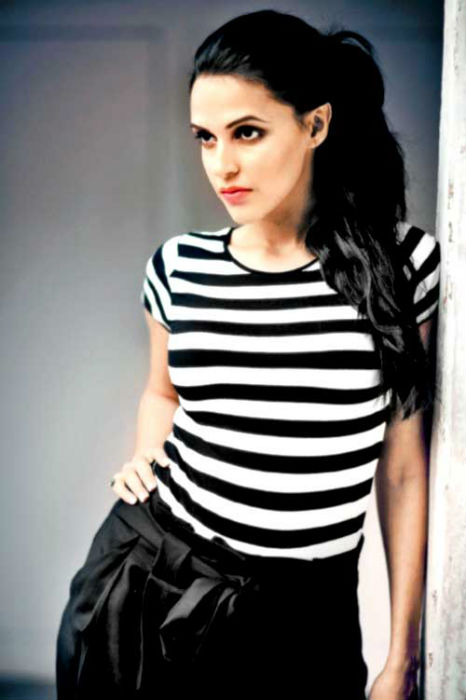 Neha Dhupia has one of the hottest bodies in Bollywood and is the winner of the Femina Miss India title. She was named PETA Asia-Pacific's Sexiest Vegetarian Woman for 2011 and PETA India's Sexiest Vegetarian in 2009. She has also done several advertising campaigns for the animal rights group and has been a very vocal supporter of vegetarianism. Neha, who was non-vegetarian, turned to vegetarian for health reasons and has now eliminated dairy products from her food to go vegan. She asserts that being a vegetarian has brought a balance into her life.
Shahid is one of the staunchest supporters of a vegetarian lifestyle and has inspired many including his ex-girlfriend Kareena to change their food preferences. Shahid like Vidyut is a perfect example of a man with great physique while being on a vegetarian diet. Shahid turned vegetarian after reading 'Life Is Fair' by Brian Hines, which was gifted to him by his father Pankaj Kapoor.