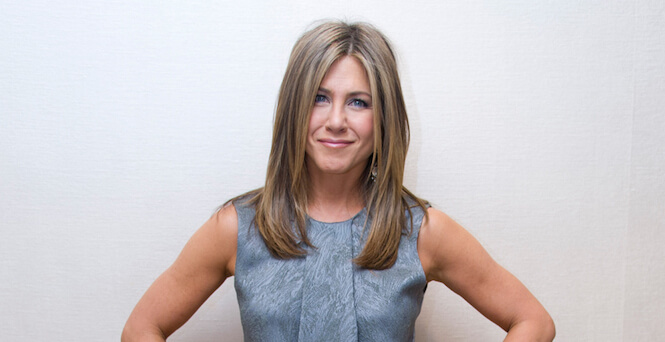 Even in her late 40s, Jennifer Aniston has the charm and body that puts most actors twice as younger to shame. She even surpassed Kim Kardashian on the Most Powerful Celebrity list of Forbes in 2014.
For all those who are just awestruck by the fabulous youthfulness and the well-sculpted body of the Friends actress, we bring to you the diet and fitness mantra of this beauty.
According to the actress –
'While we are younger, most of us are always working out to get smaller arms, a toned butt and a flat stomach. But there is no such thing as doing it too hard and it is best to let it be. Just do it a little soft.'
The down-to-earth diva does not let her name and fame get to her and makes sure to follow a healthy diet and fitness regime that are easy for anyone. She took to her Living Proof Instagram page to share her latest diet and exercise routine.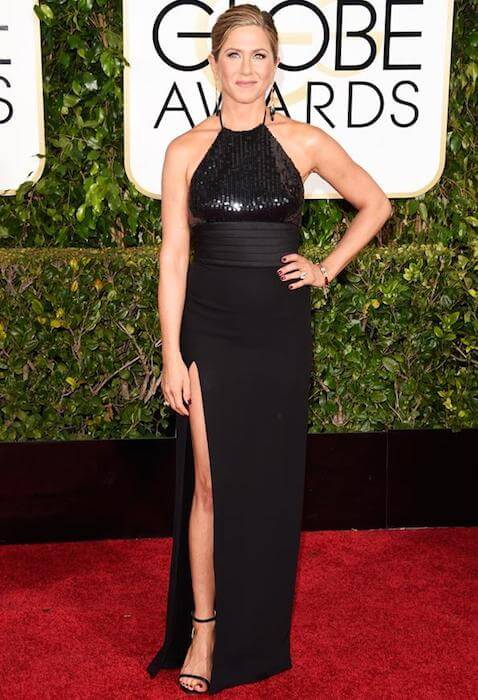 According to Jennifer Aniston's personal trainer Kathy Kaehler, having five meals a day could help one stay slim and healthy. She revealed that Aniston tries to have at least three to five meals daily. Kathy said –
'I don't believe in calorie counting. Jen eats at least three times a day, or ideally five small but nutritious meals.
Kathy said that calorie counting was not something that she believed in and she ensured that the actress had nutritious meals at least three times a day.
Jennifer Aniston 2015 Workout and Diet
Jennifer's Mornings
The gorgeous actress starts her day with warm water and lemon usually. She then follows her routine of having a cup of coffee and feeding her dogs. Her breakfast mostly consists of a shake, eggs, avocado and coconut oil on Ezekiel whole wheat toast. She also has sliced tomatoes with avocado on a toast, sometimes. After her breakfast, she hits the gym.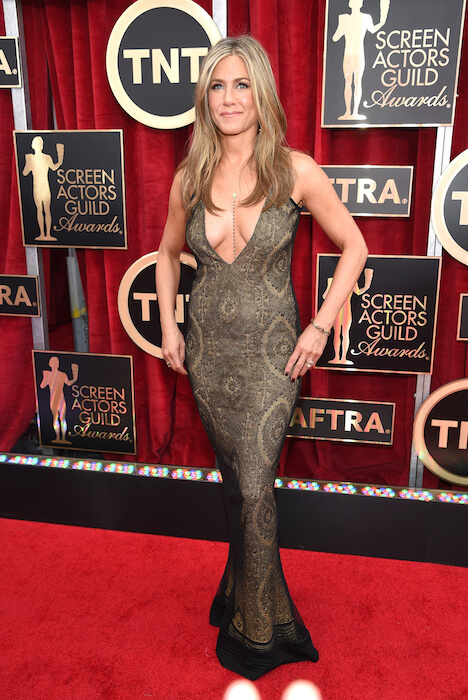 Water Is Her Best Friend
Aniston has a 23-ounce smart water bottle and she makes sure to have at least 3-4 bottles of water daily. According to the actress, drinking water is a habit for her. She recommends everyone to drink a lot of water as it is an important part of a healthy lifestyle. She says that most people are water lazy and so, she advises her fans to become water-friendly.
Mediterranean Lunch
She usually burns calories in the morning and then resumes her work. For lunch, she prefers a Mediterranean salad, which includes, bulgur, cucumbers, parsley, mint, red onion, garbanzo beans, feta cheese, and pistachios. She revealed the ingredients of her salad in an Instagram post.
Her personal trainer advises everyone who wants to eat healthy the whole week to buy all the food at once. By buying the required food for the entire week at once, unwanted snacks or packaged ready meals can be avoided during the weekdays.
The actress keeps fresh eggs which she picks from her own chicken coop. Even, if she has the craving for cookies, she would not start eating a whole pack but would take one cookie and savor it.
According to her trainer, the actress follows moderation in everything that she does. Even when Jennifer Aniston goes out with a friend, she would have one glass of wine and enjoy every sip rather than having two bottles and feeling guilty later.
For dinner, the young actress prefers keeping it light and usually have some boiled vegetables and eggs with a glass of wine.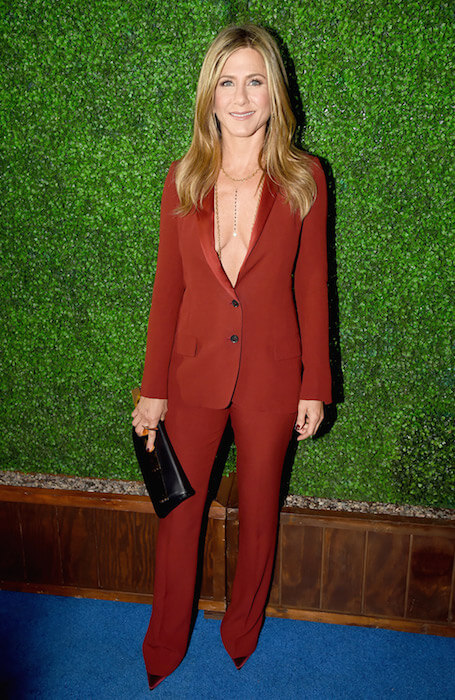 Kathy said –
'Jen knows that looking young comes from a holistic approach to life and taking care of your mind, body and soul. If you're stressed, you'll look tired.'
Jennifer's Workout Routine
The actress follows a different workout every day. She has a hip flexor injury and so cannot do yoga. Barre method of exercising is her preferred routine. She usually does cardio for 20-30 minutes and then spends an hour on the barre method.
She makes sure to exercise daily and even when she is not well, the actress tries to follow a fitness routine. Her hip injury had been making her feel terrible for about three weeks and there were times when she felt like she would never walk again, but she did not give up and got over her pain.
Engaged to actor Justin Theroux, the actress follows a balanced life and owes her svelte figure to her healthy ways. For everyone, who wants to have a perfect body just like Aniston, it should be remembered that control is essential and living a healthy life is a choice that should be made for a better tomorrow.
The actress advises everybody to stay happy as that is the key to a long life.
Jennifer Aniston 2016 Workout and Diet Secrets
Jennifer Aniston is among the most beautiful women in the world. She has got the title of People magazine's World's Most Beautiful Woman twice, once in 2004 and now in 2016. She is not just a gifted actress but she is also a lifestyle icon for millions of people spread across the world. She has a very straightforward approach towards health, workout, diet, and beauty. Let's have a look at all her fitness secrets here.
Early Mornings
The wife of Justin Theroux begins her day at 4.30 am. She is an early riser because she thinks that things need to be easy in life. She also wakes up Justin early in the morning and they spend about 10-20 minutes in meditation.
Workout Routine
The star begins her workout routine at 6 in the morning. She does a spin plus yoga class with a beautiful woman (We don't know who yet!). Spin is for half an hour and yoga is for 40 minutes. The workout regime of the diva changes through the week. Three times a week, she follows the yoga and spin combo.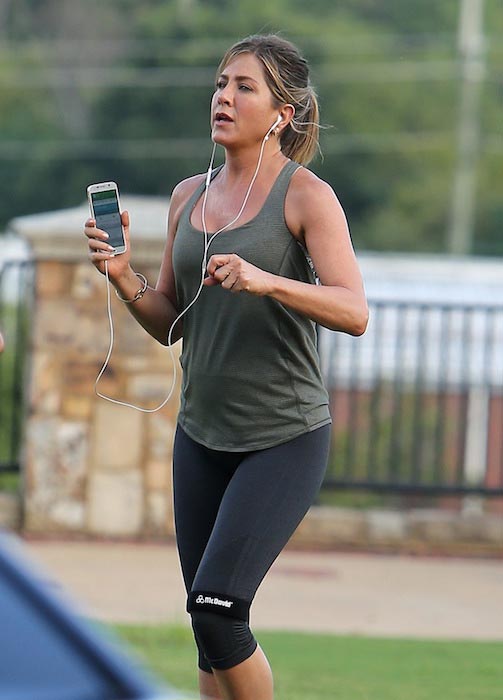 She also does weight training at home three times a week. Jennifer adds in a bit of cardio to her exercise routine at home. She has named her home cardio session a "trifecta." As a part of the trifecta, she exercises on a bike, runs on the treadmill and spends time on the elliptical just to keep things interesting in the gym. She does 15 minutes of each exercise. The mixing up of things helps her to keep the workout appealing and attain muscle confusion. The stunner exercises once a day only and she takes every Sunday off.
Workout Motivation
The workout motivation of the producer is quite unique. She just thinks of the things she will be able to get after a workout. Aniston thinks about the wonderful pasta or the Mexican meal she will have on the weekend to keep working out through the week.
Taking Breaks
The beauty admits that she gets bored of exercising too. To cope with it, she take breaks. Though getting back to workouts after a break is pretty tough, but she gets used to it and often loves and craves exercising.
Yoga Benefits
The winner of Sexiest Woman of All Time title in 2011 thinks that yoga gives her inner strength. She calls the yoga experience to be unique because it allows her to get meditation, workout and time out in just one hour. She has also credited her well being and everlasting good looks to yoga.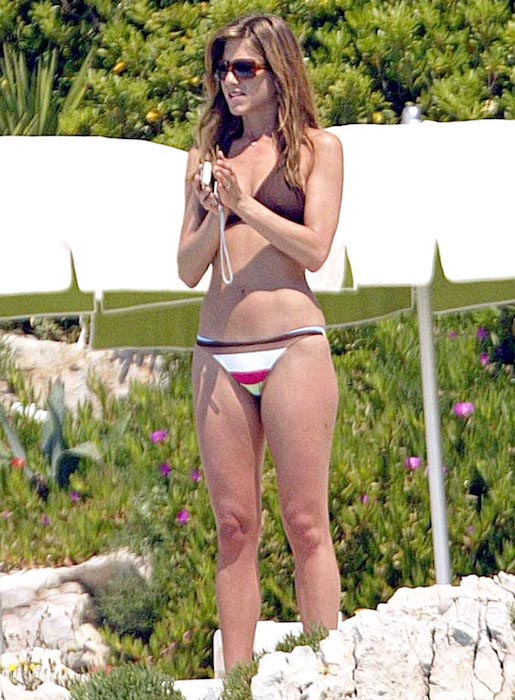 Not Crazy about Working Out
The director is not crazy about working out. If she can work out, she does it but if she can't manage it, she doesn't make it an issue because she is a healthy person.
Sweating for Beauty
The daughter of actor John Aniston and actress Nancy Dow thinks that exercising and sweating can enhance beauty. She exercises a lot and often spends time in an infrared sauna a couple of times a week because she thinks it's very good for detoxifying, relaxing and cell regeneration.
Downtime is Vital
Downtime is a vital aspect of Jen's life. She thinks that there's a lot to see and learn in the world. She does not want to be on a vacation all the time but thinks that downtime is a necessity that mustn't be avoided by anyone. (And we totally agree!!)
Diet Secrets
The ex-wife of Brad Pitt doesn't follow a strict eating regime as she has given up watching every bite she has daily. She monitors her diet but is not too strict about it as she has almost every food in moderation. She just eats healthy foods, enjoys steak three times a week, sticks to low-carb meals and loves having salmon in her meals.
Diet Plan
The diet of The Good Girl (2002) actress starts with some hot water that has a bit of lemon. The alkaline nature of it is good for her body, especially in the mornings. She then has a cup of coffee with stevia and low-fat milk.
Breakfast
The breakfast option of the businesswoman is a protein shake that she makes by adding greens powder, cherries, bananas, blackberries, one drop of stevia, some chocolate almond milk, a collagen peptide and some cacao powder. The chocolate flavor of the drink makes it tastier and hides the protein taste, which she doesn't like anyway.
Morning Snack
The Just Go with It (2011) actress has a hard-boiled egg as a mid-morning snack, a few hours after her morning shake.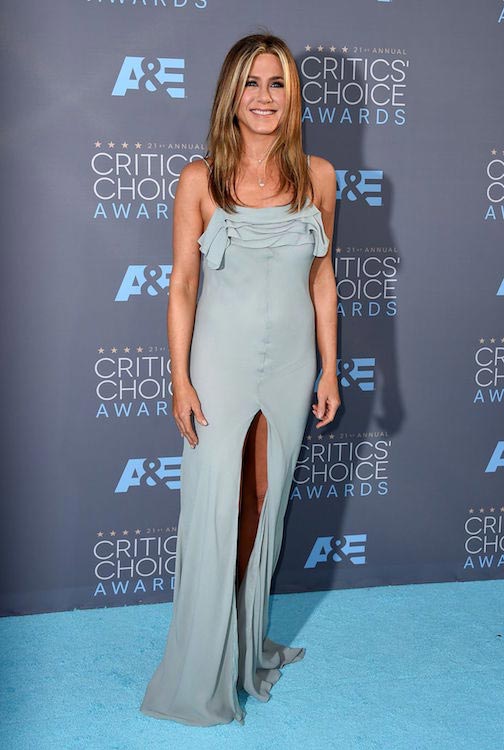 Lunch
The lunch option of the Horrible Bosses (2011) actress is ahi tuna with lentil salad and cucumber. She adds some olive oil to it and makes it delicious by dipping it in Bragg's amino acids rather than using any soy sauce.
Evening Snack
If Aniston is feeling hungry a few hours after lunch, she just has some soup or a cheese stick and munches on it.
Dinner
The dinner of the American celebrity includes having roasted chicken with pesto sauce and spiraled zucchini. She and Justin also make pasta carbonara every couple of weeks.
Diet Treats
The diet treats of the talented actress are something that's salty-savory. She allows herself to indulge in a treat especially when she has a good workout.
Indulgence is Good
The Bruce Almighty (2003) actress does not believe in dieting. She is against all the fad diets and thinks that they are only useful because some of them cut out complex carbs. She also insists that having a bit of pasta every now and then is totally okay if you really want it. Just make sure that you don't overindulge in bad stuff like sugar or alcohol as they can harm your health.
Definition of Beauty
Jennifer believes that inner confidence, exercise, honesty, and nutrition are a few keys to beauty. She opines that beauty is not just about how you look. It is also about learning to love everything you are. You should also remember that beauty is not just related to looking good in certain clothes, it's also associated with being beautiful from the inside. (Great Thoughts!!)
Jennifer Aniston 2017 Workout and Fitness Secrets
Jennifer Aniston is one of the most genuine actresses in Hollywood as she has never denied that she works out regularly and eats well to stay fit. She also promotes products that actually boost one's fitness and do no harm.
She is an amazing person who never says a bad word about other people and is often caught smiling and genuinely laughing because she is content with who she is.
Here, we get to know about her latest workout regime and things that help her to stay fit these days. We also get to know about her thoughts on body shaming and her biggest beauty regret. Read on to know it all!
Workout Routine
The workout routine of the stunner involves trying different exercises. Right now, she is doing The Class by Taryn Toomey. She is also hitting it hard in the gym with her trainer by throwing heavy boulders around, doing battle ropes and pushing medicine balls.
Jennifer says battle ropes are hard but fun and she started doing them while filming for We're the Millers (2013). Apart from the above, she also does 45 minutes of intervals on her elliptical.
She raises the incline, runs for two minutes, walks for one minute and then runs for two minutes again. She does it for 20 minutes straight until she is drenched in sweat.
Mental Wellness
The wife of Justin Theroux has been practicing wellness for years, it's not just the next big trend for her. She also understands that mental health plays a vital role in a person's life, so she sticks to devoting 20 minutes in meditation.
Yoga is also a part of her routine, and she practices it for about an hour in the mornings. This morning ritual of meditation and yoga is vital for her, and she does it almost every day. In her opinion, this routine helps her to get more inner peace and deal with what life has in store for her.
Trying Sleep Revolution
Jennifer thinks that sleep is essential for a well-balanced life and so, she is trying the Sleep Revolution that Arianna Huffington wrote about. She leaves her phone outside the bedroom. This strategy has worked for her because she enjoyed a more peaceful sleep and didn't have to get up due to useless notifications or any emails.
To boost the quality of her sleep, she also uses a separate iPod that helps her to practice meditation before bed. When she can't sleep peacefully at night due to stress dreams, she takes it as a signal to unwind and finds the time to do just that.
Me Time
The businesswoman's me-time usually includes getting a home spa treatment on Sundays. She also enjoys pasta or something that's homemade. Her whole family gets together and has fun while preparing a meal.
The Idea of an Ideal Weekend?
For her, an ideal weekend means having dinner with her friends. If the Sundays are warm, she goes by the pool and they also make lunch at times. She also opts for a workout class if it's possible.
Beauty Regret
The producer has recently admitted that her biggest beauty regret was doing a lot of sunbathing without sunscreen when she was young.
Thoughts on Body Shaming
Aniston is really fed up with getting harassed by paparazzi and being body shamed by tabloids. So much that she even wrote an op-ed about it. Now, she thinks that her effort might have been wasted as things have not changed much.
In her opinion, most of the tabloids and gossip columns take the human body and put it in a category. It can be anything from body shaming, fat shaming or childless shaming. She doesn't understand why people care so much about how others look.
But now, she has stopped caring about what people think of her and advises others to do the same. You should not worry too much about whether you have the right weight or you are bloated or not before you go out in public.
You just need to remember that you are perfect the way you are no matter what. Keep your head held high and don't worry about any salacious stories or gossip. It is also a good idea if you tune out the noise and remain happy and healthy like her.
How is Jennifer Aniston Keeping Fit in 2018?
Jennifer Aniston is often spotted at The Class workout by Taryn Toomey. Not even Jennifer but celebrities like Naomi Watts, Christy Turlington, and Gisele Bundchen are also spotted there often. If you are curious to know what happens in The Class and why it's so special, then you can read on to know it all. The information was shared by none other than Taryn Toomey who devised this unique exercise method.
What Happens at The Class?
During The Class, all the participants challenge their bodies by using plyometrics and repetitive calisthenics. When the body is challenged, the mind is also engaged. The trainers use music and instructions to let participants witness resistance to discomfort. The result of these efforts is an expansive, heart opening, and body-strengthening release.
The Power of Music
Every move is done within the confines of a participant's yoga mat and is paired with a pre-decided song. This helps in setting the duration of a sequence as well as the tone of the room. Music usually varies from quiet and introspective to even euphoric. The change of music when coupled with breath, movement and sound help a participant to enjoy surges of endorphins which assist in clearing the body.
Noise is Good
Another thing that makes The Class unique is that the participants are encouraged to make sounds including screaming when they do the difficult moves during every 65-minute long session. It helps the participants to get rid of the pressure or tension they sometimes feel when the move is too difficult, or they think they can't do it anymore.
A Practice of Life
According to Toomey, The Class will challenge and enlighten you while helping you to build a lean, strong and resilient body. After a few sessions, you will realize that it's true empowerment and it's not just another fitness trend but a practice of life.
Addiction to Boxing
Another fitness method Aniston is hooked to is boxing. She practices it at home with a trainer named Leyon who she thinks is amazing. The diva said that boxing is the longest workout she has stayed with, apart from yoga (which she has been doing for years).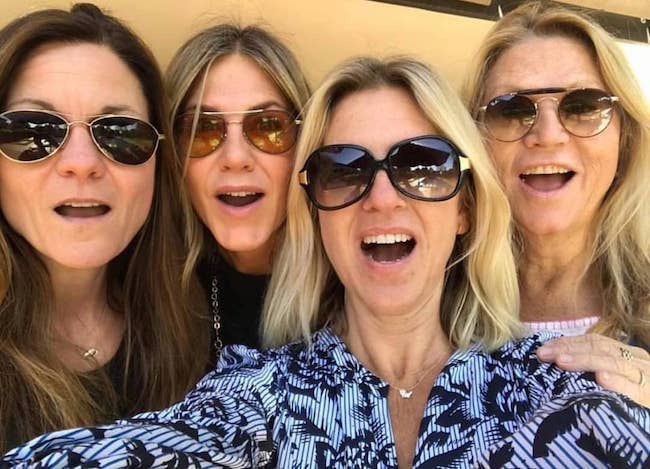 Apart from helping her get a sexy physique, boxing helps her to get mentally engaged as well. It also helps her to get out the aggression and get rid of the crap that she has to deal with on a daily basis. She even uses boxing to have little fantasy moments. For example, if someone annoys her, she imagines punching that person during a session and get some mental relief.
Featured Image by Angela George (Sharon Graphics) / Wikipedia / CC BY-SA 3.0