MrBeast Quick Info
Height
6 ft 2½ in
Weight
99.5 kg
Date of Birth
May 7, 1998
Zodiac Sign
Taurus
Girlfriend
Thea Booysen
MrBeast is an American content creator, internet sensation, and philanthropist who is known for his elaborate stunts and giveaways that he uploads to his YouTube channel called MrBeast. Aside from that, he is also the co-founder of Arbor Day Foundation's Team Trees project.
Born Name
James Stephen Donaldson
Nick Name
MrBeast, Jimmy Donaldson
Sun Sign
Taurus
Born Place
Wichita, Kansas, United States
Residence
Raleigh, North Carolina, United States
Nationality
Education
In the year 2016, MrBeast completed his studies at Greenville Christian Academy.
From there, he went on to enroll in East Carolina University but decided to drop out just 2 weeks after joining in order to pursue his YouTube career.
Occupation
Content Creator, Entrepreneur, Philanthropist, Internet Sensation
Family
Siblings – CJ Donaldson (Older Brother) (Content Creator, Social Media Star)
Manager
MrBeast is represented by Reed Duchscher of Night Media.
Net Worth
In 2023, his net worth was over $500 million as per Forbes.
Build
Average
Height
6 ft 2½ in or 189 cm
Weight
99.5 kg or 219 lbs (via YouTube)
Girlfriend / Spouse
MrBeast has dated –
Maddy Spidell (2019-2022) – Instagram model Maddy Spidell and MrBeast started dating in June 2019, after getting in touch with one another via Twitter. The couple broke up in 2022.
Thea Booysen (2022-Present) – In 2022, MrBeast started dating YouTuber and Twitch streamer Thea Booysen.
Race / Ethnicity
White
Hair Color
Light Brown
Eye Color
Blue
Sexual Orientation
Straight
Distinctive Features
He sports a stubble beard.
His attention-grabbing stunts
Brand Endorsements
Through his social media, MrBeast has either endorsed or promoted various brands including Stumble Guys, Quid, Honey, War Robots, and World Of Tanks Blitz, along with many others.
MrBeast Favorite Things
Browser Extention – Honey
Scientist – Mark Rober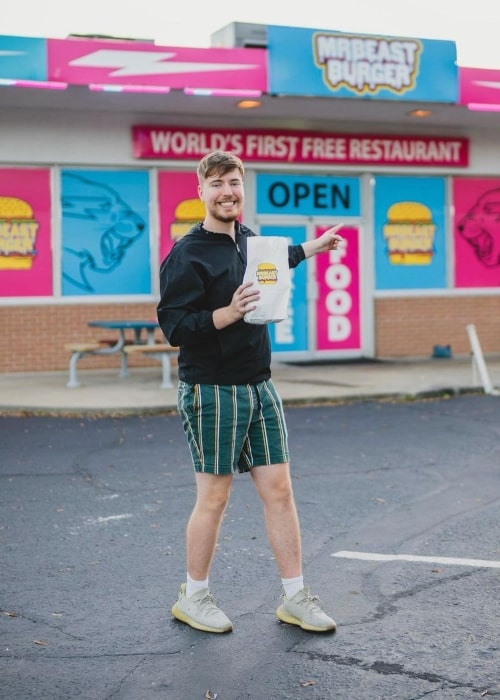 MrBeast Facts
His YouTube name "MrBeast" originated from his Xbox live gamer tag that was "MrBeast6000".
He began his YouTube career after moving to North Carolina with his family.
MrBeast was 12 years old when he developed a passion for YouTube. One of the many channels that he enjoyed watching on YouTube included WoodysGamertag.
He once stated that he disliked college.
MrBeast is close friends with social media stars Chris, Chandler, Garrett, and Karl Jacobs. He often features them in several of his videos.
Jimmy joined the YouTube community with his channel "MrBeast6000" on February 20, 2012, and the first video that he uploaded to it was titled Worst Minecraft Saw Trap Ever???.
Initially, he uploaded Minecraft, Battle Pirates, and Pokemon related gaming videos to his channel.
YouTuber Mark Rober and MrBeast formed the #TeamTrees fundraiser on October 25, 2019, in an effort to raise $20 million to plant 20 million trees in the United States. Nevertheless, by December 2020, the goal was surpassed by $2 million-plus.
The most popular video on his YouTube channel had more than 110 million views by late December 2020. It was titled I Put 100 Million Orbeez In My Friend's Backyard and was uploaded to the channel on November 22, 2018.
As of 2020, MrBeast had close to 50 million subscribers on his channel. Later in 2 years, in 2022, the channel had crossed 100 million subscribers.
In December 2020, he launched his very own restaurant chain called MrBeast Burger with 300 locations in the United States. At that time, the burger could be ordered only via food delivery apps like UberEats, Doordash, Grubhub, or Postmates.
With time, MrBeast has won several awards including the 10th Streamy Award for "Social Good: Nonprofit or NGO" and the 12th Annual Shorty Award for "YouTuber of the Year".
In the past, he was diagnosed with Crohn's disease.
A few of his other channels are Beast Reacts, MrBeast Gaming, MrBeast 2, MrBeast Extra, MrBeast Shorts, Don't Subscribe, beast, Totally Not MrBeast, MrBeast5998, MrBeast5997, and Beast Network.
In August 2020, he gave away his private island which he had bought for $800,000 to a winner, out of 10 contestants, after making them go through a series of challenges.
In December 2020, he uploaded a YouTube video where he allowed people to buy anything they wanted from that store in under a minute up to worth 1 million USD. Whatever they bought was theirs (with a maximum cap of $1 million).
His burger chain MrBeast Burger was appreciated by YouTube personalities Logan Paul and Mike Majlak during their review in December 2020. Logan liked the packaging and the aesthetic of the burger.
In January 2021, he gave away a new house to a fan who won a Minecraft challenge.
In January 2021, MrBeast revealed that he was losing a lot of money on his main YouTube channel due to an insanely huge amount of money he was spending as a gift in each of his videos.
In January 2021, he expressed his desire via Twitter to start an exclusive membership club (for like $10 monthly) to raise money for bigger videos.
On January 13, 2021, the CEO of Patreon, Jack Conte asked MrBeast to open a MrBeast burger outlet in the San Francisco Bay Area.
He has promised that he will die with $0 in his bank account and won't lead a materialistic life.
In August 2020, he revealed via a tweet that one day, he would like to open hundreds of homeless shelters and food banks through the influence of his main channel.
In January 2021, he treated himself, 2 friends, and 1 lucky fan of his channel with a $100,000 Ice Cream Sundae.
On January 24, 2021, MrBeast gave his fans the opportunity to send their photos and/or videos (Video was required to be just 1-second long) to the moon for $10. He had bought the space on a NASA rover.
In January 2021, MrBeast revealed that if he had bought the stock of GameStop from the stock market for $80,000 instead of buying the GameStop store's stock for that money in December 2020, his invested money would have gone up to be worth $1,200,000.
In February 2021, MrBeast prank-called Dream to discuss with him a gross video idea. It made Dream disconnect the call.
In March 2021, he uploaded a video where he gifted a fully furnished house and a brand new car to a woman named Felicia for $1. Lifetime's supply of coffee was also left in the kitchen plus 6 additional TVs and an outdoor grill.
In March 2021, Jimmy aka MrBeast donated $50,000 to a small Twitch streamer named Benni, a.k.a realbenex who, at that time, had over 68,000 Twitch followers. Benni was given the challenge to finish Minecraft in under 1 hour to receive the donation and he successfully did that.
In March 2021, in his new YouTube video, he was seen convincing people to leave their jobs for $100,000. He was able to convince 1 restaurant employee and that employee's boss even supported her decision.
In March 2021, Jimmy co-started a new company that would give funds to up-and-coming creators who were looking to raise funds. Jimmy had co-invested in his new company Creative Juice's project Juice Funds. The payouts to the qualifying creators would go anywhere from $25,000 to $250,000 in return for minority stakes in those YouTube channels.
In March 2021, MrBeast had given $100,000 to the winner of the 'Finger on the App 2' challenge. He also gave $20,000 to the first runner-up.
In March 2021, he launched the YouTube channel, Beast Philanthropy with the aim of donating 100 percent of its video revenue to charity. As of July 2021 end, it had already accumulated close to 5 million subscribers.
In April 2021, he asked a fan Randy to speak an embarrassing speech for 3 minutes in front of 1,000 people (which later turned out to be mannequins) in return for $10,000. Randy successfully delivered that speech which was about why YouTube is better than everything.
In April 2021, he played a game of tag with friends which was set in an abandoned hospital with more than 100 rooms and 6 different buildings around it. The last one to get tagged by MrBeast was declared the winner which in this case was Sapnap and he received a whopping $100,000 as prize money. Other participants also received $5,000 each from MrBeast.
In April 2021, MrBeast restaurant collaborated with Minecraft YouTuber Dream to release a new burger called Dream Burger which had avocado in it.
In April 2021, Jimmy Donaldson invested an undisclosed sum of money in a mobile banking app, Current and as a result, was giving away $100,000 to fans to celebrate the moment.
In May 2021, MrBeast was accused of bullying by his former employees such as editors.
In May 2021, MrBeast had officially expanded his MrBeast Burger chain to London, England to 5 new locations. Before that, it was only available in the U.S.
In May 2021, MrBeast Burger was trending on Twitter as people were not happy with the raw-uncooked chicken and some found that the burger bread was overcooked and burnt.
MrBeast tried joining the FaZe clan 2 times but got rejected both times by FaZe Banks.
In July 2021, MrBeast gave away a $25,000 car to a strongman Brian Shaw who is a multiple-time World's Strongest Man competition winner, after he deadlifted the car with MrBeast and his friends inside.
In August 2021, MrBeast had achieved a milestone of hitting 10 million subscribers on his Beast Reacts YouTube channel.
In August 2021, Jimmy had uploaded a video where he was seen renting the entire NFL stadium and hiring an FBI agent to play a real hide-and-seek game.
In August 2021, MrBeast surprised YouTuber David Dobrik's younger brother with a $10,000 cash gift, a t-shirt, and a brand new iPhone which made him cry with joy.
In September 2021, Jimmy won $25,000 in a high-stakes poker game against Ludwig Ahgren.
In September 2021, Jimmy cleared via Colin and Samir podcast that he would never participate in influencer boxing since he was so busy on his YouTube channel that it was difficult for him to train himself for 6 months – 2 to 3 times a day.
In September 2021, Jimmy uploaded a YouTube video in which he made to play a game of bank robbery (covered with various challenges like a real-life GTA online game) in which the one who would rob the bank first would get $100,000.
In October 2021, MrBeast teamed up with scientific YouTuber Mark Rober to create TeamSeas in an effort to raise $30 million and clean 30 million pounds of trash from the ocean by January 1, 2022. Within 3 days of the announcement, he was able to raise more than $6 million.
On November 25, 2021, MrBeast had uploaded a YouTube video showcasing a real-life Squid Game which was inspired by the South Korean drama survival series Squid Game. Jimmy had created a similar type of environment with 456 participants and had given the $456,000 prize to the winner.
MrBeast's YouTube channel became the fastest growing channel of 2021. It was subscribed by over 37.4 million times which was the highest in that year as per the data from YouTube Battles.
MrBeast was the highest-paid YouTuber of 2021 with $54 million in earnings as per Forbes.
In 2022, MrBeast launched his line of chocolate bars, Feastables.
In February 2022, MrBeast gave a surprise gift, a Feastables-branded bike, to Bella Poarch on her birthday.
In July 2022, MrBeast became the 2nd person ever to surpass 100 million subscribers on YouTube. The first person to reach the milestone is PewDiePie, who has over 111 million subscribers.
In November 2022, MrBeast became the most subscribed person in the world on YouTube by beating PewDiePie. At that time, he had over 111 million subscribers on YouTube.
In 2023, MrBeast donated $2.7 million worth of clothes to the Hopi community people who were residing in Northeast Arizona. He even donated 13 tons of fresh and non-perishable food items to them.
In May 2023, MrBeast purchased a US neighborhood for his employees and his family.
In 2018, he bought a home for himself for $320,000.
In 2020, Jimmy purchased his second property for $263,000.
In 2021, he purchased 3 homes for nearly $1.45 million.
In June 2023, MrBeast was offered to ride the Titanic submarine, on which a total of 5 people were onboarded. All of them died on June 18, 2023, when the submarine imploded due to the failure of the pressure hull. MrBeast had declined the offer.
In July 2023, MrBeast became the first person to reach 1 million followers on Threads.
In August 2023, it was revealed that MrBeast was suing MrBeast Burger's delivery partner, Virtual Dining Concepts due to the lack of quality control. He was reportedly seeking to end the partnership with Virtual Dining Concepts. Later that month, Virtual Dining Concepts filed a $100 million countersuit against MrBeast, claiming that he failed to meet contractual obligations and attempted to make a new deal in order to serve his own monetary interests.
In August 2023, he revealed that he made a record for the most views in 24 hours on a non-music video. According to MrBeast, his video titled "7 Days Stranded At Sea" received 46 million views in 23 hours.
Featured Image By MrBeast / Instagram