Former Miss World, Priyanka Chopra is among the hottest international stars who have made a mark for themselves within a short period of time. From doing Bollywood blockbusters to starring in American TV series, she has done it all. Anyone who chances a glimpse at her would also agree that she is also a stunning natural beauty. Even Maxim India agrees to it, and that is the reason they have entitled her as the hottest woman on the planet 5th time in a row.
If you are also amazed by her beauty and want to know how she keeps fit, then you don't need to wait anymore. Priyanka Chopra's workout routine and diet plan are mentioned right here.
No Starving
Like many other sensible celebrities, the Indian actress has also stated that starving is not the right thing to do if you want to lose weight. You should never chase after a body shape or size and must learn how to embrace your curves. It is also smart to remember that when you starve yourself, you deprive your body of the essential nutrients it needs to function properly.
Diet Choices
The diva likes to drink a lot of water and coconut water to keep herself hydrated. Priyanka Chopra has also eliminated greasy foods from her diet and sticks to homemade meals rather than depending on processed or fat-rich food items. Eating something every few hours is also a part of her food philosophy and it helps her to have a healthy metabolism as well as high energy levels. Her meals also include a lot of fresh fruits and vegetables.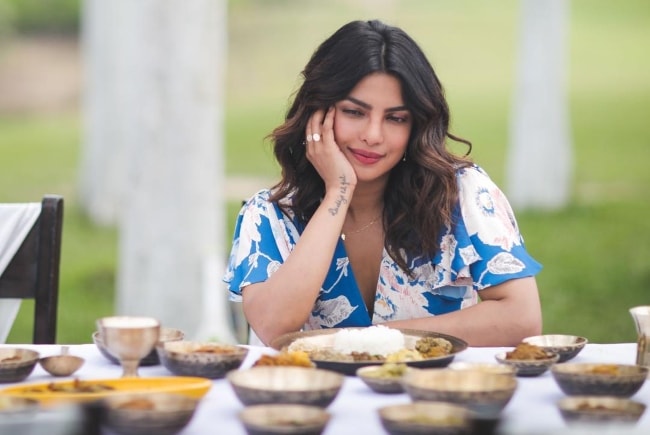 Diet Plan
The diet plan of the stunner is mentioned below.
Breakfast – Oatmeal or 2 egg whites with a glass of skimmed milk
Lunch – 2 Chapatis (Indian bread), some vegetables, salad, and dal (pulses)
Snacks – A sprout salad or a turkey sandwich
Dinner – Fish with sautéed vegetables or soup with some grilled chicken
Diet Indulgence
The Quantico actress likes to indulge in her favorite treats during the weekends. Some of her favorite indulgences include chocolates, cocktails, tandooris, and cake.
Workout for Movies
The beauty has admitted that she hits the gym regularly only when she has to lose weight or when she is preparing for a role that requires her to look a certain way.
Workout Routine
The preferred exercises of the diva are swimming and yoga. She loves both these options equally and credits yoga for helping her get a toned and flexible body. While swimming, she tries to do 10 laps in a row for the best results. Priyanka Chopra hits the gym at least 4 times a week and does a mix of cardio and resistance exercises. She also likes spinning, running, and weight training. Some of the moves she often does are bench jumps, reverse crunches, bicep curls, and plank holds.
Mental Health
To preserve and enhance her mental health, Priyanka Chopra likes to meditate for a few minutes. This activity helps her to get rid of all the anxiety and stress.
Featured Image by Priyanka Chopra / Instagram