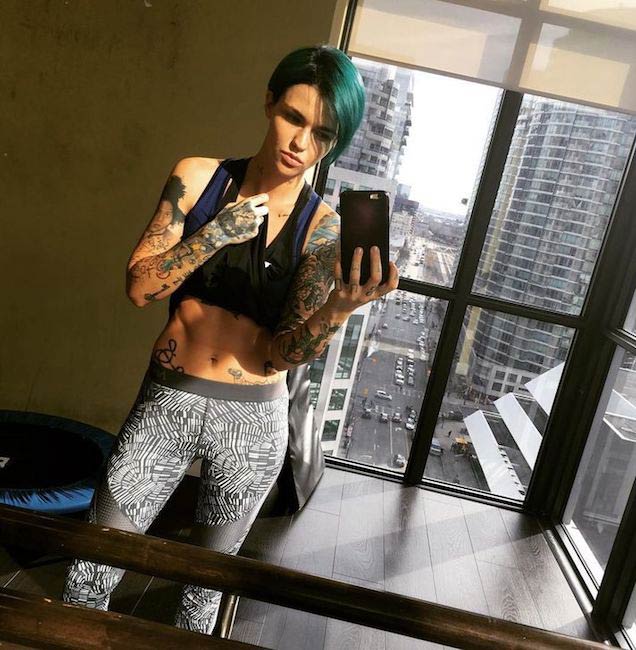 xXx: Return of Xander Cage is one of the most awaited films of 2017. For this film, Australian actress Ruby Rose had to perform tough stunts while competing with the likes of Samuel L. Jackson and Vin Diesel. As expected, she took on the challenge sportingly. She worked out hard in the gym and ate a lot to boost her strength. What else did she do? Let's find out.
Workout Motivation
The model told Yahoo Australia that she was motivated to workout hard after seeing the performance of her co-star Vin Diesel. She competed with him during the training sessions and it kept her going.
Workout Secrets
The diva says that she hit the gym daily while preparing for the film. She worked out for 4 to 5 hours every day for some time. Her workout routine lasted for as long as it lasted for Diesel. If he was working out for 5 hours, she also did the same. And if he went for five and a half hours, she did for five hours and thirty-one minutes. This competition benefitted both the stars as they reacted well to the non-stop training.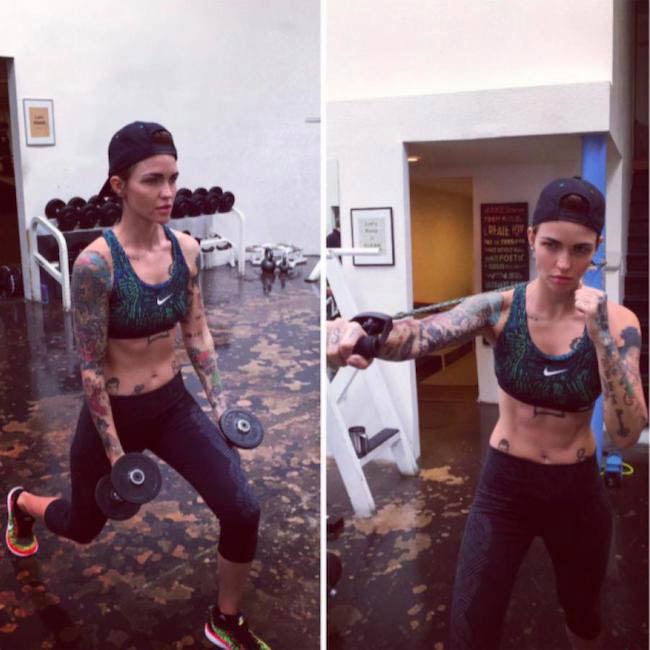 Diet Secrets
The former MTV VJ says that she ate an incredible diet during the filming. She and Diesel ate all the time, so they didn't get tired even after the grueling workouts. In essence, eating all the time worked for them, same as the workouts did.
Loving the Stunts
The TV presenter also admitted that she did all of her stunts for the film. She loves doing stunts and that's why she mostly opts for action flicks. She can't imagine why people choose to do action flicks and don't do the stunts while it's the main highlight for her. The hot gal also accepts that she is a thrill seeker and an extreme sports enthusiast.
Ruby particularly liked a stunt where she had to climb a tree. She trained a lot for it so that the filmmakers could let her do it. She did it 5 or 6 times and liked the experience.
Body Maintenance Secret
The ex-girlfriend of fashion publicist Lia-Belle King has some amazing tattoos that we all have envied at some point or another. Ruby says that she takes care of them by moisturizing them regularly so that they look their best. It makes them pop when she uses the Renewal Oil from Crème de la Mer on her body.
The Restrictions
A few things that she avoids to remain in shape and look great are alcohol and smoking. She admits to drinking a lot of water to keep her wellbeing at the optimum level. (All these are good habits, we must say)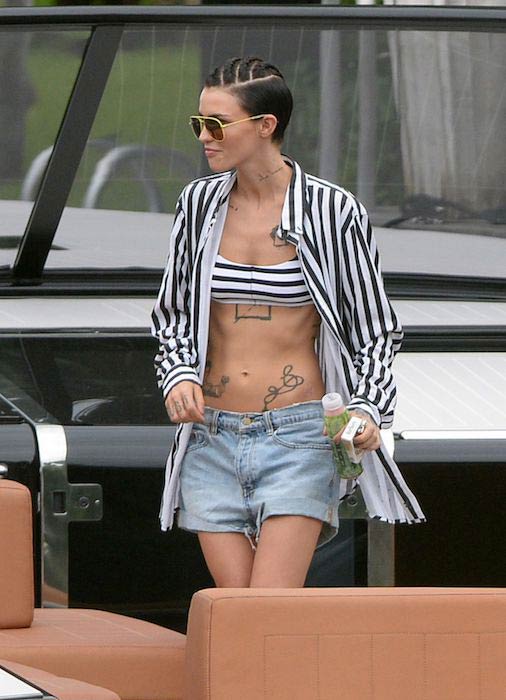 Little Indulgence
The Spec reports that the former recording artist likes to relax by going for a massage every two weeks.
Being Cautious
To protect her lovely skin during an outdoor shoot or an activity, she uses SPF daily.
Advice for Depression Victims
The versatile actress accepts that she has been a victim of depression in the past. Her advice for people who are dealing with such issues is that they should hang in there. Just one day at a time. It will get better with passing time. She knows that it's a cliché but it really works. (Because it worked for her!!)
Stand against Online Bullying
The DJ also has a very firm stand against bullying. She says that when she gets attacked online, she avoids the critics because it doesn't affect who she is as a person. She thinks that though the internet was meant to bring people together, it has now been misused a lot. People need to adjust their priorities and use the internet in a good way. (And we agree with her!!)
Did you like Ruby Rose Workout and Diet Secrets for xXx: Return of Xander Cage? If so, you can get more inspiration from her by following her on Instagram, Facebook, and YouTube. And yes, don't forget to catch xXx: Return of Xander Cage that hits the theaters on January 20, 2017, and has many reputed stars like Nina Dobrev and Deepika Padukone!!