When you take a deep and scrutinized look at the few Hollywood marriages that have managed to achieve the remarkable feat of surviving glittering and ever-present fame, infidelity and seasonal liaisons that frequent the famed boulevard of the show business industry, you will find that the most prominent fixture in those marriages is the presence of lesser-known spouse. It can be argued that both the spouses competing for the fame and success could be a reason for the inevitable collapse of numerous marriages. The lack of time due to the pursuit of career objective and larger than life ego, which usually accompanies the cinematic success, makes it difficult for one of them to take a step back to accommodate the whims of other or to formulate a compromise, which could serve as a lifeline in the most crumbling moments.
Today, in this article, we will take a look at ten actresses, who have married lesser-known men and at their marriages, which have managed to unfold like your favorite fairy tale – happily ever after.
Natalie Portman is one of those Hollywood actresses, who have achieved commercial success and critical acclaim in equal measure. Along with being one of the most bankable actresses in Hollywood, she has gone on to win an Academy Award for Best Actress, her second Golden Globe Award, the SAG Award, the BAFTA Award and the BFCA Award for her cinematic performances. She also holds the distinction of being the youngest member of the Annual Cannes Film Festival jury. Though, her husband Benjamin Millepied is a distinguished professional in his field but is not that well known outside ballet.
Natalie met Benjamin, French dancer, and choreographer, in 2009 on the sets of the movie 'Black Swan.' Benjamin was choreographing dance sequences for the movie, while Natalie was the lead actress. They had a son in 2011 and married in 2012. After Benjamin's appointment as Director of Dance at the Paris Opera Ballet, in a bid to spend more time together, Natalie moved to Paris.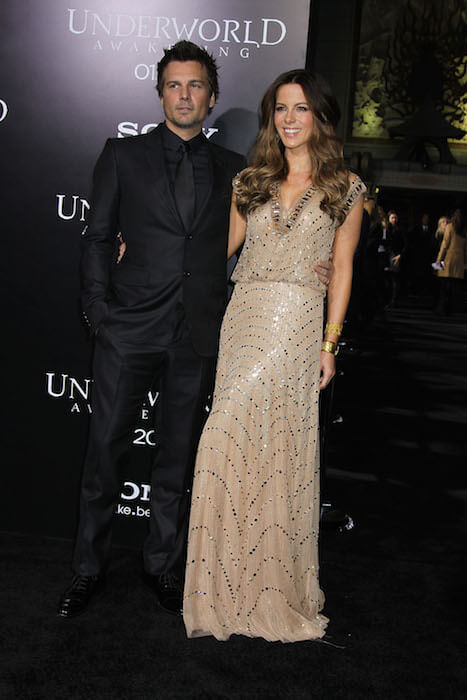 Kate Beckinsale was in an eight-year-long relationship with fellow British actor, Michael Sheen when she met American director Len Wiseman in 2002. The American was preparing for his directorial debut 'Underworld,' in which, on Kate's insistence, he had also cast her then-boyfriend Michael. As the clichéd phrase went, the sparks flew during the shooting and Kate fell in love with Len. Michael, as we know is a good man, he accepted with a grace that his relationship with Kate had reached a dead end and to date remains on good terms with his ex and her husband. However, it was different with Len's wife, Dana, who accused him of infidelity. As it always happens, he eventually got divorced and married Kate on May 9, 2004, in Bel-Air, California. And, by the way, Len is stepfather to Beckinsale's daughter, Lily Mo Sheen.
Last year, for her role in the historical thriller 'The Imitation Game,' Keira Knightley was nominated for a Golden Globe, a SAG, a BAFTA Award, and an Academy Award for Best Supporting Actress. Though she didn't win any award for these nominations, the plus side of these nominations was that we got to see her handsome husband, James Righton, who accompanied her to the awards functions. Righton, who is a keyboardist for the popular British electro-pop group Klaxons, with his piercing blue eyes and handsome face looked sharp in well-cut suits. They started dating in late February 2011 and married on May 4, 2013, in Mazan, Southern France. Keira is due to give birth to their first child and lives with her husband in London.
Scarlett Johansson is one of Hollywood's modern sex symbols. Her hot figure, which recently set the temperatures soaring, while being tightly squeezed in leather body suit in 'Avengers: Age of Ultron,' coupled with her enchanting and lush eyes, has made her a veteran of several sexiest lists, including her numero uno position in 2006 and 2013 list published by Esquire magazine. She raised eyebrows in September 2013, by publicly announcing that she has got engaged to Frenchman Romain Dauriac, the owner of an independent advertising agency.
They met through tattoo artist Fuzi Uvtpk, a mutual friend, and bonded over their common love of art. The birth of their daughter Rose Dorothy was announced on September 4, 2014. And, they got married on October 1, 2014, in Philipsburg, Montana.
Julianne Moore is one of the most reputed and acclaimed actresses in Hollywood. The recognition for her precocious acting skills includes, but is not limited to, winning several prestigious awards such as one Academy Award, two Golden Globes, a BAFTA award and the honor of being named Best Actress at the Cannes Film Festival, Berlin Film Festival, and Venice Film Festival. And, she often attributes her success to her director husband Bart Freundlich, whom she met in 1997 on the set of the movie 'The Myth of Fingerprints.' The couple welcomed a son, Caleb in December 1997 and a daughter, Liv in April 2002, before getting married in August 2003. And, for Moore, her solid and happy family life is the most satisfying thing, she had ever done in her life.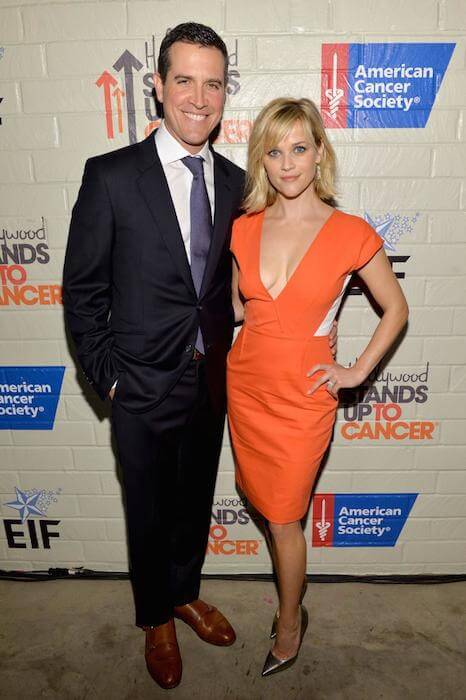 The 39-year-old actress is one of the most loved actresses. Due to her down to earth and goofy nature, she has carved her unique niche in the movie industry. And, the fact that despite, being 39 years old, she still looks like a fresh-faced beauty, who became everyone's favorite with a role in romantic comedy 'Sweet Home Alabama' further enhances her likeability. Like her character in the movie, she is also married to a successful, yet simple and homely guy. Her hubby Jim Toth, whom she married on March 26, 2011, in Ojai, California, at her country estate is a talent agent and co-head of motion picture talent at the Creative Artists Agency, where Witherspoon is a client. Not only Jim is handsome, and present alongside Reese at several awards, he is also a great father, adept at changing diapers of their son, Tennessee James Toth. Didn't I say homely?
The beautiful and comic Julie Bowen is an anomaly in the industry. She is grounded, goofy, has a great sense of humor and is married to a handsome guy, who has no connection to the film industry. She met her husband Scott Phillips, a real estate investor and software developer after being set up by one of her cousins. Though their first date was during a blizzard, their married life has been a relaxing day under the bright sunshine. They have been married for more than ten years, have three children including twins, John and Gustav, with whom she was visibly pregnant when shooting the pilot for 'Modern Family' and still seem to be in the honeymoon phase.
After, her whirlwind affairs and short-lived marriages, Drew seems to have finally found peace in marriage. Her husband Will Kopelman, whom she started dating in early 2011 is a high profile art consultant and son of former Chanel CEO Arie Kopelman. Nearly, a year later in January 2012, the couple got engaged and then got married on June 2, 2012, in an intimate wedding in Montecito, California. Their wedding picture was the subject of the cover of People magazine on June 6, 2012. Their cute family also includes two beautiful daughters: Olive Barrymore Kopelman and Frankie Barrymore Kopelman.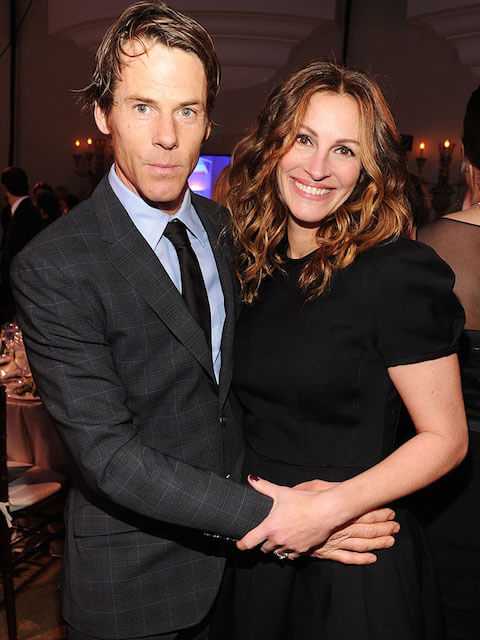 Before marrying her cameraman husband Danny Moder, Julia had dated host of popular and handsome men such as Liam Neeson, Kiefer Sutherland, Dylan McDermott, and Matthew Perry. So, it was kind of surprise, when she started dating Moder, whom she met on the sets of her film 'The Mexican' in 2000. At that time, Julia was still in a relationship with Benjamin Bratt and Moder was married to Vera Steimberg. A year later, he had filed for divorce and on July 4, 2002, married Julia at her ranch in Taos, New Mexico. They have three children including twins Hazel Patricia and Phinnaeus "Finn" Walter Moder (born – November 28, 2004), and Henry Daniel Moder (born – June 18, 2007).
Julianna Margulies has won a Golden Globe, a Television Critics Association Award, and the Primetime Emmy Award for Outstanding Lead Actress in a Drama Series for her role of a lawyer in the American legal drama 'The Good Wife.' In reality, she is married to one. Her handsome husband Keith Lieberthal, who can just easily pass off as a model or actor is a Harvard educated lawyer. Julianna met him at a dinner party and like most of us, presumed, he was an actor or model. The beautiful couple tied knot on November 10, 2007 in Lenox, Massachusetts and have a son named Kieran.