The 50th Academy of Country Music (ACM) Awards were held on April 19, 2015 amid a lot of pomp and splendor as some of the most celebrated celebrities graced the red carpet.  Held at the AT&T Stadium in Arlington (Texas), the ACM Awards bagged the GUINNESS WORLD RECORD's 'Highest Attendance at an Awards Show Broadcast' title with over 70,000 fans marking their attendance. Sparkling at the red carpet were some of the winners of the evening like Garth Brooks, Kenny Chesney, Miranda Lambert, Reba, George Strait, Taylor Swift, Brooks & Dunn, among others. The biggest honor of the evening was the Entertainer of the Year Award that went to Luke Bryan. Like any award show, the best part was the fashion at the red carpet. Health Celeb brings to you some of the best dressed females at the 50th ACM Awards. Read on to know, who all outshone at the awards this year.
American singer and model Brittany Kerr, who first gained limelight as a cheerleader looked ravishingly adorable. In her first post-marriage appearance after she married singer Jason Aldean, Brittany made a spectacular sight at the red carpet in a pink dress with a thigh-high slit that she accessorized with gold Camille La Vie clutch and sandals. She was a sight to behold at the ACM Awards 2015. We are sure that the lady is going to maintain her style. She gets thumbs up for the dress that accentuates her curves perfectly.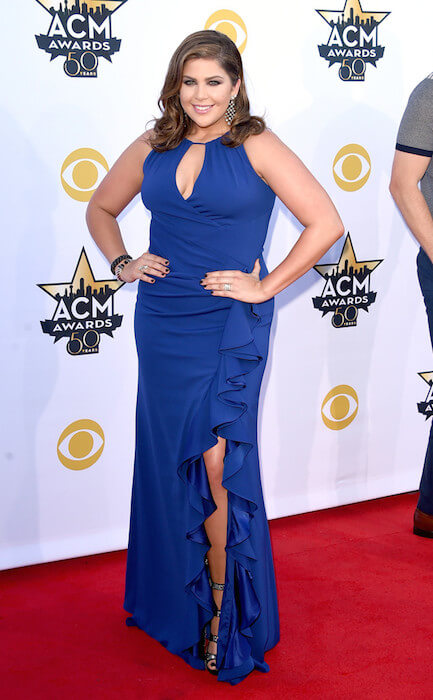 The American country music singer Hillary Scott, who is the lead singer of Lady Antebellum just rocked at the awards. She showed off her hourglass figure in a blue dress that was ruffled to the front and had a high slit. She teamed her gown with glittering pumps. Her smile was infectious, while the lady looked deliciously fashionable in blue. Her features were enhanced in this well-selected outfit. She gets five on five for her choice of dress at the gala event. She definitely looked fresh in a color not many preferred for the evening.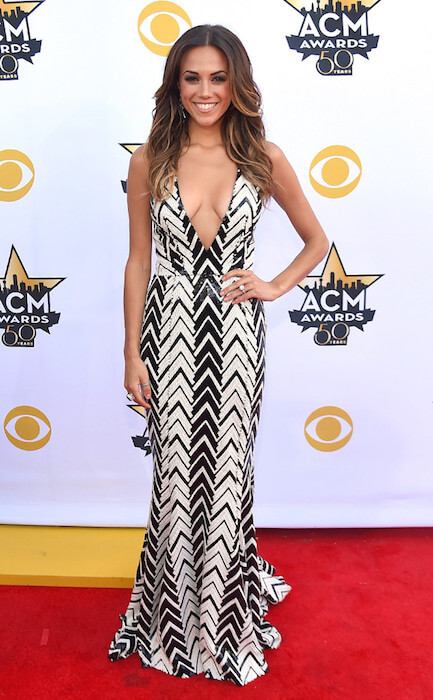 The American actress and country music singer Jana Kramer, who is remembered for playing Alex Dupre in the TV series One Tree Hill, stole the show with her breathtaking red carpet entry. I Got the Boy fame singer wore a printed Jay Godfrey dress with a plunging deep neckline that liberally showed off her cleavage. She paired it with shoes from Stuart Weitzman, a Swarovski clutch and a Leticia Linton trinket. Jana's smile also added a dash of mischief to her revealing dress that she carried off with oomph.
Known for her sporty look, the American singer and younger sister of Britney Spears is no less a diva herself. Jamie Lynn Spears added a dash of style and glamour to the red carpet at the ACM Awards in a lacey black dress with an illusion bodice and a fishtail hem. The young singing sensation's debut How Could I Want More was an instant hit and it ranked 29 on the Billboard's Hot Country Songs in 2013. She definitely deserves to be here on this list for her simplicity was just outstanding.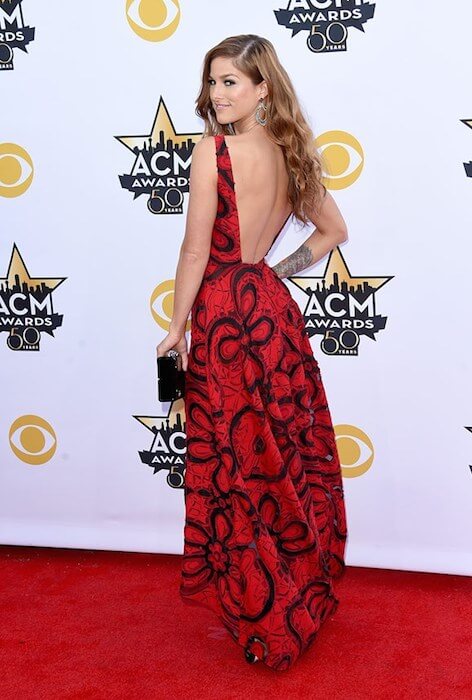 The American singer and songwriter Cassadee Blake Pope is the lead vocalist of the pop punk band Hey Monday. The lady looked breathlessly awesome in the backless red dress with the awesome floral print that heightened the style quotient. Dangling earrings, strappy heels and a square clutch, complimented the look. She was a complete package for the shutterbugs at the Awards show. Her red dress was just what was needed to make her look sexy and glamorous at the ACM Awards.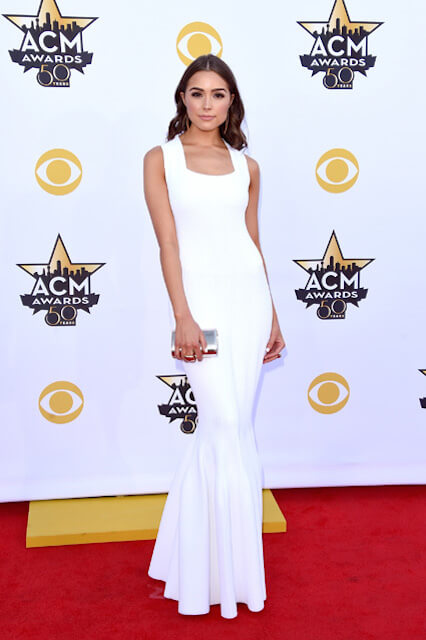 The American actress, television presenter and beauty queen became famous after winning the Miss USA 2012 pageant from Rhode Island. For all those, who thinks white is simple, need to think again. Olivia Culpo looked delicious in a white dress. The marshmallow-hued, body-conscious dress was just made for Olivia. She looked ravishingly hot in an ensemble that she accessorized with a rectangular silver clutch. Super–hot look.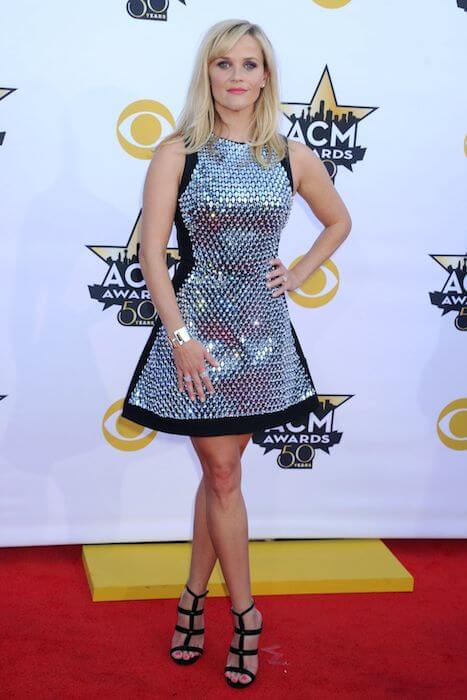 The American actress and producer first came to limelight in The Man in the Moon (1991). She looked chic in a shiny paillette-detailed David Koma mini-dress that she complimented with a perfectly stylish Jimmy Choo gladiator heels. The lady rocked the look and made a striking entry at the red carpet event of the awards ceremony, this April. She is definitely not to be missed and is worthy of a mention in this list.
Rightly called the country queen, Miranda Lambert is an American country music artist, who gained fame with Nashville Star (2003). She looked a stunner at the awards show. Miranda wore a lavender color Bibhu Mohapatra dress that showed off her cleavage with a bold slit in the front. Tassel-like earrings, platinum bangles, pointed heels and a pearlescent clutch complimented her dress perfectly. The fashion queen rocked at the red carpet.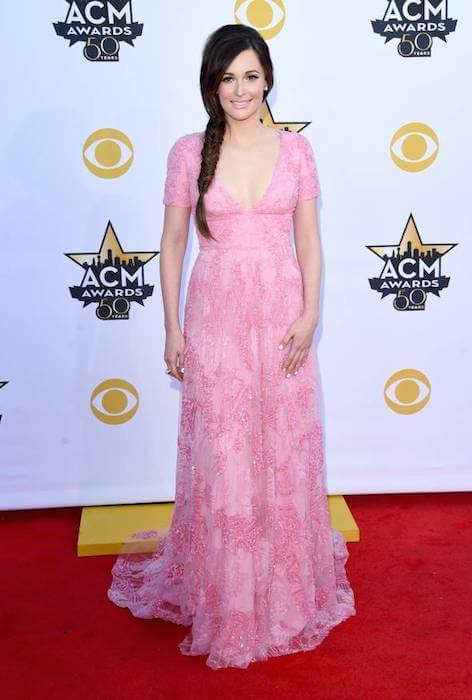 The Grammy winner, American country music singer Kacey Musgraves also rose to fame with the Nashville Star 2007 season. She looked just like a Barbie princess in a short-sleeved, bubblegum Monique Lhuillier dress adorned with H Stern jewels, creating a statement with her stylishly done fishtail braid that she kept to one side. She looked sweet and gorgeous at the awards ceremony while showing off her cleavage.
Deana Carter
The country music singer Deana Kay Carter first came into the limelight with Did I Shave My Legs for This? that went on to become a bestseller album and sold over five million copies back in 1996. She looked hot in a figure-hugging black mini-dress with matching black heels at the awards ceremony. Black is always in and this lady looked just perfect in her well-chosen dress for the musical night.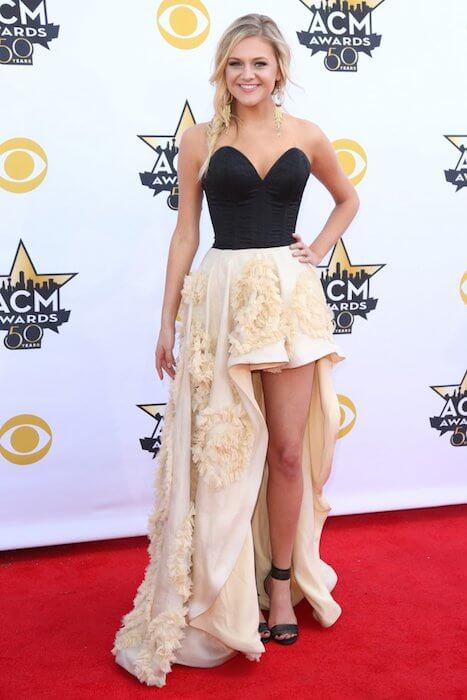 The American country music singer signed to Black River Entertainment, Kelsea Ballerini is famous for her single Love Me Like You Mean It. She wore a peek-a-boo dress at the award ceremony. The black and beige dress that showed off a fair share of her shapely legs and the off-shoulder gown that added a hint of opulence to her look was just too much to handle for the shutterbugs. She was a sight to behold at the red carpet of the music event.